Charles the Terrible
He will be a king for the global elites.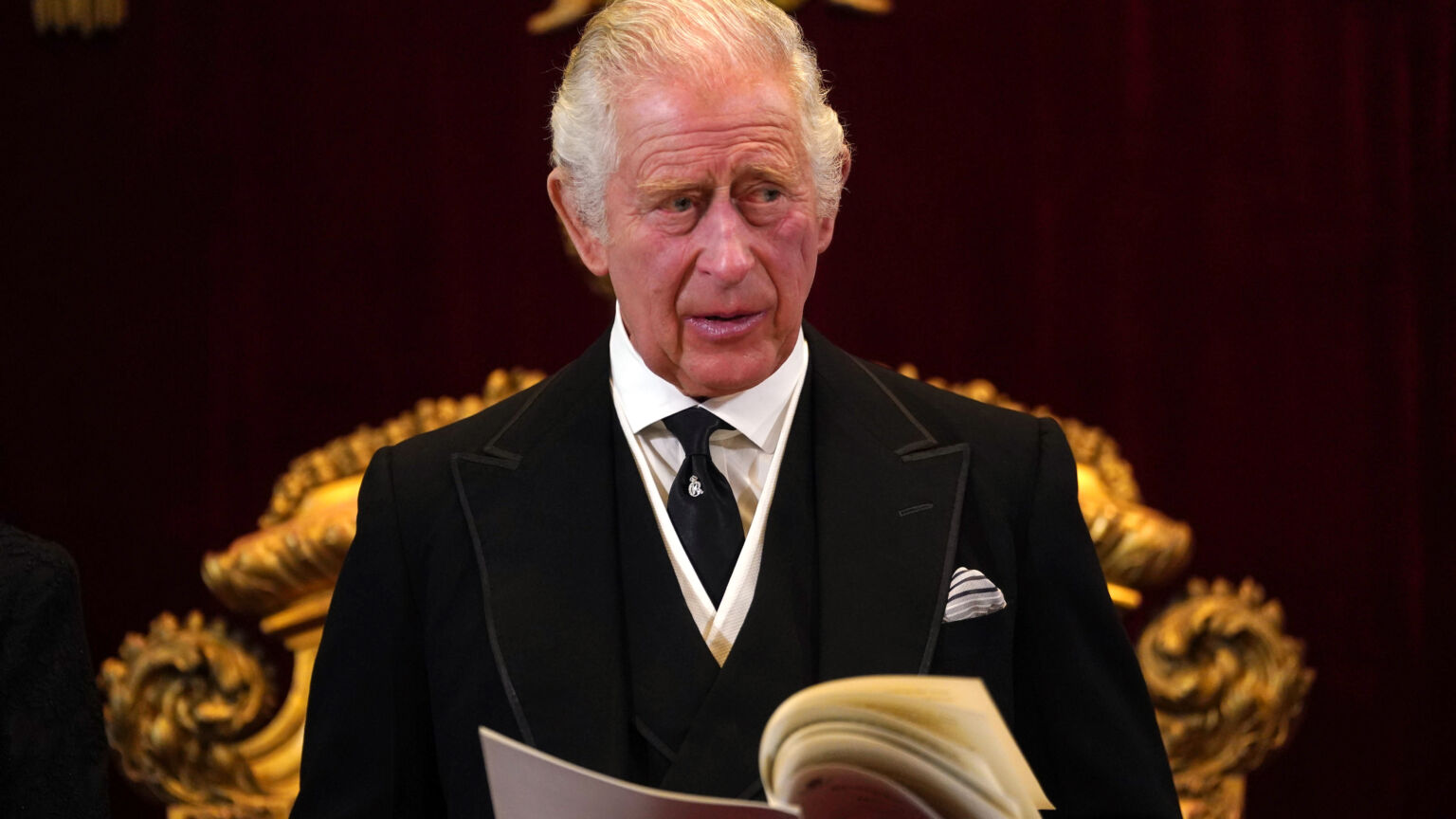 It seems Charles III wasn't only proclaimed king of the United Kingdom of Great Britain and Northern Ireland at the weekend. Apparently he became king of the world, too. 'The world has a climate king', gushed one green observer. A writer for Forbes went one better, pleading with His Majesty to be a 'climate monarch' and to use 'the power of the bully pulpit' – seriously – to 'influence climate policy' around the world. The best thing about having a climate king, says this commentator who wants His Majesty to bully us eco-spoiling plebs, is that his clout means he'll be able to sway the minds of Brits and non-Brits. Because when a king speaks, 'people tend to listen, even outside Britain'. Your Majesty, go forth and civilise the climate-harming foreigners!
It's amazing that one wing of the liberal elite is prattling on about Elizabeth II having been a 'coloniser queen' while another is begging Charles III effectively to be a coloniser king, to use his God-given, kingly power to prise open the ignorant eyes of the little people at home and abroad. An editorial in the Sydney Morning Herald, a newspaper published in one of the lands where Charles is now king, humbly implores His Majesty to 'use his position to pursue the greater good when it comes to the environment'. Strikingly, that paper says that while the 'official domain' of the British monarch may have shrunk in recent decades – more than a dozen nations ditched the queen as head of state during her 70-year reign – it doesn't matter because Charles-style eco-activism is what 'the whole world is waiting for' (my emphasis). In short, forget the historic restraints humanity placed on monarchical power, the most important of which is surely that a monarch has no power outside his 'official domain' – our glorious new eco-king should still use 'his throne's influence' to encourage global action on the climate.
This plea for the king to act globally, to break beyond his 'official domain' with his sermonising on the environment, is remarkable and alarming. What happened to national sovereignty? Even the old idea that the monarchs of Britain were mandated to rule by God Himself was kept in check by the principle of nationhood. The divine rights of kings counted for nothing in the face of the national rights of states that had no desire to be ruled by said kings. So Queen Elizabeth's godly position as sovereign fell apart when the citizens of Guyana, Trinidad and Tobago, Barbados and others exercised their higher sovereignty and opted to remove her as head of state. Thomas Paine put it best in his revolutionary pamphlet, Common Sense, where he described just how perverse it was that a British monarch should enjoy dominion over America: 'Even the distance at which the Almighty hath placed England and America is a strong and natural proof that the authority of the one over the other was never the design of heaven.'
But the distance at which the Almighty placed nations counts for nothing, it seems, when it comes to 'saving the planet'. Nor does national independence, the fundamental right of a people not to be bothered by a foreign king. Forget all that, say the green forelock-tuggers – Charles III must use his position as 'possibly the most significant environmentalist in history' to effect global change. Of course, it is not clear that Charles will be as irritatingly outspoken as king as he was when he was a mere prince. He is on record as saying 'I'm not that stupid' when asked if we would carry on 'meddling' in politics when he ascended to the throne. But the fact that he is being asked to, and the distinct possibility that he will, given his singular devotion to the god of environmentalism, should worry all who believe in democracy.
All the talk of a 'climate king' is incredibly revealing. It confirms that one of the most tyrannical things about climate-change alarmism is the threat it poses to national sovereignty. Where even kings, even God's own mandation, met their match at the borders of independent nations, the climate-change movement recognises no such impediments to its cultural supremacy. The idea that climate change is a globalised menace, a uniquely destructive force that permeates borders and poisons all, has been a key contributor to the weakening of the ideal of national sovereignty. Nation states are powerless, we are told, to deal with this 'greatest threat humanity has ever faced', in our new king's own words. So what we need are globalised elites, post-border institutions that can draw up green plans for us all to abide by. The UN, the EU, Davos, all those COP meetings – these, apparently, are the post-national, post-democratic bodies we need to deal with this deadly global menace. These globalised elites have long loved Charles precisely for his willingness to be a worldly monarch. 'He is a potent influencer with global reach', gushed the Washington Post last year (my emphasis).
So the Almighty may have placed your nation thousands of miles from Britain, thousands of miles from Charles III's 'official domain', but still he might exercise his 'potent influence' over you. It won't be God or the divine rights of kings that grant him the authority to do so – it will be the ideology of environmentalism. That is now the means through which elites bored of democracy and keen to circumvent the low-information masses pursue their misanthropic agenda of less growth, safe in the knowledge that nation states' democratic right to dissent has been quashed by the hysterical claim that climate change is a threat so large that it renders nations meaningless. No wonder Charles is so comfortable with the globalised elites. He swans around with billionaire eco-warriors at Davos. He gives pontificating speeches at COP. They hail him as 'king for the climate', because they know what this means: that he'll be a king of the global elites who will represent their post-borders, post-growth ideology far more faithfully than he will the culture and traditions of the nation – what an old-fashioned idea! – that has proclaimed him king.
Some critics focus on Charles's green hypocrisy. It is a staggering level of hypocrisy. Last year it was calculated that the royal family's core members – the queen (RIP), Charles, William and Harry and all their partners – generated around 3,810 tonnes of carbon dioxide a year. This compares with a measly 37.6 tonnes of CO2 a year generated by the average family of four. So our royal betters whip up around 50 times as much carbon as us pesky plebs do. There is definitely something nauseating in the sight of Charles – not to mention Harry and Meghan – jetting off to climate-change summits to gurn and weep over the destruction of the planet. Worse, Charles III is now being talked up by some as the king who might help to reverse the industrial advances of the country he rules. 'His reign' is of a nation that 'helped lead the world into industrialisation more than a century ago', says one green writer. That Industrial Revolution that the new king and his eco-fanboys hate so much helped to liberate us one-time serfs from our bondage to land-owners and allowed us to move into cities, into knowledge, into democracy, into freedom. It's easy for the literal king to peer from the window of his vast palace and say: 'The Industrial Revolution ruined my world.' The rest of us look out of our rather more modest windows and think: 'The Industrial Revolution saved our lives.'
But there's something worse than the hypocrisy. There's the fact that the ideologies of environmentalism and technocracy could potentially embolden Charles III to be a woke, world-conquering king, delivering his sermons to all and sundry. Charles III would do well to remember the words of that great Briton who agitated so articulately against the rule of Charles I: John Milton. In his fine pamphlet on the necessity of restraining kings – The Tenure of Kings and Magistrates – Milton said a king's authority lies only in what has been 'transferred and committed to [him] in trust from the People, to the Common good of them all, in whom the power yet remains fundamentally and cannot be taken from them without a violation of their natural birthright'. If we must have a king – and my republican preference is that we didn't – then surely he should think about what the people of Britain might need and want rather than letting the flattery of the global elites go to his head. Listen to Milton, Charles, not Davos: the 'Common good' of the British people is far more important than the narrow, self-serving good of the global elites.
Brendan O'Neill is spiked's chief political writer and host of the spiked podcast, The Brendan O'Neill Show. Subscribe to the podcast here. And find Brendan on Instagram: @burntoakboy
To enquire about republishing spiked's content, a right to reply or to request a correction, please contact the managing editor, Viv Regan.