How Russia has weaponised the energy crisis
We must not trade Ukrainian sovereignty for cheaper gas.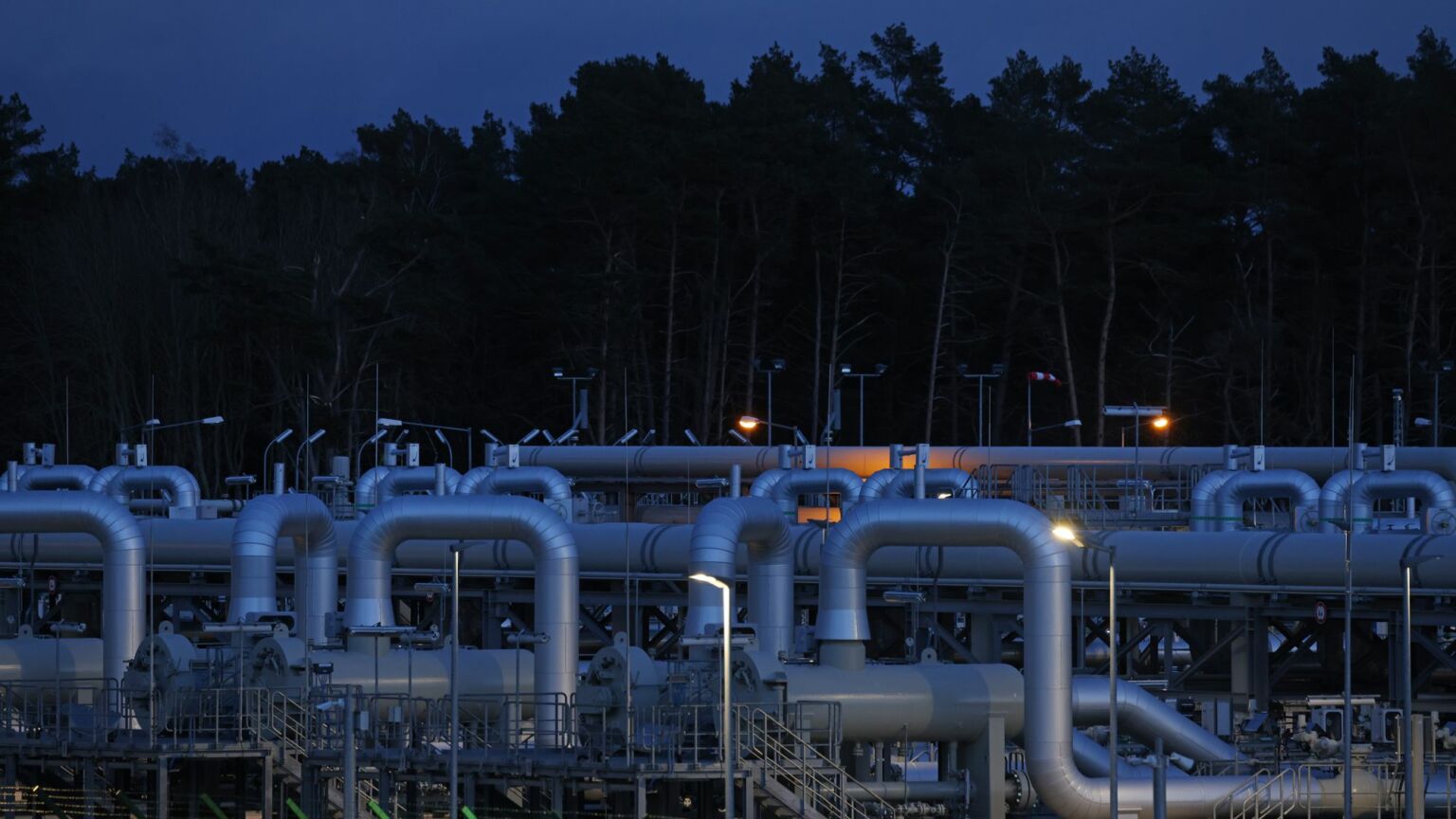 Western leaders seemed almost pleased with themselves on Friday afternoon. The G7 finance ministers (from the UK, US, France, Germany, Italy, Japan and Canada) had agreed a plan to cap Russian oil prices. Meanwhile, European Commission president Ursula von der Leyen suggested also capping Russian gas prices. It looked like they were on the brink of reining in soaring energy costs at home, while still putting the squeeze on Russia.
But within hours the mood had soured. Gazprom, the Russian state-owned gas company, announced that the vital Nord Stream 1 gas pipeline to Germany – which supplies approximately 35 per cent of Europe's gas – would remain shut indefinitely after weeks of intermittent closures. There was more than a whiff of retaliation in the air.
Gazprom said that a fault had been found during maintenance, but few thought this explanation credible. By Monday, even the Kremlin itself had given up the pretence that this was anything other than a political decision – a callous attempt to deepen the energy crisis now gripping Europe. Speaking to journalists on Monday, Kremlin spokesperson Dmitry Peskov said that 'the problems pumping gas came about because of the sanctions Western countries introduced against our country and several companies'.
So there you have it. Russia has effectively sanctioned the West in retaliation for the West's own sanctions.
There is a further, miserable irony to this turn of events. The G7's decision to try to cap Russian oil, which has now prompted Russia to finally turn off the gas, was largely driven by the failure of the Western sanctions regime itself. The regime that was meant to punish Russia has, in part, benefitted it.
It's quite a turnaround. Back at the start of the war, Western leaders were patting themselves on the back over the economic and financial punishment they were meting out on Moscow. President Biden even boasted in March that the sanctions were 'crushing the Russian economy' and that the ruble had been 'reduced to rubble'.
By the summer, this moment of self-congratulation had come to look absurd. Freezing Russian reserves, expelling Russian banks from the SWIFT payments system, imposing export restrictions on certain technologies and placing an embargo on Russian oil and coal had certainly damaged the Russian economy, cutting GDP by several percentage points and driving up inflation. Yet at the same time, the sanctions had clearly driven up the prices of the very commodities Russia has in abundance and on which so much of the world relies. As a result, in recent months, Russian oil revenues have been setting records as crude prices have surged. Gazprom in particular has been raking it in, publishing record profits thanks to gas prices reaching up to 10 times the level of just a year ago. And far from lying in ruins, the ruble recently hit a seven-year high against the dollar.
In other words, the sanctions designed to harm Moscow may have unwittingly helped fuel its war machine, while also deepening the energy-price crisis now gripping Europe.
The G7's price cap was trying to rectify this. It was an attempt to both drive down energy prices at home and to pile more pressure on to Russia. But once again, as Gazprom's decision to turn off the gas shows, the results have been counterproductive.
In many ways, Western governments, especially in Europe, have only themselves to blame for the energy crisis they now find themselves in. They willingly abandoned domestic fossil-fuel production and nuclear power. This eco-posturing fuelled a growing dependence on Russian gas and oil, which then made Europe, and especially Germany, vulnerable to the whims of the Russian state. And, since Russia's invasion of Ukraine, Western powers' decision to impose sanctions – to effectively weaponise trade – was always going to invite a counterpunch in kind from Moscow. They should have expected repercussions.
However, none of this diminishes the cynical cruelty of Russia's decision. It is intended to exacerbate and exploit the cost-of-living crisis now biting across Europe, and to use it to undermine Western support for Ukraine. In many ways, this isn't just about the Western sanctions. This is Russia's attempt to challenge the West's solidarity with the cause of Ukraine. This is Russia asking the people of Europe if it's really worth the pain. As Peskov put it on Monday: 'Of course, ordinary people in these countries [affected by the gas shutdown] will have more and more questions for their leaders.'
And he could be right. Many across Europe are increasingly drawing a connection between their financial plight and their nations' support for Ukraine. Over the past few days alone we have seen tens of thousands gather in Prague to protest the Czech Republic's membership of NATO, its support for Ukraine and the rising costs of living. In Germany, we've seen several thousand protesters on the streets of Cologne, demanding an end to weapons deliveries to Kyiv and calling for the opening of the Nord Stream 2 pipeline. And in Paris, we've seen thousands on the streets calling on France to leave NATO and to alleviate the energy crisis.
European politicians are giving voice to this growing discontent with Western support for Ukraine. This week, Matteo Salvini, leader of Italy's right-wing League party, called on the EU to lift the sanctions imposed on Moscow. And Salvini will be far from alone. French and German leaders, from the very start of the war, have always seemed keener than their Anglo-American allies on pushing Ukraine into reaching a deal with Russia, even if such a deal involves Ukraine ceding significant parts of its territory. It is safe to assume that Russia's latest move, against the backdrop of increasing unrest in Europe, will be causing European leaders to once again question how far they are prepared to go, militarily and economically, on Ukraine's behalf. The apparent unity of the Western alliance in support of Ukraine has rarely been as fragile as it is right now.
And Moscow knows it. It knows that, with winter approaching, this is the moment to exploit the West's potential disunity. Gazprom even released a video this week, presumably for Western consumption, showing what Europe will be like without Russian fossil-fuel provisions. 'Winter will be big – only dusk and snow', runs a caption beneath eerily sound-tracked footage of iced-up cities and frosted countryside.
Russia is no stranger to weaponising its gas and oil supplies in this way, of course. As Ruth Deyermond, a lecturer in war studies at King's College London, has pointed out, Russia increased gas prices for Georgia and Ukraine after both elected pro-Western governments in the 2000s. In 2007, it even cut oil and coal supplies to Estonia, after a Second World War memorial to the Red Army was relocated by the Estonian government.
In those cases, the Kremlin was using energy to wield power over what it sees as subordinate territories in its so-called sphere of influence. Today, it is attempting to use energy to coerce the whole of Europe into acquiescing to its will.
No one doubts the seriousness and complexity of the challenges now facing Europe, as the war in Ukraine grinds on and multiple crises raise its stakes ever higher. Yet to give up support for Ukrainian sovereignty in return for access to cheaper gas and oil would be a grave mistake. It would subordinate Europe to the will of the Kremlin. And, above all, it would betray the Ukrainian people.
Tim Black is a spiked columnist.
To enquire about republishing spiked's content, a right to reply or to request a correction, please contact the managing editor, Viv Regan.