Why Diana lives on
The 'People's Princess' was everything Meghan Markle is not.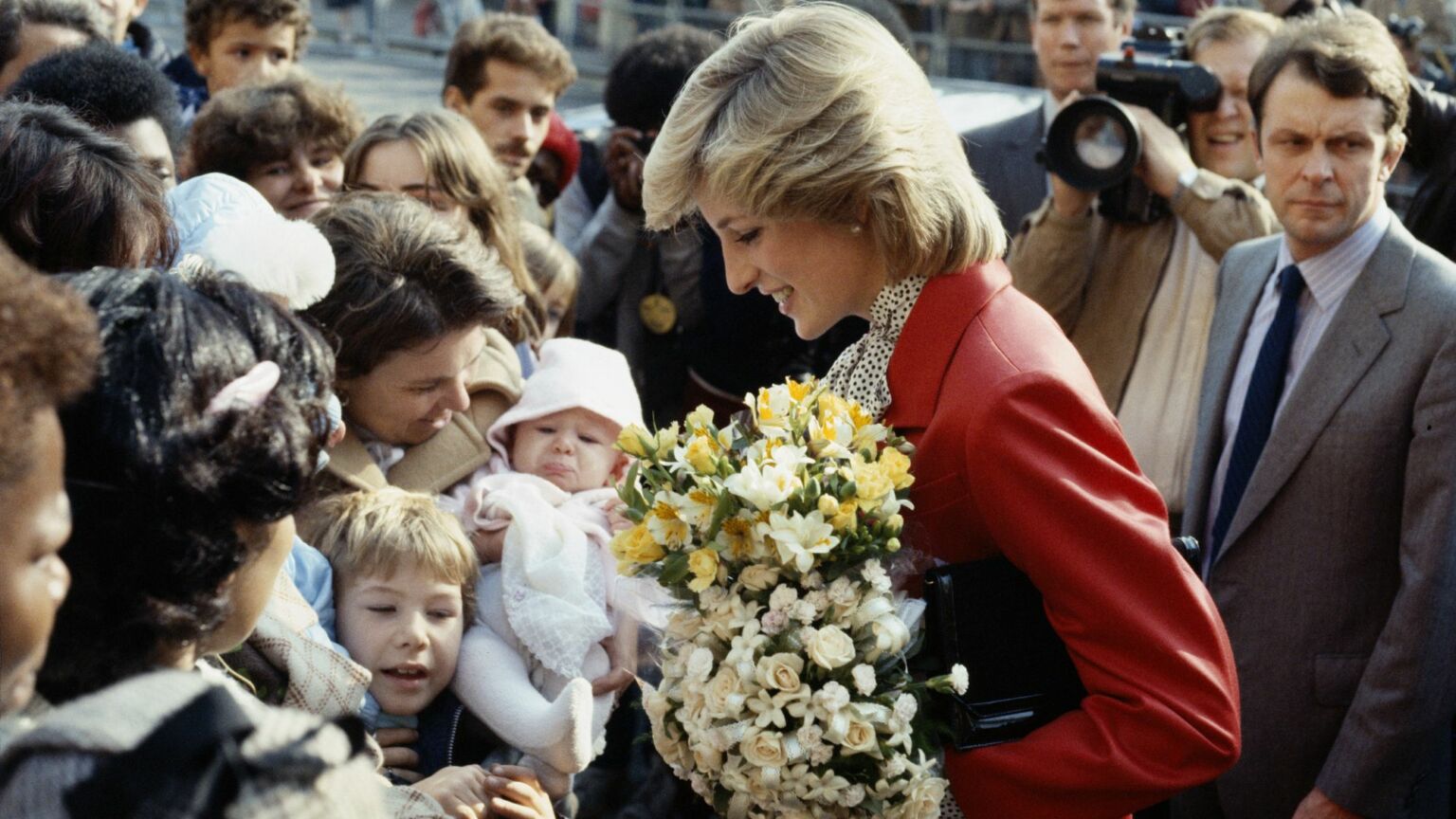 Nothing says celebrity immortality like celebrity death – especially for famous women, churned and burned to titillate the jaded mass male palate, and even more so if they die young and beautiful. That final curtain call covers a multitude of sins of omissions. Marilyn Monroe's career was in decline when she died. But with her death, she was restored to the very top of the starry firmament.
Twenty-five years ago today, Diana, Princess of Wales was killed in Paris at the age of 36. Her car crashed in the Pont de l'Alma tunnel, as a possibly drunk driver attempted to outrace paparazzi on motorbikes. I remember hearing the news very early in the morning and spending the weekend in a daze, staring at the letter she had sent me – 'Welcome, Julie, to the Princess's Party!', it said. I adored her and wrote about her lots. Later I would snort derisively as I watched Tony Blair on television describe her as 'the People's Princess' – a phrase coined by me in 1992. Then, first thing on the Monday that followed, I pitched a biography book idea to my agent.
Though the level of emotion that mainly women displayed in mourning her (derided mostly by men, many of whom see nothing unusual in wetting themselves weekly over a game in which two sets of millionaires kick a ball about) has naturally cooled over a quarter of a century, Diana still remains an object of fascination. The entertainments based on her short life keep on coming – from the sublime (The Crown, the forthcoming fifth and final series of which features Elizabeth Debicki as Diana) to the ridiculous (Spencer, starring the ghastly Kristen Stewart). Then, there's the documentaries – from the respectable (HBO's The Princess, which opened the Sundance Film Festival this year) to the sensational (Channel 4's four-part Investigating Diana: Death in Paris). Sometimes the interest surges over into the surreal, such as the awful Diana: The Musical and the unintentionally hilarious short story in the Telegraph last week, in which the novelist Rose Tremain imagined the princess's life today had she lived – invited on to Strictly, taking dancing lessons from an ageing John Travolta, etc.
What would the sexagenarian Diana be doing today? Her detractors like to snigger that she'd be hanging out on a millionaire's yacht, but there's no sign she liked playboys. This blonde preferred gentlemen, especially if involved in good works, and her closest friends think that she only bothered with Dodi Fayed in order to make her surgeon ex, Hasnat Khan, jealous. She was never one of the idle rich, refusing to be a debutante and working as a cleaner, a child-minder and a kindergarten teacher while still a teenager.
She was such a trailblazer with her hands-on (literally, at a time when it was feared to be communicated through touching) attitude to AIDS that it's probable that she would have been keen on campaigning for Covid vaccination in the developing world. And with her soft heart, she might well have initially shown some sympathy for the trans-rights movement – ie, the men in frocks. But with her love of children, perhaps she would have soon been revolted by the idea of tots on hormones and teenagers undergoing mutilating surgery.
Diana became a fashion icon, but when she gave up her 'pretty' patronages towards the end of her life (she was on the board of a hundred charities at one point), she said: 'How can I be a patron of a ballet company when people are dying?' Shortly after, she auctioned her most photographed dresses to raise funds for the few serious charities she stayed with.
Diana was not Meghan. Rather than being championed by the liberal establishment, she was persecuted by it – think of the BBC's connivance to play on her worst fears, via Martin Bashir. When she chose to 'invade her own privacy' she picked as the Boswell to her Johnson the respected journalist Andrew Morton. Markle chose Omid Scobie, lately of Heat magazine, who makes her out to be some sort of secular saint in the shockingly bad Finding Freedom. Meghan appears to have literally no sense of humour and, as is the case with the humourless, never mocks herself, while Diana had a good one, and frequently did.
Diana never saw being royal as being simply another kind of celebrity. She worked overtime at her duties. And when the conflict of interests with The Firm grew too great, she didn't run away. Rather, she was forced out, stripped of her title and removed from the Church of England's daily prayers for the royal family. And unlike 'Two Weddings and a Nursery Fire' Meghan (the 'only child' with two half-siblings), Diana had a good relationship with the truth.
Most vitally, based on his treatment of her, Diana stands as a warning of why Prince Charles should not be king, despite his ramped-up rehabilitation in recent years. I'm certainly not one of those bedwetters who believes that adultery makes one a Bad Person (that would be self-loathing), but it's obvious that a man who took 35 years to marry the woman he loved has neither strength of character nor common sense. Add to this the fact that he used a naive young woman as an ambulatory incubator before gaslighting her over his reignited affair with his mistress ('Don't you realise Diana's mad, mad, mad?', he once yelled down the phone at the queen when she asked him to be patient with his sad young wife). The idea that Charles will in any way fulfil the 'unifying' role that a monarch must in order to have a role in national life is laughable.
Diana did not present as a feminist, but she behaved like one. Twenty-five years on, the dead princess lives on in the hearts and minds of her people, a symbol of female resistance. Women are supposed to move meekly on when men tire of them. But Diana said: 'I'll fight to the end, because I believe that I have a role to fulfil.' The chief mourner at every royal wedding, the bride at every royal funeral and the rejected consort at every coronation, Diana is not yet done.
Julie Burchill is a spiked columnist. Her book, Welcome To The Woke Trials: How #Identity Killed Progressive Politics, is published by Academica Press.
To enquire about republishing spiked's content, a right to reply or to request a correction, please contact the managing editor, Viv Regan.