The rise of the Transmaids
Feminism now means bending to the demands of men in frocks.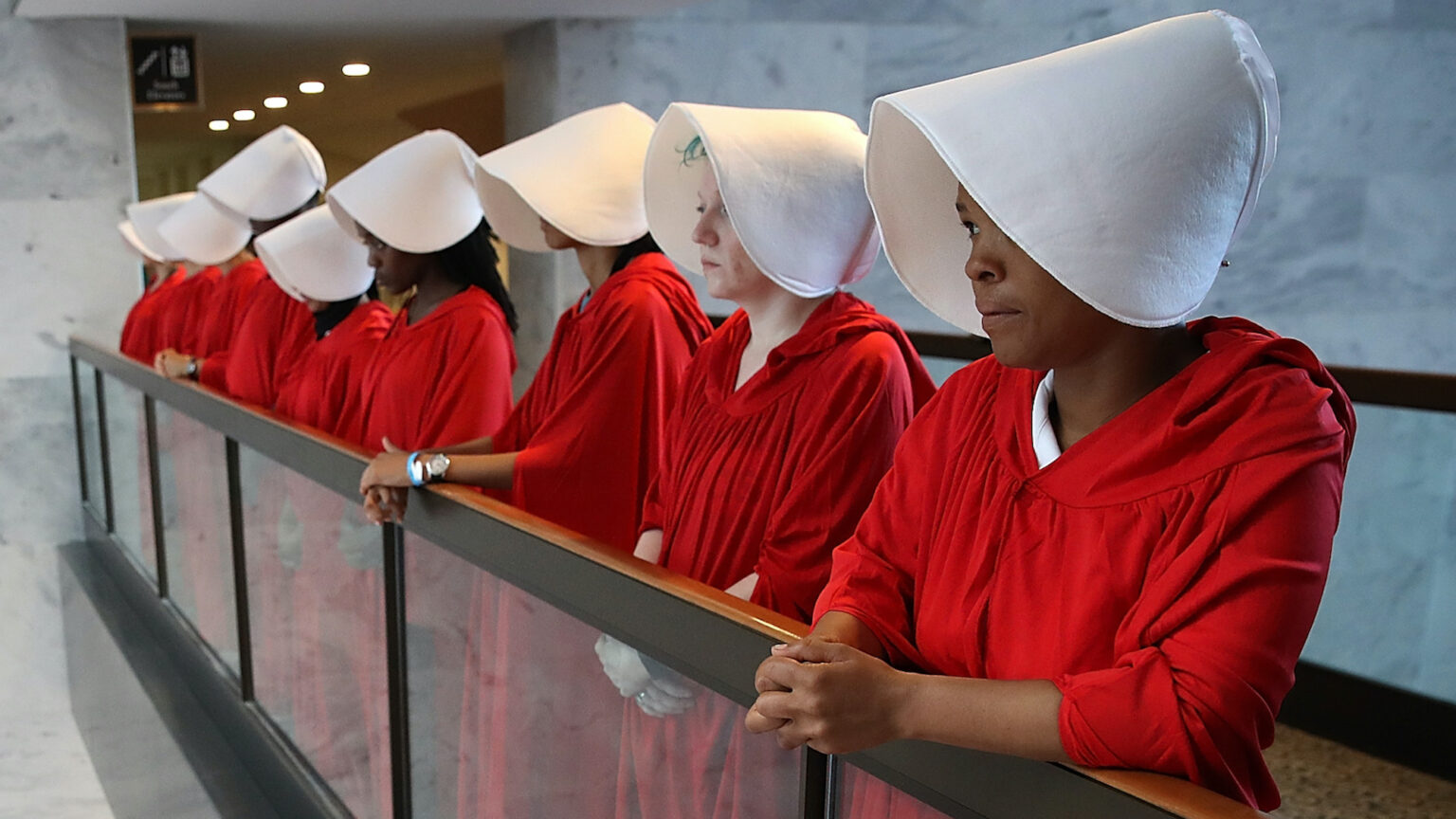 A recent book by veteran feminist campaigner Julie Bindel bears the title Feminism For Women. Twenty years ago, this might have seemed silly; of course feminism and women go together, like Ant and Dec or Jack and Coke. But now, it's a timely reminder. Because quite a few women who call themselves feminists actually practise a sort of Frankenfeminism which, whatever their intention, ends up gratifying men and degrading women.
The Transmaids (a woman who acts in a servile manner towards men, like a handmaid, but only if that man wears a frock) are the worst – I'll deal with them later. But feminism-for-men ('meninism' – not to be confused with 'Leninism', though misogyny definitely comes more from the left than the right in these strange days) has been with us for quite some time. In 2005 Ariel Levy published her brilliant book, Female Chauvinist Pigs: Women and the Rise of Raunch Culture, which dissected the alleged rise of female 'empowerment' through such pursuits as pornography, pole-dancing, Slut Walks, one-night hook-ups and basically everything frat boys want from women. As Levy asked, 'Why does the new liberation look so much like the old objectification?'.
And it is weird how those on the left, with their belief in the evil of the exploitation of powerless individuals by powerful ones, seem so keen on the sex trade these days. Didn't they get any when they were young? Is this their delayed revenge on the female sex? In 2015 I asked Jess Phillips, 'Why do you think the Tory Party has had female leaders while the alleged party of diversity and equality is invariably led by men?'. She answered, 'it's the structural sexism in all the groups that go to make up Labour. But it's a massive disappointment that we've somehow allowed all the other parties to run away with this. It's like people on the left are champions of equality until they see that some of their power is being taken away from them – whereas the Tories willingly gave it over.'
But now even my adored Jess parrots the pushmi-pullyu line – 'transwomen are women!'. It's no good feminists like her and Lisa Nandy (we'll draw a merciful veil over the supremely silly Dawn 'babies are born without a sex' Butler – talk about an embarrassment of riches) getting angry about the repulsive level of violence against women and the pathetic police clear-up of rape (now practically 'decriminalised' according to the victims' commissioner, Dame Vera Baird) if in the next breath they're saying it's fine and dandy for a rapist to be housed in a female prison if he merely decides he wants to be called Karen, not Kieron.
Fans of Emma Watson were reported recently as being 'confused' that she turned up to interview Al Gore with her underwear showing. But she's a young actress interfacing with an older politician – what could be more conventional? It didn't have the glamour of Marilyn singing 'Happy Birthday' to JFK, but it had the same source – get your tits out for the powerful men, there's a good girl! And we were warned that she isn't what I'd call a feminist when, launching her horribly named crusade 'HeForShe' at the United Nations in 2014, she simpered: 'I was appointed six months ago and the more I have spoken about feminism the more I have realised that fighting for women's rights has too often become synonymous with man-hating. If there is one thing I know for certain, it is that this has to stop.' No, dumbo, it's men hating women that has to stop. That's what feminism means. That and choosing to take the side of a fellow female who made your fortune and is being witch-hunted for using the word 'woman' rather than join a bunch of over-privileged little cry-bullies slagging off JK Rowling. Transmaid – a handmaid who when choosing between the rights of women and the approval of men will always choose the latter.
The pornification of sex has had a baby with the performative nature of modern left-wing politics – and my goodness, it's a monster that surely only a female birthing person could love. Through ceaselessly repeating the lie 'transwomen are women' the Transmaids have helped bring about the situation whereby young lesbians are bullied into sex with men in frocks under threat of being called bigots – as bad as racists. It's simply conversion therapy with bad wigs. An American boyfriend once said to me, 'Englishmen never need much excuse to dress up as women, do they?' – and from Widow Twankey to Mrs Brown, we see this. 'Transwomen' are not women – they are cross-dressers. And now that the previously compliant BBC has seen their true colours (blue for a boy!) and their Stonewall is crumbling, they're crosser than ever. Good!
Julie Burchill is a spiked columnist. Her book, Welcome To The Woke Trials: How #Identity Killed Progressive Politics, will be published this year by Academica Press.
Picture by: Getty.
To enquire about republishing spiked's content, a right to reply or to request a correction, please contact the managing editor, Viv Regan.