Why lockdown will haunt Johnson's legacy
This alleged libertarian turned into our most authoritarian prime minister ever.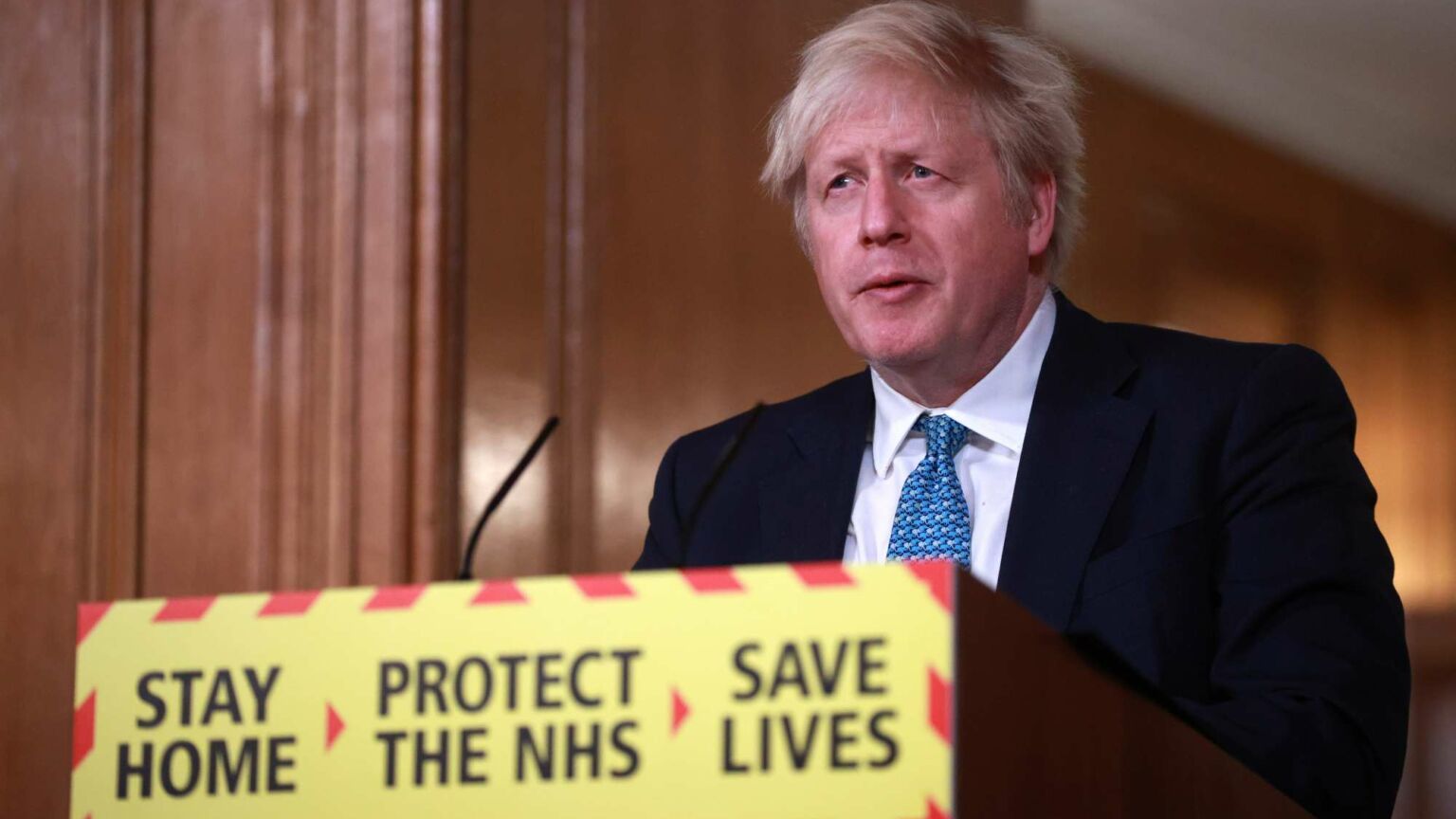 In many of the post-mortems on the Boris Johnson era, one defining policy of his premiership is curiously missing: lockdown.
The Covid pandemic gets mentioned, of course. Johnson's enemies point to the 180,000 lives lost to the virus on his watch. And his fans laud the UK's successful and rapid vaccine rollout. But the actual lockdown seems to have faded from memory.
It shouldn't. In two of the three years of Boris Johnson's premiership – from March 2020 to March 2022 – people in England have lived under some form of unprecedented public-health restrictions. And on three occasions – for seven gruelling months – England was in full lockdown, meaning it was illegal to leave the house without a valid excuse. That Boris Johnson was the prime minister who instituted the lockdown reveals a great deal about his limitations.
Throughout his political career, Johnson has presented himself as a Merrie England libertarian – as a jovial, care-free, fun-loving figure and an instinctive enemy of nanny-state paternalism. This was the man who used his newspaper columns and public speeches to decry the meddling of bureaucrats, policy wonks and public-health officials in our everyday lives. Who railed against that 'giant descending rump of matronly authority'. Who eats birthday cake and cold chops for breakfast. And who threatened to 'physically eat' any state-issued ID card.
Yet this is the same man who put us under effective house arrest for months on end. This period of lockdown was, in the words of one Court of Appeal judge, 'possibly the most restrictive regime on the public life of persons and businesses ever' – more restrictive, that is, than even those infamous Blitz-era curfews.
Just weeks prior to Johnson issuing that unprecedented instruction to the people to 'stay at home', a full-on lockdown had been an unthinkable prospect in a Western democracy. Lockdown was not something that the authorities, as one scientific adviser infamously put it, initially believed they could 'get away with'. Maybe an authoritarian regime like China's could put its population under house arrest, the conventional wisdom had it, but surely this couldn't happen in Britain, especially in a Britain led by freedom-loving Boris.
But on 23 March 2020 we ceased to be a free country. The liberal-democratic assumption that we are free to do anything we please unless the state expressly forbids it was turned on its head. Instead, we were forbidden from doing everything outside the home, unless an exemption was specifically granted.
Even outside of full lockdown, the state's micromanagement of our social lives was extraordinary. There were bans on singing, casual sex and 'mingling'. There were rules on where you could sit and stand in bars and restaurants (in the fleeting moments when they were open at all). There were late-night curfews. And who could forget the scotch-egg rule. Johnson's government created a dystopia of petty regulations.
Worse still, many of these rules were decided without any input from the public or even scrutiny from parliament. Boris Johnson, elected by millions to 'Get Brexit Done' and implement the democratic will of the British people, ruled for much of the pandemic by decree.
Despite Johnson's apparently liberal and democratic instincts, he allowed himself to be pushed around by those who were predicting the apocalypse.
Scientific advisers, armed with wildly alarmist mathematical models, demanded health restrictions under all circumstances. The scientists' bias toward lockdown didn't even change after the vaccine rollout. Even as recently as December 2021, SAGE scientists claimed that lockdown would be needed to prevent deaths reaching 6,000 per day (a higher figure than had ever been reached even without vaccines). Fortunately, in the second winter of the pandemic, the government started to ignore the scientific advice, keeping the country largely open (while acceding to some measures). The predictions were exposed as nonsense. You might think that having fought in the battles for Brexit, where experts similarly warned of armageddon, Johnson might have understood more quickly that official expert advice needs to be interrogated and not simply accepted as fact.
The other great source of pressure on Johnson was the media, which all-too-willingly amplified the most alarmist predictions. Journalists became cheerleaders for lockdown. They only ever criticised the government for being insufficiently authoritarian. The opposition Labour Party played a similar role, either demanding 'circuit breaker' lockdowns or voting with Johnson's government when Conservative backbenchers started to turn against the health measures.
Whatever Johnson's private views on lockdown, or his apparent instincts towards liberty, the scars of this policy will arguably be his most baleful legacy. The stop-start shutdowns of the economy have created havoc across supply chains, which has added to the nation's cost-of-living woes. The closure of schools has led to catastrophic losses in learning and has hampered children's development. The transformation of the National Health Service into the National Covid Service has led to record backlogs and deadly delays in providing treatment.
This is the legacy of lockdown, which is inescapably a big part of Johnson's legacy, too. It will take many more years to clean up the mess.
Fraser Myers is deputy editor at spiked and host of the spiked podcast. Follow him on Twitter: @FraserMyers.
To enquire about republishing spiked's content, a right to reply or to request a correction, please contact the managing editor, Viv Regan.