The trouble with the new anti-Toryism
This anti-populist movement seeks to undo the few good things Johnson has done.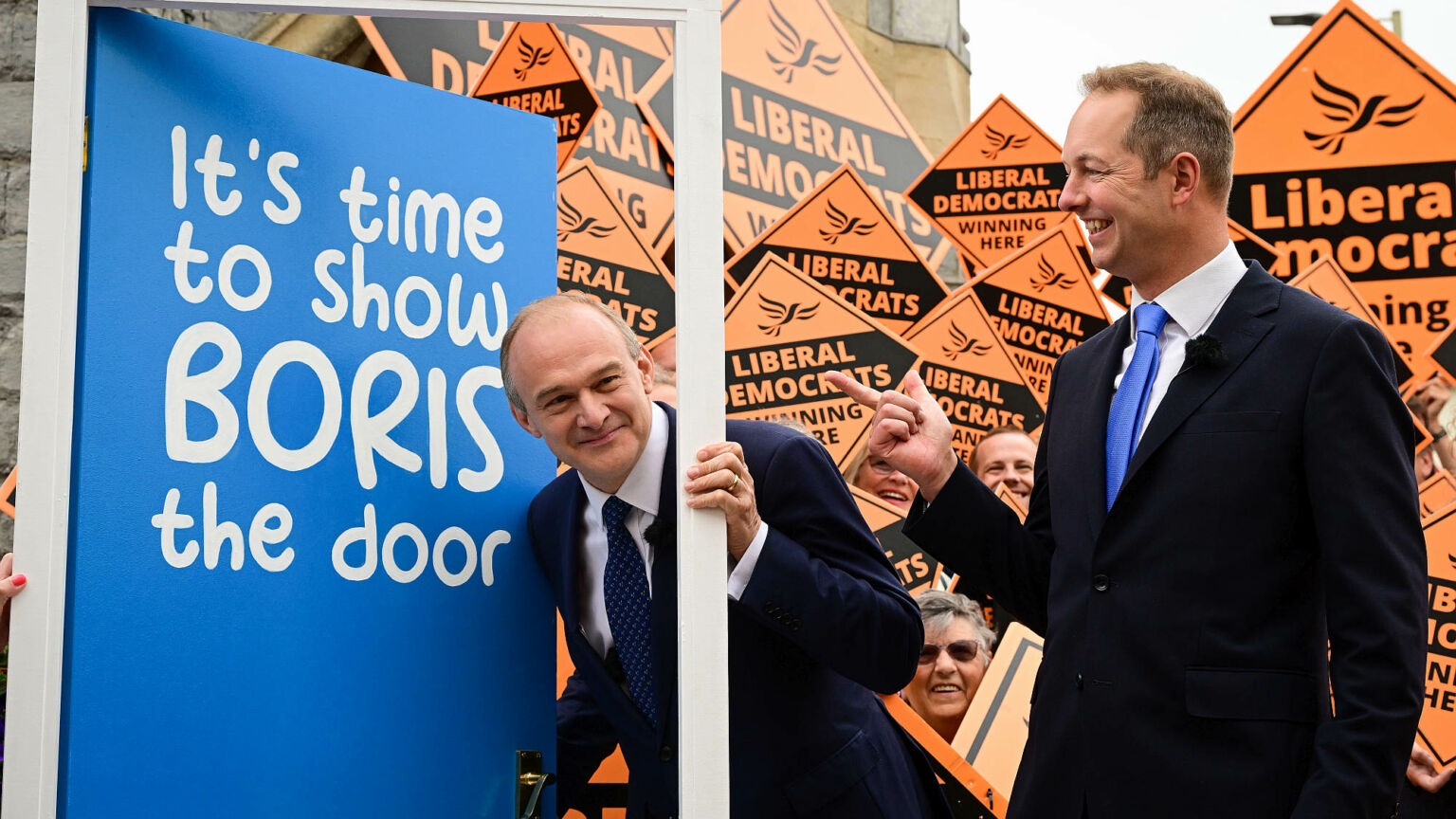 At the next election, when it comes, all the usual suspects will be on the ballot paper. The Labourites, the Tories, the Lib Dems, the Monster Raving Loonies (more formally known as the Greens). But the way things are going, the choice will really come down to two: the Tories and the anti-Tories.
That was the upshot of the Conservative Party's twin by-election defeats last week – in formerly true-blue Tiverton and Honiton (which went to the Lib Dems) and formerly Red Wall Wakefield (which was won back by Labour having lost it at the 2019 election).
Pollsters observed anti-Tory tactical voting on an 'industrial scale' in both by-election results, with Labour and Liberal Democrat supporters happily switching their party allegiance so as to get the Tories out. As a result, both parties prevailed in one race and lost their deposit in the other.
Meanwhile, many Tory voters – demoralised by this at-sea, scandal-hit government – stayed at home. Prime minister Boris Johnson, for a long time a marmite figure, now seems to be winding up his opposition while failing to inspire those who backed him in 2019.
The question of whether you're pro-Tory or anti-Tory is now central to British politics. As Fraser Myers put it on spiked last week, it's now the Tories v the world. And this bodes ill for the party. Having shredded its relationship with the DUP over the issue of the Northern Ireland Protocol, the Conservatives now need an outright majority to govern.
Meanwhile, the so-called progressive alliance – long dreamt of by liberal-left commentators – seems finally to be taking shape. Labour and the Lib Dems have struck up what you might call Schrodinger's Pact, barely campaigning in seats the other is more likely to win, while insisting that no formal arrangement is in place.
All this means that even if the Tories are the largest party at the next election, Keir Starmer may still become prime minister – thanks to the Lib Dems, the SNP and the Greens. Reportedly, the Lib Dems have already offered to prop up a Labour minority government in exchange for electoral reform, sans a referendum of course.
But for all the crowing in the anti-Tory / pro-Labour press about all this, none of this reflects well on Starmer's party either. Labour is essentially admitting that – having lost not just one Red Wall but two; everyone seems to forget about Scotland – the party is no longer aspiring to appeal to a majority of constituencies up and down the country.
What's more, no one is even pretending that Labour or the Lib Dems are galvanising support. One commentator, welcoming last week's results, credited Lib Dem leader Ed Davey with 'neither… attract[ing] nor repel[ling] voters', and Starmer with reassuring voters that 'a Labour government would not be the end of the world'.
The parties that make up this progressive alliance, if we must call it that, have no vision of their own. They just aren't Tories. Which is apparently enough to win over a large chunk of middle-class, anti-Brexit Britons who have convinced themselves that Johnson's useless party is in fact evil and quasi-fascistic.
In many ways, the rise of this new anti-Toryism only confirms that the Tories dominate British politics. They set the agenda and their critics then offer a series of histrionic and quite often hypocritical responses – with a parade of media Blairites condemning the lies and lawlessness of Tony Blai… sorry, Boris Johnson.
While we at spiked have never had any illusions about Johnson's Tories, the rise of this anti-Tory, anti-Boris, essentially anti-populist alliance is a problem for those of us who care about the few things that have actually been positive about this otherwise shitshow of a government.
Prize among them being Brexit. What unites the Lab-Lib-SNP alliance is a loathing for that historic blow for sovereignty, and a thinly veiled desire to reopen our relationship with the European Union to bring us closer to Brussels' technocratic orbit. This is what Keir Starmer euphemistically refers to as 'making Brexit work'.
Indeed, many of the things the great and good most loathe about Johnson's government relate to its preference for democracy over technocracy – its insistence, though often all-too-limply asserted, that the writ of the EU or the European Court of Human Rights should not override our own democratic processes.
Similarly, the government's willingness to engage in the 'culture war' – a dismissive term for what are often very real issues around freedom, tolerance and identity – is chalked up as racist, transphobic and the rest. But here the Tories are simply speaking up for values – free speech and sex-based rights in particular – that any true progressive should champion.
Now, the Conservatives are either overly cautious or utterly inconsistent on many of these issues. Their war on woke has always been more about rhetoric than action. They want to bring back free speech to universities but seem intent on purging it from the internet. But while we can't trust the Tories on freedom and democracy, the anti-Tories don't even pretend to care about them.
The combination of the 2016 referendum and the 2019 election knocked the liberal-left establishment back on its heels and put working-class voters and their views back on the electoral map. This was undoubtedly a positive democratic development. But the new anti-Toryism seeks to put those voters back in their box.
Meanwhile, those who did vote for Brexit and then took a chance on Johnson are left in an awful position. They can either ride or die for a government that is, by all accounts, spent – preoccupied with its many scandals and incapable of recapturing its populist energy. Or they can go back to not voting, as many did for decades before 2016.
This new anti-Toryism, if given half the chance, would reverse the democratic gains of the post-Brexit era. And a battered, infighting Tory Party seems increasingly incapable of stopping this. More than ever, we need a new force in British politics to do what Johnson clearly can't – to ensure the people take back control once and for all.
Tom Slater is editor of spiked. Follow him on Twitter: @Tom_Slater_
To enquire about republishing spiked's content, a right to reply or to request a correction, please contact the managing editor, Viv Regan.