The desperation of Sturgeon's US jaunt
While she swans around taking selfies in America, Scotland is in real trouble.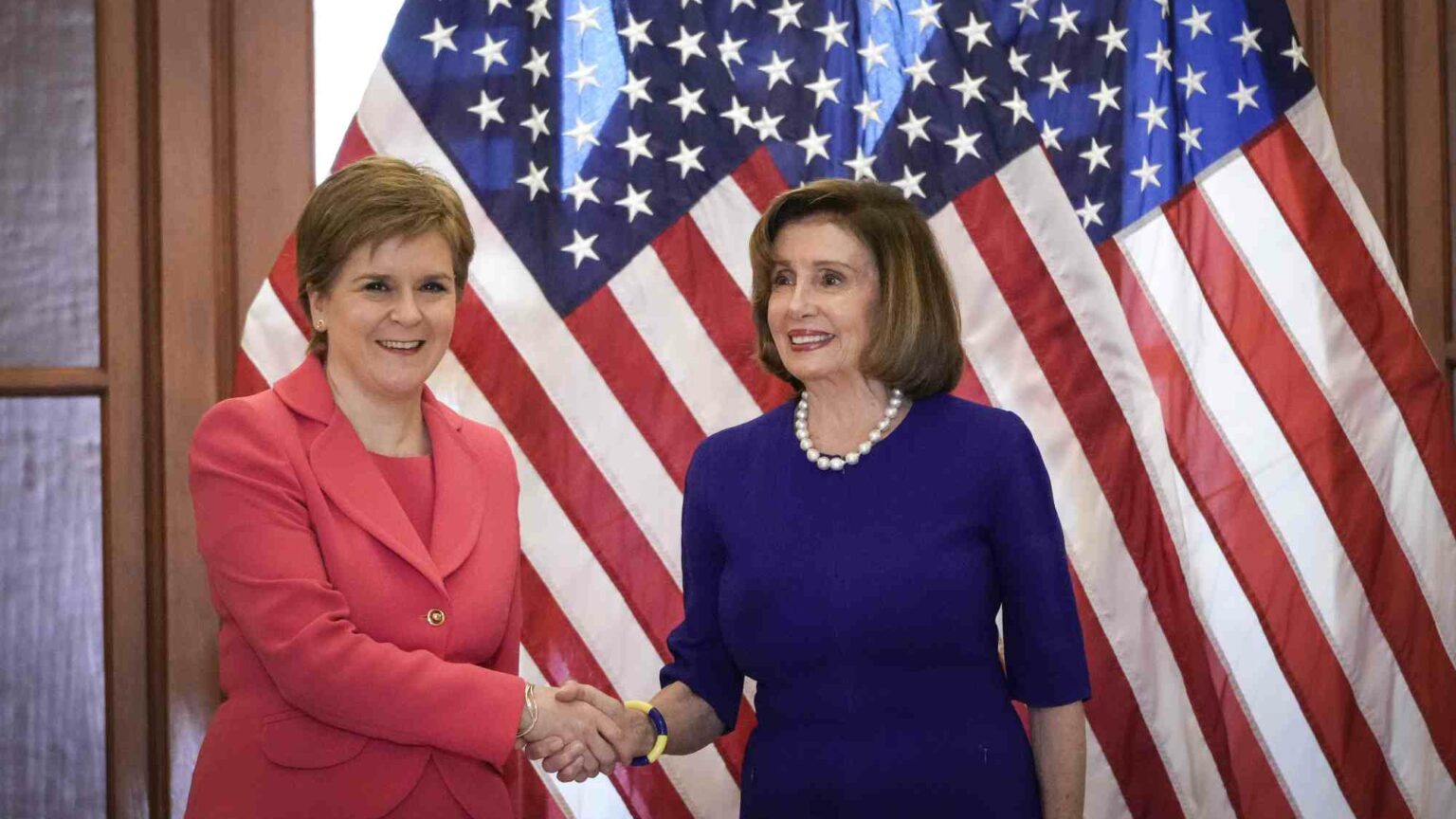 What a holiday Nicola Sturgeon is having. During her trip to the US this week, the Scottish first minister has been seen hanging out at a Washington, DC think tank. She's been snapped alongside Nancy Pelosi, the speaker of the House of Representatives. She's even been able to indulge her favourite pastime of pontificating self-righteously.
And what a feat of pontification it was. In a keynote speech delivered to the Brookings Institution, she managed to pack in as many broadsheet pieties as possible. She said that a failure to meet climate-change targets agreed at November's COP26 summit would be 'catastrophic' and kindly warned Americans against voting for Donald Trump again. It was a masterclass in smart-set platitudes.
Of course, Sturgeon's stateside jaunt is meant to be more than just a self-aggrandising 'selfie tour'. It is meant to project an image of Scotland as an independent nation, striding out on to the global stage. Hence, as wee Nicola touched down in the US, the SNP near enough simultaneously unveiled its new 'global affairs framework', which set out 'the values, principles and priorities underpinning the Scottish government's work to become more active internationally'.
This is all moot at this stage, of course – foreign affairs are reserved to Westminster. But actual, consequential foreign-policymaking wasn't the point here. It was a chance for Sturgeon to enhance her international reputation and sprinkle her push for independence with a bit of international glitter.
With Scottish people still backing the Union, Sturgeon seems increasingly keen on making her case to the international set. Which makes sense. Because back at home her own party's 15-year record in power is hardly helping her make the case to voters.
As is becoming increasingly clear, the SNP's record in government is abysmal. It has overseen signal failures in all the key areas of devolved governance, from education to healthcare.
The Scottish NHS, which was in dire straits before the pandemic hit, is now at breaking point. The British Medical Association has described the current situation in Scotland's accident and emergency departments as 'horrific'. Waiting times for key diagnostic tests, such as endoscopies and MRI scans, are through the roof. And on top of this, Scotland continues to record by far the highest drug-death rate of any country in Europe.
As for the SNP's handling of the pandemic, which was praised by much of Britain's media at the time, even that is coming under heavy criticism now. Indeed, a few months ago, it was suggested by some that Sturgeon and her former health secretary could even face criminal charges for the decision to discharge elderly patients, without testing them for Covid, back into Scotland's care-home system – a decision that is thought to have cost thousands of lives.
Then there's Scotland's education system. Under the SNP's stewardship, standards in maths and science have plummeted, with Scottish schools reaching a record low in the international PISA rankings in 2019. Once the envy of the world, Scottish schools now lag behind those in Wales and England.
Everything about the SNP's record in government stinks. And worse still, it has repeatedly tried to dodge accountability over it, withholding key documents and data on its handling of the pandemic, and, in the case of the Alex Salmond scandal, refusing to release key bits of evidence to the Holyrood inquiry.
The issue of Scottish independence raises much bigger questions than the track record of the SNP, of course. But it is striking how keen Sturgeon is to change the subject from what Scotland under the SNP currently looks like.
As Sturgeon's desperate PR trip shows, this is a government that wants to be judged on anything but its record in power. So while she plays at being a world leader, Scotland's decline continues.
Tim Black is a spiked columnist.
To enquire about republishing spiked's content, a right to reply or to request a correction, please contact the managing editor, Viv Regan.