Finally, Boris is talking sense on trans issues
Was it really so hard to say that biological sex matters?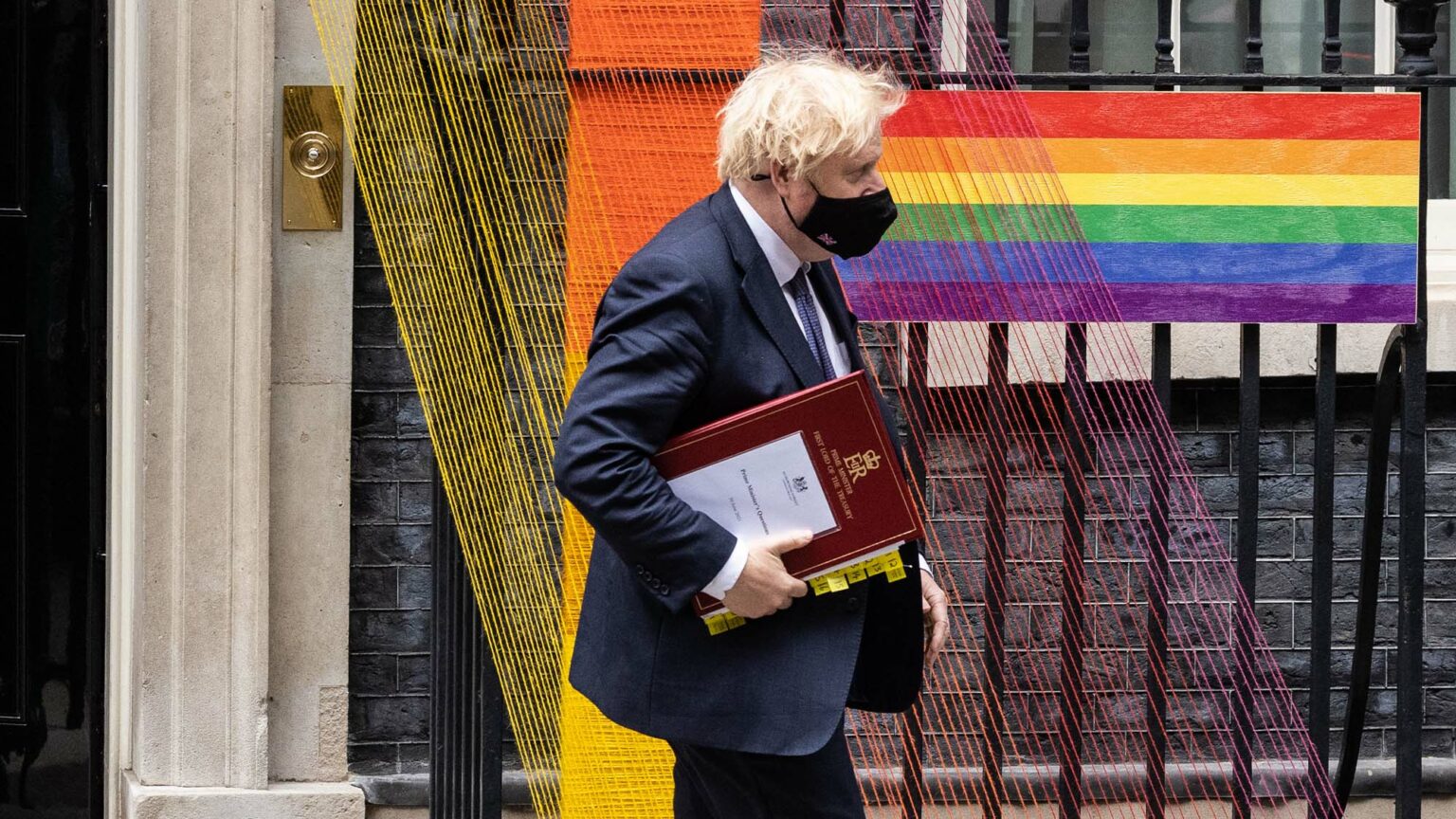 Finally, Boris Johnson has found the courage to defend women's sex-based rights. During an interview at a hospital yesterday, he said that 'biological males should not be competing in female sporting events'. 'I also happen to think that women should have spaces – whether it is in hospitals or prisons or changing rooms or wherever – which are dedicated to women', he added.
His comments came off the back of news that over 100 LGBT+ groups have pulled out of a government-backed LGBT conference, 'Safe To Be Me', in protest against a u-turn on the proposed ban on trans conversion therapy. The potential for children struggling with their gender identity to be denied access to counselling was one reason the government backtracked. Johnson clarified his thinking in that interview, too: 'I don't think that it's reasonable for kids to be deemed so-called Gillick competent to take decisions about their gender or irreversible treatments that they may have. I think there should be parental involvement at the very least.' At last, some clear, concise common sense. Thank you, prime minister.
Mind you, it has taken Johnson a while to arrive at this point. Last year he dithered over the question of whether or not only women have a cervix. A fortnight ago the best Johnson could do was acknowledge that 'basic facts of biology' are 'overwhelmingly important'. But yesterday we finally got his clearest statement yet on the importance of the distinctions between males and females, and adults and children.
By coming off the fence, the prime minister has also emboldened others in his party. Justice secretary Dominic Raab tweeted his agreement, saying: 'As a father, I would not want my children taking decisions on irreversible treatments without parental involvement.' Business secretary Kwasi Kwarteng told Sky News: 'It is unfair to have biological males competing with biological females in things like swimming contests and cycling.' He added that it was 'very refreshing to see the leading politician in our country being so clear on that'.
Labour, meanwhile, is still flummoxed. Keir Starmer has previously declared that it is 'not right' to say that only women have a cervix. His most recent attempt at defining the word 'woman' left voters none the wiser. Starmer told The Times last month: 'A woman is a female adult and, in addition to that, trans women are women.'
Labour's leading women have fared no better. Shadow home secretary Yvette Cooper said she did not want to go down the 'rabbit hole' of providing a definition of woman, while shadow women and equalities minister Anneliese Dodds bizarrely claimed that definitions vary according to context. Meanwhile, deputy leader Angela Rayner would prefer us not to have this debate at all. She said: 'What I'm not comfortable with and what's frustrating me is that we're having a debate on social media and commentating [on] what is a very serious issue that people have very genuine concerns about, and it's all about whether or not you've got a penis or whether or not you've got a cervix.'
Only one Labour MP has consistently defended women's sex-based rights: Rosie Duffield. For her trouble she has been harassed by members of her own party, to the point that she was warned against attending Labour's conference last year on security grounds. Fulsome support for Duffield from the Labour leadership has been notable by its absence.
By defining womanhood in relation to biology and defending women's sex-based rights, Boris Johnson has not only emboldened his own MPs – he has also put Labour on the defensive. Muttering about 'context' and things that 'should not be said' now seems deliberately obtuse.
Women's rights campaigners have been crying out for an unambiguous steer from government ministers for years. But much seems to have changed in recent weeks. For instance, just this week the Equality and Human Rights Commission advised that single-sex services are legal and justifiable. And we also faced the very real prospect of transgender cyclist Emily Bridges beating British Olympic legend Dame Laura Kenny last weekend, before Bridges was disqualified on a technicality.
Perhaps another recent initiative convinced the prime minister that the time was right to speak out. Last week Maya Forstater of Sex Matters, together with Heather Binning of the Women's Rights Network and Caroline Ffiske of Women Uniting, launched a new campaign, Respect My Sex If You Want My X, which aims to get voters to ask candidates in the upcoming local elections if they can define what a woman is. The campaign made the front page of the Daily Mail and has received huge support online.
Democracy means that the politicians who most reflect the concerns of the public are the ones who get elected. And Boris Johnson likes winning elections. Mumsnet users are already making his decision look smart. As one contributor puts it: 'As far as reasons for single-issue voting go, the erasure of women is a pretty fucking important one!'
Is Boris Johnson's declaration of the importance of sex more pragmatic than principled? Probably. But if it means protecting children, saving women's sports and safeguarding women's access to single-sex spaces then few will care. The fact is, the prime minister has listened to women.
Keir Starmer, on the other hand, seems only to listen to Twitter. If he carries on like this, Labour will be in deep trouble.
Joanna Williams is a spiked columnist and the director of Cieo.
Picture by: Getty Images.
To enquire about republishing spiked's content, a right to reply or to request a correction, please contact the managing editor, Viv Regan.