Notes on a No Fly Zone
The culture of fear has consequences, too.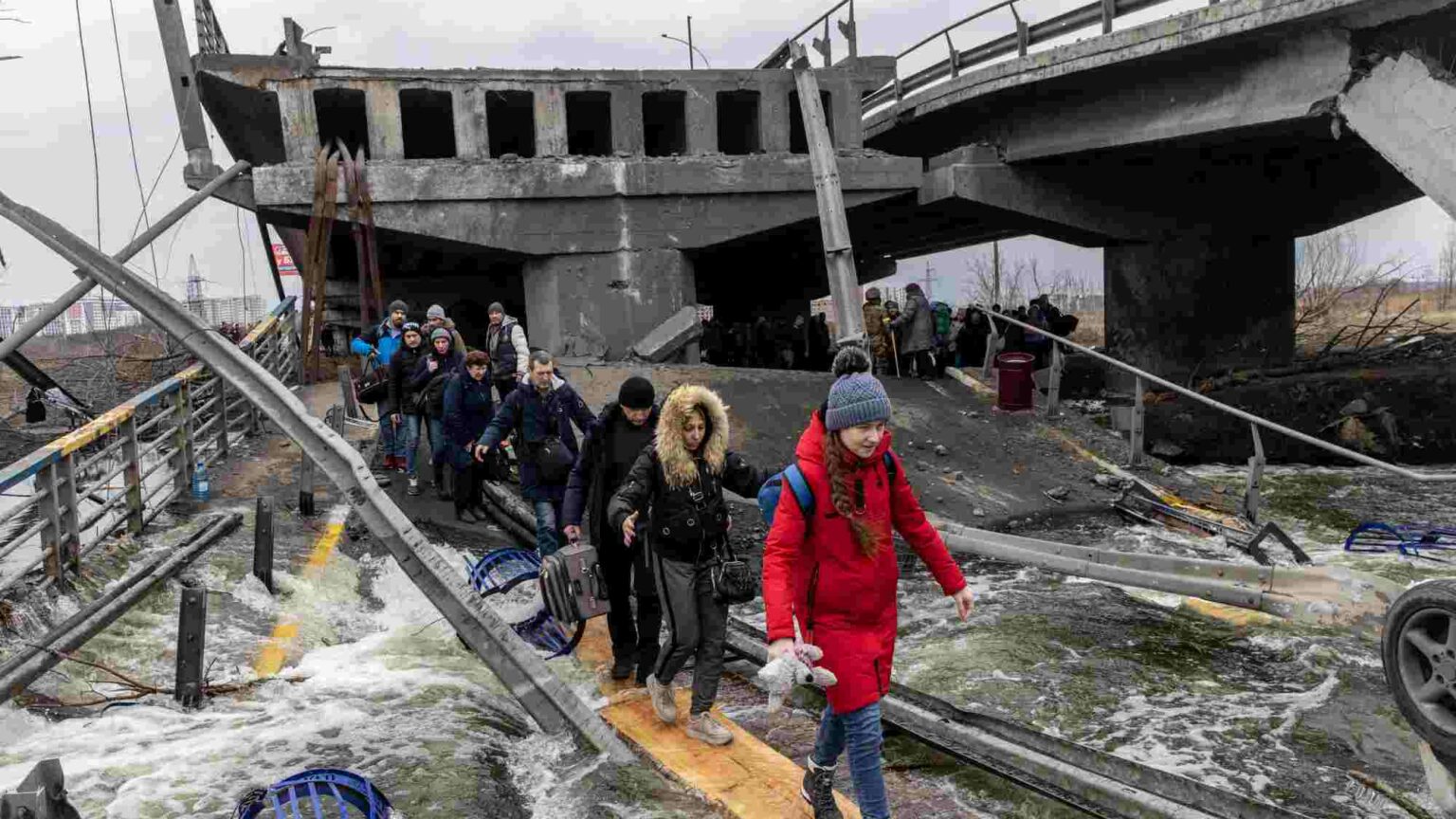 So, if you're a nuclear power you can do anything you like? That has been the chilling and probably unwitting implication of much of the media elite's furious criticism of the idea of enforcing a No Fly Zone over parts of Ukraine. 'If we do this, then prepare for nuclear winter', the argument goes. Russia has 6,000 nukes, we're constantly reminded, so antagonising it with an NFZ might very well spell the end of human life as we know it, commentators claim. We might even witness the '[extermination of] human civilisation in a nuclear hellfire which will leave the unlucky survivors wishing they'd [been] incinerated in the initial blast', said Owen Jones. Strewth.
The argument being made here, if only by implication, is that such is Russia's nuclear strength, so well armed is this otherwise rather ailing superpower, that there are certain measures that must never be taken against it. It's too risky. The blowback will be too great. It would push us to 'the brink of nuclear war'. We'll all die. This strikes me as a very poor argument, even a potentially dangerous one. Yes, action by the West has consequences, of course it does. But loudly declared inaction, a refusal to countenance certain forms of action from a standpoint of dread over Russia's power to punish us in the most extreme way imaginable, has consequences, too. It strikes me that Western intellectuals' fear of a No Fly Zone, their fantasies of Armageddon, could have an emboldening effect on the Putin regime, essentially green-lighting its further violent encroachments on Ukraine.
To be clear, there are many good arguments to make against a No Fly Zone. A NATO-enforced NFZ in Ukraine is not a good idea. Not least because the bulk of Russia's actions are ground-based, leaving the very distinct possibility that an NFZ would essentially be a militaristic virtue-signal more than a helpful measure, designed more to satisfy the 'Something Must Be Done' laptop classes in the West than to sway things in brave Ukraine's favour. And an NFZ would, indeed, represent an escalation. It is mendacious of the pro-intervention lobby to deny that, to deny that taking on the Russian airforce would represent the start of some form of conflict between NATO and Moscow. As we argued on spiked last week, an NFZ would unquestionably 'trigger a conflagration' between West and East.
And yet the way in which the case against a No Fly Zone was made by many in the media classes last week remains striking, and concerning. It came less from a point of principle, from a cool analysis of potential consequences, than from a pre-existing pit of dread about the end of the world. It drew more from well-rehearsed narratives of fear – around climate change and pandemics and other crises that are always reimagined by our febrile elites as glimpses of the coming Armageddon – than from detached militaristic or geopolitical assessment. 'A No Fly Zone might help Ukraine. Or it might lead to nuclear war', said a Washington Post headline. Very helpful, that. 'A No Fly Zone will lead to nuclear war', said CND (my emphasis). An NFZ in Ukraine could 'easily mean Armageddon', said Labour MP Zarah Sultana. And there you have it: if NATO enforces this measure we will witness the last battle between good and evil followed by the Day of Judgement. You have been warned.
It seems clear to me that this discussion has been more about us, and our entrenched culture of fear, than it has been about Ukraine or Russia or the risks, undoubted, of escalating this conflict. It is a species of risk aversion, the argument being that we cannot take a certain form of action because we don't know what the consequences will be, though we suspect they'll be the worst consequences humankind has ever experienced in its entire history. It has all been reminiscent of the nuclear fears that animated mankind in the early decades of the Cold War, prompting CS Lewis to advise us to 'pull ourselves together' and stop living 'huddled together like frightened sheep and thinking about bombs'.
We need to take seriously the consequences of fear as well as the consequences of potentially escalating the war in Ukraine. It strikes me that making the case against an NFZ on the basis of Russia's nuclear armoury, and the apocalypse it could potentially unleash, could unwittingly incentivise nuclear arming by states. If states know that the idea of the 'nuclear deterrent' doesn't only mean protecting yourself from external aggression – which has always been the UK's justification for its nukes – but also means protecting yourself from certain forms of reprimand when you invade a neighbouring country, then what is to stop them from seeking out these weapons of mass destruction? Iran certainly won't be backtracking anytime soon on its desire for nukes. Maybe the Saudis will want them, too. After all, if you have the power of 'Armageddon', you apparently become untouchable in militaristic terms.
And then there's the emboldening of Putin. This appears to have been a byproduct of the frenzy of fear around a No Fly Zone. An NFZ would be an 'act of war', Putin now cockily declares. Technically speaking he is correct. But there is something deeply repugnant and chauvinistic in his conviction that while he is permitted to violently upend Ukrainian sovereignty and seek dominion over its territory, any retaliation for his doing so, any interference in Ukraine by other forces, even if invited by Ukraine's democratically elected government, is an intolerable act of war that will be punished. This is the arrogance of the imperialist laid bare. Putin must be stopped. It seems unlikely to me that a No Fly Zone would do that, and it seems possible that a No Fly Zone would introduce external geopolitical factors and interests that could end up diluting and even undermining the Ukrainian people's valiant struggle for independence. At the same time, if the West signals to Putin that it is scared, that it is in the grip of existential dread, let's not kid ourselves that that won't have consequences, too.
To enquire about republishing spiked's content, a right to reply or to request a correction, please contact the managing editor, Viv Regan.