The erasure of JK Rowling
Harry Potter would not exist without her talents. It's demented to pretend otherwise.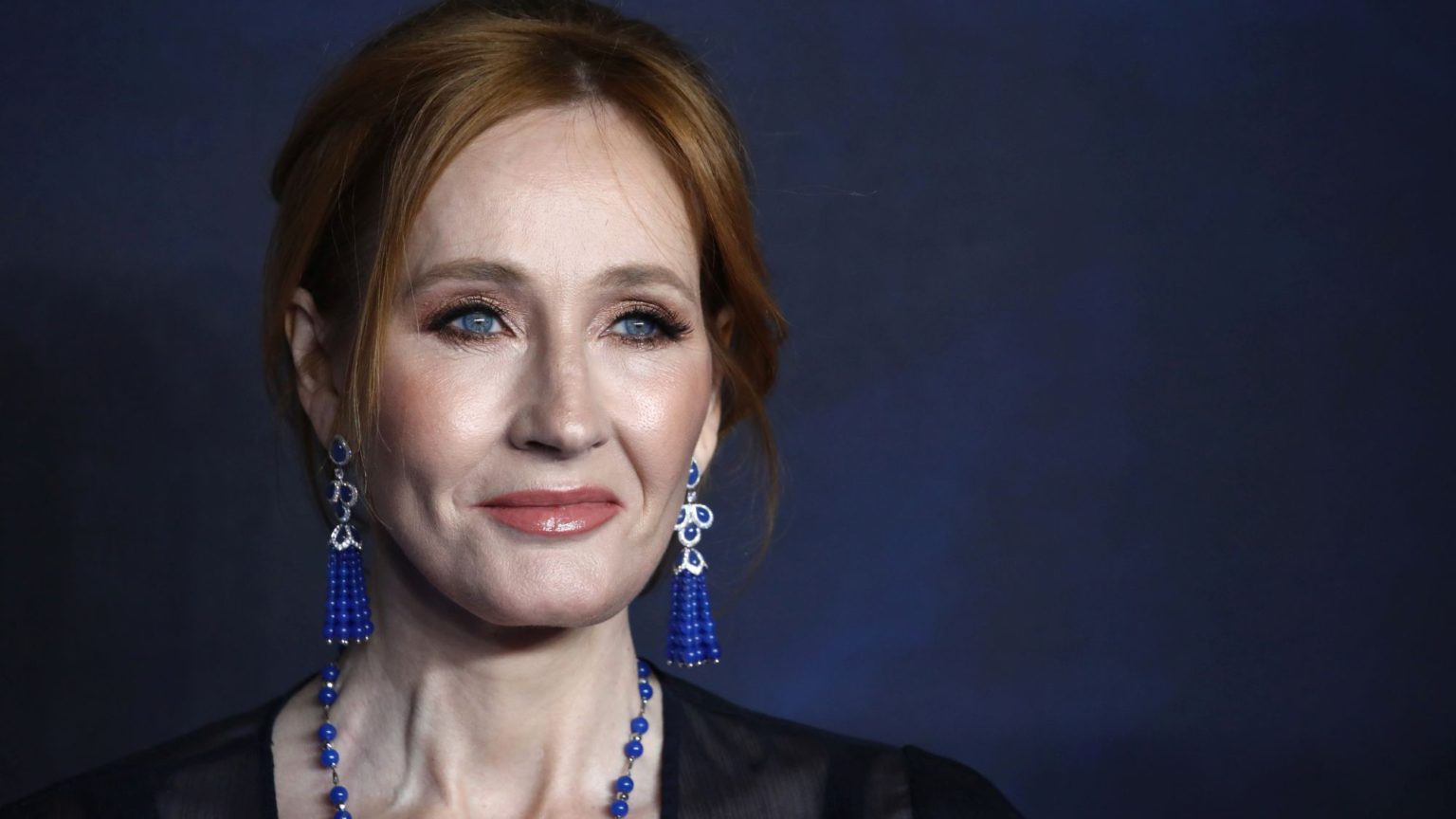 The New York Times has endorsed the notion that JK Rowling's supposedly retrograde bio-essentialism is not merely unfashionable – it makes her very existence regrettable.
A commercial for the NYT, which appeared online and in public spaces last week, features a subscriber called Lianna listing a few of her favourite things. Rather than raindrops on roses and warm woollen mittens, she mentions 'Breaking the Binary' and 'Heritage in Rich Hues'. And then, shortly after, she is seen in a field, wearing a sort of wizard's cape and flourishing a wand, 'Imagining Harry Potter Without its Creator'.
In a sense this should not surprise us. Rowling has been in the crosshairs of East Coast elite opinion for a couple of years now. Indeed, given the degree to which her integration of ancient lore, magic and mythology with her own fantastical imagination won Rowling her pre-eminent place in the hearts of millions of young readers worldwide, it's remarkable that her continuing ability to trend on Twitter rests primarily on her insistence on a position that would have been regarded as utterly banal in any other time. Namely, that the word 'woman' refers primarily to a state of biological being, rather than a state of mind.
Perhaps that is itself testament to her gifts. For the fury and the sense of betrayal of those denouncing her seems to amount to indignation that she has drawn attention to the nature of the fantasy into which she once lured them.
It is something like the opposite of the scene in The Matrix, when Morpheus shows Neo just how deep the rabbit hole goes. Rowling has instead demonstrated that she painted that rabbit hole, Wile E Coyote-style, on the cold, hard cliff face of reality, for the purposes of entertainment. Her revels now are ended, however, and everyone has a bloody nose.
Of course, 'Imagining Harry Potter Without its Creator' might just be a harmless intellectual or a creative exercise, like imagining a nose that goes missing from a man's face and is later found to have surpassed him in rank in the Russian civil service. Or a pair of trousers that goes on holiday without any legs in. The absurdity might be the point.
But I don't think it is. This has been going on for some time, and various attempts to cancel the woman who famously lost billionaire status only because she gave too much of her money away have pinged gratifyingly off the force field of her not giving a fuck. So too, I am sure, will this latest outrage. It has, however, provided an opportunity to reflect on the creative process and how we understand it.
At the end of his survey of Western achievement in art, Civilisation, Kenneth Clark gives perhaps the greatest summing up, the most memorable credo, in British television history:
'I hold a number of beliefs that have been repudiated by the liveliest intellects of our time… that order is better than chaos, creation better than destruction… And I am sure that human sympathy is more valuable than ideology… Above all, I believe in the God-given genius of certain individuals, and I value a society that makes their existence possible.'
As he speaks, the camera pans across one of Michelangelo's Prisoners, unfinished marbles that express the literally monumental task of freeing meaning and beauty from raw stone.
You'd be a brave man at this point to repudiate Clark, however lively your intellect might be. Yet God-given genius – even in the lower-case sense of mysterious creative spirit – is indeed an unfashionable idea, and there are those who see it as an intolerable affront to the egalitarian ideal.
The discussion about separating the art from the artist, the thought from the thinker, is well worn. Hypocrisy is usually the deciding factor. The comedian Dave Johns had a great bit about how the difference between Gary Glitter and Michael Jackson was not so much one of guilt, as of the mitigating quality of the output. But it now depends on the exact nature of the crime, the heresy.
Someone like David Hume will be closely scrutinised and then gently erased for racist views, however delicately expressed and however unremarkable they might have been in the late 18th century – a time when his borderline atheism was much more likely to get him cancelled. But the same folk will happily wave away any objection that Michel Foucault's theories on sex and power might be compromised by his alleged predilection for child rape.
Disgraceful, I think. But then, I love Evelyn Waugh, and even Waugh's fiercest advocates acknowledge that his tyrannical treatment of his family and servants was indefensible. We simply find that our concerns dissolve on contact with his matchless comic prose.
Still, I don't think I've ever seen anyone actually try and imagine Brideshead Revisited or Scoop… without its creator. It suggests a quite psychotic detachment from the reality of the creative process, this attempt to actually remove a living author from their creation, to sort of float her free, like a decal transfer from its backing paper. What exactly is the preferred scenario? To pretend that all JK Rowling did was refurbish some sort of pre-existing mythos, like those re-workings of Homeric or Arthurian legend for modern readers? Or that Hogwarts was really a collaborative effort that sprang into being on Warner Bros' watch, more meaningfully emanating from the genius of Daniel Radcliffe and Emma Watson than from Rowling herself?
Bizarre. And even by the standards of the moral universe the books themselves create, seriously wrong-headed. Rowling's assertion, for instance, of the legitimacy of Slytherin House, as part of the magical community, and of Professor Snape in particular, suggests she grasped the necessary acknowledgement of the shadow side, to create an integrated personality.
And that's before we get on to the fact that Rowling stands accused of having opinions that the vast majority of people regard as so self-evidently correct that they can't quite believe they need defending.
So yes, I'm afraid I regard 'Imagining Harry Potter Without its Creator' as rather problematic.
Clearly, to compare Rowling to Michelangelo is to risk ridicule. And to be honest, I have found her fans as tiresome as her tormentors. There was a time, it seemed, when every outrage against liberal progressive orthodoxy, from Trump to Brexit to Jeremy Clarkson, seemed refracted by certain types through the prism of the Sorting Hat, the Ministry of Magic and the Dementors. People whose reading had never got beyond Melville, Dostoevsky or Eliot, meanwhile, were subjected to eye-rolling by those who had mastered the full set, the multi-coloured canon of Potterworld. Hence, my interaction with her work had largely been limited to muttering 'read another effing book' to myself, every time I encountered the text being used to understand or illuminate The Discourse.
So, to say I am a fan would be pushing it. But the fact is that my daughter, then aged about 12, was more profoundly dismayed when she realised that she had reached the end of Harry Potter, that there were no more rooms to explore or characters to meet, than she was when her grandfather died, when we left the kennels without a puppy, or when her best friend moved on.
This was a serious bereavement, of the kind some of us felt watching the final episode of M*A*S*H, or Cheers, or when Andy takes a deep breath and says goodbye to Woody. My daughter is hoping to study English at university next year and there is no question in my mind, whatsoever, when that journey began. It wasn't with Henry James.
So, instead of indulging in psychopathic abstract decapitations of the mind of JK Rowling from the body of her work, I would strongly urge Lianna, and everyone in the New York Times marketing department, to reconsider. To practise that most wonderfully therapeutic of disciplines: gratitude. To be grateful that you do live in a society that made her creations possible. To be thankful that the combination of qualities – courage to speak her truth, surely among them – that allowed JK Rowling and no one else to give the world Harry Potter, happened along in their lifetimes. And yes, to break the binary, between wrongthink and right, and to relax and just enjoy the rich heritage of hues on those iconic hardback spines.
And if that really doesn't work – well, then, really. Read another fucking book.
Simon Evans is a spiked columnist and stand-up comedian. He is currently on tour with his show, Work of the Devil. You can buy tickets here.
To enquire about republishing spiked's content, a right to reply or to request a correction, please contact the managing editor, Viv Regan.