The Thought Police are here
Criticise the trans lobby and you can expect the cops to come round to 'check your thinking'.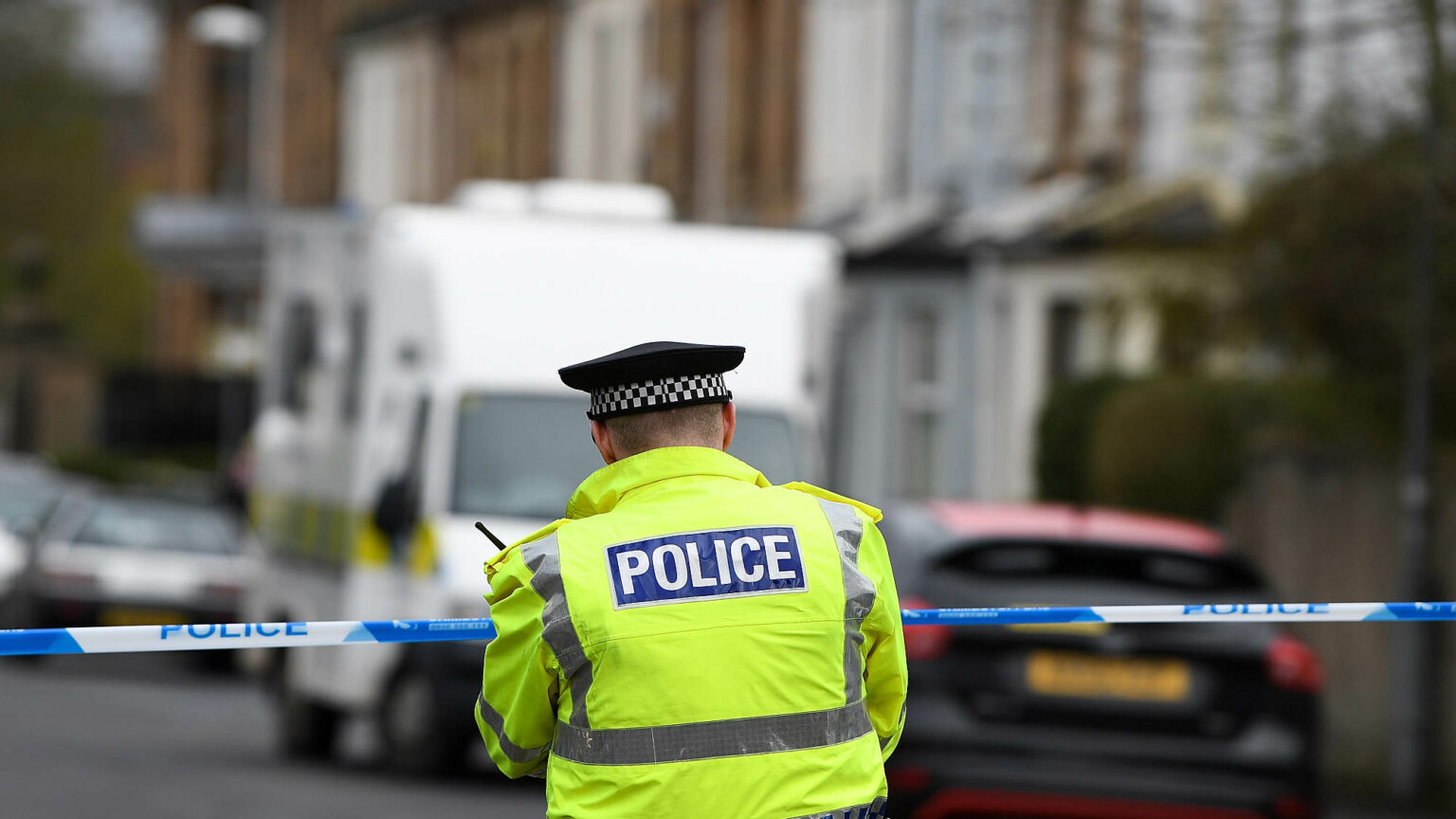 Orwell tropes are overused. I'm guilty of it myself. And yet there are times when only a Nineteen Eighty-Four reference will do. The police questioning of Scottish charity worker Nicola Murray is one of those times. After Ms Murray issued a statement saying that her domestic-violence charity would no longer refer women to the Edinburgh Rape Crisis Centre, because of 'deeply concerning comments' made by the trans woman who runs the centre, the police came knocking. 'We need to speak to you to ascertain what your thinking was behind making your statement', they told Murray. Police officers visiting a woman's home and grilling her over her 'thinking'? Yep, we need Orwell for this.
Ms Murray's crimethink was to feel uncomfortable with comments made by Mridul Wadhwa, the trans woman who is CEO of the Edinburgh Rape Crisis Centre (ERCC). Last year, Wadhwa said some women who experience sexual abuse and rape are 'bigoted people' and they should expect to be 'challenged' on their bigotries if they turn up at the crisis centre looking for help. Sexual violence is 'not [a] discerning crime', said Wadhwa. It 'happens to bigoted people as well'. And 'if you bring unacceptable beliefs that are discriminatory in nature [to the crisis centre], we will begin to work with you on your journey of recovery from trauma… but please also expect to be challenged on your prejudices'. In short – if you're a woman who doesn't believe that someone born male can become a woman, and who doesn't want to see blokes of any sort in a rape-crisis centre, then you're a 'bigot' and your trauma therapy will come with a side order of woke lecturing.
Not surprisingly, many campaigners against sexual violence were horrifed by Wadhwa's comments. In my view, the very idea of a rape-crisis centre being run by a biological male is pretty disturbing. But the fact that that biological male is also happy to brand some rape victims as 'bigots' who essentially need re-education is just despicable. Women turn up at rape-crisis centres for urgent assistance following a terrible exprience, not to be interrogated on how au fait they are with the latest beliefs and decrees of the cranky cult of genderfluidity.
Ms Murray runs Brodie's Trust, a charity that provides help to women who have experienced the loss of a pregnancy through domestic violence or a forced termination. In September, in the wake of Wadhwa's comments, she said Brodie's Trust 'cannot in all conscience send vulnerable women to [the ERCC]'. She made the perfectly reasonable point that it is not for sexual-violence charities to police vulnerable women's thoughts. 'We have no interest in our clients' religion, sexuality [or] political views', she said. And so she said she would no longer 'signpost' vulnerable women to a centre whose CEO was openly threatening to police and correct vulnerable women's beliefs.
The police didn't see it as reasonable, though. In November, detectives from Edinburgh knocked on Ms Murray's door. They had in their possession screenshots of her tweets and a printout of the statement made by Brodie's Trust. Get your head around that – actual police officers printed out a statement made by a charity and went around to the charity founder's home to talk to her about it. This is banana republic stuff. The officers confirmed to Ms Murray that she hadn't said anything 'hateful' – 'there isn't a crime here'. So why were they in her home waving around printouts of her comments, she asked? 'Because we need to speak to you to ascertain what your thinking was behind your statement', they said.
This was an act of thoughtpolicing. In 21st-century Britain, officers of the law believe they have the right and the responsibility to peer into people's minds and excise problematic thoughts – such as, erm, that we shouldn't refer to rape victims as 'bigots' and tell them off for their allegedly backward beliefs. This isn't even the first time the woke THINKPOL has lashed out at people who harbour unapproved thoughts. Who can forget the case of Harry Miller, who was contacted by Humberside cops in 2019 after he retweeted a trans-sceptical limerick? Miller was told that he hadn't committed a crime but officers nonetheless had to 'check [his] thinking'. Think-checking sounds a little less scary than thoughtpolicing, but it's the same thing.
Scotland in particular seems to have a serious problem with woke authoritarianism. It has become the tinpot tyranny of right-on thought. Alongside Nicola Murray, there's Marion Millar too, who was arrested last year for directing threatening behaviour at certain individuals and for being aggravated by prejudice relating to transgender identity. In other words, she's a critic of the Scottish government's plan to bring in gender self-ID. The charges against Ms Millar were dropped in October, as it suddenly dawned on Scottish officialdom that persecuting a woman for her political beliefs is not a great look.
Scotland under the SNP has also passed a highly controversial hate-speech law that could seriously meddle with freedom of speech. It has punished football fans for 'offensive' chanting and singing. It flirted with the idea of assigning a 'named person' from the state to watch over the welfare of every child born in Scotland. And its institutions seem thoroughly captured by the unforgiving, intolerant ideology of transgenderism. Police Scotland recently confirmed that they would log rapes committed by men who claim to be women as having been commited by women. An erasure of reality and manipulation of language worthy, dare I say it, of Big Brother. As JK Rowling pithily put it: 'War is Peace. Freedom is Slavery. Ignorance is Strength. The Penised Individual Who Raped You Is a Woman.'
The broader, more awkward truth here is that it isn't only a few overexcited cops in Edinburgh and Humberside who are engaging in think-checking. Wokeness itself is a species of thoughtpolicing. And the trans ideology is very often at the forefront of this thoughtpolicing. Indeed, the Newspeak of the trans worldview, which cajoles us to use people's preferred pronouns and to say things like 'uterus-haver' rather than woman and 'chestfeeding' rather than breastfeeding, is not, as activists claim, about making sure trans people feel respected and validated. Rather, it is about controlling how the rest of us think, as well as speak, about the issues of sex, gender, family, community and so much more. The war on 'problematic' words is about thought-control. After all, if you alter the language people are allowed to use, you can also change how they think.
This is straight out of Nineteen Eighty-Four, too. 'Don't you see that the whole aim of Newspeak is to narrow the range of thought?', the torturer O'Brien says to Winston Smith. 'In the end we shall make thoughtcrime literally impossible, because there will be no words in which to express it.' That's where we're heading with sex and gender – to a situation where so many words will have been erased or problematised or deemed 'inappropriate' that it will become difficult even to think certain things, such as that people with penises are men, biological sex is real, and rape victims should not be called 'bigots'. To save free thought itself, we need to stand up against every single assault on language. 'Woman', 'man', 'mother', 'breastfeeding', 'rapists are male', 'Wadhwa's comments were deeply concerning' – keep saying it all; keep using the right words.
Brendan O'Neill is spiked's chief political writer and host of the spiked podcast, The Brendan O'Neill Show. Subscribe to the podcast here. And find Brendan on Instagram: @burntoakboy
To enquire about republishing spiked's content, a right to reply or to request a correction, please contact the managing editor, Viv Regan.