Voter-ID laws are not the 'new Jim Crow'
The debate over US election laws is completely divorced from reality.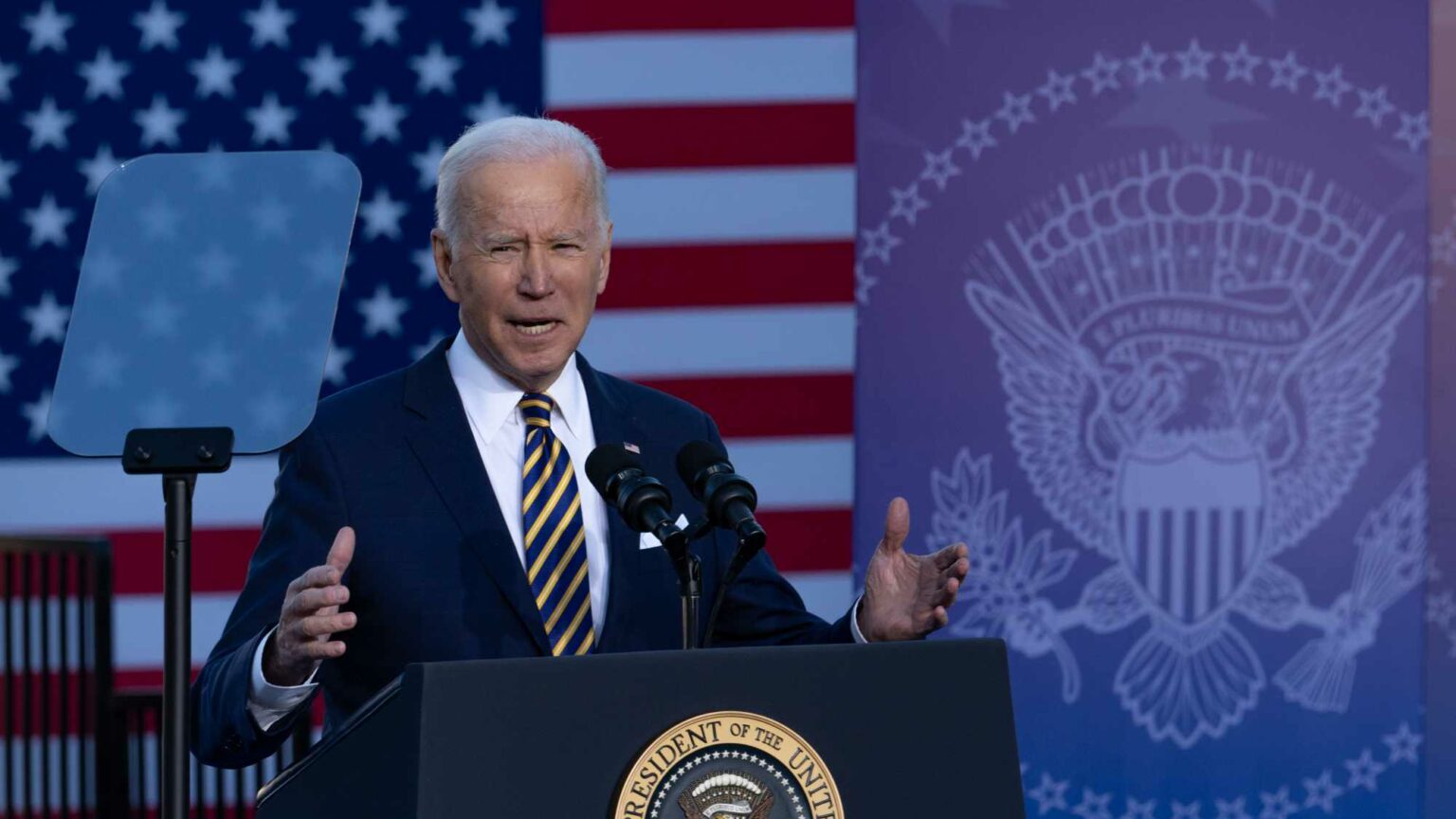 Requiring Americans of all races to show a $5 plastic ID card at the polls in order to vote is not 'Jim Crow' racism. Noting this obvious fact is apparently necessary these days, because the US Democratic Party and the American left more broadly are currently spending a lot of time arguing that virtually every Republican-proposed election law has a whiff of the burning cross to it.
Take Texas's new voting rules, passed last year, which limit things like drive-through voting and early-morning voting on Sundays. The Washington Post warned that these changes would create significant barriers to the ballot for black voters. Several Texas Democrats even fled the state for DC in order to protest the bill and to avoid voting on it (and amusingly caused a non-fatal Covid super-spreader event in the process).
Even President Biden has raised the spectre of Jim Crow in relation to red-state voting laws. Responding to an election bill passed in Georgia last year, which included ID provisions (and which leftists falsely claimed would also ban food and water from voting lines), our president claimed that this was 'an atrocity… Jim Crow in the 21st century'.
All of these accusations have culminated in the Biden administration's hefty legislative package, emotively titled the 'Freedom to Vote: John R Lewis Act'. Among other things, the bill – currently stymied in the Senate – would turn election day into an American federal holiday, require all jurisdictions to adopt online, same-day voter registration, require elections to take place over at least '15 days of early voting' (including at least two weekends), require states that require ID at the polling place to permit 'a wide range of forms of non-photographic ID', require the counting of votes cast by voters in the wrong precinct or district, and restore the right to vote to formerly incarcerated people. While unlikely to pass in the near future, this piece of legislation provides an excellent overview of what the Donkey Party really means when it says it is 'fighting Jim Crow'.
The main problem here is that Jim Crow simply does not exist in 2021 America, and all of this is pure political theatre. At the most basic level, the US Civil Rights Act of 1964 prohibits any denial of rights or services on the basis of race, and few American laws (with some obvious exceptions, like affirmative-action statutes) mention race at all. A law requiring Texas voters to bring a state ID card to the polls – in a state chock full of Mexican-Americans, poor white cowboys and literal Comanche-Indians – clearly does not apply only to black people.
Opponents therefore argue that black people are disproportionately affected by the laws, and are more likely to be turned away from the polling station. But there is little evidence that black voters are significantly less likely than anyone else to have some basic form of ID. Poor people are a bit less likely to have ID, certainly. But I do not personally know a single black adult without any form of valid identification, and every serious study on this finds that the same is true for the vast majority of Americans of all races.
A well-known 2016 study by the American National Election Studies (ANES) found that only 3.2 per cent of 4,271 respondents did not have a current driving licence, passport or other form of government photo ID – a standard more stringent than those actually in place at most polling locations. Another study, the Survey of the Performance of American Elections (SPAE), found in 2016 that 99.6 per cent had a standard form of photographic ID, while 3.4 per cent either did not respond to the questionnaire at all, did not know or had no ID. Most adult Yanks possess the documents they need to buy beer, drive a car, or check out an R-rated movie.
Right-leaning satirist Ami Horowitz carried out a more provocative test of the ID question in 2016, filming one of the funniest videos in internet history, called 'How White Liberals Really View Black Voters'. First he visited a primarily white elite college campus, and then a working-class, black district of New York's Harlem, asking random citizens whether they thought 'black people could easily get IDs'. Every black person, at least of those captured on film, said 'yes' – with one burly, blue-collar guy calmly offering Horowitz directions to the local DMV. Meanwhile, almost every properly woke Good White Person said 'no', that it is racist to expect black people to hold ID, or words to that effect.
Many other hyperventilating claims around new voting laws collapse just as easily and entertainingly. You may have heard on social media that Georgia has 'criminalised giving people bottles of water' as they wait in line to vote, a claim which PolitiFact has debunked as 'mostly false'. The law in question pertains to gifts of food and drink from political organisations, and applies only within 150 feet of polling stations. Citizens are also (obviously) free to bring their own cold drinks and ham sandwiches down to the local church or courthouse on election day, and almost all such locations have water fountains and vending machines.
There are also sensible criticisms to be made of Biden's lengthy John Lewis voting-rights bill. Not every opponent believes 'the South shall rise again!'. Prior to the first floor vote on the bill in the House of Representatives, a group of Republican law-makers made a number of objections, some sensible, some partisan. The Pachyderms argued that the bill would federalise US elections, mandating almost identical voting procedures across disparate states. In their words, this would 'give more power to unelected career bureaucrats in Washington'. More specifically, the John Lewis bill would substantially – and, in the GOP's view, unconstitutionally – 'expand the federal government's ability to reject common-sense reforms enacted at the state level… related to things like voter ID, absentee voting, maintenance of voter rolls, the location of polling places and the hours of operation'.
The House Republicans also argued against the Democrats' claims that minority voters are being suppressed under current voter laws, pointing out that US turnout is up across the board in our hyper-political era. Indeed, in the 2020 election, people of colour in particular registered and voted in the highest numbers ever recorded.
Empirical reality exists, alongside political posturing. So while it is probably true that the GOP sees some partisan advantage in tightening up voting laws, it is bizarre that the equally obvious flipside of this is so rarely noted. The Democrats see an advantage in loosening voting laws, sometimes even to allow those who are not technically qualified to vote – hence the frequent and otherwise bizarre emphasis from the left on immigrants (ie, non-citizens) being able to vote, extending voting rights to 16-year-old kids, and so forth.
Good, practical voting laws should be designed to balance and minimise the amoral motivations of both parties. In my view, this should certainly include a photo-ID requirement, as is considered normal in most democracies.
There is one final objection to voter-ID laws and in-person voting requirements, separate to accusations of racism, that needs to be dealt with: that these laws are not necessary because there is almost no confirmed voter fraud. The response here is extraordinarily simple: how could anyone know how much voter fraud there is, if voters are not required to demonstrate who they are? The argument that there is no fraud seems akin to saying that online 'pirate' sites like the Pirate Bay do not cause much trouble because only a few dozen of the bandits who frequent them are ever arrested.
While I am no expert on either vice, it is hard to see how an electoral district keeping an eye out for 'suspicious behaviour', but not requiring voters to demonstrate their eligibility or even identity, could ever do much to stop fraud – whether that is via proxy voting, immigrants being registered 'accidentally', or ballot harvesting. Fraudulent practices may well not be common at all, but there seems no logical reason not to try to prevent them.
Besides, however common either voter fraud or 'voter suppression' via election-security measures might be, asking a purple-haired, Caucasian college raver for her ID at the polling-place door is not 'Jim Crow'. Bull Connor is not standing in the door of the local church, holding a barking dog and preventing only black people from voting, because Bull Connor is dead. Let us all stop trying to invoke his spectre, to justify the most banal and everyday political shenanigans.
Wilfred Reilly is a spiked columnist and the author of Taboo: 10 Facts You Can't Talk About, published by Regnery. Follow him on Twitter: @wil_da_beast630
To enquire about republishing spiked's content, a right to reply or to request a correction, please contact the managing editor, Viv Regan.