The UK must stop meddling in Ukraine
Boris Johnson's sabre-rattling is both desperate and dangerous.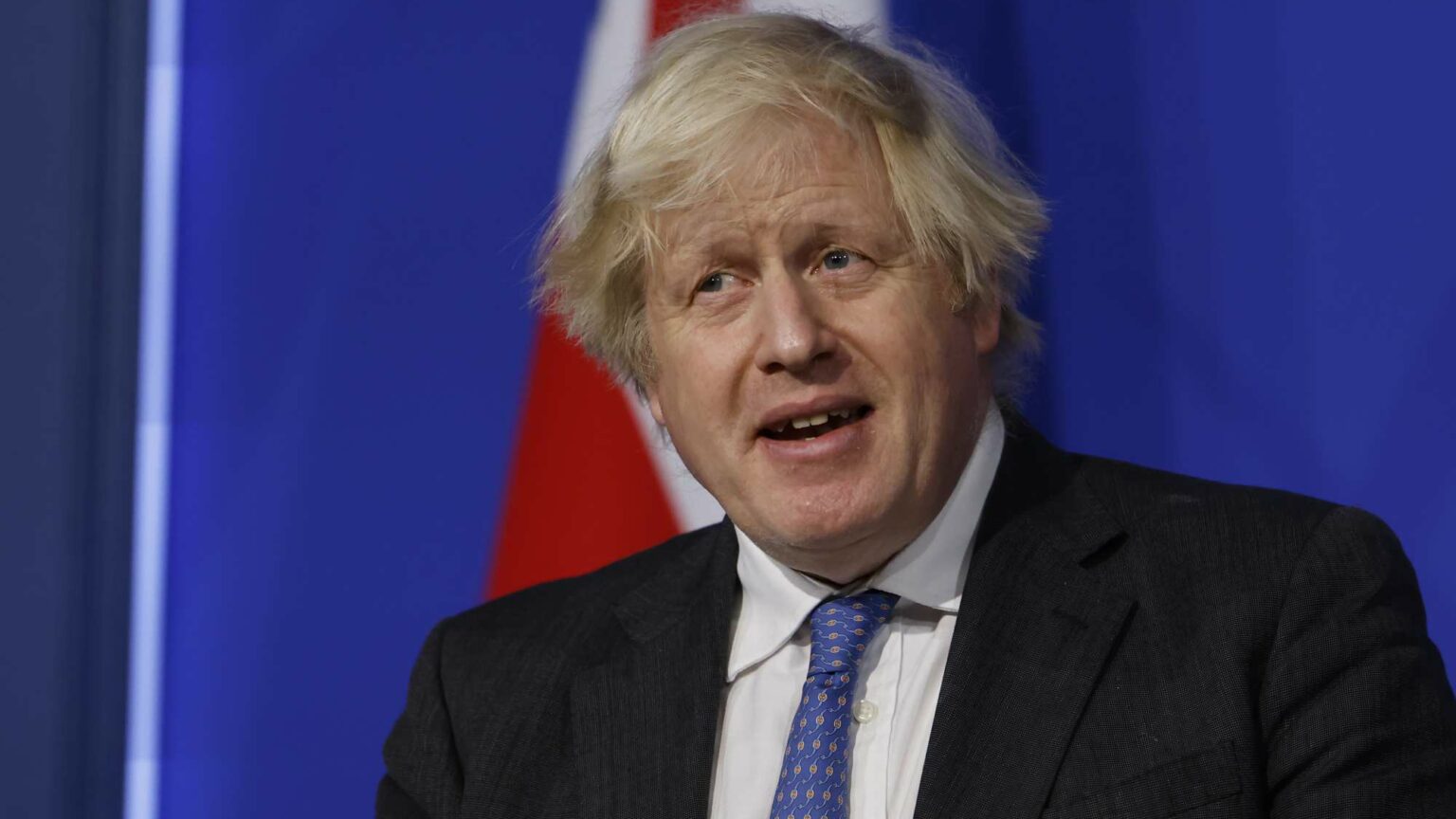 So, this is the government's response to prime minister Boris Johnson's partygate woes? Go in hard on Russia. Act the good guy determined to protect Ukraine from the New Hitler. And even play it all up as some sort of realisation of a post-Brexit vision of Global Britain.
If developments over the past week are any guide, that certainly seems to be what is happening. First, there was the fanfared announcement that Britain is to send 30 elite troops and 2,000 anti-tank weapons to Ukraine. Then, on Saturday evening, came a government press release, claiming the Foreign Office had discovered a fiendish Russian plot to install a pro-Moscow government in Kiev. This press release also announced that Boris Johnson was now at the helm of an anti-Russian alliance, a self-appointed role he is clearly now revelling in, given he has since warned Russian president Vladimir Putin that invading Ukraine will be a 'painful, violent and bloody business'.
Johnson is not the first prime minister lacking purpose and authority at home to seek it on the world stage. David Cameron found what he once thought was his 'happy place' in Libya in 2011, before it turned into a bloody disaster. And of course Tony Blair attempted to rid the world of an axis of evil with the invasion of Iraq in 2003, a military act that unleashed chaos across the whole Middle East.
But if Blair's interventionism, full of mad-eyed righteousness, was a tragedy, then Johnson's version is farce.
Who does the government think it is kidding? Until last week, Britain's role in stirring up the Ukraine crisis was as little more than a Western, NATO cheerleader. Johnson and colleagues had pointedly shown little real interest in getting stuck in. So while US president Joe Biden and an assortment of European heads of state were busy making countless interventions over Ukraine, Johnson was preoccupied with trying to remember whether he brought his own booze to a work event that may or may not have been a party. And earlier this month, as high-level talks took place between Russia, NATO, Germany and others, UK defence secretary Ben Wallace and foreign secretary Liz Truss were thousands of miles away, in Australia.
Yet we are now expected to believe that Ukraine is the cause of the hour. And that Johnson, as per this weekend's press release, is the man we all need to 'engage directly' with Putin.
It is all so transparently cynical. The government knows that the liberal broadsheet press is shot through with anti-Putin, borderline Russophobic prejudice. Indeed, many commentators still blame Russia for Brexit. And so, at its lowest ebb, Johnson's wretched government has decided to play to the gallery, and generate some plastic animosity towards the bête noire of the liberal elite.
Worse, much of the current outrage at Russia is manufactured. Take the Foreign Office's supposed discovery of a Russian plot to install a Kremlin-backed government on Ukraine. This 'evidence' of Russian malfeasance makes Blair's 'dodgy dossier' of alleged Iraqi WMDs look positively watertight. In a sketchy, detail-lite document, the Foreign Office names five former Ukrainian politicians, secretly backed by Moscow, who Putin is hoping to foist on to the Ukrainian people. 'Some of these have contact with Russian intelligence officers currently involved in the planning for an attack', the statement added.
Convincing stuff… aside from the fact that four of the five alleged plotters already live in Moscow. As one report puts it, 'their ties to Russia's leadership [are] less a matter of subterfuge than public record'. Even in Ukraine itself, where suspicion of Moscow is rife, the UK's allegations are being mocked. Vasyl Filipchuk, a former spokesperson for Ukraine's foreign ministry, pointed out that even a rigged election would not guarantee the alleged actors power. 'There may be a plan', he said diplomatically, 'but it's bullshit'.
The Russian plot. The handful of troops. And all topped off by some Johnson bombast. This is desperate stuff, from a desperate government. It is dangerous, too. Russia may not want to invade Ukraine, but the UK's decision to stir the geopolitical pot makes an unstable situation just that little more volatile. And for what? Some slightly favourable coverage from a domestic press corps that loathes Putin perhaps more than it loathes Johnson? Maybe a fleeting semblance of political and moral authority before it fades in the grim light of an actual conflict in Eastern Europe?
Some in the media are buying this crock. Some are even presenting it as a justification for Brexit. 'Liberated from the debilitating European sphere of political influence', intones one arse-licking editorial, 'we are, in fact, free to do what Britain has historically done and advance the case for freedom'.
This is wrong. People didn't vote for Brexit because they wanted a more interventionist Britain. They did so because they wanted to live in a democratic, sovereign nation. The government ought to remember that, as it makes self-aggrandising threats towards Russia.
The UK's sabre-rattling has nothing to do with advancing the cause of freedom. It has everything to do with an all too domestic crisis.
Tim Black is a spiked columnist.
To enquire about republishing spiked's content, a right to reply or to request a correction, please contact the managing editor, Viv Regan.