The unpersoning of Donald Trump
One year on, Big Tech's censorship of the then US president remains a democratic outrage.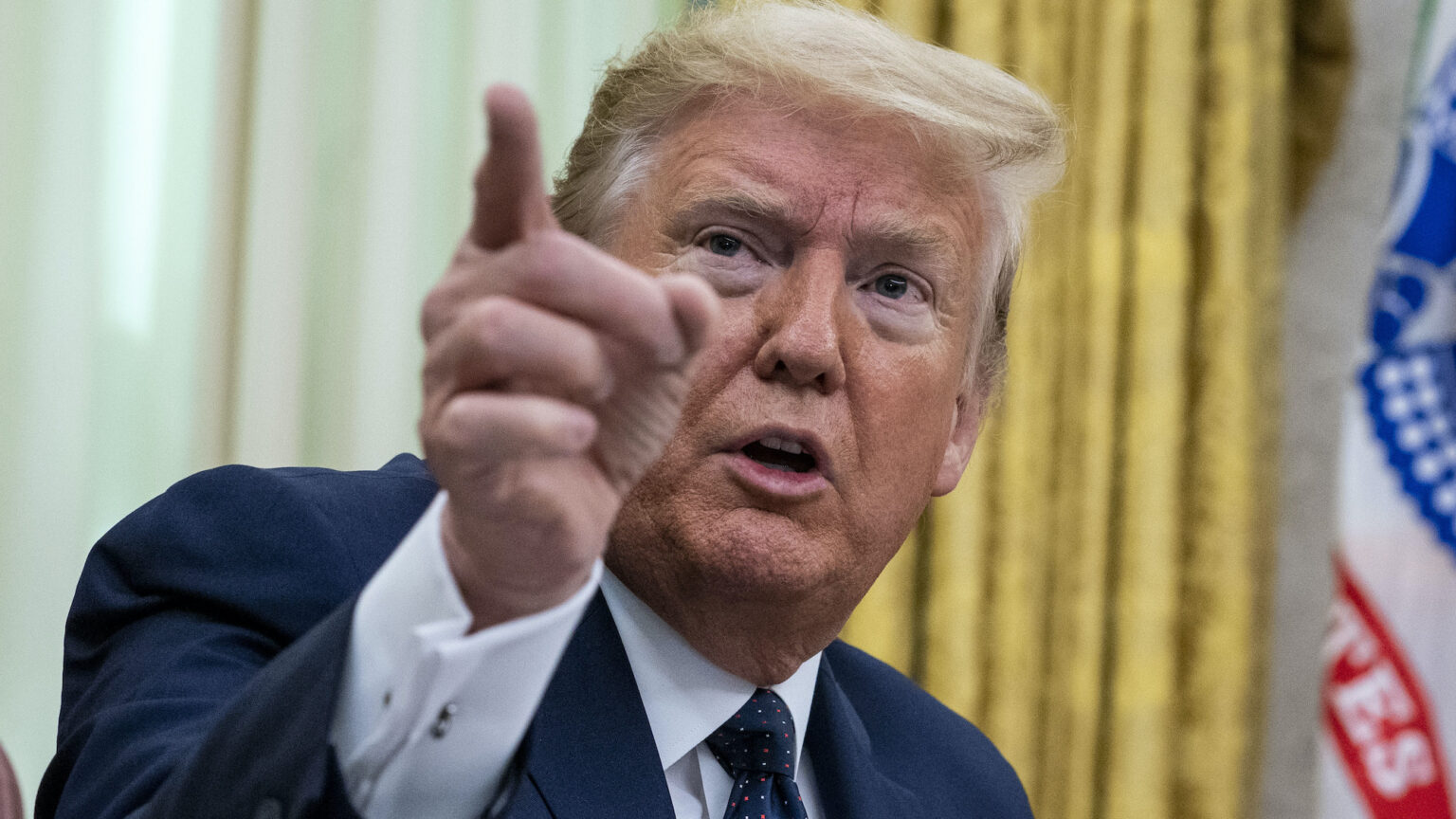 Are you a regular spiked reader? Then please consider making a donation. You can do so here. Thank you!
A year ago today, Facebook indefinitely suspended Donald Trump. The sitting president of the United States was banned from accessing the world's largest social-media platform, then boasting 2.7 billion users, and used by almost 70 per cent of Americans. Twitter, YouTube, Twitch – every major platform soon followed suit, issuing either permanent or indefinite bans. Even Shopify, on which the Trump campaign hawked t-shirts and bumper stickers, felt compelled to take part in this great digital purge.
Yesterday, in the Capitol Building in Washington, DC, President Joe Biden intoned soberly about the threat to 'our democracy', one year on from the storming of the Capitol by Trumpists who were gripped by conspiracy theories about a 'stolen' election. That riot was what sparked Big Tech's clampdown on Trump last January. He was said to have fanned the flames of a 'coup'. As Facebook's Mark Zuckerberg put it when he announced Trump's suspension, the then president was trying to 'incite violent insurrection against a democratically elected government'.
Trump's refusal to concede the election was disgraceful, as was his harebrained fantasies about it being 'rigged' against him. But the idea that he was 'inciting violent insurrection' last January is nonsense. First of all, the Capitol riot was not some organised putsch — it was a chaotic, uncoordinated and often quite surreal riot. And Trump never actually incited it, even if he did gin up the crowd at the rally that preceded it, via his social-media accounts and when he addressed the marchers from the protest platform in DC.
The posts that finally did it for Trump make all this clear. In the two offending posts pointed to by Facebook, Trump repeated his lies about the election being stolen and told the rioters he loved them, but also urged them to 'go home in peace'. Twitter's rationale was even more laughable. It pointed to two Trump tweets: one praising the '75,000,000 great American Patriots who voted for me' and another saying he'd skip Biden's inauguration. This was interpreted by Twitter as him praising the rioters and slyly communicating to them that the inauguration would be safe to attack in his absence.
The dying days of the Trump presidency were a grim spectacle. He needlessly sowed doubt in the election result while trying and failing to rig it in his favour – at one point calling a Georgia official and demanding he 'find' more votes for him. But what Big Tech did in the days after the Capitol riot will cast a far longer shadow over American democracy. Those firms have crossed a line that will be difficult to uncross. The oligopoly that presides over the flow of information decided one year ago today that it had the right, the moral authority, the duty even, to intervene in democratic politics.
The election was not 'stolen' from Trump, certainly not via the outlandish means Trumpists suggest. But Big Tech's clampdown does raise some serious questions about democratic politics going forward. Yesterday at the Capitol, vice-president Kamala Harris spoke piously of the threat the riot posed to free and fair elections. But what does a free and fair election look like in the 21st century, when so much political campaigning, media commentary and public discussion now takes place in digital public squares, owned and presided over by a handful of oligarchs, who we now know are more than willing to put their thumb on the scale?
The Big Tech censorship of Donald Trump was brutally effective. One year on and he is almost entirely absent from social media. As are those of his more conspiratorial supporters, 70,000 of whom were also purged in the wake of Trump's ban. In the four months after the Capitol riot, mentions of Trump declined by around 90 per cent on Twitter and Facebook. Facebook even censors interviews with him. He has essentially become a digital unperson.
So, what if he runs again in 2024, as seems likely? What if he wins the Republican nomination, which is also quite possible? What if one of the two main candidates goes into the next election banned from all the major social-media platforms? Twitter has said Trump's ban is permanent, even if he runs again. Facebook says it will review its ban in another year's time, and consult 'experts to assess whether the risk to public safety has receded'. Perhaps Trump will have to rely solely on Truth Social, his own social-media app, which is due to launch next month. Unless the oligarchs tear it down as they tore down Parler, a free-speech alternative to Twitter.
This isn't just about Trump himself, either. During the 2020 campaign Big Tech engaged in an act of censorship that was almost as sinister and damaging to democratic life. The New York Post's Hunter Biden exposé, unearthing the dodgy dealings of Biden's eldest son and then candidate Joe's alleged involvement, was dismissed as misinformation and suppressed by Facebook and Twitter. Twitter locked the Post, America's oldest daily newspaper, out of its account for weeks on end. This is despite the fact that the Bidens never disputed any of the Post's claims, and many of them have since been vindicated.
This Big Tech tyranny has been building for years. Platforms which began as fairly relaxed where free speech was concerned have become unrecognisably restrictive spaces. Hard-right trolls and lunatic conspiracy theorists may have been the first to go, but they weren't the last. Now even democratically elected leaders aren't exempt from Silicon Valley's censorious writ – it now rules on what is and isn't true, and what is and isn't appropriate to say in public life.
A handful of firms now exert a degree of control over the global flow of information that is unprecedented in human history. One year on from the unpersoning of Donald Trump, this is the democratic outrage we desperately need to be reckoning with – not what those idiots got up to on Capitol Hill.
Tom Slater is editor of spiked.
To enquire about republishing spiked's content, a right to reply or to request a correction, please contact the managing editor, Viv Regan.