The cancellation of Parler
Apparently any free-speech alternative to Big Tech can and will be crushed.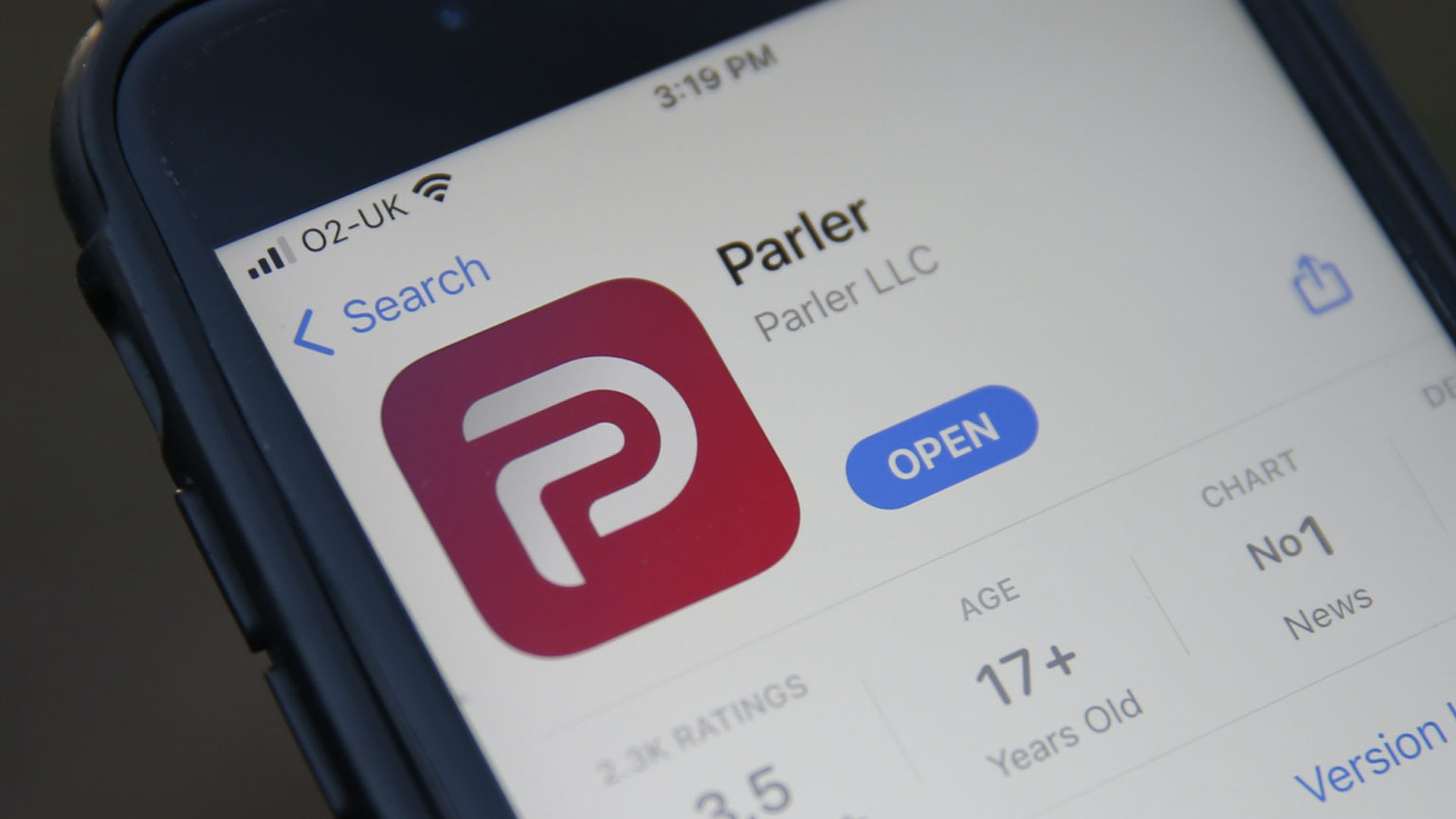 In the wake of Big Tech's banning of Donald Trump, the arguments as to why this (or any other act of Silicon Valley censorship) doesn't actually constitute censorship have become increasingly cretinous.
Comparisons to all manner of other businesses have flown. The tech giants, which now constitute the online public square, are apparently just like a supermarket, a pub, or a coffee shop. If you break the rules, or upset the other customers, the argument goes, you should expect to be kicked out – but you are free to take your business elsewhere. Hell, you could set up your own competitor.
In peddling this mind-numbing take, many liberals and left-wingers have apparently become converts to a total free market online, forgetting their erstwhile concerns about capitalist power, or the fact that a handful of corporations dominate social media in a way unlike any other sphere of business.
Of course, these comparisons made zero sense to begin with – unless that supermarket, pub or coffee shop could somehow fit hundreds of millions of people, was basically the only supermarket, pub or coffee shop anyone went to, and for some reason was the exclusive venue for a huge proportion of political discussion.
Luckily, those takes have been well and truly scuppered now. The decision of Apple, Google and now Amazon to ban Parler – a free-speech alternative to Twitter – from their respective services has surely kicked the legs out from under the 'jUsT sEt uP yOuR oWn PlAtFoRm' crowd.
Parler had seen a massive influx of users recently, as conservatives and right-wingers fled Twitter and Facebook in search of a freer alternative – reaching a total of 15million users. On Saturday morning – in the wake of Trump's Twitter ban – Parler became Apple's No1 listed free app for iPhones.
By Saturday night you couldn't even buy it on the App Store. Following Twitter and Facebook's clampdown on Trump and his more conspiratorial supporters, Apple removed Parler, saying the app has failed to satisfy its requirements for content moderation.
Google removed it from its own Play Store shortly before. Given the dominance of those two companies, their bans severely limit Parler's ability to reach new users on the vast majority of smartphones.
Then, on Sunday night, Amazon booted Parler from its web-hosting service, the world's largest provider. This took Parler off the internet entirely, even for those who had previously downloaded the app before the Google and Apple bans. At present, you can't even access it on a web browser.
In a statement, Parler CEO John Matze said the site would be offline for at least a week as he and his team scrabbled to find an alternative provider. He slammed the tech giants' actions as a 'coordinated effort' to 'completely remove free speech off the internet'.
In a sign of the hill he had to climb to reopen Parler, Matze told Fox News that other businesses were now refusing to work with the firm. 'Every vendor from text message services to email providers to our lawyers all ditched us too', he said.
Plus, when or if Parler returns it will remain kneecapped by the Google and Apple bans, given so many people use social media almost exclusively on their smartphones.
In letters to Parler, published by the New York Times, Google, Apple and Amazon say the company had failed to take down content that incited violence and other illegal actions (though Apple also pointed to 'hateful' content). Amazon's letter directly references the storming of the Capitol last Wednesday as proof of the risk Parler allegedly now poses.
Matze, appearing on a Times podcast, said Parler only takes down direct threats and incitement to violence as well as instances of doxxing. It relies on users to flag content and then 'juries' of volunteers to vote to take down posts. This was rejected as insufficient by Amazon et al.
The armies of moderators that Facebook can afford, Matze says, are out of reach for a firm of Parler's size (plus such a system is fraught with its own problems). Parler also rejects the kind of censorship-by-algorithm that other firms practise, given the potential for all manner of legitimate, legal speech to be caught in the net.
What is being demanded of Parler, then, is both beyond its means and would require it to give up its raison d'être, as a platform free of censorship or heavy-handed regulation.
To blame Parler for the offline activity of its alleged users is to rob the rioters of their moral responsibility. And while I don't claim to be able to read minds, it is also highly convenient that these corporate giants' alleged moral concerns also justify the effective crushing of a small but significant competitor.
The cancellation of Parler shows us that a handful of firms control not only the primary platforms but also large parts of the infrastructure of the internet. Setting up a viable pro-freedom competitor to Twitter or Facebook may have always proved a futile exercise, at best creating a more ghettoised rather than free internet. Now it seems that any free-speech alternative can and will be crushed.
As ruthless as I'm sure some supermarket, pub or coffee-shop magnates are, we are clearly dealing with something far more sinister here than the apologists for corporate censorship like to make out.
Tom Slater is deputy editor at spiked. Follow him on Twitter: @Tom_Slater_
Picture by: Getty.
To enquire about republishing spiked's content, a right to reply or to request a correction, please contact the managing editor, Viv Regan.