No, the Capitol riot was not a coup
A year on from '1/6', we need to set the record straight.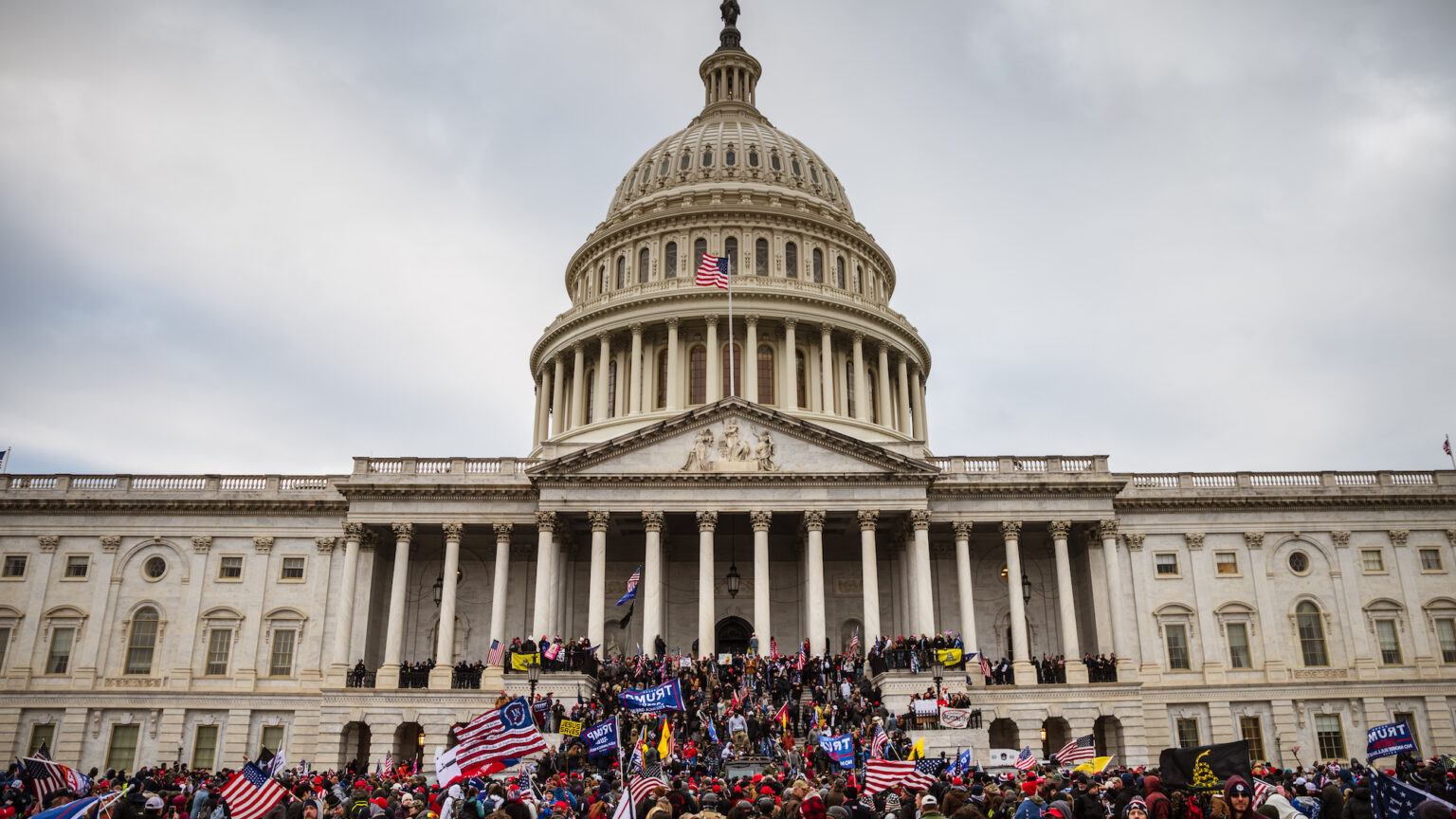 An anniversary is upon us! A year ago today, after a series of mostly stupid ('Release the Kraken!') and occasionally serious challenges by former president Donald Trump to the results of the 2020 election, a 'Stop the Steal' rally in Washington, DC descended into violence. A mob broke into the US Capitol building. Rioters fought the police, briefly occupied the office of House speaker Nancy Pelosi, stole the speaker's podium from the congressional chambers, and just milled about in confusion. During the chaos, one unarmed rioter – Ashli Babbitt, an air-force veteran and alleged QAnon supporter – was fatally shot by a Capitol police officer.
As time has passed, the events of that day have been heavily distorted, so it's important to look frankly at what '1/6' was and what it was not.
Firstly, it was not a coup. The Capitol riot was not any sort of organised attempt to take over the federal government. That it was a coup has been argued repeatedly and hysterically by the mainstream media, which also referred to rioters in buffalo-hide headdresses as 'insurrectionist terrorists'. CNN recently ran a widely read feature piece headlined 'Timeline of the coup', which discussed 6 January as well as Trump's legal attempts to overturn the 2020 result. Similarly, the Inquirer recently went with: 'A theory: how Trump's Jan 6 coup plot worked, how close it came, why it failed.' This language of coups dates right back to the aftermath: Politico, for instance, published the article, 'Yes, it was a coup attempt – here's why', on 11 January 2021, just five days after the attack.
However, little if any mainstream theory in political science would appear to support this argument. Per the Oxford English Dictionary, a coup is a 'sudden, violent and illegal seizure of power' from a government by some organised faction. Coups are almost always carried out by the military: the example given under the Oxford definition is 'an army coup'. Even more bluntly, Webster's primary definition of a 'coup' is simply a 'coup d'état', which it defines as a 'military coup'. Even if we assume, for the hell of it, that non-military, largely unarmed riots can theoretically be coups, surely Trump himself would have had to be involved in some kind of plan for the riot for it to qualify as a coup attempt on his behalf. Yet there is no evidence, of any kind, that Trump or his allies planned the attack.
My source for this radical right-wing claim? The FBI. Back in August 2021, major newswires like Reuters covered and apparently accepted the FBI's claim that there was 'scant evidence' the US Capitol attack was 'coordinated' at all. As Reuters reported at the time, 'violence was not centrally coordinated by far-right groups or prominent supporters of then president Donald Trump'. At least 90 to 95 per cent of the legal proceedings against the Capitol entrants were 'one-off cases' involving idiots who likely saw themselves as patriots. While some groups, such as the Proud Boys, may have been a bit more organised, according to a senior law-enforcement official 'there was no grand scheme with Roger Stone and Alex Jones and all of these people to storm the Capitol and take hostages' – much less any such plot led by Trump himself. If the shaman in the buffalo horns dreamed of single-handedly toppling the American government, he dreamed alone.
Nor were the 6 January riots an expression of racism or 'white supremacy' as has often been claimed, including by President Joe Biden. Interestingly, many of the most recogniseable pro-Trump activists involved in the original protest that descended into violence – such as Ali Alexander and Proud Boys leader Enrique Tarrio – are men of colour.
Rioting and mob violence are never justified in my view. But it has to be noted that a great deal of largely legitimate anger directed at the ruling class was bubbling up among the American people during 2020 – that terrible year of lockdown and George Floyd. And in the specific context of the 2020 election, while the Trumpian claims of vote rigging are clearly untrue, it is no exaggeration to say that virtually the entire US national elite seemed to be working to remove the volatile Trump from office.
Big Orange's 'October Surprise' – a darkly hilarious story about Biden's son, Hunter, smoking crack cocaine, carrying on with prostitutes, and potentially engaging in financial chicanery – was brutally censored by the Big Tech platforms. The New York Post, which broke the story, was suspended from Twitter simply for posting its own articles about it. The Hunter Biden laptop story was then dismissed – 100 per cent falsely – as some variety of Russian agitprop, despite a former business partner of Hunter's confirming the details of many of the claims on prime-time television.
This sort of thing went on and on during the election. At one point, Time magazine ran a truly astonishing article about a secret 'fortification' campaign, run by operatives from different power blocs on the left and center-right, that supposedly 'saved' the 2020 election by ensuring the correct result of a Trump defeat. We Yanks noticed this stuff, just as many Brits noticed the repeated attempts to reverse Brexit after the EU referendum. Although left-leaning urban elites consistently refuse to recognise this, populist anger often has a real source – and is not just driven by racism, as they seem to believe.
Of course, it's not just the liberal establishment trying to rewrite the history of the 6 January riots. Trumpists have made many absurd claims about them, too. For instance, 6 January was obviously not some sort of FBI set-up or false-flag operation, as some Trump supporters would have it. As USA Today notes, this bizarre theory rests on a number of unproven contentions, such as the claim that many of the individuals listed as 'unindicted co-conspirators' in court documents simply must have been federal agents or informants.
The rioters on 6 January were fighting against the police, not alongside them. This point is just obvious. By now, we have almost all seen the fighting outside the Capitol building on video. One officer, Brian Sicknick, died shortly after it (though he was not 'beaten to death by the mob', as was originally alleged, but died as the result of a medical problem probably intensified by inhaling irritants like bear mace). Around 140 other officers were also injured, to at least some extent. At least four rioters also died, after being trampled and jostled by crowds or struck by heart attacks, unable to leave the chaotic scene for treatment. Street fights and large, violent crowds are dangerous places to be. The loss of these lives cannot ethically be minimised and I will not minimise them here.
So, if the 6 January riot was not a planned attempt to overthrow American democracy, and it was not a set-up by the feds, what was it? It was a big, ugly riot. And as the historical revisionists of the media and academia prepare to get creative with the record, it is important to recall that this riot hardly stood alone at the beginning of 2021 – it followed a year of rioting in 2020.
During the chaotic 'summer of Floyd', a Minneapolis police precinct was burned down, with officers in the building at the time the fire was lit. The self-governing 'city-state' known as CHAZ was violently established and defended in Seattle (in the city's Capitol Hill area, ironically). The beautiful Chicago Mag Mile was looted. And activists rioted for more than 100 days in Portland. In several locations – most notably in Kenosha, Wisconsin – rival groups of left- and right-wing fighters literally clashed in the street with weapons. All in all, at least 30 people were killed in the post-Floyd carnage.
Perhaps the real lesson of the 6 January attack and the riots of 2020 is that where the state is weak, distrusted and seen as unable or unwilling to perform its most basic tasks, criminals take what they want and fighting men clash in public under different flags. Instead of arguing about which side's outrages were 'worse' in 2020 and 2021, we need to stop tolerating all such violence. We should expect our governments to provide that most basic and fundamental of social goods – peace.
Wilfred Reilly is a spiked columnist and the author of Taboo: 10 Facts You Can't Talk About, published by Regnery. Follow him on Twitter: @wil_da_beast630
To enquire about republishing spiked's content, a right to reply or to request a correction, please contact the managing editor, Viv Regan.