'Britain is failing to protect its own citizens'
Richard Ratcliffe talks to spiked about his hunger strike and his battle to bring home his wife, Nazanin.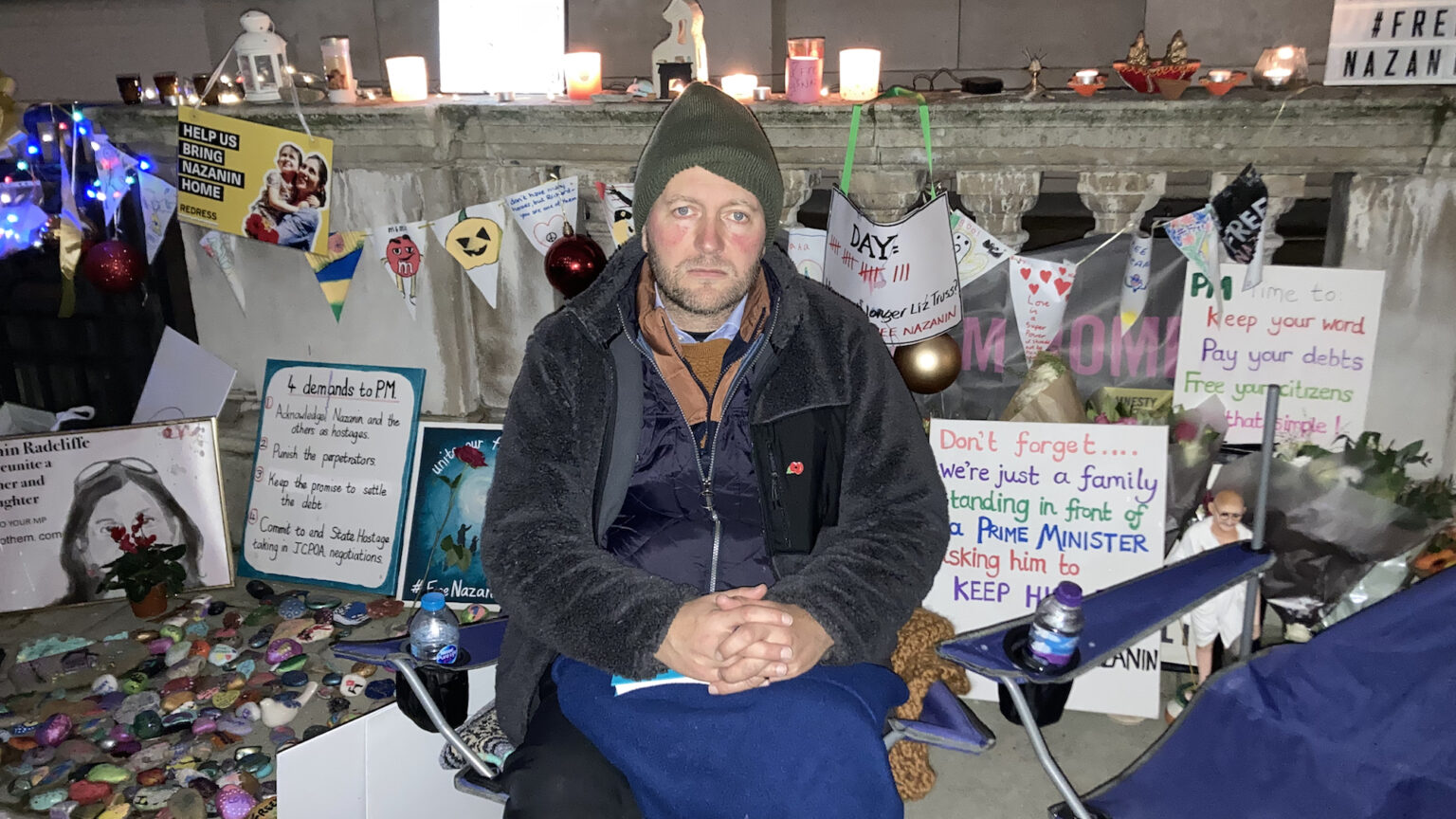 Nazanin Zaghari-Ratcliffe has been detained in Iran for more than five years. She was initially accused of 'plotting to topple the Iranian government' and was sentenced to five years prison. In 2020 Zaghari-Ratcliffe was allowed to serve the last year of her sentence on parole in her parents' house in Tehran, following a Covid outbreak in prison. But earlier this year the Iranians produced a second set of charges, for involvement in 'propaganda' activity, and sentenced her to prison once again. Her husband, Richard Ratcliffe, maintains that she was taken hostage by the Iranian state, to be used as leverage in a long-running debt dispute between the UK and Iran. Last month he started a hunger strike outside the Foreign Office in an attempt to bring his wife home. spiked went to talk to him, 19 days into his protest.
spiked: How are you feeling after so long without food?
Richard Ratcliffe: Really weary now. Each day, I get a bit more tired. I had a plateau for the first 15 days or so. But now I'm feeling my age and the lack of food. I'm still reasonably steady on my feet. But I think my body is telling me not to take this too much further.
spiked: What can you tell us about how your wife is at the moment?
Ratcliffe: Right now she's probably just worried – worried about her husband and his hunger strike, how long it is going to go on for and how safe it is, and checking the BBC weather website to see how cold it gets. In general she is obviously very anxious about being sent back to prison. Anxiety is one of things that the Iranian prison system does to you.
spiked: You have described what has happened to your family as the 'collateral damage' of British foreign policy. What did you mean by that?
Ratcliffe: In one sense, our story is blowback from old arms deals gone wrong. Nazanin has been held hostage over debt for five-and-a-half years. It's remarkable that the government ever allowed the debt to get to the point where people were being taken hostage. It's a lot more remarkable that it has done nothing about this for five-and-a-half years. And that is probably also to do with the relationship with Iran – not wanting to offend the Iranians. There is a wider diplomatic agenda, including the nuclear deal, that means Nazanin's case has been downplayed by the UK.
spiked: UK officials met with the Iranian deputy foreign minister on Thursday. How much power does the British government have to resolve this situation?
Ratcliffe: Our story is actually very simple. Nazanin was picked up because Iran wanted its money back. It has made this clear behind closed doors and in public. It's within the power of the British government to solve that debt issue. There is no doubt that this would lead to Nazanin's release.
More broadly, the government could do an awful lot more to challenge Iran on its hostage-taking practices, on which it has been very weak and borderline appeasing, and on Iran's torture of British citizens and all the other games of cat and mouse that it plays.
spiked: The government has previously promised to leave 'no stone unturned' to get Nazanin home. Can we trust it?
Ratcliffe: We need to trust the government's actions, not its words. This is a government that is long on promises and slogans and less good on delivery. And I think it's clear that in our case there are a number of very obvious stones unturned. The debt is one of them. Also, in 2019, the UK invoked diplomatic protection in Nazanin's case. That is a really big deal in legal terms. Yet not only has the government done nothing with it since, it rarely mentions that it was ever invoked. It is squandering the protections that exist for UK citizens.
The government always insists it's doing all it can for Nazanin. That is, frankly, gaslighting.
spiked: What message does it send to British citizens overseas if the government can't or won't resolve this situation?
Ratcliffe: It means that the government has not got your back. It is increasingly clear to me that citizenship stops at the border. When you go abroad, you are a subject. The government can choose to intervene, but it's entirely discretionary. If you are well connected, you have a better chance than if you are badly connected. Frankly, I have got a better chance sounding like a middle-class Englishman than someone who is heavily accented and far away.
The UK needs to get serious about protecting its citizens, particularly if we are embarking on the era of 'Global Britain' and sending people off to far-flung places. We need both the willingness to try to protect people and also the structures to do it. And it's patently obvious from Nazanin's case that the government is not up to the task.
spiked: What will it take for you to end the hunger strike?
Ratcliffe: This is not a hill to die on. Each day gets a little more dangerous. I think we are now in our last days. It is a medical decision as much as anything else. I had been hoping that today, when we met with James Cleverly [the minister for the Middle East and North Africa] and got a debrief from the meeting with the Iranian minister, there would be a sign of progress and that would be a peg to climb down from. There was no such progress. We were given no detail on what would happen next. So we got quite exasperated.
Regardless, I have a daughter to support and a wife to keep our home ready for. So the hunger strike will have to end soon.
Richard Ratcliffe was speaking to Paddy Hannam.
To enquire about republishing spiked's content, a right to reply or to request a correction, please contact the managing editor, Viv Regan.