When anti-vaxxers die of Covid
These are tragic, avoidable deaths – made worse by the glee with which they are reported.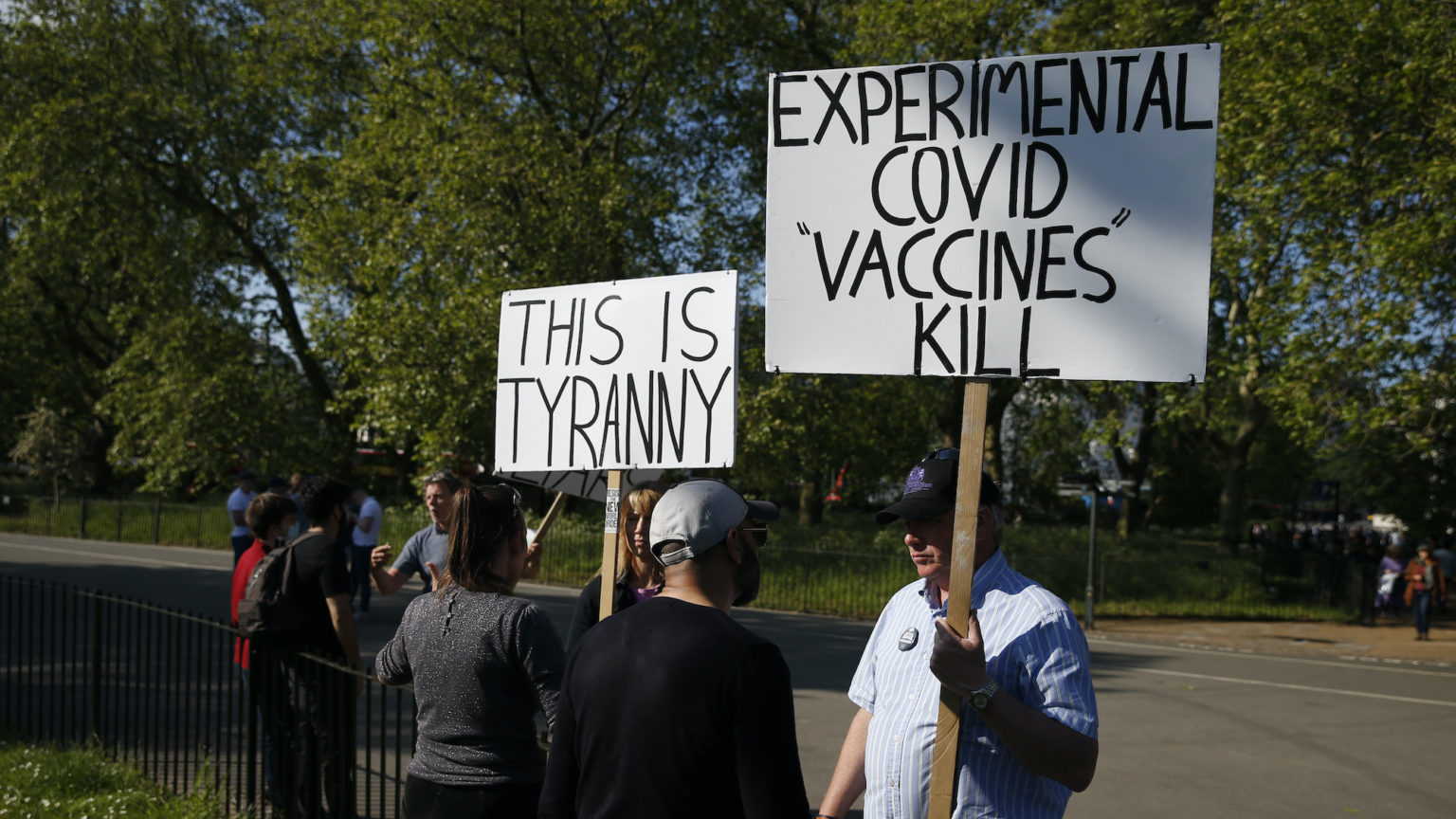 Anti-vaxxers are the dog that didn't bark during this pandemic.
Since the emergency was first declared we've been warned of the dangers of an 'infodemic'. Covid denialism and vaccine scepticism were going to rise on a tide of bullshit YouTube videos. 5G towers would fall as cases spiked unless something drastic was done.
But that nightmare vision has never come to pass. Certainly not in Britain, where the public has taken Covid incredibly seriously from the off. People locked themselves down before there was a lockdown. And vaccine hesitancy – let alone anti-vaxx sentiment proper – stands at a measly four per cent.
And yet the full force of the state continues to be wielded against this tiny minority. The government is waving the threat of vaccine passports to try to cajole people into getting jabbed.
Meanwhile, the media have taken to publishing story after story about vaccine refuseniks meeting a grim end at the hands of Covid:
'Heartbroken family of anti-vaxxer nightclub boss who died of Covid after mocking jab say, "don't make same mistake"', reads one headline. 'Chef's parents and brother die from Covid within days of each other after rejecting vaccines', says another.
Each report tells of awful, avoidable tragedies. Family members recount their departed loved ones' nonsense talk of 'experimental' vaccines, their insistence that Covid is just like flu, their tragically misplaced faith in their own immune systems, and the family members' failed attempts to win their loved one round.
But there is also something exploitative – and grim – about these stories.
Not for the first time in the pandemic, unrepresentative tragedies are being marshalled to make a point. Like the reports of healthy kids dying during the first wave – used to insist that Covid is a threat to everyone, not just the old and frail – the demise of 'fit and healthy' refuseniks is being leapt on with glee.
Take the death of 42-year-old John Eyers, from Merseyside, who succumbed a month after catching Covid. The 'adventurous' father of one was apparently climbing Welsh mountains and wild camping in the weeks before he got ill. In hospital, in the days before he died, he was 'beating himself up' for not getting the jab.
The media obsessing over 'Covidiot' lockdown-breakers or cussed vaccine refuseniks has been a constant throughout the pandemic. The justification for this was always that their behaviour impacts not just on them but also on society more broadly. Where vaccines were concerned, those unwilling to be vaccinated were failing to play their part in building a wall of immunity to protect the vulnerable.
But now experts are saying herd immunity is a pipe dream, because the Delta variant can spread even among vaccinated individuals. Vaccination, it now appears, is largely a matter of personal protection – given that what the jabs are very good at is protecting against hospitalisation and death.
So why fixate on the few who made a tragic, ill-informed choice not to take a jab that ultimately could have saved their lives? There's an element of gloating in it. Dunking on anti-vaxxers, even dead ones, seems to give some people a kind of moral thrill.
Last month, Leslie Lawrenson, a 58-year-old solicitor, died at his home in Bournemouth from Covid. He had refused to take the 'experimental' vaccine and refused to access treatment. He made videos about his fight against the virus in the days before his death.
His partner, Amanda Mitchell, told LBC last week that since Leslie's death became big news – something she couldn't possibly have expected – people have been relentlessly trolling Lawrenson's Facebook account. 'They're calling him a killer, they're calling the family killers and it's just not the truth', she said:
'He caught Covid through no fault of his own, and unfortunately he did have those views on the vaccine and he's paid the full price. I don't know what people want from us or from him now. I don't understand why we need to have these comments – just please leave us alone.'
The media would also do well to listen to her.
Hardcore anti-vaxxers, dug into their foxholes, are unlikely to be won around by all this. They've usually got an answer to everything, and moral condemnation is rarely a good persuasion technique.
As for those who are still unsure about getting jabbed, or struggling to get around to it, we should seek to appeal to their reason and double down efforts to reach hard-to-reach communities, rather than screaming at them that they might die.
The vaccine is the great human triumph of this pandemic. We have tamed a deadly virus through science and reason and human ingenuity. And we have rolled it out across society through the hard graft and long hours of healthcare workers and volunteers.
Let's not sully it with this grim, exploitative spectacle centred on the few who refuse the jab with tragic consequences.
Tom Slater is deputy editor of spiked. Follow him on Twitter: @Tom_Slater_.
To enquire about republishing spiked's content, a right to reply or to request a correction, please contact the managing editor, Viv Regan.