How Speakers' Corner became a warzone
Christian preacher and ex-Muslim Hatun Tash talks to spiked about being stabbed at London's 'heart of free speech'.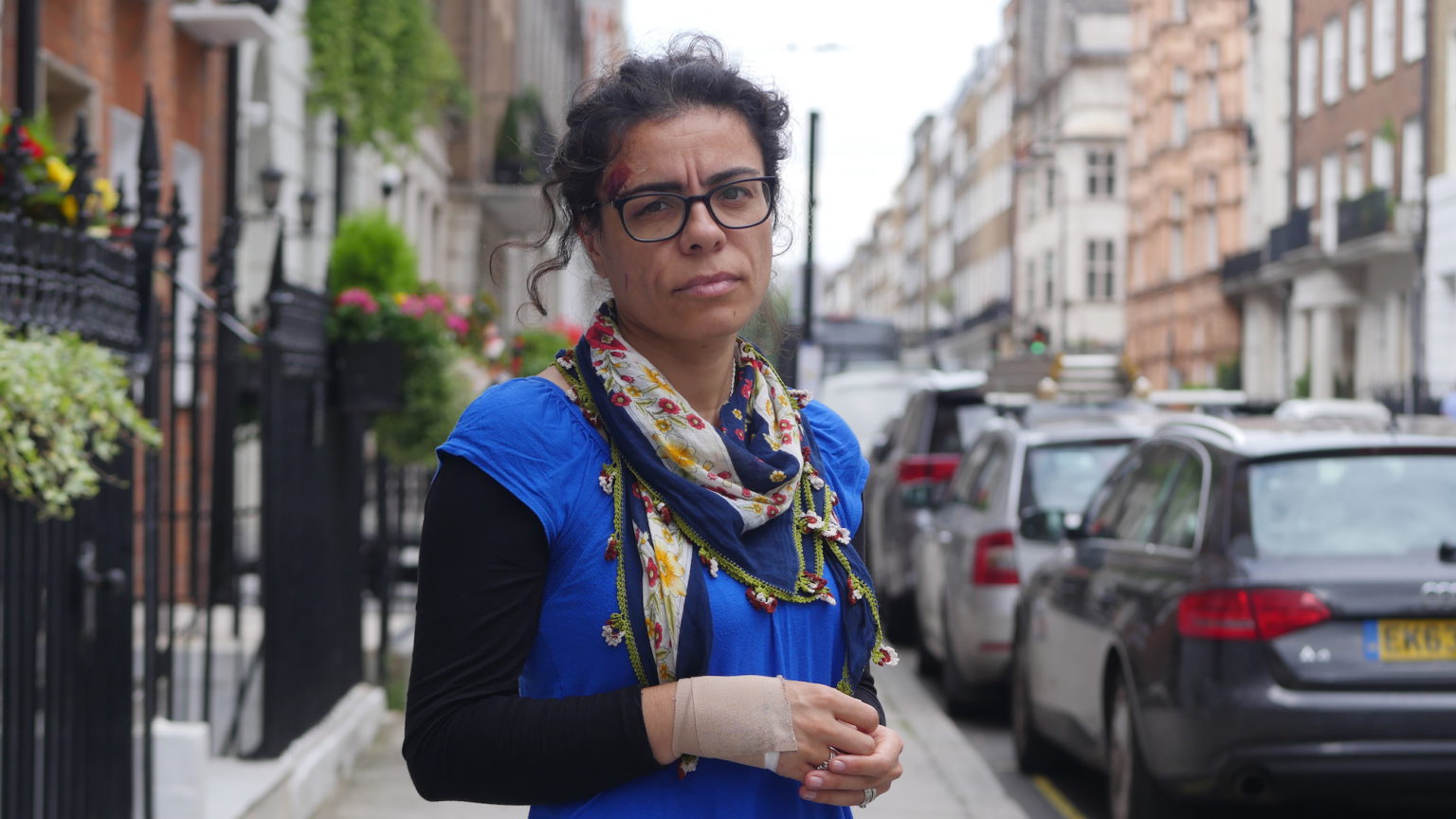 'It seems to me… that the intention was to kill me or harm me badly.' So says Hatun Tash, an ex-Muslim and Christian preacher who was stabbed at Speakers' Corner in Hyde Park last month. An attack which, thankfully, she escaped from with relatively minor injuries.
We're speaking in the week after the incident. She tells me what happened. She was 'having a gentle conversation with a man who [had] converted to Islam' when she was lunged at by a hooded attacker who slashed at her face and arm, leaving her covered in blood.
We still don't know what provoked the attack. The assailant remains at large and police continue to investigate. 'I wouldn't say I've got enemies', Tash tells me: she thinks she is an 'okay person'. The attacker 'didn't tell me what I did wrong', she says.
Tash, a regular at Speakers' Corner, has been attacked there before. Last year she was punched in the face by a man because she was displaying Muhammad cartoons. That she is an ex-Muslim – an apostate – as well as a critic of Islam makes her even more of a target.
In recent times, Speakers' Corner – known throughout the world as a place of free speech and debate – has become something of a battleground between Muslims, critics of Islam and rabble-rousers on both sides. 'I've been at Speakers' Corner since 2013', Tash says. She preaches the gospel there. In the past few years, she explains, there have been 'lots of tensions'.
She says she has been assaulted many times in the past. She has also got into trouble with the police. Two weeks before the attack, with the support of campaign group the Christian Legal Centre, she brought legal action against the Metropolitan Police alleging false arrest and imprisonment.
She says she was shaken by the knife attack last month, not just because of her safety but also because of the reaction — or lack thereof. She is 'disappointed that in the 21st century, anyone can be attacked in the heart of freedom of speech and the media [don't] give it that much attention'. She has a point. There were news reports about the attack, of course, but no widespread outrage.
'I wouldn't say I [have been] abandoned' by the press, she says, 'but I would say when it comes to certain groups, the media are very quick to keep silent'. The media, she says, are 'choosing not to talk about it because there is a problem with Islam'. There is a belief, she goes on, that 'if we don't talk about it, everyone will be happy and people will forget'.
Tash isn't just speaking about her own story here. She mentions the silence over grooming gangs and the Batley Grammar School scandal. She says that, where Islam is concerned, the media are 'turning a blind eye because they don't want to be [accused of] Islamophobia'.
This idea – that Islam must not be criticised – lies behind numerous acts of violence and murder in Europe in recent years. We move on to talk about the Charlie Hebdo massacre, in which French cartoonists were murdered by Islamists for daring to depict Muhammad.
Tash was wearing a Charlie Hebdo t-shirt when she was attacked. When Charlie's offices were attacked in 2015, she took the magazine's cartoons to Speakers' Corner. She did the same when a French teacher was beheaded on the outskirts of Paris last year for showing Charlie Hebdo cartoons to his students.
'When Samuel Paty was killed, I took those pictures again', she says. And she didn't only take cartoons of Muhammad, but Charlie's cartoons of Jesus and the Christian God, too. 'I find them very offensive', she says, but 'that doesn't give me the right… to go and chop someone's head off'.
Whatever the motivations of the man who slashed at Hatun Tash, violent attacks on critics of Islam keep on happening. And they keep on being brushed under the carpet. The UK, Tash says, is known for giving 'dignity and honour to human beings'. We need to make sure that remains the case.
Paddy Hannam is editorial assistant at spiked. Follow him on Twitter: @paddyhannam.
To enquire about republishing spiked's content, a right to reply or to request a correction, please contact the managing editor, Viv Regan.