Why are we celebrating Simone Biles for quitting the Olympics?
One of the greatest Olympians gave up when the going got tough. That's sad, not heroic.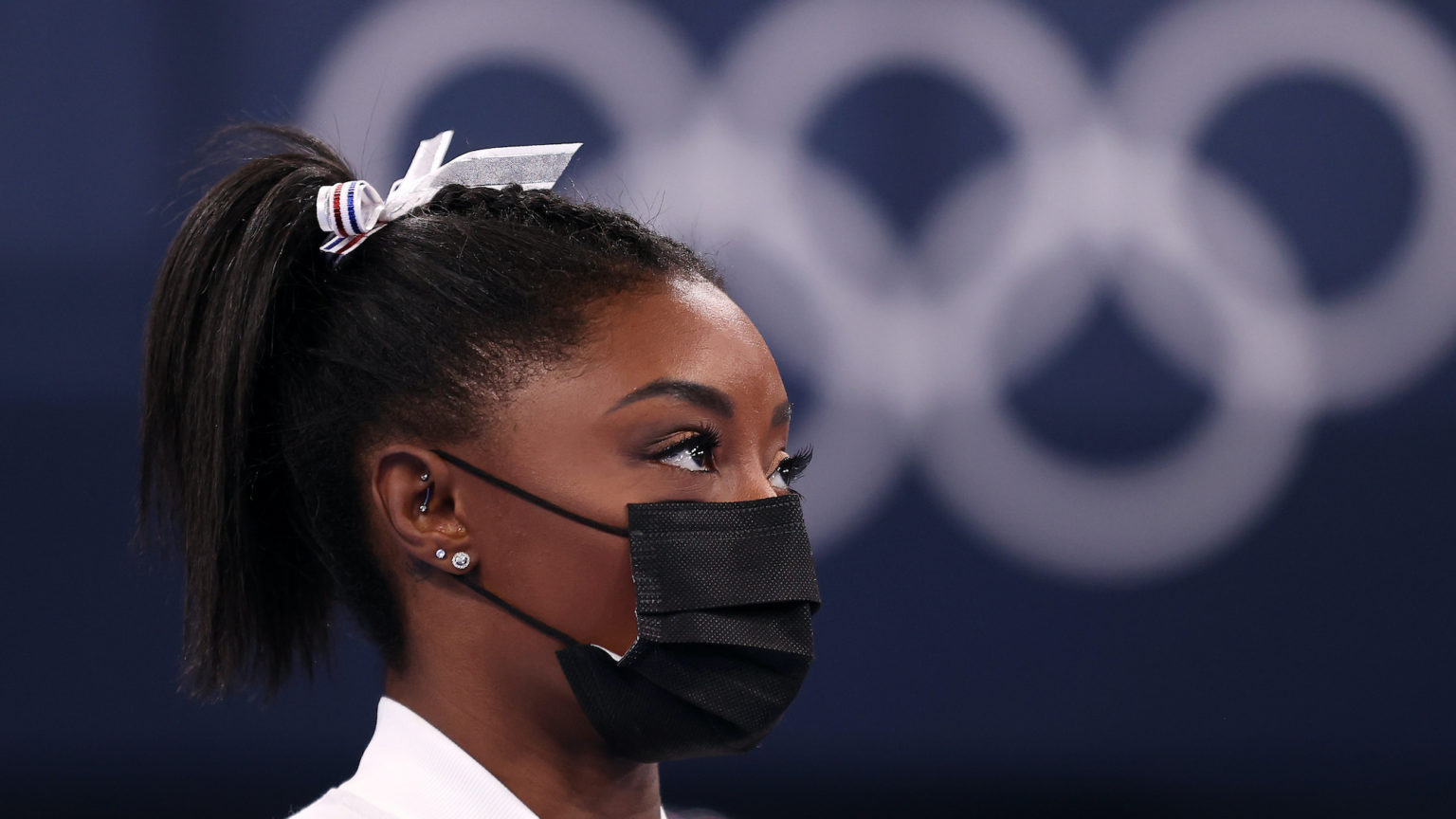 Let's be honest: Simone Biles bottled it. She performed very badly on the vault – scoring just 13.766, her lowest vault score ever – and she decided to call it a day. She decided to duck out of the entire Olympics. She decided to hang up her leotard and leave the rest of the US gymnastics team to carry on the fight for a medal (they got silver). There's not necessarily any shame in this, although abandoning your teammates is never a good thing to do. But can we stop pretending that what she did was heroic? That her decision to put her 'mental health' before her Olympian duties is worthy of gushing praise? It isn't.
Everyone loves Simone Biles, including me. She is one of the great Olympians of our age – a diminutive smasher of social barriers and executor of moves that the rest of us get backache just from watching. But the current celebration of her quitting the Olympics as 'true heroism', as better even than if she had won gold, feels deeply troubling. It suggests the cult of the loser is out of control; that society's valorisation of 'victims' over winners is now so entrenched that we even prefer our Olympians when they're running away from the challenge than when they're fighting tooth and nail for gold.
Biles' quitting (though no one is calling it that) sent shockwaves through the world media yesterday. She wobbled during her vault, seemed to lose her focus, and didn't manage to do all the twists and turns she had planned to. Far be it from those of us who can't even roly-poly anymore to criticise her for this momentary lapse, but we can surely criticise her for what happened next. She stormed out of the stadium. Then she came back. Then it was announced that she wouldn't be competing anymore. She was going to prioritise her 'mental health' and 'mindfulness' instead. And just like that, one of America's greatest sports stars, someone millions were keen to watch at Tokyo 2020, was out. She had benched herself. All, it seems, because of one bad score.
It's the 'mental health' talk I don't like. 'Prioritising mental health' seems to have become the go-to excuse for people who just can't be arsed. Already this year we've seen Naomi Osaka quit the French Open because she didn't want to do media interviews, judging them to be bad for her mental health. Prince Harry won't shut up about his mental health. For him, 'prioritising mental health' has become a justification for spilling the beans on his messed-up family to any big media platform that will have him. I've lost count of the number of students I've met over the years who say the reason they No Platform speakers they disapprove of is because they want to protect their own mental health. 'What about my mental health?!' has become a kind of free pass for bad, immoral or narcissistic behaviour, whether it's talking down your family, censoring people you dislike, or quitting sports competitions when the going gets tough.
The problem here isn't really Biles. None of us has access to her mind or soul. We can't know what's really going on. No, it's the absolutely mad response to her quitting. She has been idolised. Her walking away is being turned into a moral lesson for the world. It's okay to give up! 'Simone Biles' withdrawal is more impressive than winning', says one headline. Is it though? The New York Times has praised her for 'rejecting stoicism'. But isn't stoicism central to sport? Especially to the Olympics, which is entirely about self-drive and self-sacrifice to the end of achieving superhuman feats. Michelle Obama got the social-media world hot under the collar by gushing over Biles. 'Am I good enough? Yes I am. [That's] the mantra I practice daily', she said. I'm sorry, but if aspiring sports stars practised this mantra, they'd never get anywhere. Not feeling like you're 'enough', and always wanting to push harder and faster, is what the Olympics is all about. Michelle Obama's trite, Oprah-style platitudes grate against the singular devotion that the Olympian ideal demands.
This is what is worrying about the praise for Biles – it looks like further confirmation that our societies are abandoning the virtues of courage, determination and aspiring to victory in favour of celebrating people's feelings of weakness. So Biles is brave not for all the astonishing things she has achieved in gymnastics, but for telling everyone she has mental-health problems. That is crazy. A similar valorisation of failure occurred after the Euros final, when the 'three lions' we were all expected to cheer were penalty-missers Rashford, Sancho and Saka rather than goal-scorers Kane, Maguire and Shaw (not to mention the heroic Jordan Pickford).
A new generation is being encouraged to admire those who fail or quit more than those who go on, against all the odds, to achieve great and wonderful things. That is a betrayal of the Olympian ideal, and of the broader human ideal of making good on one's life and one's talents. We urgently need a countercultural pushback against this love of losers. It can start with recognising that Biles' abandonment of the Olympics was sad, not heroic.
Brendan O'Neill is editor of spiked and host of the spiked podcast, The Brendan O'Neill Show. Subscribe to the podcast here. And find Brendan on Instagram: @burntoakboy
To enquire about republishing spiked's content, a right to reply or to request a correction, please contact the managing editor, Viv Regan.