Sajid was right to use the word 'cower'
Why did he apologise for telling the truth – that too many people still live in fear of Covid?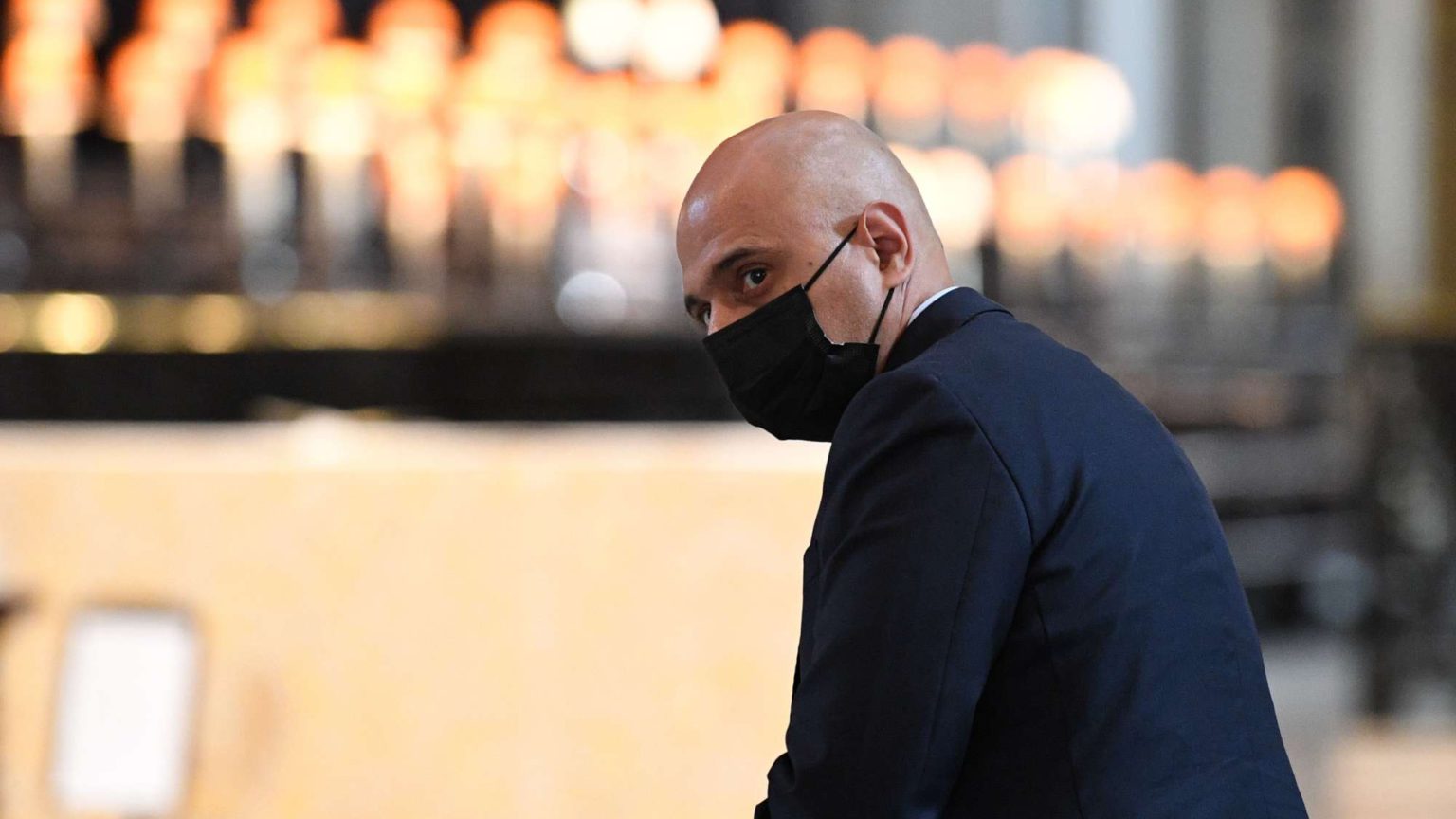 Irony doesn't come much neater than this. First, the health secretary, Sajid Javid, said Britain had to learn to 'live with' rather than 'cower from' Covid-19. Then, mere hours later, he himself was cowering. He was hiding in fear from raging Twittermobs who were madly claiming that his use of the word cower had been offensive. Eventually he buckled. 'It was a poor choice of word and I sincerely apologise', he said. And so the critic of cowardice became a coward, pleading with the self-elected speechpolice for forgiveness for his word-crime.
Everything about this is crazy. First, it is never a good thing when a politician, or anyone else, is cajoled into issuing a craven apology for using a word. Javid didn't swear or hit anyone or snog his mistress while telling the rest of us not to have sexual relations with people we didn't already live with (hope you're keeping well, Matt). No, he just used an entirely legitimate word from the English dictionary to describe what he considers to be an overly fearful attitude towards Covid-19.
'To bend low… because you are frightened' – that's all that cower means. It is testament to the stifling illiberalism of the early 21st century that even leading politicians feel the need to bend to the offence-taking mob, to put out a 'sincere apology' for using a word that people use every day. Heaven knows how Roosevelt would fare in these easily offended times with his warning against succumbing to fear, his insistence that 'the only thing we have to fear is fear itself – nameless, unreasoning, unjustified terror which paralyses needed efforts to convert retreat into advance'. You calling us scared? String him up!
And then there's the fact – the difficult, inconvenient fact, I know – that Javid had a point. Too many people are still cowering from Covid-19. We know this to be the case. We see it every day in feature articles about 'Covid-19 anxiety syndrome' and the 'social anxiety' of returning to normal life. We see it in the pained cries of those prophets of doom – sometimes referred to as experts – who are never off Channel 4 News and the BBC, all of them warning that returning to normality now will cause a Covid catastrophe. (So far, they're being proven wrong.) We see it in the introduction of new measures in workplaces – lanyards, for example, indicating whether you are a hugger, a hand-shaker or someone who wants to keep his distance – which are all about catering to people's ongoing fear of catching a virus whose deadliness has been tamed by human intervention.
It is unquestionable that a culture of fear has attended the pandemic. Indeed, the government Javid now serves bears a great deal of responsibility for this. Officials stoked fear of infection and death throughout the three lockdowns. There were public-health posters showing dying people gasping for air and daily press conferences announcing the death toll to the nation. It is my view that some in the lockdown-sceptic lobby misunderstand the culture of fear, too often looking upon ordinary people as 'sheeple' who were puppeteered by politicians who 'weaponised' fear to get their own dastardly way. It is far more complicated than that. But it's pretty clear that fear of Covid was a real thing, and remains a real thing, and is likely to inform the New Normal everyone is talking about. Hounding Javid for touching upon this truth is daft and dangerous.
In fact, if you look at the etymology of the word cower, you'll see that its use by Javid really was legit. Its old, original meaning is to 'lie in wait'. If someone could show me a better description of the course of action being taken and encouraged by experts, opinion-formers and sections of the political class – all of whom want society to 'lie in wait' until Covid has disappeared, which is never going to happen – I'd be very pleased to see it. Javid's only mistake was to use a morally loaded word like 'cower', when in our highly psychologised times we prefer therapeutic euphemisms. 'Social anxiety' rather than 'fear'; 'responsibly staying indoors' rather than 'cower', etc.
That so much fear and dread has swirled around the pandemic is bad enough. This fearful worldview grated against what we really needed during this very serious crisis – that is, a galvanised nation coming together to help one another stay safe and happy – and instead nurtured an atomised society of worried households steering clear of the world beyond their front doors. But to now chastise open, honest discussion about this culture of fear is even worse. That's what the Javid controversy points to – some people's desire not only to spread fear but also to censure those who dare to discuss the consequences of this cultivation of fear. 'How dare you use the word "cower"?', ask the very people who have encouraged us to cower before a virus. Their gall and hypocrisy are far more offensive than Javid's use of that c-word.
Brendan O'Neill is editor of spiked and host of the spiked podcast, The Brendan O'Neill Show. Subscribe to the podcast here. And find Brendan on Instagram: @burntoakboy
To enquire about republishing spiked's content, a right to reply or to request a correction, please contact the managing editor, Viv Regan.