The implosion of multiculturalism
The Batley and Spen by-election shows just how destructive multiculturalism has become.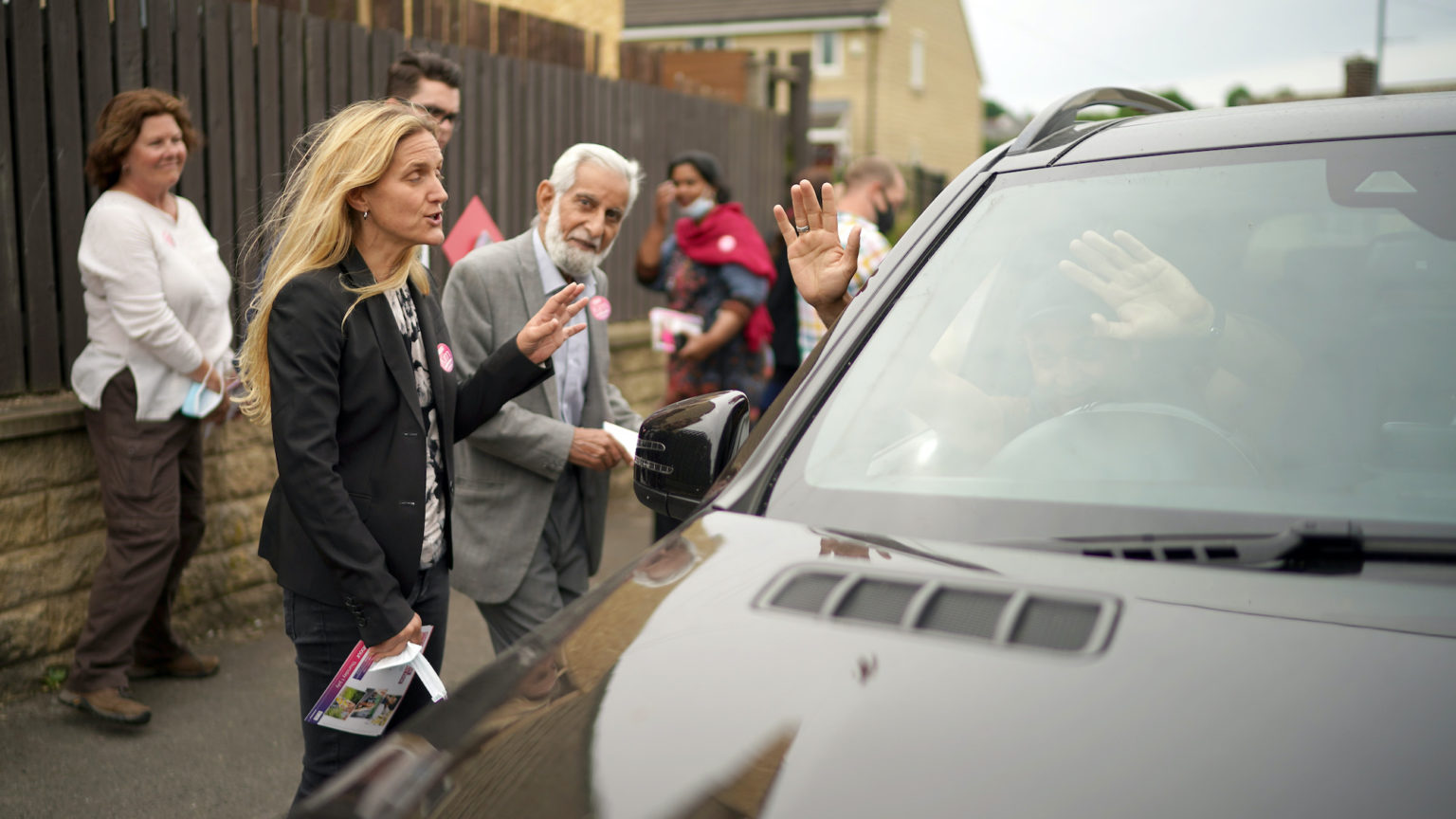 Labour has reached a new low. In Batley and Spen, ahead of the by-election on Thursday, it has been distributing leaflets that seem expressly designed to stir up racial and religious animosity. The leaflets show Boris Johnson shaking hands with the Indian prime minister, Narendra Modi. Meeting, never mind touching, such a foul Hindu creature is apparently a crime in the eyes of Labour's Batley activists. 'Don't risk a Tory MP who is not on your side', the leaflet says. You don't need a PhD in dogwhistling to translate the nauseating message behind this leaflet: look at the Conservative PM cosying up to the evil leader of the Indian people – the Conservatives clearly cannot be trusted.
Let us be clear about what Labour is doing here: it is trying to tap into and exploit the anti-Indian, anti-Hindu sentiment that exists in some sections of the Muslim community. It is seeking to get the Muslim vote out by demonising India. The Tories' closeness to Modi means they cannot be trusted to call out India's 'human-rights abuses' in Kashmir, the leaflet says. It also says the Tories have failed to combat Islamophobia and reminds voters that Boris once compared Muslim women who wear the niqab to letterboxes. This is the desperation of the Labour Party in 2021. Bereft of a unifying message, utterly lacking in a political or economic vision that might inspire the working people of Batley and Spen, the party instead seeks to marshal certain individuals' communalistic tendencies in the hope that this will bump it over the line on election day.
This is one of the worst cases of electoral race-baiting in recent times. As Labour MP Navendu Mishra says, the leaflet is a blatant attempt to turn communities against each other. Labour is engaging in 'dogwhistle racism', he says. And yet much of the left has been silent about these Indiaphobic leaflets, this cynical Hindu-baiting that Labour officials clearly believe will appeal to Muslim voters. The identitarian left sees racism everywhere – in every criticism of Islam, in every vote for Brexit, in every bristling at Meghan Markle's poor-me routine. And yet they look the other way when a mainstream party uses inflammatory rhetoric about Kashmir to try to weaponise some Muslims' anti-Indian outlook for electoral gain.
This is a reminder of the ruthlessly hierarchical nature of identity politics. Contemporary identitarianism celebrates some identities and demonises others. Those groups that are viewed as 'victims' – Muslims, black people, the trans community – are validated. Their pain is felt, their causes are taken up. But those groups that are judged, rightly or wrongly, to be a little too self-sufficient, a little too successful – Indians, Jewish people – are rounded on. Racism against those groups is ignored by the identitarian left, or actively stirred up. This is why Labour, captured by the destructive creed of wokeness, doesn't only have a problem with anti-Semitism but increasingly with anti-Indian bigotry as well.
This is all the inexorable consequence of identitarianism's misanthropic division of every social group into the categories of 'Privileged' or 'Oppressed'. This leads to the cultivation not only of identities deserving of our sympathy but also of identities deserving of our hatred. Pity for certain groups (the victims) is sustained by loathing for other groups (their oppressors). Racial animosity is as central to the woke worldview as racial sympathy is – these are complementary forces in this warped ideology. Wokeness isn't anti-racism. On the contrary, it is a hyper-racialised protection racket in which some groups are afforded the certificate of recognition in return for their retaining the status of 'victim group' while other groups are problematised on account of their supposed racial privilege. Labour's cynical communalism in Batley and Spen – Muslims good, Indians suspect – is dire proof of this.
But there is more going on in Batley and Spen. We are witnessing not only the onward, destructive march of pseudo-left identitarianism but also the implosion of multiculturalism itself. Batley and Spen has become a cauldron of the communal and racial tensions stirred up by the ideology of multiculturalism in recent decades. There's the Muslim-Hindu conflict being cynically exploited by Labour. We've also seen small-c conservative Muslims harangue the Labour candidate – Kim Leadbeater – for being a lesbian. Some Muslim voters have apparently made disparaging noises about the fact that Keir Starmer's wife is Jewish.
And of course hanging over all of this, like a permanent shadow no one wants to acknowledge, is the persecution of the Batley Grammar schoolteacher who showed his pupils an image of Muhammad. He and his young family have been hounded into hiding by religious fundamentalists. His home in Batley and Spen stands empty – an eerie monument to the intolerance of noisy Islamist activists and to the cowardice of the educational and political elites who failed to stand by the teacher. That scandal, the fact that a public servant's life could be ruined by religious fanatics in the United Kingdom in 2021, is the depressing backdrop to the war of multiculturalism that has gripped this West Yorkshire constituency.
We are seeing just how divisive and dangerous the ideology of multiculturalism has become. Multiculturalism is surely the worst and most toxic policy that has been adopted in postwar Britain. No, this does not mean it is bad to have a multi-ethnic and multi-racial society. The vast majority of people are perfectly fine with that. But multiculturalism is something different. It is a policy, embraced across the entire political spectrum, that actively undermines the ideals of national unity and community solidarity by fostering cultural difference and ethnic separatism. It has Balkanised Britain, nurturing the politics of grievance and even the politics of hatred. When everyone is actively encouraged to live in their own cultural universe, solidarity withers and antagonism intensifies.
The unhinged relativism of multiculturalism has come home to roost in Batley and Spen. What should have been a by-election about policy and vision has descended into a series of cultural clashes and identitarian confrontations. This isn't the fault of outsiders coming in to make trouble, as some claim. Nor is it entirely down to Labour's cynical and racial electioneering. Rather, it speaks to the rank social dissection that has been enabled by the multicultural worldview. A humanist alternative is urgently required. It won't come from Labour – or the Tories.
Brendan O'Neill is editor of spiked and host of the spiked podcast, The Brendan O'Neill Show. Subscribe to the podcast here. And find Brendan on Instagram: @burntoakboy
To enquire about republishing spiked's content, a right to reply or to request a correction, please contact the managing editor, Viv Regan.