The Batley test
Will the candidates in Batley and Spen take the side of freedom or of Islamist intolerance?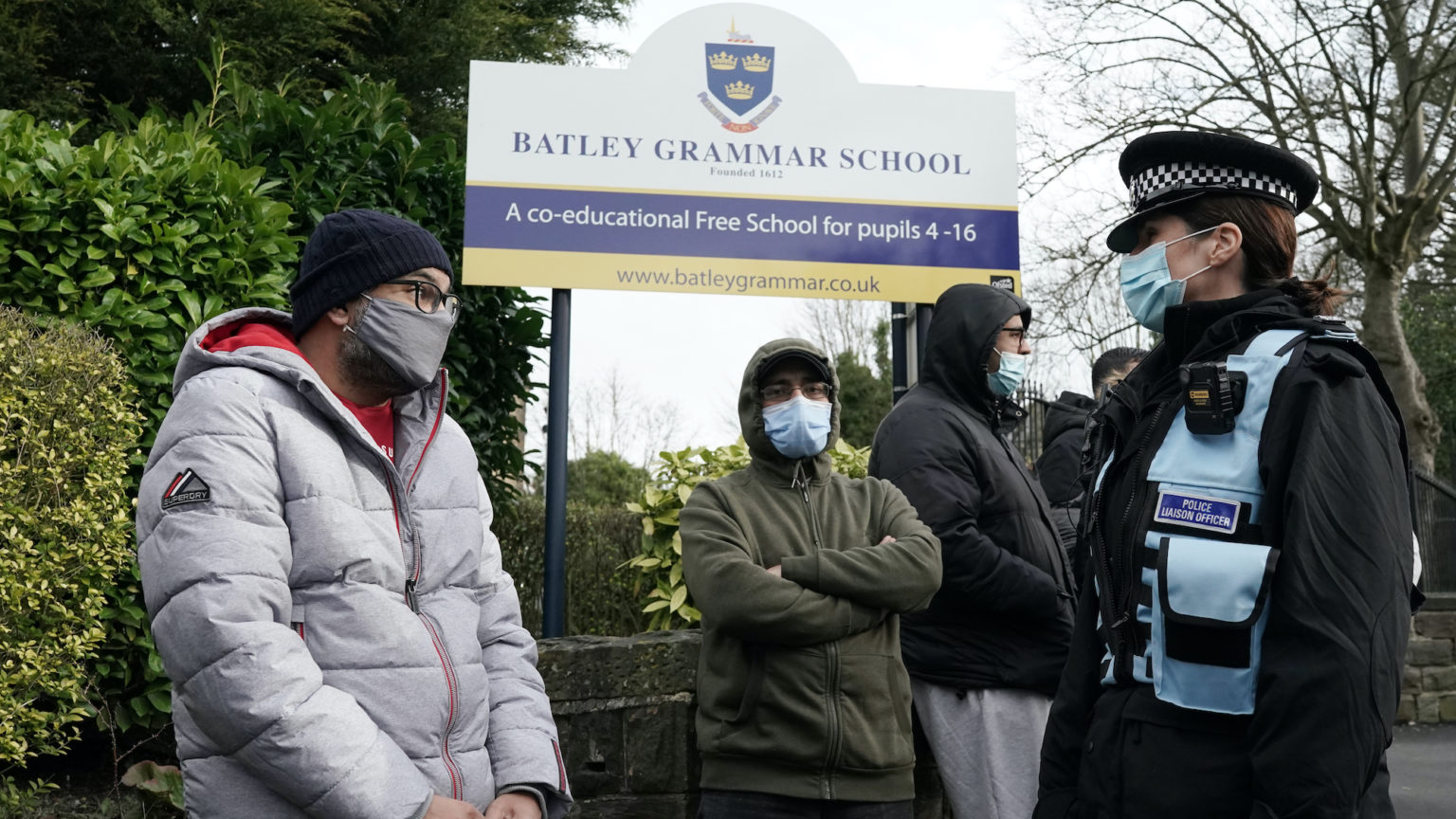 That schoolteacher from Batley Grammar is still in hiding. Three months after he was unceremoniously suspended by his own school for the 'crime' of showing his pupils an image of Muhammad, he still lives in fear for his life. He hasn't returned to his teaching job and there are reports that he and his young family are going to move permanently in order to escape the vile attentions of religious fundamentalists. Let that sink in. In Britain in 2021, in this supposedly modern, secular nation, a public servant must live in the shadows lest he be physically attacked for the offence of blasphemy against a 7th-century prophet.
The Batley Grammar case continues to cast a shadow of shame across this country. It is a black mark against our nation that a teacher could be so horrendously hounded and that so few voices in education, politics or the media have spoken up for him and against his regressive persecutors. Surely that will change in the run-up to the by-election in Batley and Spen on 1 July? This case, this perverse victimisation of a teacher for encouraging his pupils to think about the important issues of blasphemy, offence and freedom, should be front and centre in that election. Every candidate must now come out and clearly say where they stand in this clash between fundamentalists who believe anyone who offends their prophet must be punished and a local teacher who was just doing his job of inspiring critical thinking in the next generation.
Everything about the Batley Grammar controversy stinks. This scandal shines an unforgiving light on the illiberalism and cowardice that are unfortunately rife in establishment institutions. The teacher in question committed his supposed offence back in March. As part of a religious studies class he held up a cartoon of Muhammad. The reaction was furious. Muslim agitators gathered at the school gates for days. They demanded his sacking. The yellow-bellied school caved. It capitulated to the mob. The head issued an 'unequivocal' apology for the 'totally inappropriate' display of the Muhammad image and suspended the allegedly blasphemous teacher, and two others, no doubt causing many people to wonder since when Britain has been a Sharia-ruled country in which affronting Muhammad is some kind of cultural sin, a calumny for which you can be thrown out of your job.
The silence from liberals and progressives – at least that's what they call themselves – was deafening. The teaching unions shrugged their shoulders. The commentariat failed to kick up a fuss. Too busy writing about gender-neutral toilets. And most politicians just looked at their feet. The then Labour MP for Batley and Spen, Tracy Brabin, said she was glad the school apologised 'for the offence caused'. A teacher is forced into hiding by intolerant religious men and that's what the local MP focuses on? The fact that images of Muhammad are considered offensive by some people? A properly progressive member of parliament would have stood shoulder to shoulder with the teacher and reminded the fuming protesters that they live in a free country where no god, prophet, ideology or fad should enjoy protection from scrutiny.
As a result of these shameful capitulations, a young teacher was sacrificed on the altar of identitarianism, cast out from teaching to appease an angry mob that foolishly believes that its right never to be offended must trump everyone else's right to speak their minds. A recent Times report confirmed that the teacher is still in hiding, despite the fact that an independent investigation last month ruled that he did not intend to cause offence and said he should be allowed to return to the classroom. What's more, according to the teacher's father, he is now an 'emotional wreck'. He feels it is 'all over for him'. The responsibility for this cruelty doesn't only lie with the intolerant protesters who pestered Batley Grammar to ditch the allegedly sinful teacher – it also lies with the elites who failed to stand up for the teacher because they are more wedded to the ideology of multiculturalism than they are to the principle of freedom of conscience.
In the Batley and Spen by-election, we finally have a chance to talk openly about this case and to push back against the dangerous precedent it has set. Will the candidates take the side of freedom and teachers' rights, or the side of those who say every criticism of Islam and its prophet is 'Islamophobia' and must be stamped out? The signs are not good. Too many candidates are shirking this local controversy that is of the utmost importance to the health of the nation at large. The Labour candidate, Kim Leadbeater, is even potentially fanning the flames of religious reaction. One of her leaflets promises the Muslim community in Batley and Spen that she will fight 'the poison of Islamophobia'. Given that a teacher in Batley has been hounded on a trumped-up charge of having been poisonously Islamophobic, this strikes me as an incredibly divisive stand for Labour to take.
The Batley teacher controversy should be treated as the most important issue in this by-election. First, because it is essential that the candidates who aspire to represent this community make it clear that they will defend its public servants from regressive campaigns of demonisation. Secondly, because we need to know that the next Batley and Spen MP will take seriously those many local people who do not want noisy mobs determining what can be taught to their kids, and who want Britain to be a free nation rather than one stifled by Islamist or any other kind of repressive ideology.
And thirdly, because the clearest signal that can be sent to Muslim citizens in Batley and Spen that they are accepted as full and equal members of the community is by putting their religious faith on an equal footing with every other religious faith – that is, as a faith you are perfectly at liberty to follow and which everyone else is perfectly at liberty to criticise. Treating Muslim voters as children who must be offered special protection from difficult discussion or 'offensive' ideas, as Labour seems intent on doing, is demeaning and divisive. Everyone in Batley and Spen has a shared interest in holding at bay regressive, illiberal ideologies and allowing open discussion and freedom of thought to flourish. This unifying message of freedom and trust could win one of the candidates a great deal of support.
So, let's hear it. Candidates, what is your position on this local issue that has become a national scandal? Will you stand with freedom of speech and teachers' rights, or with the woke / Islamist cults of offence-taking, censorship and putting undemocratic pressure on schools to change their curricula to suit the moralistic tastes of noisy mobs? This is the Batley test.
Brendan O'Neill is editor of spiked and host of the spiked podcast, The Brendan O'Neill Show. Subscribe to the podcast here. And find Brendan on Instagram: @burntoakboy
To enquire about republishing spiked's content, a right to reply or to request a correction, please contact the managing editor, Viv Regan.