Anyone but Sadiq
Sadiq Khan's five years as mayor have been a disaster for London.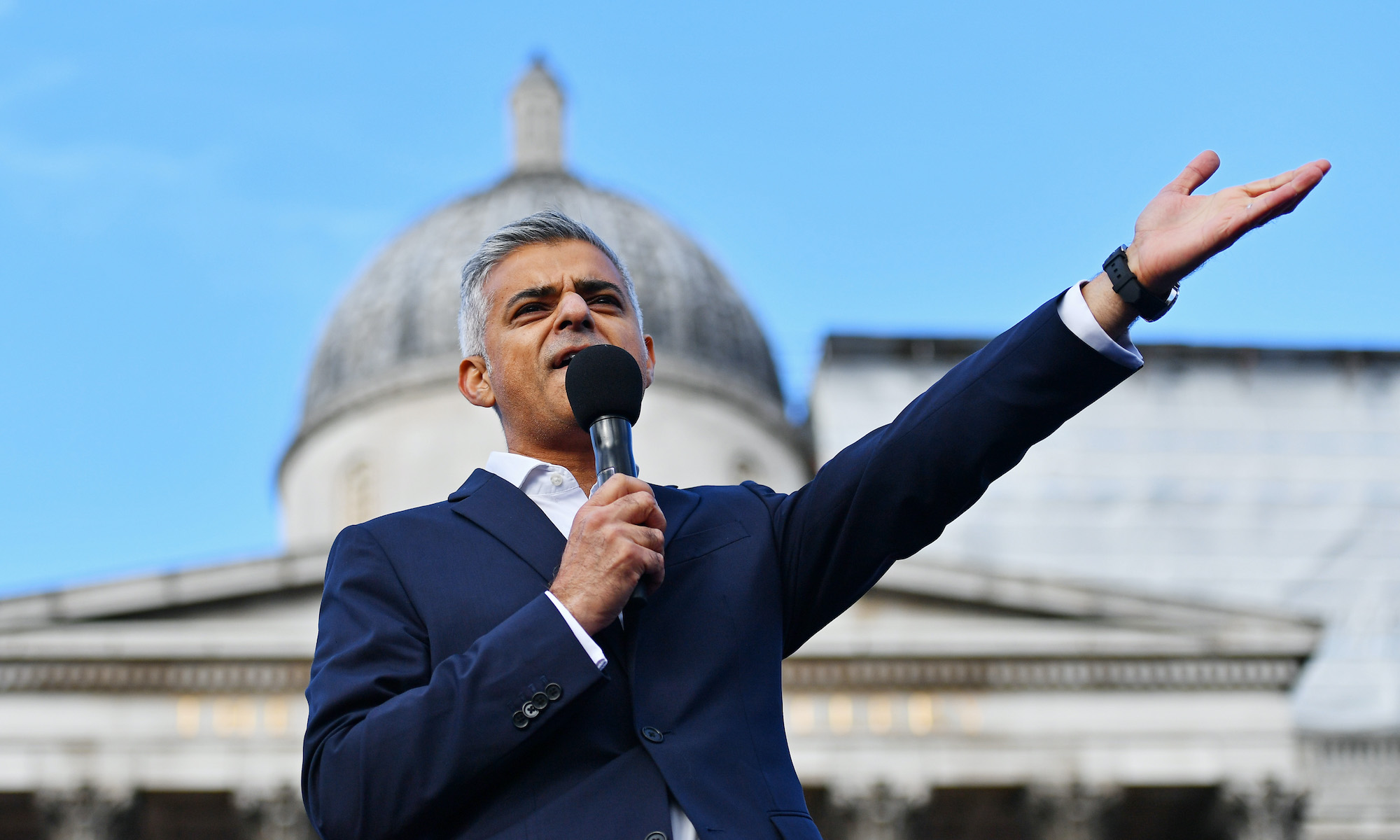 One of my favourite political facts is that more Londoners voted for Brexit than voted for Sadiq Khan to be mayor. In May 2016 1.3million Londoners voted Sadiq into City Hall. Just over a month later, on 23 June, 1.5million Londoners voted for the UK to leave the EU. That's 200,000 more Londoners lining up behind Leave than behind Sadiq.
It is worth reminding ourselves of this fact every now and then in order to shoot down the depiction of London as a uniformly woke, Labourish, Remoaning city. Brexit is such an extraordinary political phenomenon that even in London, even in this supposed capital of correct-think, it enjoys significantly more support than our fawned-over mayor. Sure, more Londoners voted Remain – 59.9 per cent vs 40.1 per cent – but the fact that Brexit beat Sadiq is striking, and funny.
More importantly, it tells us a lot about Sadiq – none of it good – that he was one of the most insistent, overwrought Brexit-bashers of the past five years despite the fact that Brexit is more popular in London than he is. Despite the fact that more than one-and-a-half million citizens in the city he leads voted for it. Despite the fact that London's suburbs and towns and council estates are brimming with people who think Brexit is a great idea, not a 'disaster', as our mayor says… over and over and over.
That Sadiq volunteered himself to lead the chattering classes' bigoted, anti-democratic assault on Brexit – when his actual job was meant to be looking after London – speaks volumes about his mayoralty. It confirms how swiftly, and thoroughly, Mayor Sadiq was captured by the culture wars; how this once moderate, occasionally interesting Labour politician transformed into a woke crusader, using his privileged position in City Hall to whine about Brexit, stir up identitarian tension, spout gender-neutral bollocks, read racism into almost everything, and push an intolerant, censorious agenda designed to correct wrong-think among the dim London throng.
This is why, my fellow Londoners, you should not vote for Sadiq today. Vote for anyone but Sadiq. Because anybody who would dare to use this great, mad, teeming city as little more than a soapbox from which to titillate the Twitterati doesn't deserve to be anywhere near City Hall.
Sadiq's failures are well-known. He has failed to tackle the scourge of knife crime that has such a disproportionately terrible impact on poor and ethnic-minority communities. Thirty-eight London police stations have closed under Sadiq. Robbery has increased by 70 per cent. He hasn't built the new homes he promised to build. Eighty-thousand a year, he said; in 2019 just 41,000 were built. House-building has grown more slowly in London than in any other region. He said he would raise the funds for Crossrail 2 – he didn't.
Yet while Sadiq has failed at the stuff of politics – building homes, building transport infrastructure, combating crime – he has excelled at the signalling of politics, at the preening, virtue-advertising side of it. He's world-famous for the blimp of Trump that he green-lighted ahead of the then president's visit to London. He won plaudits from anti-democrats when he turned a New Year's Eve fireworks display into a creepy paean to the neoliberal technocracy in Brussels. He scored a lot of Twitter-love when he replaced the walking man on the traffic lights around Trafalgar Square with both male and female gender symbols. Because of course women never knew when to cross the road before Sadiq came along and literally gave them the green light.
He has banned 'sexist' adverts on the Tube to save women from feeling bad about their bodies. He responded to the Black Lives Matter hoo-hah not by standing up for London and its history and its statues and monuments but by setting up the suitably Stalinist-sounding Committee for Diversity in the Public Realm, which will audit all statues, buildings and street names presumably to ensure none is named after someone from the past who wasn't 100 per cent woke. And of course he has promoted the divisive psychobabble of critical race theory. At the height of the Covid pandemic in April last year, when Londoners needed to hear a message of unity and resolve, Sadiq said that Covid was… racist. We have to talk about 'structural racism', he said, to a population that was fretting over life, death, the economy and the future.
Cities need mayors who will tangibly improve our surroundings and our lives. All we've had from Sadiq is the noise of political correctness, incessant displays of puffed-up virtue, nods and winks to the correct-thinking set above the heads of what they clearly view as the fickle masses of London who need re-educating on everything from sexism to racism, from why slave traders are Bad to why Brexit was a catastrophic folly.
Indeed, Sadiq sums up what the culture wars are all about. These top-down fusillades are a means for the elites to demonstrate their virtuous superiority to the masses, and to hide their failings at the real, structural business of politics behind fancy firework displays and ridiculous PC gestures. In this sense Sadiq sometimes comes off more like an aloof emperor than a democratic mayor, dazzling the throng with his virtue to distract us from the problems of crime, housing and transport that still blight parts of our city.
Sadiq hasn't truly represented London – he has launched a culture war against it. Brexit-bashing, ad bans, hiked-up congestion charges, the ceaseless 'correct' messaging to the masses, the promise to erase London's allegedly problematic past… does Sadiq even like this city? If he did, he surely wouldn't have treated with such disdain its voters, its motorists, its monuments and its history. London is the greatest city in the world. It needs a great mayor who understands its populace. So get out and vote today – just not for Sadiq (or the Greens).
To enquire about republishing spiked's content, a right to reply or to request a correction, please contact the managing editor, Viv Regan.