Sadiq Khan is no feminist
The London mayor seems to think women are quivering wrecks in need of his protection.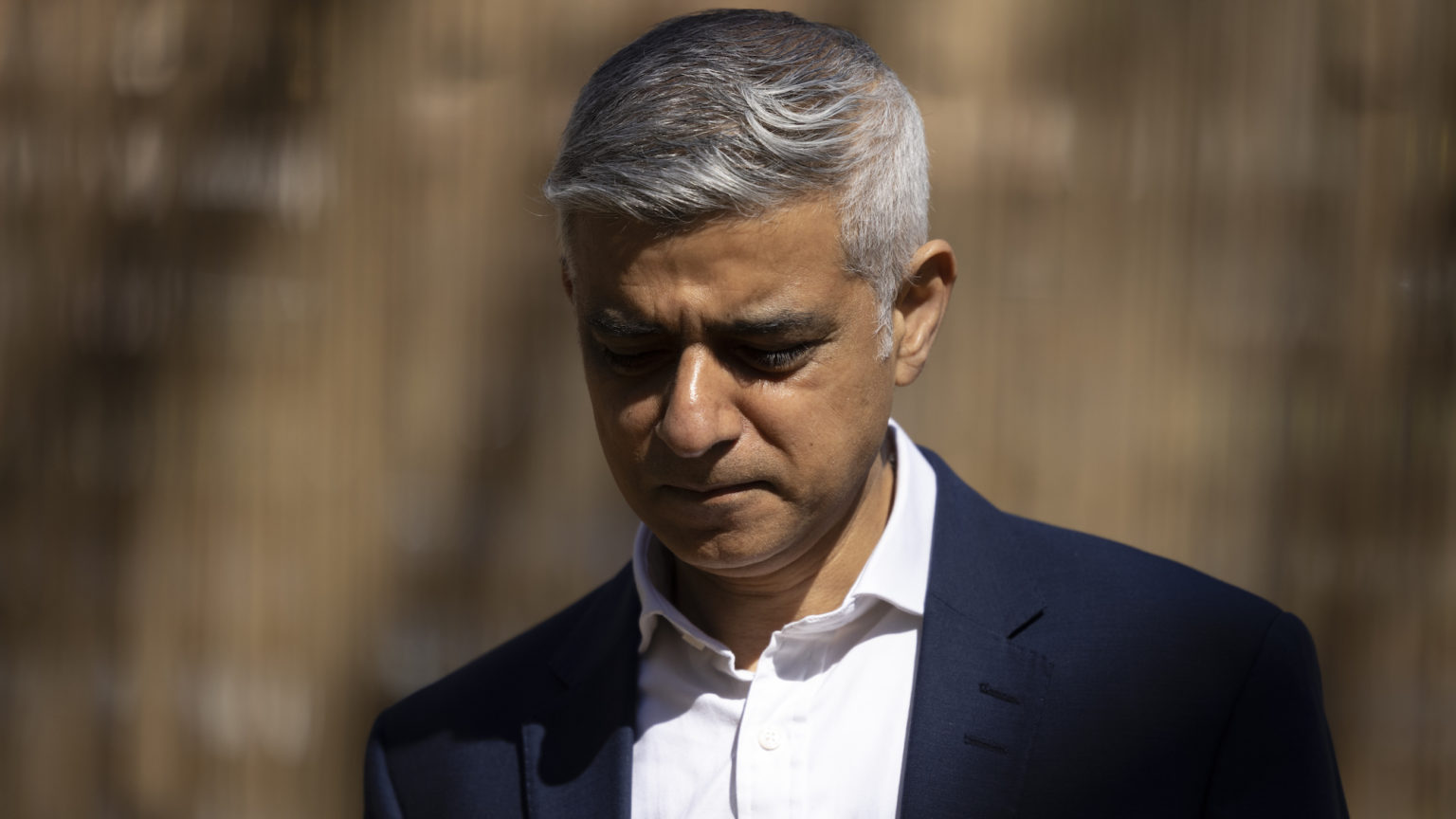 What has Sadiq Khan got against women? Yes, I know London's mayor calls himself the 'proud feminist in City Hall'. Repeatedly. I know he used the occasion of Trump's 2018 visit to the UK to tell the world that 'unlike the President of the United States, I am a proud feminist!'. And I know that back in 2017 he launched #BehindEveryGreatCity, a campaign for gender equality. It's impossible not to know that Khan is a feminist: he never shuts up about it. But there's a problem. Khan clearly does not think that men and women are equal at all. And this, as campaigners never cease telling us, is what being a feminist is really supposed to mean.
Take last week. Just days before London's mayoral election, Khan announced his latest plans to improve the lives of female Londoners. More frequent night buses? Cheaper Tube fares? More affordable childcare? No. A menopause policy. Khan wants to make male bosses aware of 'their responsibility to understand the menopause transition and how it can affect their colleagues'. Seriously? This would mean that having worked hard to establish themselves in a career, or struggled to combine work with family life, middle-aged women are then expected to put up with male bosses treating them as hormonal, potentially emotionally volatile, generally not quite what they used to be, and in need of special treatment. Middle-aged men, meanwhile, are in their prime: rational, authoritative and in control. Thanks Sadiq. So much for gender equality.
When such policies have been mooted elsewhere, the practicalities seem to focus on extra desk fans and showers for women suffering from hot flushes, as well as – courtesy of Nottinghamshire Police – 'crying rooms', for when women of a certain age come over all weepy. Perhaps we should be grateful that, for now, Khan is limiting himself to lectures. Meanwhile, the vast majority of menopausal working women carry on just as they always have done. Though it may come as a shock to the feminist in City Hall, women really can ask for a desk fan or open a window all by themselves. They can arrange medical appointments, deal with aches, pains and everything else life throws at them, just as men do. Menopause policies are the opposite of feminist: they turn the clock back on equality by legitimising the idea that women are in hock to their emotions.
But Khan has form in this area. He has previously made clear his view that women are quivering wrecks in need of special protections. Back in March he called for misogyny to be recognised as a hate crime. Referring to himself yet again as a 'proud feminist' (yawn), he called for 'the female gender' to be included in the list of protected characteristics treated as aggravating circumstances when police record and deal with hate crime. The current list includes: disability, race, religion, sexual orientation and transgender identity. Khan wants women added to this, because, as he explains: 'I want all women to feel safe in London, whether they are going to work or enjoying the culture and entertainment that London has to offer.' Unfortunately for Mr Mayor, it's impossible to legislate feelings into existence. Calling for misogyny to be made a hate crime sends a message that women are victims and men are predatory: the exact opposite of feeling safe. Khan is asking for women to be seen as a protected group, vulnerable and in need of special treatment. If Khan gets his way, women and men will no longer be equal before the law. Instead, sexual inequality will be enshrined in legislation.
And let's not forget that one of Khan's first moves when elected mayor was to ban from London's transport network 'adverts that could cause body-confidence issues'. Speaking at the time, Khan said, 'As the father of two teenage girls', (and a proud feminist, natch!) 'I am extremely concerned about this kind of advertising, which can demean people, particularly women, and make them ashamed of their bodies. It is high time it came to an end.' Khan was riding to the rescue of women he assumed were triggered by images such as that used by Protein World in its infamous 'beach body ready' advert. But driven by his belief that women are vulnerable, he forgot that most of us are more than capable of looking at a picture of a skinny model and: a) working out that it's probably photoshopped, or b) thinking 'she looks good', before shrugging and opening a packet of crisps. In Khan's fevered imagination women are pathetic automatons who – clearly, unlike men – see an attractive image, have an emotional meltdown and develop an eating disorder.
All of this assumes, of course, that Khan actually knows what a woman is. Unfortunately, the evidence does not look good. Khan has reiterated the mantra that 'trans women are women', much to the applause of transgender activists. Exactly how Khan thinks the menopause occurs if biology is an irrelevance is anyone's guess. Perhaps men in need of a quiet place to have a sob, or just a shower, can simply identify as women for the afternoon.
One thing is for sure. With 'proud feminists' like Khan on their side, women do not need enemies. My advice to Londoners: don't vote Sadiq on Thursday. Instead, find a candidate who might not continually espouse their feminist credentials, but does actually believe in sexual equality.
Joanna Williams is a columnist at spiked and director of Cieo.
To enquire about republishing spiked's content, a right to reply or to request a correction, please contact the managing editor, Viv Regan.