Woke capitalism is a menace to democracy
Big businesses are aggressively interfering in politics – and liberals are egging them on.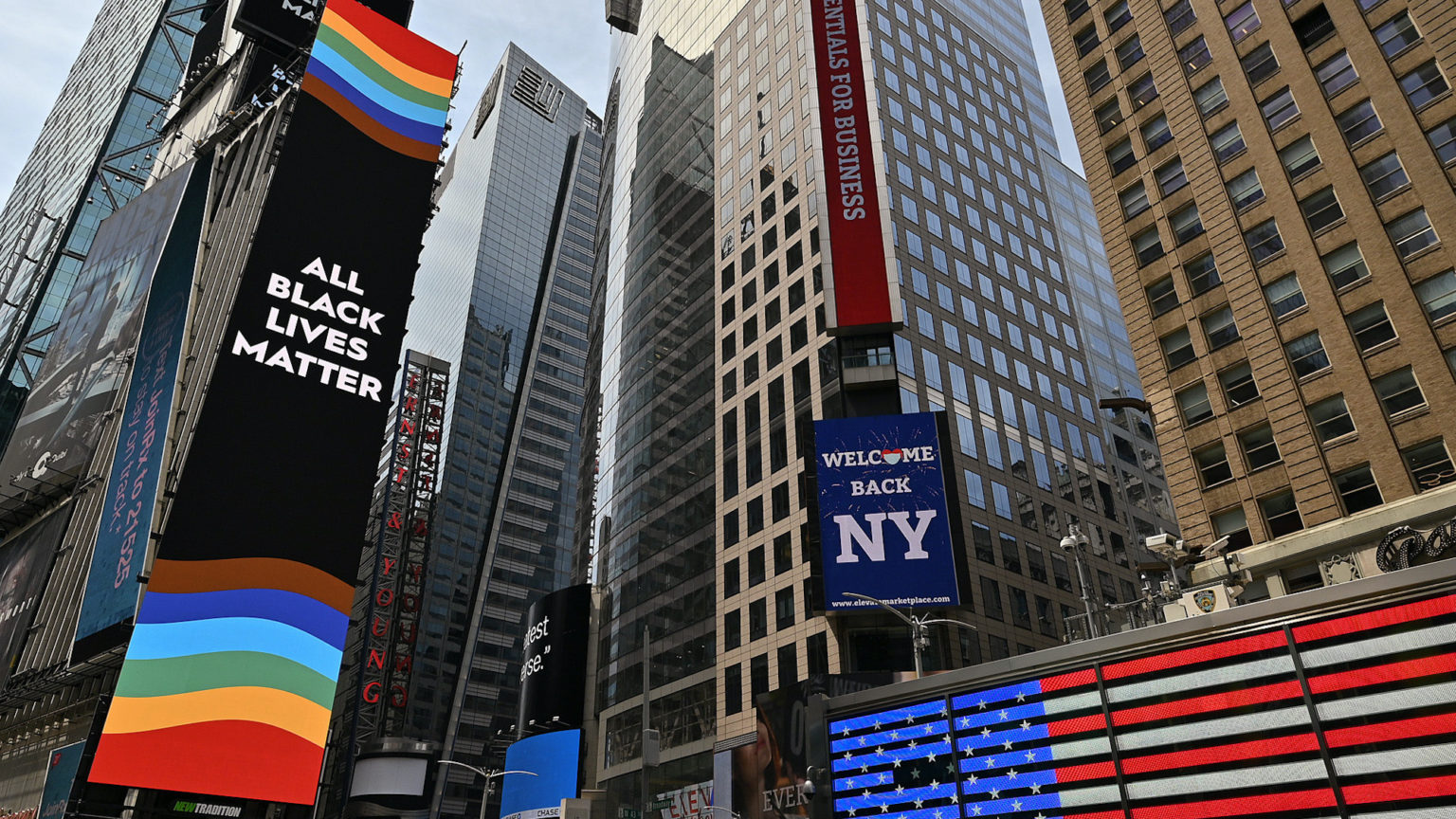 Woke capital is on the offensive. This past week, CEOs of big corporations have aggressively inserted themselves into politics, threatening to use their economic power to override legislation. This is a serious menace to democracy.
Last weekend, over 120 CEOs from a wide variety of industries came together on a call to coordinate action against Republican voting legislation nationwide. They discussed actions such as 'pulling their donations, refusing to move business or jobs that pass restrictive measures, and relocating events'. Other steps under consideration include 'public statements, support for federal-election legislation and involvement in voting rights-related legal action'. According to an organiser, 'it was incredibly concrete'.
Following on from this call, leaders of more than 300 of the wealthiest and most powerful companies, joined by major law firms, celebrities and other elites, signed a letter that appeared as a full-page ad in the New York Times and other publications. Headlined 'We Stand for Democracy', the signers committed 'to defend the right to vote and oppose any discriminatory legislation'. The letter did not reference new voting legislation – either in Georgia specifically or any other states – nor did it mention any action they were considering. On the face of it, their statement was as vague and inoffensive as the slogan 'Black Lives Matter' – who could disagree with defending the right to vote? Yet the message was anything but subtle. Here were the most powerful forming a united front, and holding out the threat to use their power. It was a shot across the bow.
To some, 300-plus companies was an insufficient display of corporate unity. The NYT decided to call out 'the CEOs who didn't sign a big defence of voting rights'. In the not-too-distant past, private companies would be expected to stay quiet on political issues. But today the NYT, continuing its evolution from journalism to activism, thinks it is only right to create a blacklist, to name and shame other CEOs to join their righteous cause.
The activist CEOs are lining up solidly behind the party in power, the Democrats, and uncritically repeating that party's propaganda about election laws. Consider the new voting legislation being tabled in Georgia, which has been the catalyst to this latest flurry of opposition. President Joe Biden calls the Georgia law 'Jim Crow on steroids'. But Biden is as disingenuous as Trump when it comes to elections in Georgia. Even the Washington Post, which typically carries Biden's water, had to give him 'four Pinocchios' for spreading falsehoods about the new law. In fact, the new law expands voting access and is less restrictive than many other states, including Biden's home state of Delaware.
But the more serious question today is not whether any particular state's proposed voting reforms are worthy policy. That is a matter for public debate, and reasonable people can disagree. No, what's new and worrying is how big business is inserting itself in a highly partisan and politicised debate.
We all know that the role of business and money sits uneasily within political life in a democracy, having the ability to influence politics via activities such as donations and lobbying. There are meant to be boundaries between the worlds of business and politics, and liberals have traditionally criticised corporations for crossing the line. For example, since 2010 Democrats have been up in arms about the Supreme Court's Citizens United decision, which prohibited government from restricting corporations and non-profit institutions from speaking out during elections. Yet today, not only is the left calling on corporations to speak out for its favoured causes — it also wants big business to use its economic leverage – like pulling business out of a state – to impose what the left cannot do through the normal law-making process.
Business already has too much influence in politics. Delta Airlines and Coca-Cola are two major companies that have notably taken a stand against Georgia's legislation. But their involvement in the legislative process is not new. What's unusual is how they have moved from private to public opposition. Georgia's Republican governor, Brian Kemp, unintentionally revealed this when he complained that Delta was fine with the bill when he asked for its input in advance. But why the hell is an airline involved at all in the process of a bill involving elections? Doing so behind the scenes, as Delta has done, would seem to confirm the worst fears of conspiracists who believe politicians are just puppets of the big money that pulls the strings.
Woke capital appears increasingly zealous in its desire to intervene in political and cultural life. In recent memory in the US, big corporations have used their threats of economic retaliation to overturn socially conservative legislation – in 2015 in Indiana, against a religious freedom bill, and in 2016 in North Carolina, in opposition to a transgender bathroom-access bill. But they seem especially emboldened by the George Floyd protests and the election of Biden over Donald Trump.
In response to Floyd's death, many businesses have declared their allegiance to the cause of anti-racism, including donations of millions of dollars to Black Lives Matter and the mandatory training of employees in neo-segregationist critical race theory. This was explained as a moral cause that transcended normal politics. And following Trump's defeat, corporate Big Tech has gone on a censorship offensive, with Facebook and Twitter barring Trump from social media, and Amazon banning socially conservative books.
The intervention of CEOs in election laws is a dangerous ratcheting up of business interference in public life. What's happening in Georgia and elsewhere is truly outrageous. The people elected a majority of one party in the state legislature, and those elected officials have passed a law. If citizens in Georgia disagree with that law, they should campaign against it and elect new officials to overturn it. Bringing in big business to be a big bully is antithetical to the principle of one person, one vote.
Without wanting to sound alarmist, we need to recognise that this all has a strong whiff of totalitarianism about it. We see the blurring of lines between business and politics, and the consolidation of these interests solidly behind a ruling party.
We also see major private corporations, whose purpose is supposed to be making products and providing services, getting involved in broad social issues. An ice-cream maker like Ben & Jerry's feels it is totally acceptable for it to call for an extreme (and unpopular) measure like defunding of the police. Further, we see all areas of life becoming politicised by big institutions, as when Major League Baseball pulled its All-Star Game from Atlanta in response to Georgia's election law.
Corporate interference in society is increasingly being excused in the most Orwellian of terms. We have private institutions claiming to speak for the public interest. We have a tiny minority of the wealthiest and most privileged claiming to speak out against 'white privilege', branding Republicans and their voters – a majority of people in many states – as racists and bigots. We have powerful interests threatening to use their economic leverage to overturn legislation, a gross violation of democracy, but all in the name of 'We Stand for Democracy'.
Egged on by the Democrats and liberals, CEOs and corporations are aggressively moving into our political and social life. Just as aggressively, true democrats need to tell them to back off.
To enquire about republishing spiked's content, a right to reply or to request a correction, please contact the managing editor, Viv Regan.