The joyless slandering of Eat Out to Help Out
Covid puritans are wrong to blame this rare moment of 2020 joy for the second wave.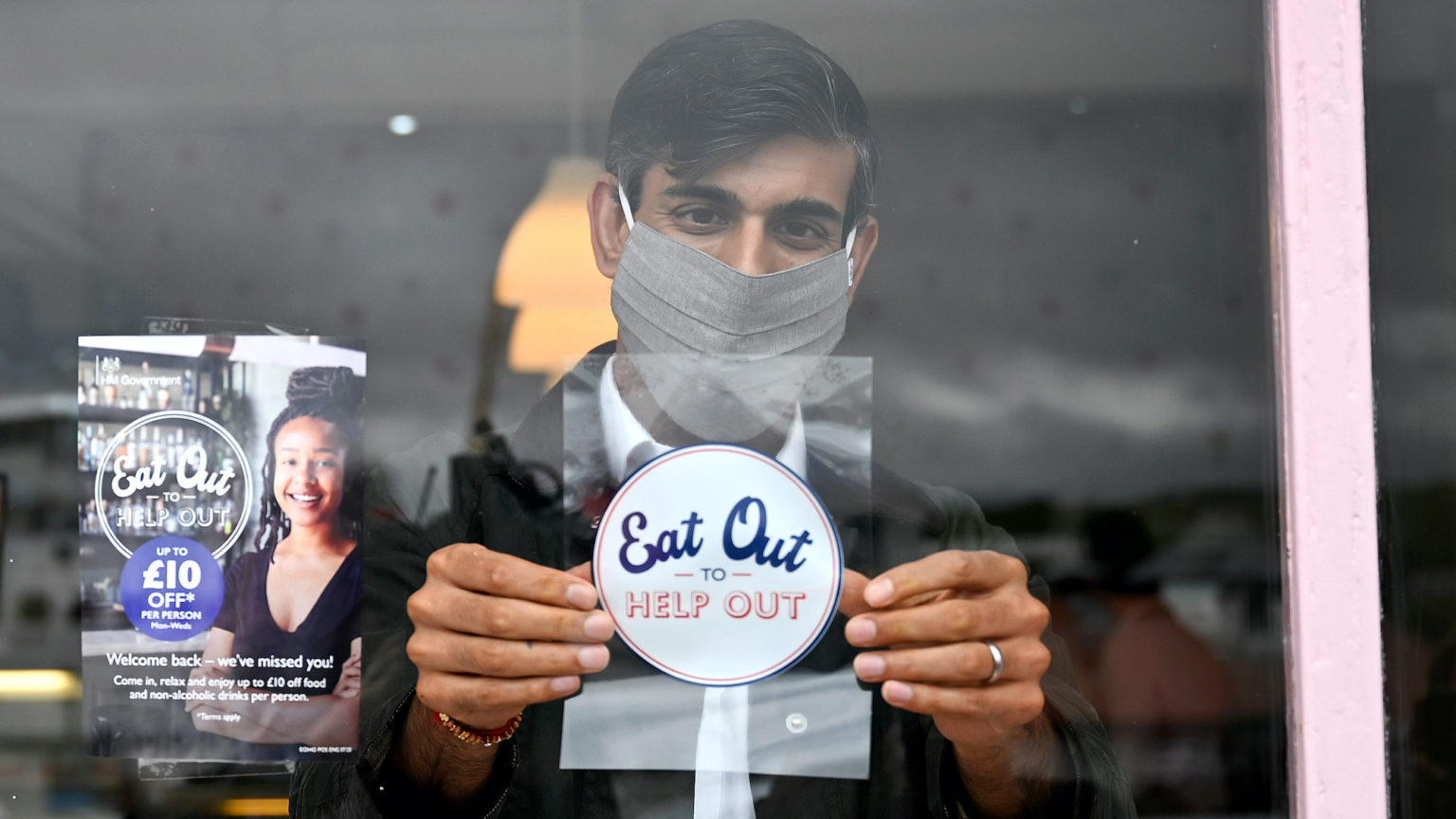 No one in their right mind would say the British government has had a good pandemic. The double whammy of a sky-high death rate and what is currently one of the world's harshest lockdowns has been a catastrophe on nearly all fronts. Until the vaccine rollout blew our European neighbours out of the water, there was just one government policy that managed to unify the nation, that offered relief, joy and respite in our year of need.
I'm talking, of course, about Eat Out to Help Out. This was chancellor Rishi Sunak's state-subsidised restaurant-discount scheme. The public was invited to enjoy a well-deserved summer break, in style. The deal – 50 per cent off food and soft drinks – meant we could enjoy restaurant food at practically third-world prices. (Full disclosure: my first EOHO meal was a Wetherspoons Full English breakfast for around £1.70.) No wonder the chancellor is the most popular politician in the country.
The scheme not only delighted the public but also acted as a vital lifeline for our struggling hospitality industry, which has been battered by endless lockdowns, tiers and restrictions. More than 72,000 venues signed up to it. So what's not to like?
At the time, the main concern was that it would encourage obesity. Eat Out to Help Out was first announced only a week after Public Health England launched an anti-obesity campaign. Obesity was known to be a major risk factor for Covid. Even the prime minister spoke about ending up in intensive care because, 'My friends, I was too fat'. Critics feared this message would be lost in the excitement over all the cheap Nandos.
But the deadly second wave of the virus has led many to read history backwards. Scientific papers have tried to pin much of the blame for Britain's death rate on Eat Out to Help Out. And The Sunday Times recently quoted an adviser on SAGE describing Sunak as 'the main person who was responsible for the second wave' – partly due to his opposition to a September 'circuit breaker', and partly due to Eat Out to Help Out.
These claims are, frankly, absurd. First of all, the timeline doesn't add up. The worst of the second wave was not until the depths of winter. Cases peaked at the end of January and deaths peaked in mid-January. There was an uptick in cases from mid-September, which could plausibly be linked to Eat Out to Help out fans and their contacts, but this didn't really begin to accelerate until October, hence the lockdown in November. It then gets even harder to see how discounted food in August could lead to new cases exploding in December.
Second, these claims ignore the fact that countries were experiencing second waves all across Europe. Yes, tourism was incentivised in some parts of Italy, and France extended its long-existing restaurant voucher scheme. But there was no scheme in Europe on the scale of Eat Out to Help Out. Nevertheless, many countries experienced a second wave – and some, like Germany and Czechia, have been enduring more deaths than they did in the spring. Until December, many European countries were having much worse winters than Britain. Should Sunak be held responsible for Europe's predicaments, too?
Blaming Eat Out to Help Out is all the more strange when a second wave of the virus was widely predicted in the models. Few outside the Zero Covid lobby believed that lockdown would eradicate the virus completely. Even the much-maligned Imperial model showed 'non-pharmaceutical interventions' merely delaying Covid's spread.
It is hard not to conclude that the attacks on Eat Out to Help Out are motivated by the same puritan drive that has led to the cruel and hysterical hectoring of 'Covidiots'. Anyone who looked as if they might be enjoying themselves this past year – even in a safe environment like the great outdoors – was criminalised and smeared. Eat Out to Help Out's real crime is that it brought happiness to the masses.
To enquire about republishing spiked's content, a right to reply or to request a correction, please contact the managing editor, Viv Regan.