Zero Covid is an authoritarian fantasy
Even as Covid becomes a manageable threat, some are demanding forever lockdown. We can't let them win.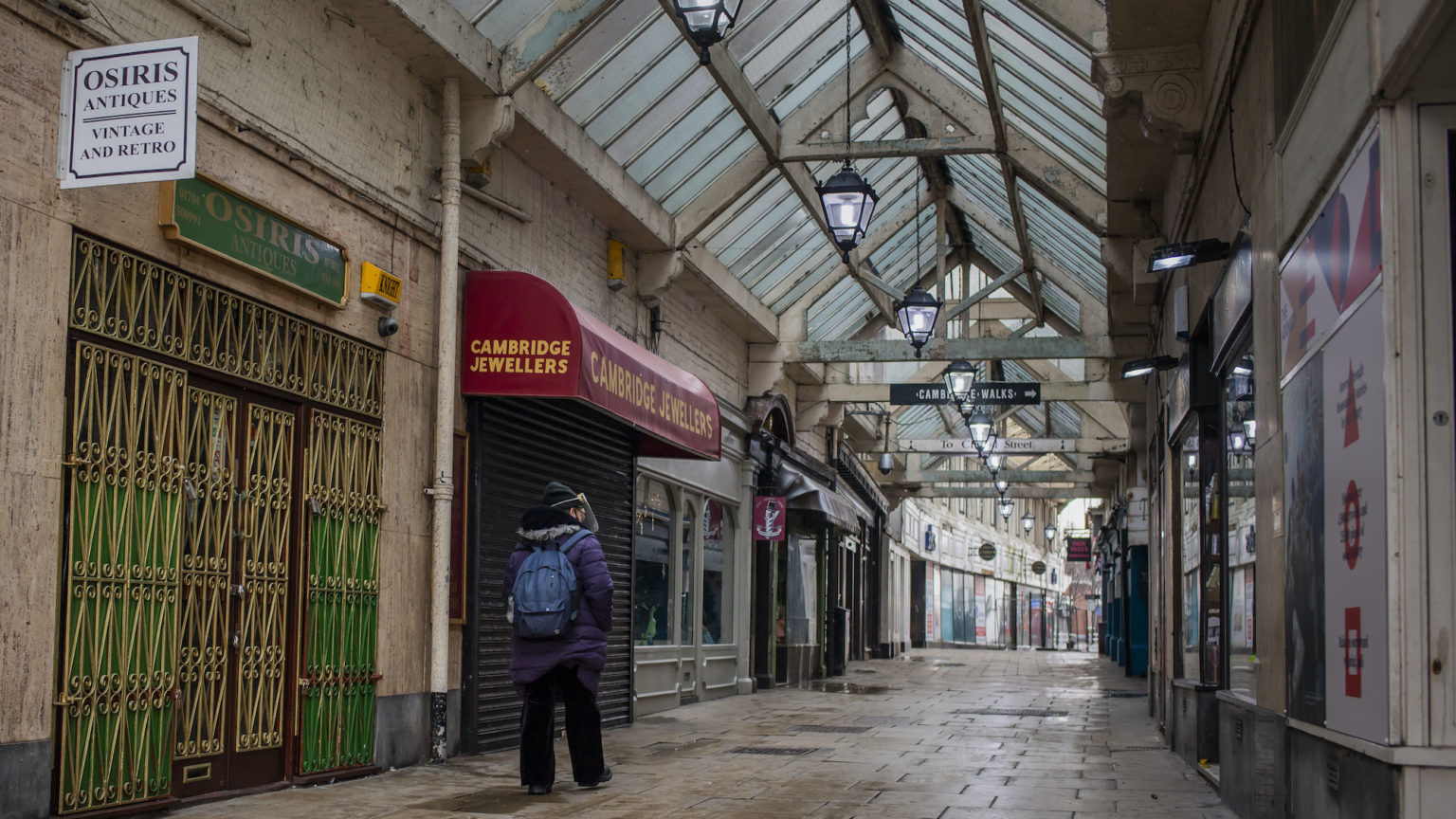 There's plenty to be optimistic about at the moment. Covid cases are falling across all four nations of the UK. Fifteen million of the most vulnerable have had at least their first shot of the vaccine. New treatments are being trialled that are likely to cut deaths further. Internal government projections leaked to The Times say that infection rates are falling much faster than anticipated, meaning that hospitalisations could halve within a month.
At the weekend, health secretary Matt Hancock said that thanks to vaccines and treatments we should soon be able to live with Covid as we do the flu. Implicit in Hancock's comments was the rejection of a 'Zero Covid' strategy, in which we would attempt to eliminate Covid-19 in the UK.
The idea of Zero Covid was given a significant boost by Britain's disastrous second wave. Advocates of the strategy never seemed to be off the television, particularly Devi Sridhar, who sits on the Scottish government's Covid advisory group, and Christina Pagel, member of Independent SAGE.
On one level, there's an appealing simplicity to the idea. Who could possibly be in favour of death and disease? At the same time, Zero Covid campaigners have dishonestly presented it as an alternative to the endless lockdowns, masks and social distancing that have made life so miserable.
'The UK needs a Zero Covid strategy to prevent endless lockdowns', is how the New Statesman summarises Devi Sridhar's view (in its third interview with her in four months). Sridhar describes lockdowns as 'crude, harsh' and 'catastrophic', at the same time as advocating for them. Lockdown now, for longer, to prevent a return to lockdown later, goes the argument.
But in reality, Zero Covid really does mean endless lockdowns. In Australia, which has drawn praise for its Zero Covid approach, lockdowns of whole cities and states have been triggered by even minor outbreaks. Melbourne, Australia's second-largest city, entered its third lockdown on Friday. Schools and businesses have closed, residents have been ordered to stay at home, international flights have been grounded and other states are restricting travel from Melbourne. All for a cluster of 13 cases.
Perth was put under full lockdown earlier this month after the discovery of a single case. In November, the entire state of South Australia was put into lockdown after a man lied about collecting a pizza. Who'd call that an end to endless lockdowns?
While Zero Covid advocates understandably prefer to emphasise how things are panning out in Western democracies like Australia and New Zealand, it's clear that authoritarian China is also pursuing an aggressive Zero Covid strategy. In some parts of China, the lockdown measures are even more restrictive today than those infamously imposed after the initial outbreak in Wuhan
When 100 infections were detected in Tonghua, a city of two million people, all residents were banned from leaving their homes. City officials sealed people's doors. Many were trapped in their apartments without supplies, leading to food and medicine shortages.
Even in places that aren't in lockdown, the track and trace system can be extremely invasive – and not just in terms of privacy. Beijing has pioneered the use of anal-swab tests. After a single asymptomatic case was detected on a school campus, over 1,000 children were given anal, throat and nose swabs. According to Bloomberg, some local authorities are acting so harshly that even the Chinese media have criticised them. Apparently, the Zero Covid approach can sometimes be too harsh for the state media of the world's most powerful authoritarian government, but not for some Western scientists.
Besides, it's one thing to declare Zero Covid as an aim, it's quite another to achieve it. In April 2020, the Scottish government published its 'framework for decision-making'. It said that there was no acceptable level of Covid cases. In other words, Scotland had embraced Zero Covid. Sridhar wrote in the British Medical Journal that Scotland was heading 'towards a Zero Covid future'. She told the BBC that Scotland could be Covid-free by the end of summer 2020. But in the end, she said this was scuppered by travellers from England.
Also in the summer, Sridhar co-authored a paper in the Journal of Global Health on the potential exit strategies from lockdown. One of the seven options explored was an 'attempt to eliminate the virus', aka Zero Covid. Interestingly, the countries the paper identified as pursuing this strategy were not just the usual suspects – like Australia and New Zealand or China, South Korea, Taiwan and Vietnam. It also identified Germany and the Czech Republic as countries that were attempting to eliminate Covid. But both countries, though successful in suppressing the virus in the first wave, were hit very badly this winter. I suspect we won't hear either mentioned by Zero Covid campaigners again.
What is most striking is that the arrival of the vaccines doesn't seem to have changed how Zero Covid campaigners consider the balance of harms between catching Covid and the suppression measures. Despite the vaccine rollout, Independent SAGE has called for 'restrictions for the foreseeable future'. 'Vaccines are not a silver bullet', it says in a paper addressed to the government. Indie SAGE wants social distancing and mask-wearing 'particularly among those who have been vaccinated'.
The vaccine programme presents a real problem for Zero Covid advocates, because it essentially means they want to suppress a disease that will no longer cause any significant harm. The prospect that Covid will become a manageable risk means that hardline scientists will lose attention and influence. So it's not surprising that Indie SAGE's Christina Pagel wants to 'start a conversation about flu' so we can think about which of the Covid restrictions can be repurposed and made permanent every winter. Perhaps other members of Indie SAGE will find new reasons and threats for restrictions on our lives as Covid fades from view – Pagel's colleague at UCL, Mariana Mazzucato, has called for lockdowns to tackle climate change, for instance. In both cases, the impulse to restrict others' behaviour seems to come first, the threat which justifies it second.
Let's hope the gradual return of our freedoms inoculates us against the authoritarian fantasy of Zero Covid.
Fraser Myers is assistant editor at spiked and host of the spiked podcast. Follow him on Twitter: @FraserMyers.
To enquire about republishing spiked's content, a right to reply or to request a correction, please contact the managing editor, Viv Regan.