Why are Jews being singled out for Covid breaches?
Orthodox Jews have been repeatedly chastised for not complying with the New Normal.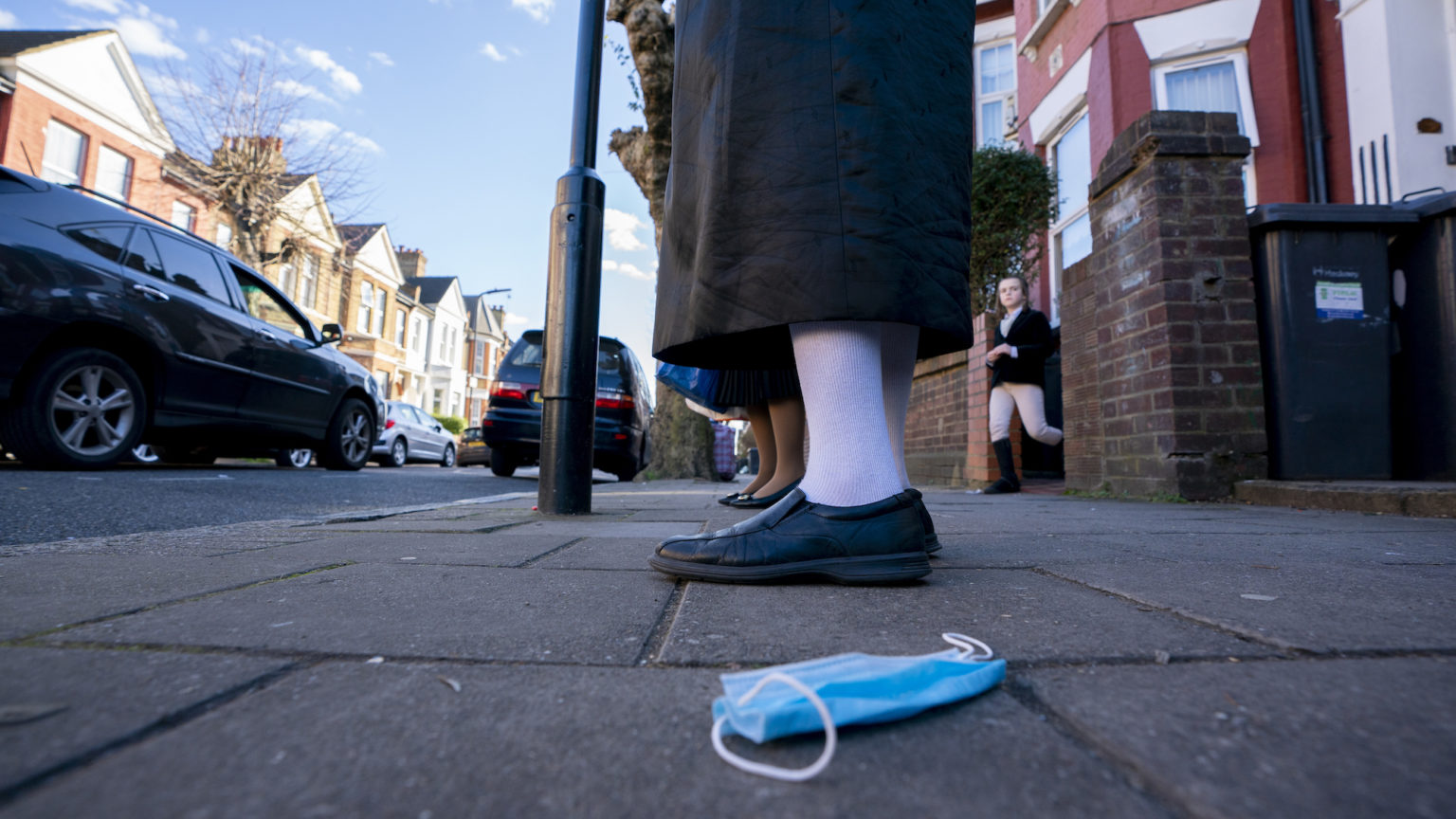 Another week, another viral airplane video. Throughout the Covid crisis, camera-phone footage from flights has been a social-media staple, capturing some of the worst moments of our societal meltdown for all to see. But rather than just another screaming match over social distancing, this latest viral clip apparently shows something much worse.
The video, recorded in New York, shows a Hasidic Jewish family leaving a plane after what the airline, Frontier, admits was a row about face masks. But what started the row? According to the family in question, the argument began after staff insisted that a 15-month-old child wear a face mask – a demand they say was motivated at least partly by anti-Semitism. When they finally left, they say they saw staff high-fiving.
Are they correct to blame anti-Semitism? Who knows. Part of the problem with these camera-phone videos is that it's near impossible to work out what's really going on. But one thing is for sure. In the ongoing culture war over lockdowns and mask mania, we are witnessing a worrying tendency to blame the Jews – uber-religious ones in particular.
It was back in October when rapper 50 Cent shared a video which summed it up perfectly. A solitary Haredi man walks along a Brooklyn street and is abused – loudly – by a driver yelling 'put your fucking mask on!'. Why did the Grammy-winning musician share this nasty piece of almost-certainly anti-Semitic bullying? It earned him two million likes in any case.
America's political elites haven't been much better. Back in May, as lockdown mania gripped New York, governor Andrew Cuomo and mayor Bill de Blasio both issued stern diktats singling out the city's ultra-orthdox Jews for apparently attending illegal funerals. De Blasio even chastised 'the Jewish community' directly on Twitter, telling them that, when it came to social distancing, 'the time for warnings has passed'.
How he expected this rather menacing tweet to go down with a largely poor, Yiddish-speaking community that shuns social media wasn't exactly clear. But it was certainly appreciated by hordes of self-righteous internet users keen to castigate the Jews for their selfish insistence on following their religious norms. The New York Times, usually hyper-sensitive to the slightest whiff of bigotry, was oddly quiet.
Here in London, we have (thankfully) seen less of the outright Jew-blaming. But we've still had panic-stricken media reports of a 400-strong wedding in ultra-orthodox enclave Stamford Hill (only later, incidentally, did the Metropolitan Police admit the number was less than half what it originally claimed). Jewish supermarkets, meanwhile, have been admonished by local councils for not upholding mask mandates and letting family members shop together.
It would be foolish to deny there aren't some problems here within the ultra-orthodox community, for whom – let's face it – social distancing and the 'New Normal' were never going to come naturally. But given the shameful history of Jews being defamed as plague-spreaders, could we have a little less public shaming? Shaming which, I suspect, achieves nothing beyond fuelling the anger of the Covid curtain-twitchers.
In a milder way, the Frontier situation reminds me of my own proudest moment of the pandemic. It was last August and I was boarding a flight to Ukraine when I heard some commotion back at the gate. Looking back, I could see that three slightly confused Hasidic men were being turned back by unsympathetic staff for not being able to show their health insurance on their (non-existent) smartphones.
Knowing a tiny bit about Hasidim, I guessed – correctly – that these travellers were embarking on a 'new year' pilgrimage to Uman, the Ukrainian birthplace of a revered religious figure. Keen to strike a blow against Covid officiousness, I grabbed my laptop, and offered to help them load up their documents. Ten minutes later, they were safely on the plane – much to the annoyance of several tutting passengers.
I mention this story not as an egregious example of anti-Semitism (it clearly isn't) but rather as another example of how our utter fixation with Covid sometimes blinds us to other more important things, like tolerance and kindness. Sometimes, as in the case of the horrendous mask-shaming video shared by 50 Cent, Covid officiousness gives cover to downright ugliness. That ugliness might not always be bigotry. It might be otherwise reasonable people shopping their neighbours to the police for minor infringements of 'the rules'.
What's the cure for this ethical shortsightedness of ours? As with most things Covid, the most important thing is to keep things in perspective. To remember that there is life beyond the lockdown
If all else fails, take a lesson from that wisest of Jewish books, the Talmud. It tells the story of the 'pious fool' (chasid shoteh) who, after noticing a drowning woman, decides he can't help her without breaking the laws of modesty. For the sages and students of the Talmud, the moral is clear: obedience to the rules should never distract us from what is truly moral. Now there's a lesson we could all do with learning.
Robert Jackman is a writer and critic with the Spectator.
To enquire about republishing spiked's content, a right to reply or to request a correction, please contact the managing editor, Viv Regan.