Don't you dare call us 'Covid deniers'
100,000 people have died in the UK. We need more debate about this crisis, not less.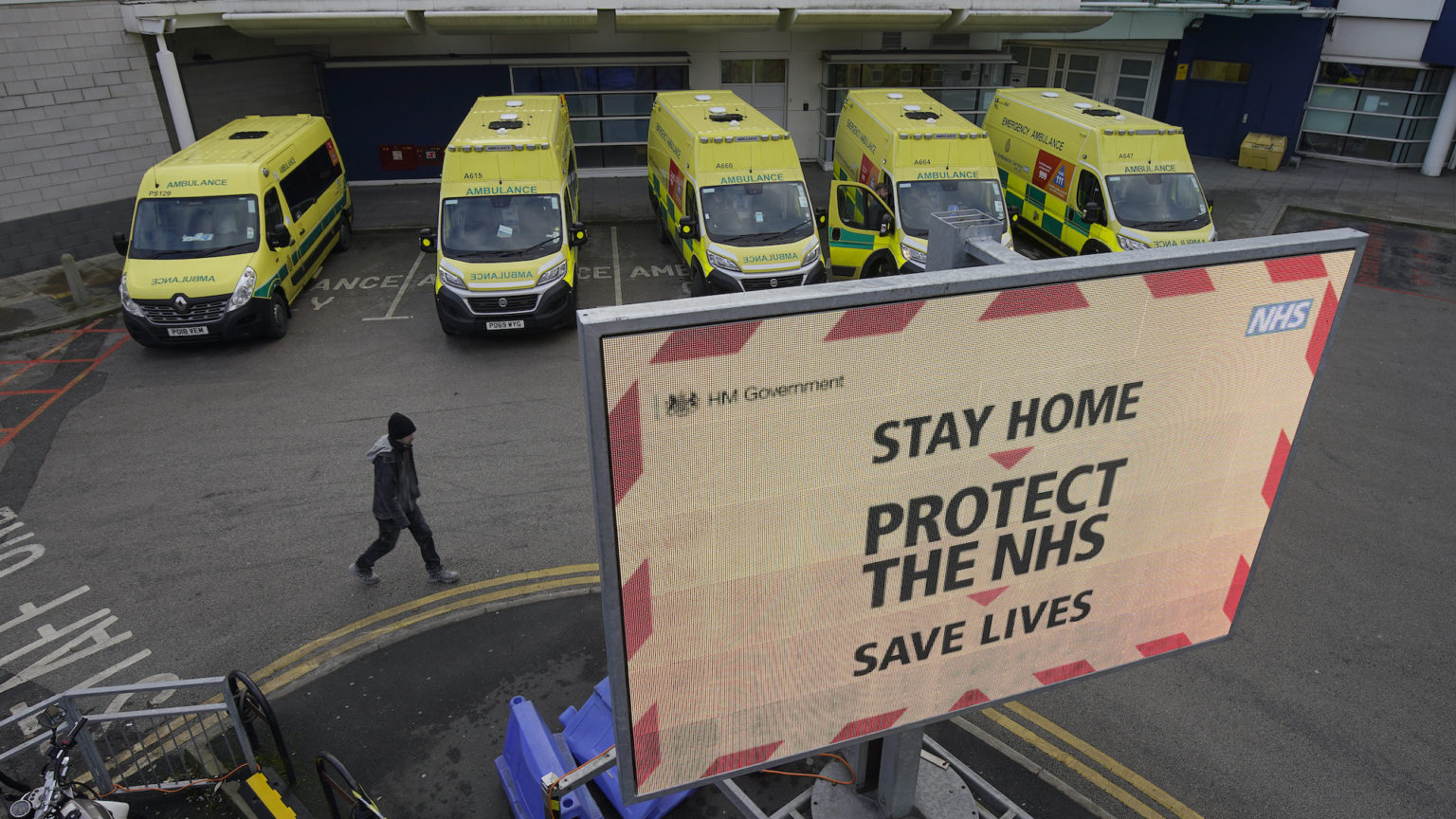 The UK's death toll from the Covid pandemic has reached 100,000. It is a grim milestone. We are just the fifth country in the world to reach this dreadful number, after the US, Brazil, India and Mexico. (Other countries, like Belgium, have a higher death rate than the UK, but because they have smaller populations they have not reached the 100,000 mark.) This has been, by anyone's reckoning, a grave crisis. And yet our ability fully to understand and reflect on this crisis, to subject it to frank discussion, open-ended analysis and constant questioning, has been thrown into disarray by one of the ugliest political trends of the Covid era so far – the witch-hunting of lockdown sceptics.
We probably shouldn't be surprised. Crises often generate fear and hysteria and a tendency among the elites to lash out, to look for someone or something to blame for the calamity that has befallen the nation. This is what is happening in the UK right now. The hunt is on for the demonic forces, the sinful mis-speakers, whose toxic ideologies might be held at least partially responsible for our misfortunes. Rattled by the arrival and the destructive impact of a novel virus, disturbed by our nation's failures, various sections of the cultural and political elites are behaving in an increasingly unstable and vindictive fashion, partaking in the premodern game of pinning the blame for natural crises on individuals who hold certain moral or political beliefs. The target of their rage? Anyone who raises questions about the lockdown strategy.
It has become increasingly nasty. Critics of lockdown have been branded 'agents of disinformation'. They are said to have 'blood on their hands'. That is, your words kill; your ideas have been the handmaidens of infection and death. The most common defamation thrown at experts and commentators who have criticised blanket lockdowns is that they are 'Covid sceptics' or 'Covid deniers'. Even though the vast majority of these alleged death-spreaders fully acknowledge the existence of Covid-19 and its virulence, especially among older and more vulnerable groups of people, still they are diabolised as 'Covid deniers'. This deeply dishonest brand is designed to push these people beyond the pale; to lump them in with deniers of the Holocaust or deniers of the reality of gravity; to depict their political questions as the evil squeals of disease-doubters.
This cynical conflation of criticism of the lockdown with denial of the threat posed by Covid-19 is most clearly expressed by the self-styled guardians of correct thought who have set up a website called Anti-Virus, designed to tackle 'misinformation' about Covid. This site has the feel of a McCarthyite blacklist masquerading as a scientific project. How else to explain its partisan singling out of certain academics and journalists, including Sunetra Gupta, Julia Hartley-Brewer, Toby Young, Peter Hitchens and Ross Clark, who are branded as 'not reliable people to listen to'? Naturally, as the founders of Anti-Virus will have anticipated, this has given rise to deafening cries for these people to be deprived of their public platforms, to be cast out of public life for all the blood they have spilt with their 'disinformation'.
But what is even more striking about Anti-Virus is its casual but sinister conflation of lockdown criticism with Covid denialism, which is a mercifully minority pursuit, usually only found among cranks on social media who have no public influence. This chilling conflation is made in the opening paragraph on the Anti-Virus homepage, which states that the 'avalanche of misinformation' on Covid-19 includes everything from suggestions that 'Covid isn't particularly dangerous' to people arguing 'that governments shouldn't try to contain the virus with lockdowns'. There you have it, in black and white: questioning whether lockdown is the best approach to Covid-19 is on a par with irrationally denying that the virus kills people. This is a conscious slur explicitly designed to depict criticism of government policy as suspect and dangerous.
Of course, authoritarians always use these tactics. When they really want to stifle certain ideas, they insist that the ideas aren't only wrong or misleading but dangerous. And so it is that Anti-Virus, echoing the censorship style of the Chinese regime that some of the founders of Anti-Virus have developed great admiration for, insist that the speech of Gupta, Hartley-Brewer, Young and others is 'dangerous' because it might discourage governments from taking the necessary measures to contain this 'deadly virus'. Dangerous, deadly… these people's words are murderous; their criticism of the government is a threat to public health.
When criticism of government policy is described as 'dangerous', you know we have entered a genuinely authoritarian moment. And it isn't only Anti-Virus. In various parts of the media, lockdown questioners are now frequently defamed as dangerous, as contributors to death. The impulse here is not merely to engage in a discussion about the facts and reality of Covid – we absolutely need that kind of discussion. Rather, it is to insulate the policy of lockdown from public criticism; to ringfence a government strategy from questioning. This is what makes the involvement of Tory MP Neil O'Brien in the Anti-Virus project so concerning. Mr O'Brien is in the government; he works for the justice minister. And now he is devoting a very large amount of time to a project which singles out certain critics of the government and calls them 'dangerous'. When a member of the government engages in a demonising crusade against opponents of government policy, branding these opponents as threats to public safety, we should be very worried indeed.
What is most bizarre about this censorious culture war against the critics of lockdown is that these critics are not the ones who have shaped public policy. Their arguments and their suggestions have not been acted on. It is the supporters of lockdown who, every step of the way, have got what they wanted: the shutting down of everyday life, the freezing of economic activity, vast reams of legislation governing what the citizens may and may not do, and long periods of house arrest for most of the population.
That these policymakers and policy supporters have used the occasion of the latest wave of Covid or the grim toll of 100,000 deaths to rage against critics of lockdown is perverse. The country we currently live in is one that has been solely designed – sadly, in my view – by the supporters of lockdown. Its faults are on them. The fury against the sceptics is so transparently a displacement activity, a project of deflection led by people whose own policy has failed to prevent new waves of disease, failed to protect the elderly in care homes, and failed to factor in the predictable – and predicted – costs of lockdown, from the health impacts to the missed medical treatments to the astonishing economic harm. You made this strange, cruel society, not us.
So, don't you dare call us 'Covid deniers' or 'Covid sceptics'. Every critic of lockdown I know understands the seriousness of Covid-19. Many of them have had it. I've had it. I've donated my blood plasma to the NHS, I've assisted isolated neighbours, and I am currently in isolation myself because for two days a week I help to look after someone who has underlying vulnerabilities. We know Covid is real, we know certain measures are necessary, and we take many of those measures ourselves. To defame these good people as dangerous deniers of disease is out of order.
We are asking political questions. We are questioning the apocalypticism of the discussion around Covid-19. We are questioning the government's use of the politics of fear, even of terror, to force compliance with its lockdown measures. We are asking why the entire population had to be locked down, decommissioned, for almost a whole year instead of being galvanised to the dual task of keeping society going and assisting in looking after social groups that do require shielding. We are asking for a breakdown of the health and economic costs of the lockdown. We are asking why the state hasn't found a way to continue educating children. We are asking when our liberties will be returned. We are asking if there might have been another way.
We sceptics have nothing to be ashamed of. The shame belongs to those who have tried to crush dissent and who have defamed critics of lockdown, because they are killing something that is absolutely central to every free society – the right to ask if what we are doing is wrong.
Brendan O'Neill is editor of spiked and host of the spiked podcast, The Brendan O'Neill Show. Subscribe to the podcast here. And find Brendan on Instagram: @burntoakboy
To enquire about republishing spiked's content, a right to reply or to request a correction, please contact the managing editor, Viv Regan.