A good year for free-speech haters
Why the crusade against 'hate speech' has been a fashionable cause of 2020.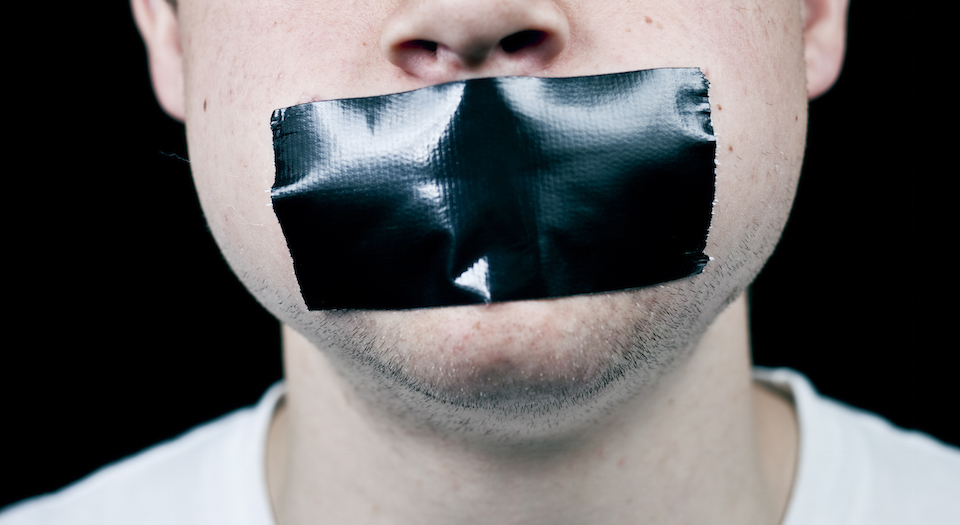 Rereading the headlines from 2020, it would be easy to imagine that Covid-19 was not the only virus ravaging the UK of late. To judge by the number of new laws and measures proposed to counter 'hate speech', anybody might think that hatred and discrimination against 'protected groups' had also been sweeping the nation this year.
In reality, of course, we live in one of the most tolerant societies on Earth, where such problems as racism or homophobia are shadows of their former poisonous selves. No, the 2020 war against 'hate speech' really reflects the elites' hatred of unfettered free speech, and their fear and loathing of what the rest of us might get up to if allowed to think and speak for ourselves.
It seems that hate speech has rarely been out of the news this past year. Among the highlights was the probe launched by the Metropolitan Police after the historian David Starkey used the words 'damned blacks' in an online interview. The Met used the Public Order Act to investigate Starkey for allegedly 'stirring up racial hatred' – and, in an even more extraordinary step, to accuse the young interviewer, Darren Grimes, of the same offence for daring to ask Starkey questions and not dismiss his answers.
North of the border we have been treated to the ongoing spectacle of the Scottish National Party's Hate Crime and Public Order (Scotland) Bill, which aims to extend even further the powers of the Public Order Act to police speech. SNP justice secretary Humza Yousaf has proudly assured everybody that his proposed law would make it a crime merely to possess material which somebody else might find hateful, or to tell the wrong sort of jokes at your own dinner table. Now the Law Commission has come up with a set of similarly far-reaching proposals to police hate speech in England and Wales.
In between times, we have witnessed the government seeking to force the online tech giants to crack down even harder on hate speech and 'harmful' content online, while a full supporting cast of academics, authors and others have been publicly disciplined, banned or 'cancelled' for allegedly using words that were too hateful or offensive for somebody to tolerate. Police have also spent a lot of time investigating speech-related 'hate incidents', where no crime has been committed but you can get a record anyway for speaking out of turn.
The anti-hate-speech zealots have not had everything their own way. On occasions they have overstepped the mark and been forced to take a half-step back. Thus the Met reluctantly dropped its investigation into Starkey and Grimes after a public outcry, while the SNP government has had to accept some tweaks to its proposed hate-crime law.
At the year's end, some good news emerged from the High Court when two senior judges ruled that 'free speech encompasses the right to offend, and indeed to abuse another', adding: 'Freedom only to speak inoffensively is not worth having.' Lord Justice Bean and Mr Justice Warby overturned the conviction of Kate Scottow, from Hitchin in Hertfordshire, for calling a trans woman a 'racist', a 'pig in a wig' and a 'man' on Twitter. A lower court judge had ludicrously found Scottow guilty of breaking the non-existent 'rule' that we should 'be kind to each other and not call each other names'.
How much difference in practice the judges' sensible ruling will make to the wider crackdown on free speech remains to be seen; I recall Lord Justice Sedley using almost identical words in a ruling in defence of the right to offend some 20 years ago, but that did little to impede the zealots' crusade.
Either way, the Scottow case highlights a bigger problem – that our free speech rights remain in the gift of judges. Free speech has been turned into a legal privilege rather than a universal liberty. It should not be up to m'luds to decide whether adults are allowed to be rude or 'unkind' to one another on social media or anywhere else. Let's not allow one fair-minded judgement to obscure the greater danger of allowing a few judges to judge what the rest of us are allowed to think and say.
But the overall direction of travel is clear enough, with new precedents being set and measures imposed all the time. We can be sure that this will continue into the new year, because the crusade against the inflated threat of hate crimes is such a uniquely powerful resource for those who wish further to restrict our freedom of speech.
Crusading against hate speech gives the authorities a rare leg up on to the moral high ground, from where they can look down on the allegedly ignorant, malignant mob below. It enables them to curtail freedoms, but this time in the progressive-sounding name of equality and human rights. And it puts many free-speech advocates on the defensive – after all, who relishes the prospect of standing up for some sort of 'right to hate'?
Perhaps above all, pursuing hate crimes hands the authorities a special licence to criminalise dissenting and unorthodox speech. Because hate crimes are defined in British law as 'any criminal offence which is perceived by the victim, or any other person, to be motivated by hostility or prejudice towards someone based on a personal characteristic'.
Think about that for a second. A hate crime is whatever the alleged victim or 'any other person' says it is. That sweeping definition introduces a subjective standard into criminal law. Applied to 'hate speech', it means that the words you use can be deemed an offence according to how others interpret them, regardless of the context or your intended meaning. You can commit a 'hate crime' without knowing it, by saying something somebody else decides they don't like.
The advocates of new measures against hate speech like to lecture us about how thousands of 'hate crimes' are being committed each year. Given the subjective standard of guilt that the law applies, I am only surprised that it is not many times more.
As we prepare to face new threats to free speech in the new year, we need to find ways to restate and update some first principles. Our liberty remains indivisible; we defend free speech for all, or none at all. It is not just about defending somebody else's right to hate, but also our right to listen (or not) and judge for ourselves. Once you seek to infringe that freedom, the question is always: who decides where to draw the line?
Freedom of expression must include the right to express opinions that might be offensive or insulting to some. The fact is that, in the end, it is only those views deemed too extreme or offensive that need defending on free-speech grounds. The mainstream can look after itself.
We should also remind ourselves that, far from words being a weapon of oppression, the fight for unfettered free speech has been a key part of the struggle for freedom, democracy and equality throughout modern history. That is why the state has always sought to curtail that freedom, once in the name of protecting God or the Crown, now in the name of protecting minorities.
At the end of 2020, the truth remains that, whatever the problems, there is always one thing worse than free speech. And that is the lack of it. We need to keep telling that truth, however much some may hate to hear it.
Mick Hume is a spiked columnist. His book, Trigger Warning: Is the Fear of Being Offensive Killing Free Speech?, is published by Harper Collins. (Order this book from Amazon(USA) and Amazon(UK).)
To enquire about republishing spiked's content, a right to reply or to request a correction, please contact the managing editor, Viv Regan.