Lockdown 2.0: was it worth it?
We cannot remain hunkered down until spring.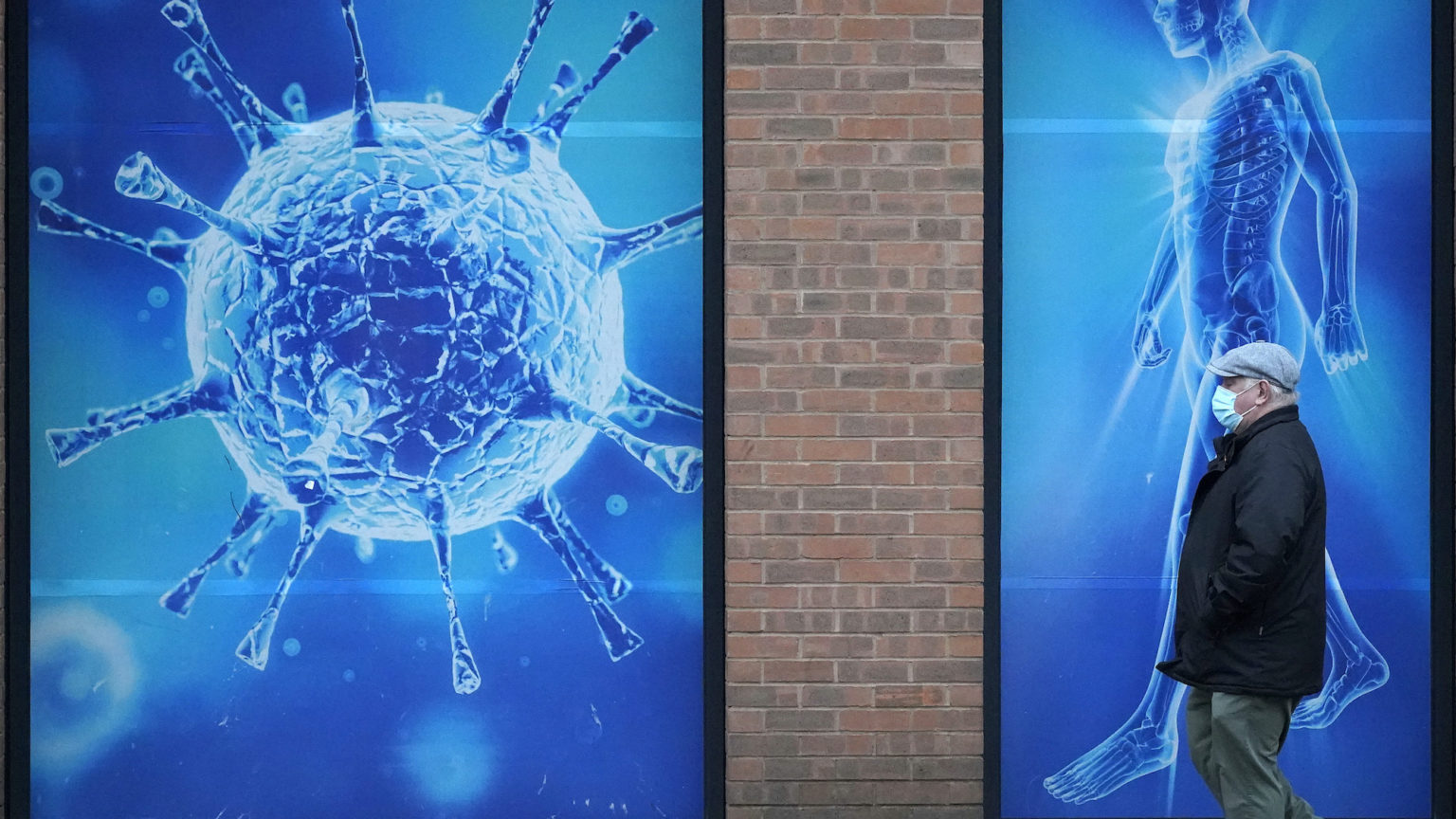 'We have got this virus back under control', announced the health secretary, Matt Hancock, in Monday's Downing Street news briefing, declaring England's second lockdown to be a success. New figures from ongoing research led by Imperial College London released this week suggest that cases of Covid-19 have fallen markedly since the introduction of a second lockdown in England on 5 November. But maybe things aren't quite as clear cut as they appear.
The figures come from a study called Real-time Assessment of Community Transmission (REACT). There are two arms to the study. The latest figures come from REACT-1, which involves mass random testing of the population, with about 100,000 people tested in each round, to see if they currently have SARS-CoV-2 infection. (REACT-2 is testing for antibodies to make a guess at how many people have had infection in the past.)
Back in June and July, REACT found that 0.077 per cent of people tested were infected with the virus. By early October, this had jumped to 0.6 per cent of people and reached 1.3 per cent by the end of the month. Even then, however, the Imperial College news release suggested that 'growth may have slowed during the latter part of a recent study on community prevalence', based on samples up to 2 November – that is, prior to lockdown.
The most recent figures, for samples taken between 13 and 24 November, show the infection rate has fallen to 0.96 per cent. This suggests that lockdown had some effect. This would hardly be a huge surprise. If shops, pubs, gyms and the rest are all closed, and we're all told to stay at home unless we have a reasonable excuse to be out, then there is simply less opportunity for people to interact and infect one another. With cases in decline, the much-vaunted 'R' number – the number of people each infected person goes on to infect – has fallen below 1.
The big question is whether cases would have continued to rise without a lockdown. Were they already peaking? After all, as things stood, everyone who needed healthcare was able to get it. It was the possibility of case numbers continuing to rise that was really alarming. Moreover, how we answer that question feeds into another: is the new tier system to be introduced this week tough enough – or perhaps unnecessarily tough?
We've already seen that the REACT results showed a slowing down in the rise of infections. The ONS Infection Survey for the week up to 6 November showed that, at the very least, the rate of growth in infection rates had slowed to a crawl. The ONS modelled estimates for infection rates were actually going down. Infection rates in many of the worst-hit areas were in decline, but the picture was complicated by rising infection rates in the north-east and parts of the south.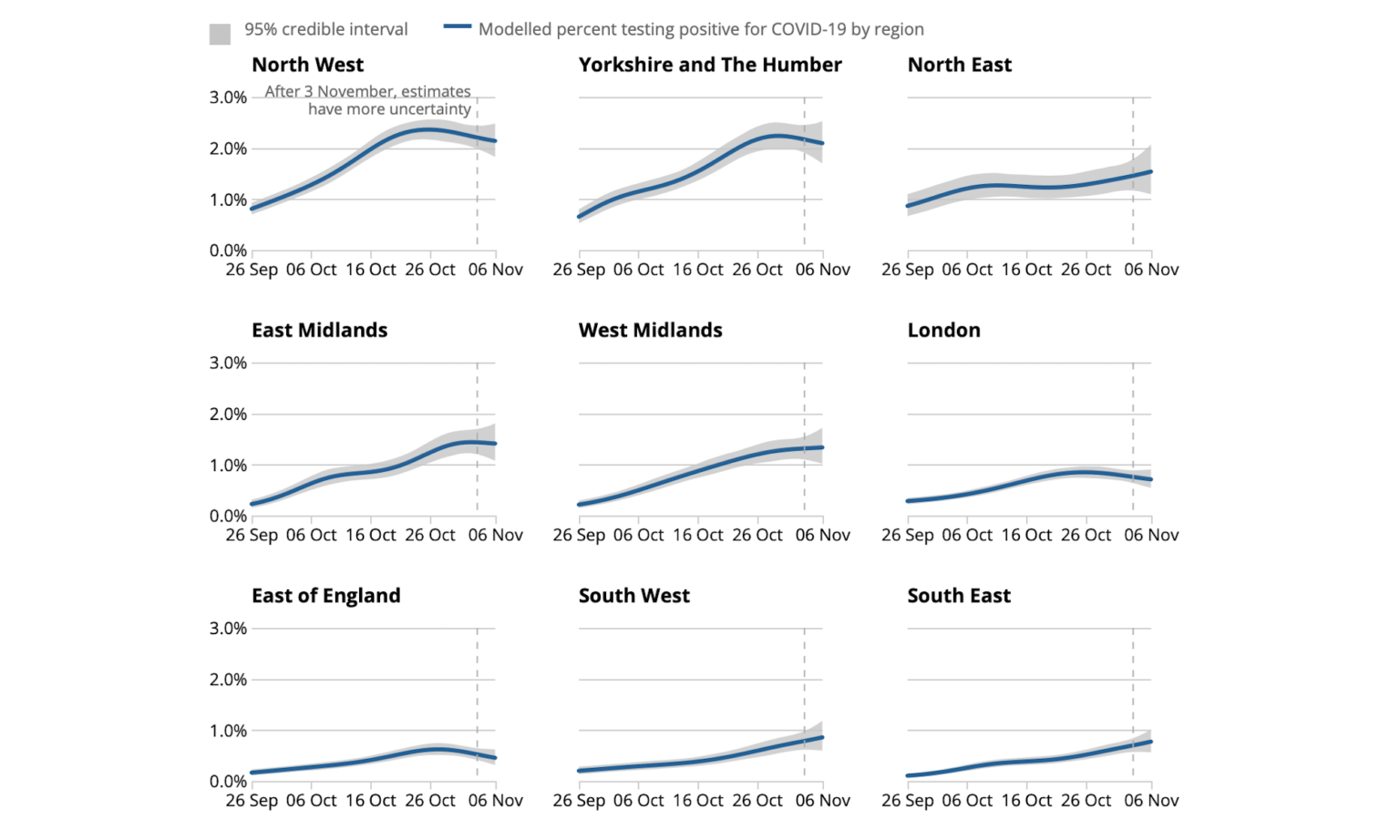 Estimated percentage of the population testing positive for the coronavirus (Covid-19) on nose and throat swabs, daily, by region from 26 September 2020, England (up to 6 November). Source: ONS
The position was even clearer in the specific cities that had been most badly affected. Rates were in decline in Liverpool, for example, even before it entered the old 'Tier 3' in mid-October.
Another useful source of data, one that doesn't rely on the possible vagaries of testing, is the ZOE coronavirus tracker app. Professor Tim Spector of King's College London, who runs the project, pointed out in the Spectator last weekend that the data from the app was in line with both the ONS and the government's test data showing that a decline had set in before lockdown began.
On the other hand, the Welsh government has barely ended its own 'fire break' lockdown before it has announced a new round of restrictions, including the closure of pubs. (Funny how it's always the pubs – a cynic might say that public-health types have been itching for an excuse.) Already, the 'R' number for Wales has jumped up again to 1.4. If full-on lockdowns are successful, the impact could well be short-lived.
It's also worth adding a note of caution when we see rates plateau or decline a little: we've seen situations like that before and they have often been a 'false dawn' before rates start to rise again. So, while it's worth being sceptical of the claims made by the government that led to lockdown and in favour of a new tier system, some caution is required about assuming that it was 'all over' before Lockdown 2.0 was introduced.
Nonetheless, given the scale of the damage done by shutting down businesses and the loss of hospitality venues to meet other people, there was very good reason to wait for another week or two to see if the previous regional measures were effective enough. (Assuming, too, that no alternative strategy to endless restrictions would even be considered.) This wait-and-see approach is particularly justified when the government has been so lax in making any assessment of the wider impact of the restrictions it has imposed – on wider issues of health, the economy and more. As Christopher Snowdon points out, the half-arsed attempt at a cost-benefit analysis published on Monday makes little attempt to assess costs or benefits; it just copies previous claims and asserts that it is all going to be worth it.
Instead, the approach is to hunker down till spring when vaccines will hopefully have had some impact. Never mind the damage done till then – more jobs lost, more loneliness and despair, more life savings destroyed – at least we'll get the tiniest bit of respite at Christmas if we're all good boys and girls. Lucky us!
Rob Lyons is a spiked columnist. Rob is taking part in a Scotland Salon online debate, 'The unintended consequences of lockdown', on Wednesday 2 December at 7pm.
Picture by: Getty.
To enquire about republishing spiked's content, a right to reply or to request a correction, please contact the managing editor, Viv Regan.