Using the Public Order Act to police public debate
The Met Police investigation into David Starkey shows the dangers of the UK law on 'stirring up racial hatred'.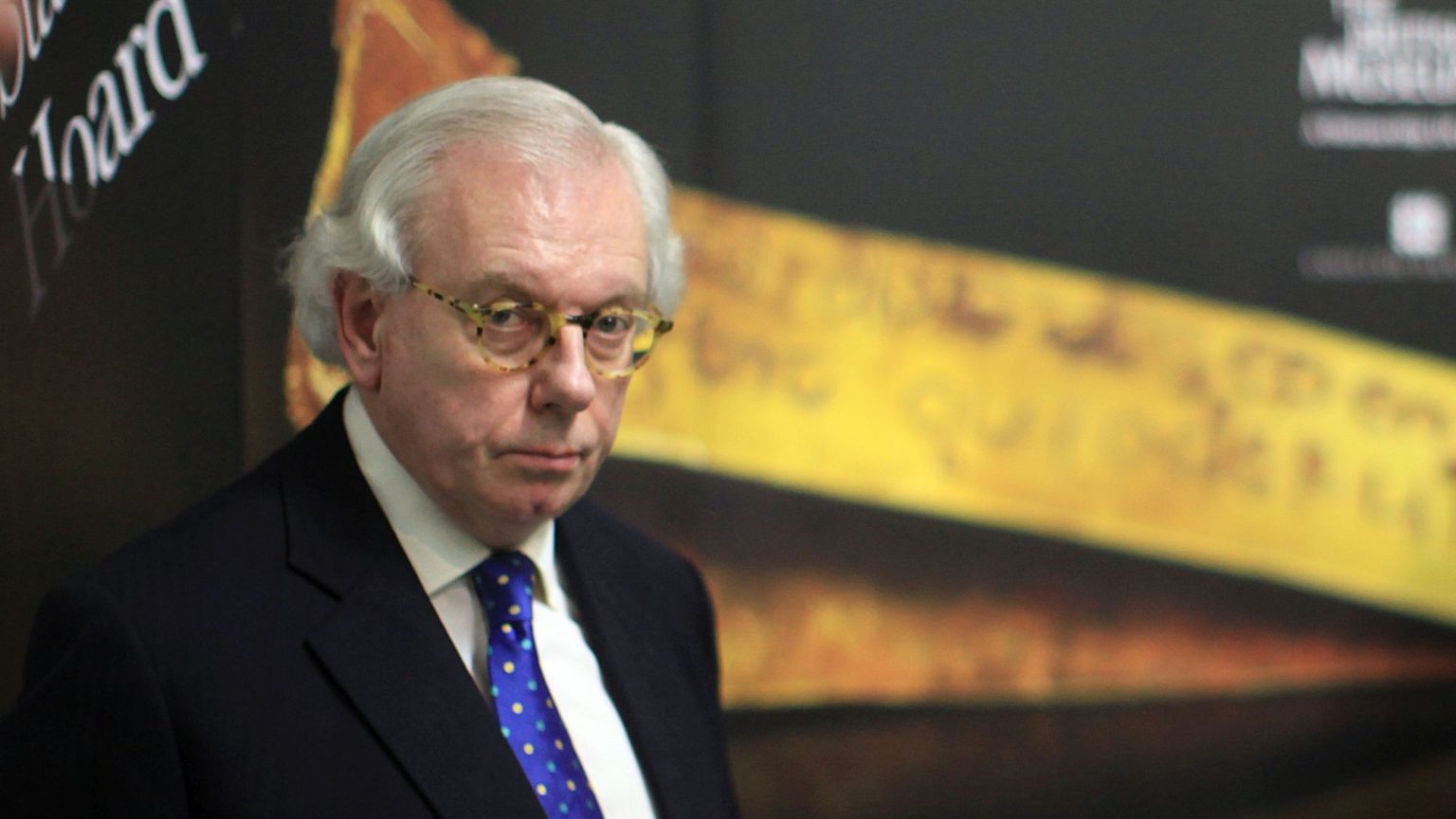 Whenever we argue that the right to be offensive is a central tenet of genuinely free speech, somebody will insist this cannot mean the right to incite hatred and violence. Yet that reasonable-sounding rider can itself disguise a growing danger to free speech. In the UK, the widening definition of what incitement means is being used to police what we are permitted to say, on pain of police action. The latest case involving the historian Dr David Starkey illustrates what is at stake.
On 7 October, conservative think tank the Bow Group received an email from the Metropolitan Police informing its vice-president, Dr Starkey, that he was being investigated under the Public Order Act for stirring up racial hatred, due to words he used in an online interview in June. They assumed this extraordinary message was 'a hoax' and 'binned it'.
But it was no hoax. However extreme they might seem, it is never safe these days to assume that threats of state interference in freedom of expression are a joke. That became clear when Darren Grimes, the young conservative commentator and Brexit campaigner, revealed that he had received a similar email and was being investigated by the Met for allegedly stirring up racial hatred, simply by conducting the interview with Starkey.
The police probe into Grimes, as Brendan O'Neill said on spiked at the weekend, is an outrageous assault on press freedom and the ability of journalists to ask questions and report the answers without fear of a Stasi-style knock on the door. Now the parallel investigation into Starkey throws more light on the widening use of the Public Order Act to police speech.
In the interview broadcast at the end of June, Starkey told Grimes that, 'Slavery was not genocide, otherwise there wouldn't be so many damned blacks in Africa or in Britain, would there? An awful lot of them survived.' This prompted a predictable wave of public outrage, focused on Starkey's use of the phrase 'damned blacks'. Despite Starkey issuing an unconditional apology, the TV historian was quickly stripped of all his academic positions and publishing contracts. That, one might have assumed, was the end of the matter, along with Dr Starkey's career.
But it seems that no apology or punishment can ever be enough to satisfy the inquisition these days. Thus, more than three months later, we learn that somebody complained to Durham Police about Starkey's language, who passed the complaint on to the Metropolitan Police. The Met are now investigating him for stirring up racial hatred – an offence which, under the Public Order Act, carries a sentence of up to seven years in jail.
Given the seriousness of such a charge, it may be that the police drop the case before it reaches court. But that would not diminish the danger posed by the promiscuous use of the Public Order Act, which casts an increasingly long and dark shadow over free speech in Britain. Revealing that he was being investigated this week, Starkey said that his 'primary concern' was that 'my blundering use of language and the penalties they have incurred would further chill public debate and freedom of expression. This fear is being fulfilled more quickly than I thought.'
So, what does the mighty Public Order Act 1986 have to do with a conversation between two people broadcast on an (until recently) little-known YouTube channel? That wide-ranging law is not, as some might assume, simply about maintaining order on the streets. It is increasingly being used to police tweets, blogs, posts and podcasts.
The relevant section of the Public Order Act states that:
'A person who uses threatening, abusive or insulting words or behaviour, or displays any written material which is threatening, abusive or insulting, is guilty of an offence if –
(a) he intends thereby to stir up racial hatred, or
(b) having regard to all the circumstances racial hatred is likely to be stirred up thereby.'
As far as 'a' is concerned, Starkey has been adamant that he had no intention to stir up racial hatred, and his apologies and actions since the interview would make it difficult to prove otherwise. As for 'b', in what 'circumstances' could his stupid use of the words 'damned blacks' on an obscure YouTube channel be considered 'likely' to stir up racial hatred in our tolerant British society? As Toby Young of the Free Speech Union observed, 'The only hatred David Starkey stirred up was against himself'.
The allegation of incitement to racism, or of words 'stirring up' racial and other hatreds, is at the cutting edge of the war on free speech today. It's all very well declaring that you have the right to be offensive, critics insist, but you don't have the right to incite or stir up hatred and violence!
That might sound fair enough, but only if the offence is narrowly defined. The current legal gold standard on free speech is set by the First Amendment to the US Constitution, as interpreted by the Supreme Court for the past half century. In the famous 1969 Brandenburg case, the judges reversed the conviction of a Ku Klux Klan leader who had denounced Jews and black people at a rally. They ruled that simply holding or expressing hateful or inflammatory opinions would no longer break the law. Instead, under the First Amendment, a speaker would be protected except if his words were not only intended towards 'inciting or producing imminent lawless action' but were also 'likely to produce such action'.
Intention and context are all important here. Incitement must be both intended to, and likely to, provoke imminent law-breaking. Cases where words meet those standards of incitement are very few and far between.
The narrow restrictions on free speech under the First Amendment are coming under pressure in America from those who want European-style laws against 'hate speech'. And in the UK, the offence of 'stirring up hatred' is being interpreted increasingly broadly as a weapon in the state's war on unfettered free speech. Regardless of what anybody thinks of the fallen historian and his views on slavery and genocide, this is what is really at stake in the Starkey case.
The target is not merely the odd outspoken individual. As the name of the law implies, the wider aim is to police freedom of expression among the British public. As the American anti-slavery campaigner and former slave Frederick Douglass wrote back in 1860, 'To suppress free speech is a double wrong. It violates the rights of the hearer as well as those of the speaker'. Freedom of expression is about much more than anybody's 'right' to be a bigot. It is about the right of the rest of us to listen to all and judge for ourselves. The authorities' fear and loathing of the public, of course, means that they always assume the worst about what judgement we might make.
Nobody needs to defend what David Starkey said. Indeed, nobody is – not even the man himself. But there are far bigger issues here for us all, in the attempt to widen the legal net of 'incitement' / 'stirring up' in order to catch more words. In the end, as a wise man once said, every idea is an incitement – an attempt to persuade others to think or act in a certain way. That alone should never be considered a crime.
Mick Hume is a spiked columnist. His book, Trigger Warning: Is the Fear of Being Offensive Killing Free Speech?, is published by Harper Collins. (Order this book from Amazon(USA) and Amazon(UK).)
To enquire about republishing spiked's content, a right to reply or to request a correction, please contact the managing editor, Viv Regan.