We have to get out of this spiral of authoritarianism
Lockdowns are having a devastating impact on people's lives. It's time for some serious dissent.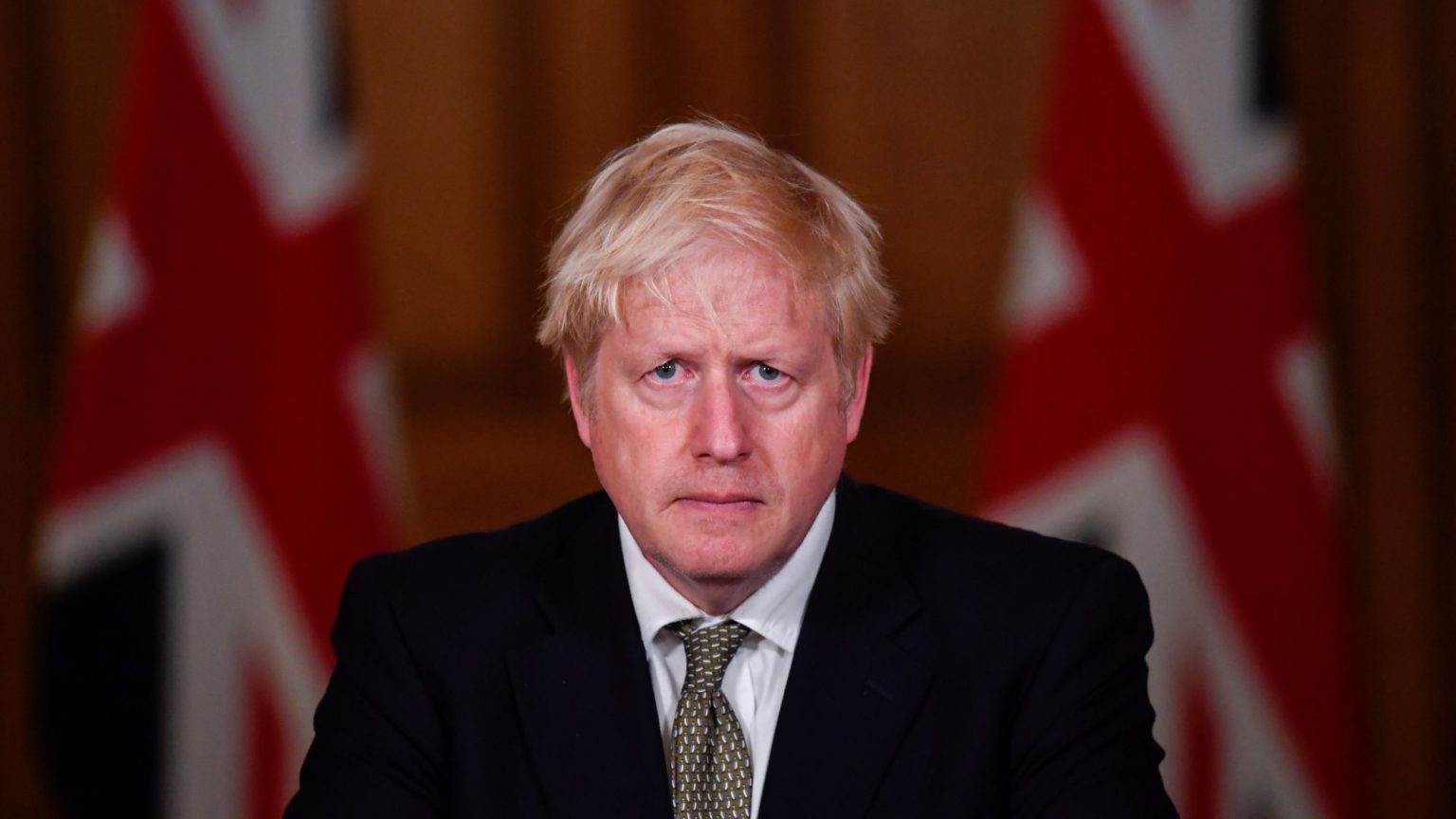 We voted to take back control, and yet it's hard to remember a time when people were less in control of their lives than they are right now. This is the tragedy, and the failure, of the Boris Johnson government. It was swept to power on a wave of democratic yearning, on a people's tiredness of life under the diktats and decrees of bureaucrats and self-styled experts. And where have we ended up? In a situation where every facet of our existences – from where we're allowed to go to which loved ones we may hug – is governed in minute detail by long, dry decrees drawn up by the powerful and well-educated. Take back control? I've never felt more controlled in my life.
Something has to be done about the terrible Covid spiral the government has pushed this country into, about our dizzying descent into more and more local lockdowns and reams of life-denying rules and regulations. For me, the worst thing about yesterday's unveiling of the three-tier lockdown approach was not the announcement itself, not the actual traffic-light system drawn up by officials to dictate to the populace whether they're allowed to travel, visit family, work, live. No, it was the waiting for the announcement. It was that utterly disempowering sense of trepidation as I and millions of others – mere citizens, after all – waited to hear what our fate would be. Whether you would still have a job, whether your business will survive, whether you may get married, whether you may visit your dying grandmother, whether you're allowed to leave your hometown: we waited, impotently, like serfs rather than voters, to discover what the powers-that-be had in store for us.
And for some people, what the government had in store was devastation. No one could fail to be moved by the sight of Liverpudlian hospitality employees on BBC News in floods of tears because the latest government decree effectively means the end of their jobs, and possibly of their businesses. The Liverpool city region has been put into the most severe tier of lockdown, which means pubs and leisure centres must close, households are forbidden from mixing indoors or in gardens, and travel is restricted. Just like that, with the swipe of an official's pen, more than a million people's lives are put on ice and their livelihoods are put in grave danger. It's a sacrifice we must all make, say government officials and the lockdown zealots in the broadsheet press and the knowledge economy. That's easy for them to say. Their jobs are mostly secure. As of yesterday, that is not the case for many in Liverpool and elsewhere in the north. Their lives will become more precarious, poorer, more full of despair.
It is time officials and other influential people who have been so blasé in calling for lockdowns and laws to stem the spread of Covid-19 considered the impact of what they are doing. Losing one's livelihood is about so much more than losing income, which is why those who think everything will be fine so long as we drag out the furlough scheme for longer are so wrong and clueless. Work gives people a sense of purpose and of control over their lives. It allows them to plan and to save. It gives them some command over their family's destiny – saving for your daughter's college education, keeping something in store for future weddings, planning one's retirement. All of this, this stuff of life, is thrown into utter disarray when people's livelihoods are wrecked. There are many, many people whose ability to govern their own lives has just been laid to waste.
It was striking that yesterday there was a huge controversy over a government-backed advert encouraging people in the arts to retrain for other forms of work. 'Fatima's next job could be in cyber (she just doesn't know it yet)', the witless, insulting ad says next to a photo of a ballerina tying her shoes. And yet where was the outrage when tens of thousands of retail workers lost their jobs as a result of lockdown? And bar workers? And hotel cleaners? Those people's jobs were important, too. And yet as these jobs fell apart and people were forced, in what threatens to be the worst recession on record, to seek out the meagre assistance of Universal Credit, some of the same people who fumed over the government's crass ballerina advert shrugged and said: 'Well, we have to lock down. It's the only way.'
This disparity of concern captures one of the core problems with the cult of lockdown: the moral, political and economic gap between the people making the decisions and the people who must live with the consequences of those decisions. When SAGE scientists call for another national lockdown (an idea Boris Johnson rejected), you get the impression that the job security and economic comfort enjoyed by these experts makes them blind, at least partially, to the devastation lockdown has wreaked on other people's livelihoods and their mental and spiritual health. When middle-class commentators and academics bark at Boris for failing to lock down sooner and harder, what I hear are the entitled voices of people who are largely bubble-wrapped from the worst consequences of the manmade recession of the Covid era. Still working at home, Zooming their colleagues, having meals delivered by underpaid Deliveroo workers, making their sourdough bread – there is a whiff of Marie Antoinette to the lack of concern for other people's lives implied in their lockdown fanaticism.
What we urgently need is to democratise the discussion of Covid and what we should do about it. This doesn't mean carrying out yet more opinion polls, in which a government-terrorised, fractured populace is essentially tested by pollsters to see if they are still scared. (Answer, every time: yes.) Polling, especially in an era in which parliamentary life was temporarily put on hold and public gatherings and protests have been banned, is not true democratic engagement. No, we need the inclusion of vastly more voices and concerns in this debate. Workers' voices, stay-at-home mums' voices, pub owners' voices, ordinary people's voices – the people impacted by lockdown should become the driving force in the discussion about future Covid policy.
That is what 'taking back control' should mean. It is what democracy should mean. We must have the right to consent, and, importantly, to not consent, to the laws we are expected to live under. Drawing the masses into the Covid discussion is the only solution going forwards. As long as this issue remains the property of experts (usually experts of a pretty samey outlook), and of politicians who have disavowed their responsibility to govern in the broadest interests of society in favour of 'following the evidence', and of talking heads and academic voices who are relatively immune to the devastations of lockdown, we will remain in this authoritarian spiral. The common sense and the interests of the rest of the society, of the majority, must now be activated and taken seriously. They should be the guiding force.
There would be huge hostility to this, of course. Anyone who doubts the reluctance of the lockdown lobby to democratise the discussion only needs to look at what has happened to the Great Barrington Declaration (GBD). This initiative, set up and supported by medical and scientific experts opposed to lockdowns as a means of dealing with Covid, has been subjected to the most extraordinary smear campaign. Google has 'shadow-banned' the GBD, pushing it down its list of search results. The Guardian and Observer have gone into typical dissent-crushing mode, even contacting one of the founders of the GBD – Martin Kulldorff – to ask him why he agreed to be interviewed on a podcast that has previously interviewed anti-Semites. Smear by association.
The censorious hysteria over the Great Barrington Declaration confirms how determined some people are to exclude dissenting voices from the Covid debate. And if they don't want to hear from questioning scientists, they are even less likely to want to hear from pub owners or retail workers or builders. This needs to change, radically. As spiked argued at the very start of all this, on 23 March, dissent doesn't become a luxury we can live without during a time of crisis – on the contrary, it becomes essential. We need to hear dissenting voices 'because they can help to hold at bay the desire for unflinching certainty and dogmatic responses to Covid-19, both of which could end up causing as much harm to our society and our wellbeing as the disease itself', we argued.
People who want a more democratic, dissenting approach to the Covid crisis are often written off as cranks and conspiracy theorists. We're told that we are failing to take this virus seriously, that we want it to 'rip' through the population. This is untrue. We know Covid poses a serious health challenge. And we know that some measures must be taken. What we are calling for is a more rational, reasoned response which emphasises shielding the vulnerable and offering shielding to the elderly, while allowing everyone else to determine their own risk levels and to carry on working and living as normal. It is perfectly possible to protect vulnerable people from disease and to protect our economy and our society from the manmade devastation of the dogmatically controlling response to the virus we have seen thus far.
We need democracy. We need to engage communities in Covid decision-making and trust individuals to decide for themselves what risks they are prepared to take. Trust, engagement, reason and openness – these are the tools that will get us through this crisis in one piece and allow us to start living again, rather than merely existing.
Brendan O'Neill is editor of spiked and host of the spiked podcast, The Brendan O'Neill Show. Subscribe to the podcast here. And find Brendan on Instagram: @burntoakboy
To enquire about republishing spiked's content, a right to reply or to request a correction, please contact the managing editor, Viv Regan.