Rishi Sunak's job-destruction scheme
The chancellor will not even come close to repairing the damage caused by the Covid restrictions.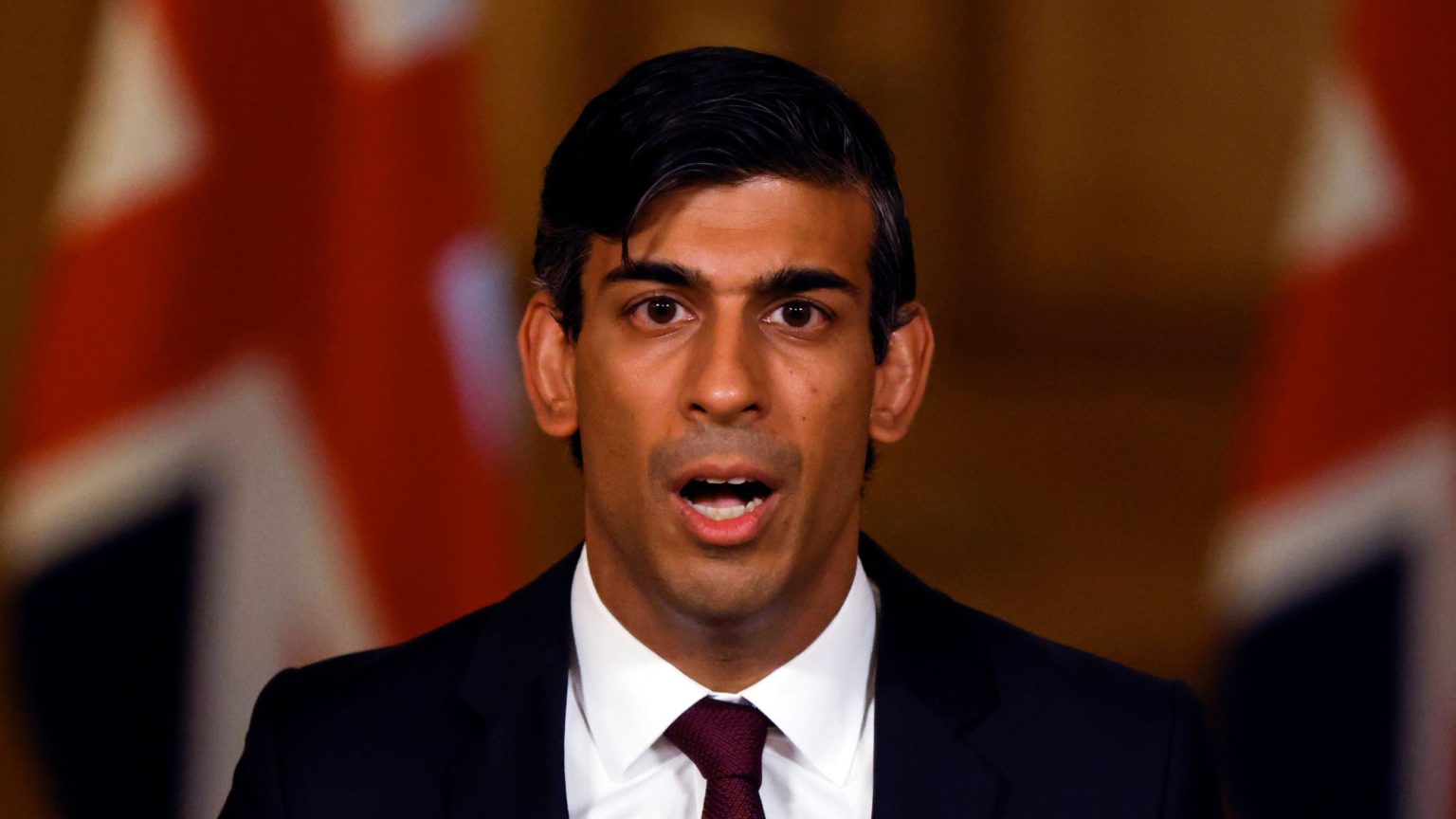 Chancellor Rishi Sunak and his advisory team seemed to have been so busy in the past couple of weeks coming up with their 'creative' job-support scheme that they missed the prime minister's recent announcements of further clampdowns on our social and working lives. Even though it is his own government which is accelerating and exacerbating the immediate economic mayhem to come, Sunak's core message to the House of Commons was that the 'task now is to move to the next stage of our economic plan'.
It was as if he was responding to some naturally unfolding process for which he has no direct culpability. In particular, the chancellor failed to discharge the responsibility his government should continue to take for offsetting the economic damage resulting from its lengthening shutdowns. This ruin is worsening by the day.
On top of last week's Rule of Six, the hospitality, leisure and entertainment industries bore the brunt of this week's extra social restrictions. Instructing people to work from home – putting aside the medium-term adverse effects on the businesses directly impacted – perpetuates the hit on lunchtime and after-work eating, drinking and other retail spending in central business districts. Meanwhile, the practical effect of the 10pm curfew is far more than the loss of an hour's revenue: many restaurants will lose their second sittings while later-night bars, clubs and casinos could be deprived of more than half their pre-pandemic evening takings.
With the events trade already pretty much destroyed by the cap of six people, the nonsensical halving of wedding celebrations from an arbitrary 30 to an even more dotty 15 could be the last straw – not only for businesses servicing weddings but also for smaller hotels and other venues reliant on these bookings. Meanwhile, Boris Johnson's warning that all this could go on for at least another six months means hospitality businesses won't even have the usual annual boost from Christmas parties, which they often rely on.
With all this – and even worse in Scotland, Wales and Northern Ireland – announced just in the past 10 days, we might at the minimum have expected some emergency package from the chancellor to compensate for all the business loss and the extra risk to jobs. We can agree the economy was already in a dire state before the coronavirus arrived, but all this particular economic harm is the result of government decisions. None of it is the fault of the business owners or of their workforces. Government compensation for the impact of their actions remains fully justified.
Yet Sunak seemed oblivious to the emergency circumstances being perpetuated by his own government, describing the current scenario as if it was an unfortunate act of god. He told us we are no longer 'facing a temporary period of disruption' caused by the government's measures. Instead, as 'a fact of our lives', we had moved into a prolonged period of restrictions 'for at least the next six months'. This was his justification for anticipating that the 'economy is now likely to undergo a more permanent adjustment'.
Some 'permanent' changes are certainly happening – mostly as a result of factors and trends which predate the pandemic. These call for much more action from the government than any temporary jobs-protection package. Sunak should have at least done his utmost to negate the damage done by his own government. Here are some things it needed to do:
Give support for businesses and employment, including the self-employed (whose government subsidies were actually substantially wound back in the Commons statement), to cope during the falls in economic activity and revenue resulting from the government shutdowns. (Sunak did provide some small respite for hospitality and tourism businesses by extending a cut in their VAT payments from January to March next year, though of course that only helps to the extent that they are selling anything, and it doesn't include alcohol sales.)
Increase the unemployment benefits to a living income for the people employers are unable to retain. This extends far beyond hospitality, leisure and entertainment, to tourism, travel, retail, the arts, professional sport and many other areas impacted directly or indirectly by today's enforced recession. Even the insufficient temporary increase of £20 a week in Universal Credit introduced earlier in the year is, under present plans, due to expire next March.
Most of all, the government needed to be 'creative' in helping society develop new business sectors and decent employment opportunities. This is vital for those whose jobs unfortunately are, and in many cases already were, 'unviable' – before, during and after this current phase of economic devastation.
But instead Sunak came up with something much less helpful this week. Having supposedly looked at other tried-and-tested short-time work schemes, such as the acclaimed German Kurzarbeit, he tinkered with them to design an inferior version. The motivation seems to have been more about saving public expenditure rather than saving jobs (the new Jobs Support Scheme, or JSS, is expected to cost considerably less than the existing furlough measures). As a result he has created a scheme that seems intended to be as unattractive as possible to many struggling employers.
Consider some of the following scenarios. You're a business that has just about managed to keep all your staff working full-time, and you want to continue to do so despite the tough times we know are ahead. No help for you from the JSS, because the public subsidy is only for unworked hours. Though Sunak did also announce that you could, with government backing, borrow more money for longer, and therefore become even more debt-dependent and have even more debt servicing costs in the future. Thanks, Mr Chancellor.
You're a business that has had to close down, you hope only temporarily, because of insufficient revenue prospects as a result of the wider shutdown measures. You've been keeping your staff on your books using the furlough scheme as you wait for government restrictions to be lifted, or at least eased, so you can try to reopen. Well, the easing has become tightening, and the helpful furlough scheme still ends on 31 October. If you are unable to open then, which is more likely now because of the latest government curbs, no help for you either from the JSS. Unlike the Kurzarbeit scheme that has no minimum-hours rule, the new British scheme requires your employees to be working at least a third of their normal hours. Thanks, Mr Chancellor.
And if your business is operating but only on a partial basis, with staff so far working part-time and subsidised by the furlough scheme, then the JSS is actually incentivising some such employers to make people redundant. Ironically, these are the very workplaces that the new scheme is supposedly targeted at: 'businesses that face depressed demand', as Sunak put it. But unlike other short-time work arrangements, such as Germany's, employers under the JSS have to pay something for the unworked hours — in fact one third of their cost.
So if you are paying people part-time today for, say, 50 per cent of their normal hours, by joining the JSS you would have to pay an additional 16.66 per cent of their pre-coronavirus salary for the unworked half of their old working week, pushing up your labour costs per hour worked. It should not come as a surprise to the Treasury that this could make a bad situation for businesses even worse. For some businesses in these circumstances, it will make financial sense to cut jobs rather than hours. To simplify, rather than pay two half-timers a combined 133 per cent of a full-time salary, it would be cheaper to make one redundant and employ the other one full-time for only a single full salary – a saving of a third of a salary. The unfortunate person made unemployed will no doubt think: thanks, Mr Chancellor. This gives a whole new meaning to 'job protection'.
Sunak concluded his Commons statement saying: 'Our lives can no longer be put on hold.' Hear, hear. However, if he really believes this, he should be issuing an ultimatum to his Downing Street neighbour and to his whole cabinet. Lift the curfews, withdraw the sanctions on living normally, remove the constraints on working, and instead encourage people to learn to live with this virus while doing an awful lot more to protect the genuinely vulnerable inside care homes and elsewhere. Then, when he's accomplished that short-term boon for society and the economy, he should get back to his day-job and engage with all of us in developing the national economic-renewal plan that is so long overdue.
Phil Mullan's Beyond Confrontation: Globalists, Nationalists and Their Discontents is published by Emerald Publishing. Order it from Emerald or Amazon (UK).
To enquire about republishing spiked's content, a right to reply or to request a correction, please contact the managing editor, Viv Regan.