Another brutal blow for Britain's bars and restaurants
The government's new Covid measures could be the final nail in the coffin for many hospitality businesses.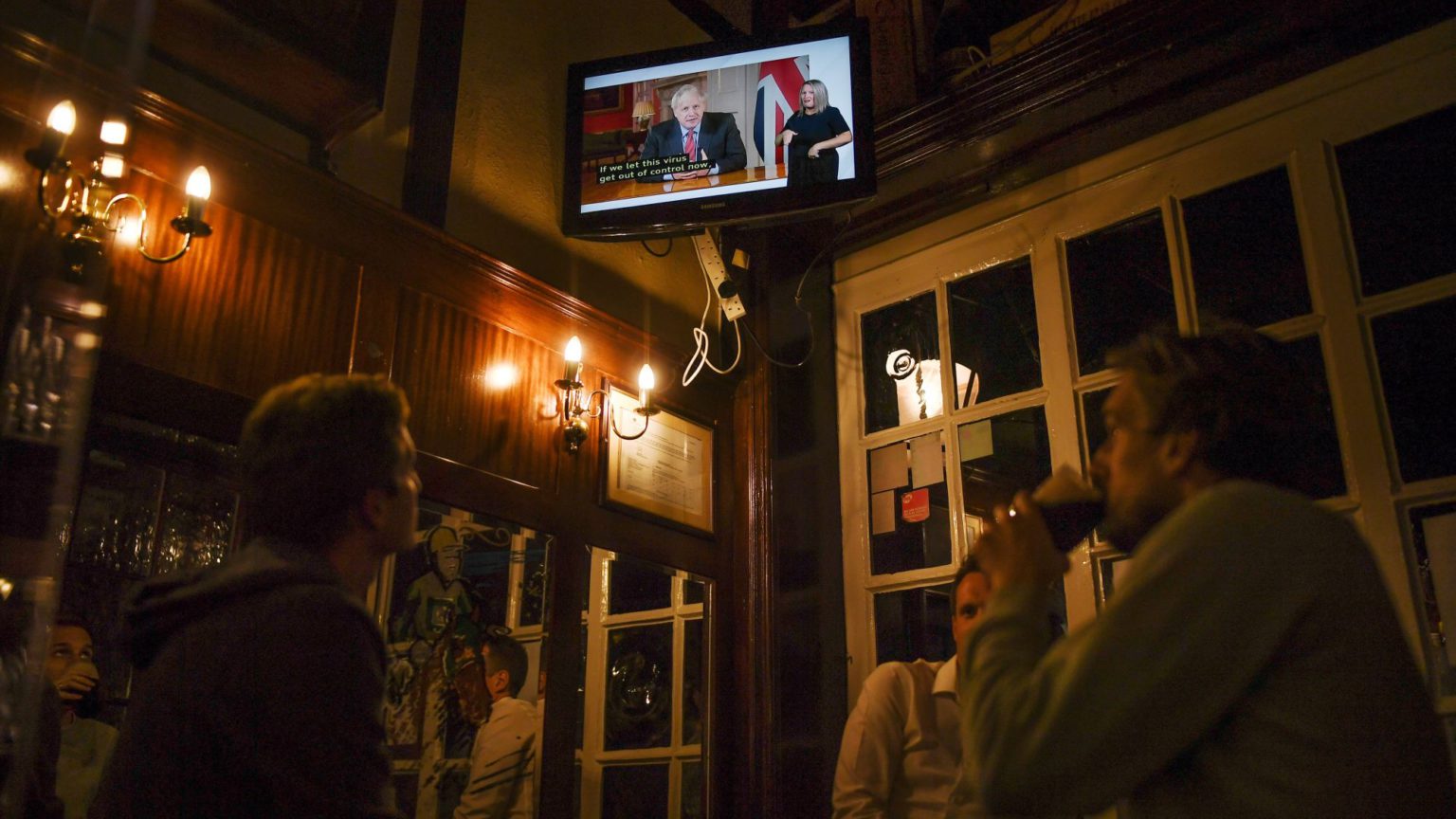 Covid-19 has already wrecked havoc on our hospitality industry. Countless outlets were forced to close for months during lockdown, and many have struggled to return to pre-pandemic takings since reopening. Now, the government has slapped the sector with a new triple blow: a 10pm curfew, the Rule of Six and the reversal of the 'go to work' message.
The central London pub where I used to work, which closed in March along with thousands of others, has still not reopened. It relies on trade from tourism, theatre-goers and nearby offices – sources of income which have largely dried up. The owners presumably calculated it was not worth restarting. Now, what little progress had been made towards normality on those fronts is being undermined.
As I wrote on spiked back in June, many pubs were already struggling before the pandemic. In the 10 years to 2017, over 10,500 closed. We have to expect the rate of closure to accelerate in the coming months and years, meaning less choice for consumers, a lower proportion of independent food-and-drink outlets, and, in many areas, a blow to communities.
Over the past six months, the government has undertaken some measures to alleviate the plight of the hospitality industry. The furlough scheme has kept hundreds of thousands of people paid, while the introduction of VAT equality between hospitality and supermarkets has also been helpful (the government has now announced this scheme will be extended). In August, many pubs and restaurants were full for the first time in months thanks to Eat Out to Help Out.
But Eat Out to Help Out is now over, and though a replacement for furlough has been announced, it will require staff to work at least a third of their usual hours before their employers become eligible for government support for wage payments. Many companies unable to offer those hours will simply lay off staff. In a sector with so many jobs based around short-term or casual contracts, redundancy payments will be no more than a few weeks' wages – if that.
As people are encouraged once again to work from home, pubs will also have fewer customers, especially those in commercial areas. The Rule of Six will ward off large groups and their spending power. And the 10pm curfew will not just shave an hour or more of prime-time business off already-struggling outlets' books – it will also discourage people from going out at all.
Asma Khan, owner of Darjeeling Express in London, told the Evening Standard that the curfew is 'like a slow death'. He said the hospitality industry is an 'easy target' for the government, which thinks it can 'pick on particular groups of people and get away with it'.
Indeed, the new 10pm rule is one of the most strikingly illogical and arbitrary measures yet introduced by the government in response to Covid-19. What exactly happens at 10pm that makes the virus suddenly so much more dangerous than it is at 9.59pm? As Tom Brown, owner of Cornerstone, a London restaurant, told the Standard: 'I thought viruses existed at all times, I didn't realise it was only after 10pm. That's a pretty fucking interesting thing… Genuinely, what is the fucking point?' His exasperation is understandable.
Sadly, it is only the latest in a string of ill-considered policies to be inflicted on us since the pandemic hit. The Rule of Six likewise makes little sense – we can go to work in huge teams, but then have to sit apart from one another in groups of six when we go to the pub afterwards. We can't go into each other's houses in groups larger than six, but we can go hunting in much larger numbers. Kids are taught in large groups at school, but can't all pile into the same house at the end of the day.
It is all utterly inconsistent, does more harm than good, and is the result of the government having little clue what it is doing. It wants to be seen to be acting, and wrongly assumes doing something is always better than doing nothing.
Here are some better ideas for action: let the pubs and restaurants stay open late, ditch the Rule of Six, get people back to work, and cut alcohol taxes and pub rates. These are the sorts of policies that help a struggling sector rather than destroy it. The government needs to change course – fast.
Paddy Hannam is a spiked intern.
Picture by: Getty.
To enquire about republishing spiked's content, a right to reply or to request a correction, please contact the managing editor, Viv Regan.