Why I've had enough of eco-luvvies
Emma Thompson's Extinction Rebellion film reveals her delusions of radicalism.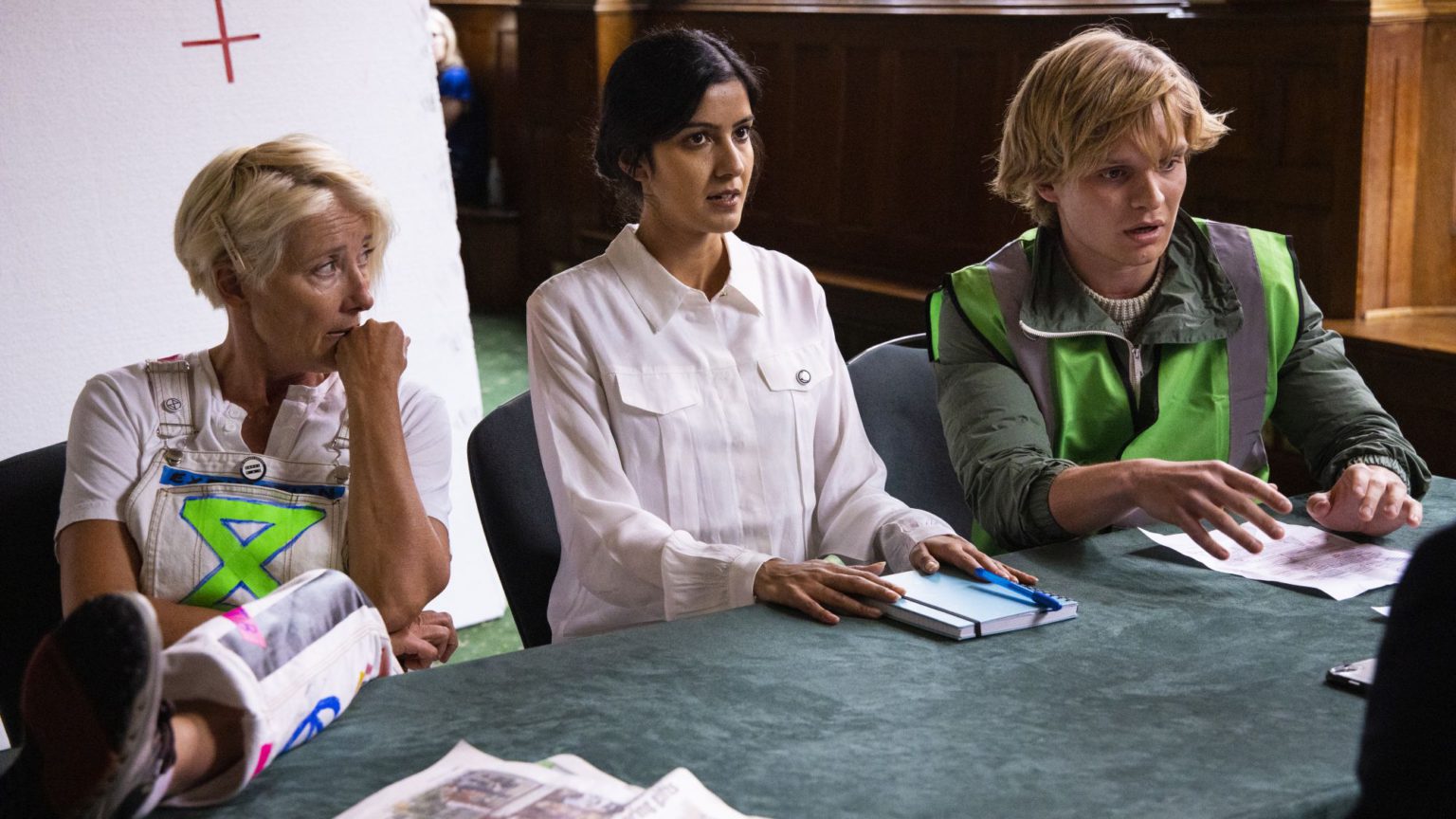 Many celebrities are sanctimonious, so there's no use complaining too much. But there is something particularly nauseating about eco-luvvies.
The lifestyles of the filthy rich and uber-famous are among the most carbon-intensive imaginable. But that has never stopped them from finger-wagging to the rest of us about how we are overusing our own meagre share of the planet's resources.
Emma Thompson is perhaps the most extreme eco-luvvie. Last year, she infamously flew from LA to London to join in a roadblock with the doomsday cultists of Extinction Rebellion (XR). XR is truly the maddest green group among a mad bunch. Its central claim is that humans face a mass-extinction event unless we decide as a species to revert to a semi-feudal, carbon-free lifestyle by 2025.
Now, on behalf of XR, Thompson has starred in a new short film called Rebellion. Much has been made in the press about the film's use of all-vegan costumes. But what's really remarkable about it is how clearly it shows her and other activists' delusions of radicalism.
The film opens with a quote from Naomi Klein about people feeling 'threatened' about the subject of climate change before cutting to one of XR's days of 'rebellion'. In the meantime, a posh XR activist is waiting to start a negotiation with a posh Tory politician and his posh adviser. The XR activist is waiting for another posh (albeit dressed-down) activist to arrive before putting the government in its place. When posh Emma Thompson finally arrives, it becomes clear that the only thing the film accurately represents is that eco-warriors are overwhelmingly posh.
Unsurprisingly, the characters trot out the unconvincing XR lines about humanity facing extinction and governments covering up 'the truth' about the climate crisis. When the nasty politician says he won't overturn the global capitalist system at the behest of a few activists, everyone explodes into uncontrollable shouting. At one point, Emma Thompson screams that she has been 'putting up for 40 years with this patriarchal BULLSHIT!'.
Rebellion, like so much eco-propaganda, positions the environmentalist as the rebellious antagonist to the established order. But of course nothing could be further from the truth.
The film was deliberately released on the anniversary of the UK parliament declaring a climate emergency. And yet a recurring complaint of the film's characters is that the UK is doing nothing about climate change.
Far from doing nothing about climate change, unless the pandemic blows it off course, the Conservative government has committed the UK to a 'Net Zero' target for carbon emissions. This will be the most expensive and far-reaching policy in our history. The opposition parties wanted to go even further, pledging Net Zero targets by 2030 at the last election. Extinction Rebellion's target of 2025 is certainly more stringent (and utterly mental) but its attachment to eco-austerity is shared by the whole of the political class.
Extinction Rebellion activists like Thompson delude themselves into thinking they are rebellious outsiders, raging against the system. But even the capitalist class share their anti-human tendencies. Environmentalism is well-represented every year at Davos, the exclusive gathering of the global elites. Greta Thunberg has given keynote addresses there on multiple occasions, and last year even spokespeople for Extinction Rebellion were invited on to panels.
The problem for those of us who want to live free and fulfilling lives is that Extinction Rebellion's ideas are actually incredibly mainstream. It is only a matter of degree and flamboyancy that makes XR stand out from the rest. Emma Thompson and the other eco-zealots have much more in common with a drab Tory MP than they would care to admit. What we need is a rebellion against the posh eco-luvvies.
Fraser Myers is a staff writer at spiked and host of the spiked podcast. Follow him on Twitter: @FraserMyers.
To enquire about republishing spiked's content, a right to reply or to request a correction, please contact the managing editor, Viv Regan.