The importance of exercising judgement
Even during this crisis, official guidance cannot tell us how best to act.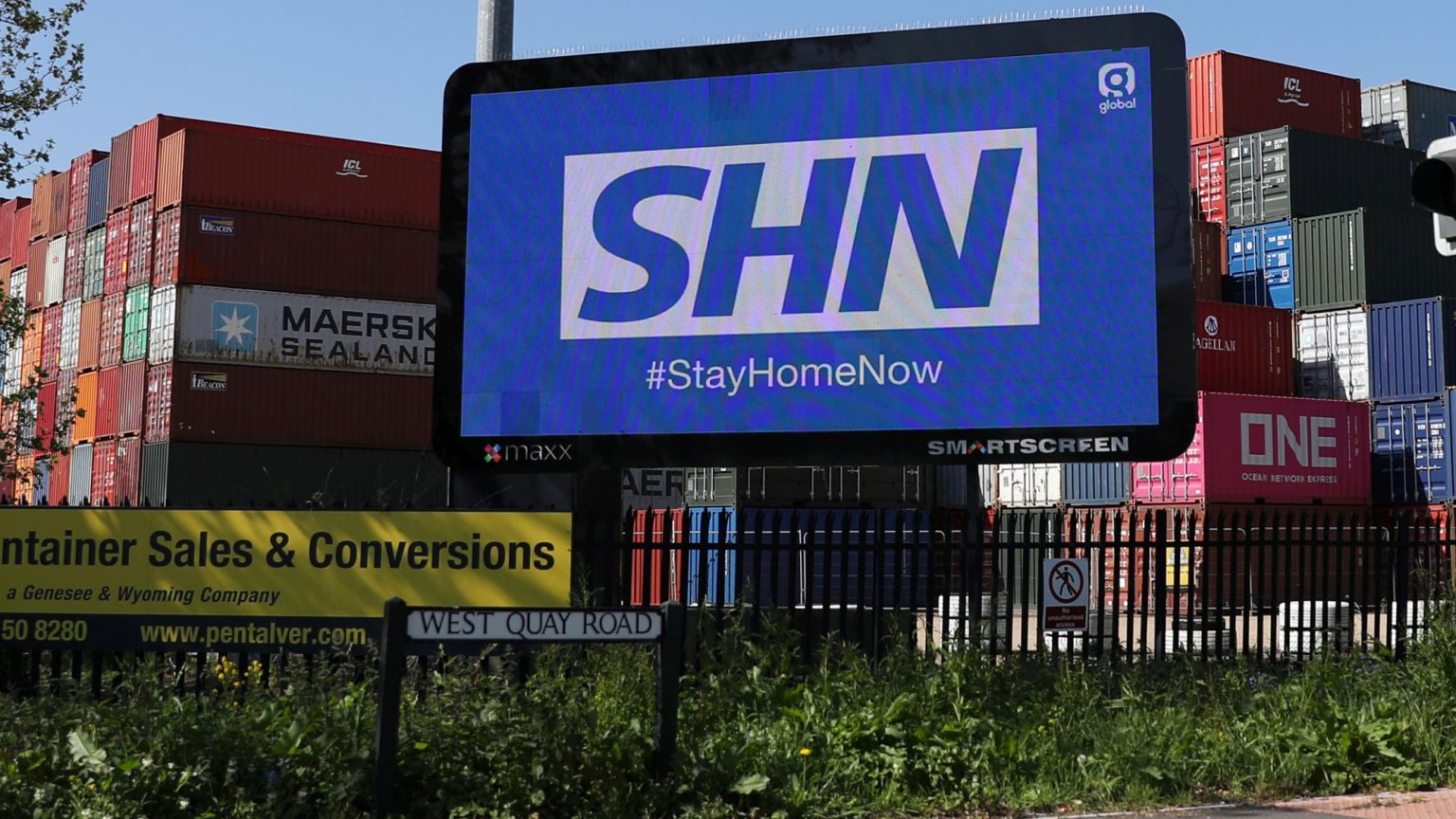 The central message of various governments in response to the coronavirus crisis, 'Stay Home', has a simplicity that has given it global reach, despite it meaning different things in different countries, and being enforced to differing degrees by state forces.
But it became clear early on in the pandemic that 'home' carries mixed connotations. While we were officially ordered to embrace our home as a safe retreat from the world, campaigners soon highlighted that, for some, home can harbour sinister goings-on 'behind closed doors'. This ambivalence has been a strong cultural theme for decades. Television schedules and the Sunday supplements flip-flop between celebrations of domestic self-expression, through baking or home improvements, and dramatisations of terrible abuses occurring within the home.
But there is a third meaning to 'home' that is perhaps more helpful to us as we figure out how to make the case for freedom at a time when it has been officially and popularly defined, temporarily at least, as a toxic threat. The saying 'An Englishman's home is his castle' captures the idea of home not just as a safe retreat, but also as a protected bastion of sovereignty against any incursion by the state – a place in which individual or familial autonomy is exercised and privacy is achieved.
In circumstances where public space has become subject to extraordinary health-based policing – whether by actual police, supermarket security guards, other people's disapproval, or our own desire to be seen to do the right thing – the autonomy we exercise inside and at the borders of our home becomes increasingly significant. Chatting to neighbours or friends from the garden gate, receiving food from delivery guys who step back to the threshold of the pavement, and coming to the front of our properties for the Thursday 'NHS clap', all bring into sharp relief the boundary between 'our space' and public property in a way that we normally take for granted.
An architect friend pointed out the parallels between the simplistic 'Stay Home' mantra and the 'Stay Put' guidance that seemed to have played a role in the Grenfell fire tragedy. To many of us, the most visceral horror of reading accounts from survivors was the overriding of their instinct to flee a burning building by official advice to remain within it. Our capacity to make judgements is something we generally take for granted, but at times of crisis or uncertainty the tension between our individual response and the collective norm becomes especially acute.
And so, within our homes, running in parallel with the simple 'Stay Home' message, is the reality that we are all making judgements whereby we interpret the official guidelines for ourselves and our families. There comes a time in many a Zoom conversation with friends when someone lets slip their own particular bending of 'the rules', whether by exercising more than once a day, going shopping for something to do, visiting a friend or relative to chat in the garden, or turning a blind eye to teenagers meeting up with a boyfriend or girlfriend. Similarly, many of us will have decided that the 'symptoms' we experienced, because they did not precisely align with the official indicators of a high temperature and a persistent, dry cough, were to be monitored by ourselves while carrying on as normal, rather than requiring drastic and prolonged self-isolation for the whole household.
When we share these decisions with friends, we trust that they won't see us as 'Covidiots', selfishly 'flouting' the rules, but rather as people who are negotiating lockdown like responsible adults. We make nuanced judgements of risk and responsibility based on what we know of our specific patterns of social contact, the perceived vulnerability of ourselves and our own family members, and what seems 'doable'. Still, we overlay these private concerns with our sense of social responsibility towards faceless others, to slowing the spread of the virus and 'flattening the curve'.
Whatever our feelings about the NHS (whether we see it dispassionately as a health service or identify more strongly with it as 'our' national institution), this social responsibility has generally been imagined in the form of ICU staff and their capacity to cope. But balanced against the emotive images of exhausted doctors and nurses are our own understandings of what is a reasonable restriction upon ourselves and our families. We might feel obliged to dramatise our own bending of the rules in terms of 'coping' or maintaining our 'mental health', but the truth, for most of us, is that keeping hold of a bit of freedom, bending the rules a little, is not a question of psychological survival but of holding on to a sense of independence and dignity and maintaining our quality of life.
Making a special trip to buy oysters, letting our children see a friend in the park, or visiting an elderly relative on their birthday would be cast as highly irresponsible and selfish by certain police forces, media commentators and armchair online warriors. But most people are, thankfully, exercising their judgement, not retreating to a passive state and awaiting instruction or permission from the authorities.
And it's not just within the home that we are making complex choices. Within the first few days of the official response to Covid-19, local mutual-aid, Facebook and WhatsApp groups kicked into gear with thousands of individuals volunteering to deliver shopping and medicines to people who were already self-isolating. These attempts to reach out, rather than simply retreat, were liberating in their spontaneity. People cracked on with producing information, picking up and delivering food and medicines, and handling other people's money for errands on trust, without safeguarding training or DBS checks.
At my local food bank, people turn up to pack crates of food for those in need, while others pull up in cars to deliver them. It is noticeable that, while volunteers do stand at a distance from one another while waiting outside the huge Victorian church to be assigned a task, there is a sense of common purpose, which seems to encourage more relaxed behaviour. There is little evidence of the elaborate and often tense 'dance of two metres' required at the supermarket, or the 'dart into the road' move required of runners not wishing to be tarred with the 'selfish' slur by walkers.
Driving along a south London high street recently, I saw a man collapsed on the pavement outside the temporarily defunct McDonald's. At least three apparent strangers were clustered around him, offering help. Thankfully for him, they were prepared to breach social-distancing guidelines.
And yet the thrust of media and social-media discussions has been continually to push for bright lines, for heroes and 'Covidiots', for safe and unsafe behaviour, for countries getting it right and countries getting it wrong. Even before lockdown kicked in, the moral high ground was being claimed by the anxious who accused others of worrying too little. A moral value was attached to being 'worried' about the risks of the virus, which was incommensurate with being worried about the negative consequences of lockdown itself.
In these milieus, 'Stay Home' has been interpreted as an absolutist order rather than as a general guide to necessary behaviour change, with a moral weight applied to the display of obedience rather than the exercise of judgement.
For a long time, risk-averse behaviour has been equated with moral goodness. While society has become less prepared morally to condemn the unmarried or the sexually promiscuous, the figures of the smoker or the obese person have acquired a highly stigmatised status. Those unwilling to sacrifice what they view as the good things in life – cigarettes or fattening food, for example – in the name of health are condemned as irresponsible, posing a risk not just to themselves but also to the rest of society (usually embodied in the NHS).
This public-health moralism, stretching back at least 30 years, has prepared the ground for the Covidiot-shaming of today. Public-health experts have exhorted us to follow simple rules rather than exercise our critical faculties. From consuming five pieces of fruit and vegetables per day to abstaining from alcohol in pregnancy, we have become accustomed to referring to guidance as 'rules' and to internalising them, to the extent that we feel guilty for breaches and slips.
We are currently being called on to sacrifice our freedom for the greater good, to 'save lives'. While this may be necessary to mitigate a health crisis, the current constraints on the freedom to make our own judgements should prompt us to value our freedom more, not less – to sharpen our arguments for its defence, not accept arguments against it. When I asked my resident teenagers what they missed most at the moment, it was 'going to the pub', 'seeing friends' and 'not being told what to do'. We need to make sure, when our social lives re-expand, that we are able to defend the importance of the freedom to associate with whomever we choose, wherever we choose, whenever we choose, to exercise our own judgement of risks and responsibilities and tolerate others doing the same thing, even if they reach different conclusions. This must not be justified in instrumentalised terms of our 'mental health', but appreciated as an essential part of being human.
To enquire about republishing spiked's content, a right to reply or to request a correction, please contact the managing editor, Viv Regan.