In France, it's now a crime to talk to your neighbour
President Macron is relishing the lockdown and its suspension of democratic and social life.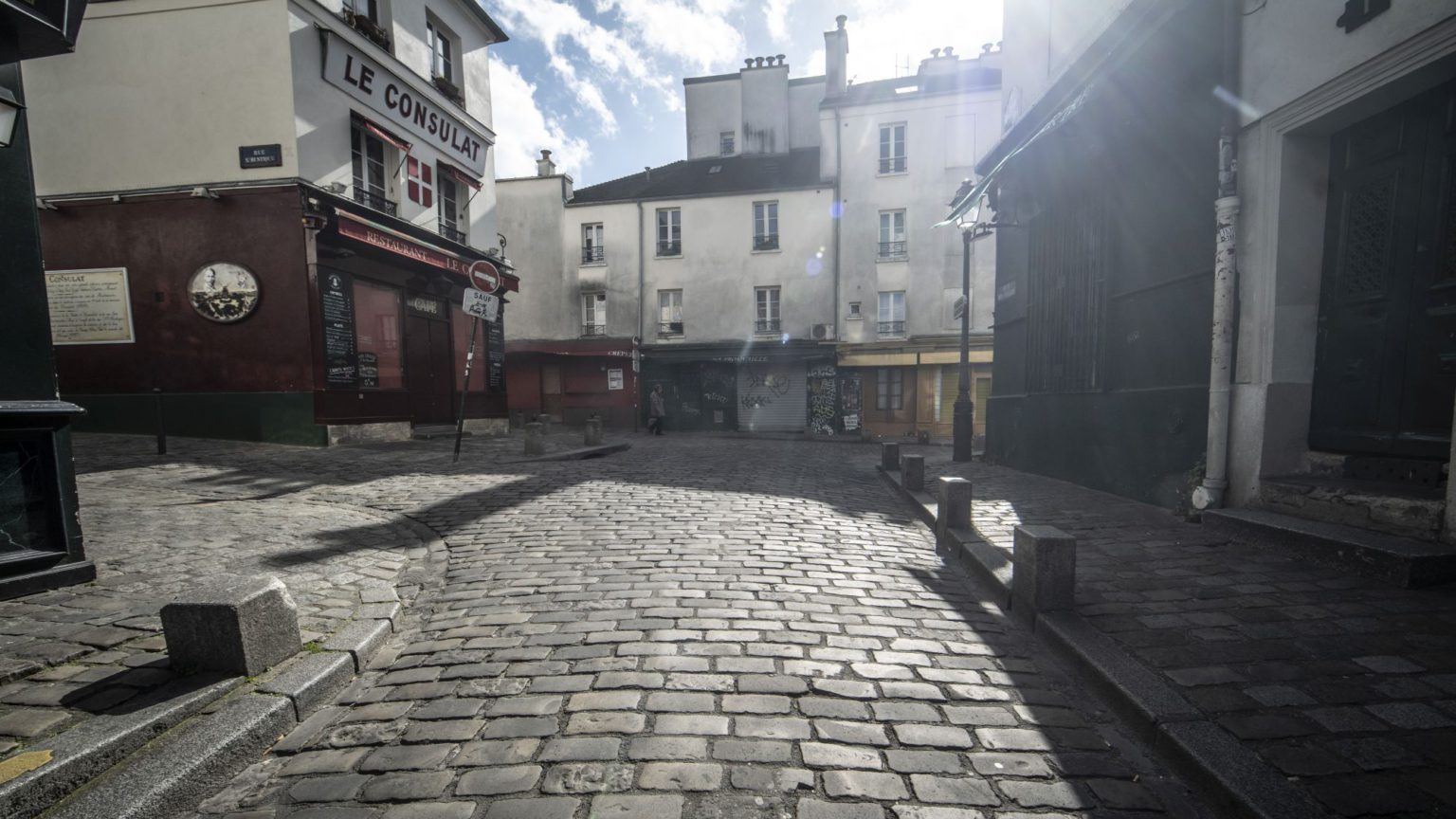 France entered lockdown at midday on Tuesday. Now we can only leave the house for one of four reasons – essential work, healthcare, essential aid to close family, or exercise in the vicinity of the house or for essential shopping. We must carry a signed and dated form, ticking the reason we have left the house. Anyone without the form or without a reason will be fined.
In my village in south-west France, the square yesterday morning was full of last-minute shoppers, getting their purchases in before the doors were locked shut. The supermarket was packed and almost every staple (milk, pasta, cheese, cream, butter) was sold out.
It has now become a crime to call on a neighbour or for a child to play with their friend down the road. It is even a crime for extended families to meet each other – elderly people must not be visited except in extreme necessity.
Social life has been totally suspended: the old men playing boules in the square, the ladies gossiping for hours outside the bakery, the kids going around on their bikes. Not only have all shops closed (aside from food shops), not only have all public places or facilities closed, but everyday socialisation has been stopped, too. The bakery is open, but only two people can enter it at a time, and they have to stand one metre apart from one another. The main street is silent as everybody has hunkered down.
No doubt some public-health measures were necessary to tackle the coronavirus outbreak. Many of the local hospitals are full of virus cases – so much so that Saturday's usual quota of skiing injuries couldn't find anywhere that would take them. How fast things change. Only a few days ago, people were skiing. Only last week my son played at a packed outdoor playground with friends. Now you cannot go for a walk in the mountains, and kids who live next door cannot meet each other.
Yet the lockdown is not purely a public-health response. What is at play in the dramatic nature of the crackdown – and people's response to it – is the tension between the state and the people.
The French state has a militaristic bent. It is concerned with public order and has a traditional hostility towards independent social life. People have a similarly ingrained suspicion of the state. Yesterday, rumours were circulating that the government was about to declare a curfew and that this would be enforced by the army. This hasn't happened, but it shows the extent to which people expect the state to pull out the guns and shut things down.
People do not trust the government or the reasoning behind its decisions. Some friends of mine boycotted the municipal elections on Sunday, saying that President Macron was employing double standards: he maintains the public events he approves of but cancels everything else. The president inexplicably claimed that the elections would be controllable and sanitised and therefore the virus would not transmit. Yet seeing the voters gathering outside the mairie on Sunday, and the queue to get in, this was clearly an absurdity.
There is a similarity between the mechanisms of viral transmission and a political narrative that has taken hold among the elites. The virus is transmitted through social contact – any gathering or association means there is the potential for passing the virus from one person to another. Contact between people therefore takes on the dimension of a dangerous contagion. This corresponds with a political mentality which sees social relations exactly in these terms: as toxic or dangerous, the source of invisible harm that is passed from one to another, often without us knowing. The virus was present as a political metaphor before it appeared in reality. The appearance of the virus means that it can be slotted into a pre-existing narrative.
For most of the French public – or at least in my part of south-west France – this narrative is not so intuitive. People were not willing to see each other as risks. Hardly anyone is wearing masks and the old men were playing boules on Sunday as if nothing had happened. People stopped kissing greetings a couple of weeks ago but, otherwise, things had continued as normal. Macron lamented that people hadn't listened to his advice – that they continued to go out and socialise. Yet there is something nice about the fact that 'social distancing' did not seem a normal or desirable way to behave.
Macron is a fantastically unpopular president, facing demonstrations which, at times, verge on civil war. Thousands march under banners calling on him to resign. Yet he is now in his element. He seems at ease deploying the mechanisms of state via executive order. He can issue his presidential despatches and there is no possible response: there will be no demonstrations and no gatherings at the roundabouts. His presidential address in response to the gilets jaunes was awkward and stilted. His cancelling of social life appears far more comfortable for him than the usual business of democracy.
The modern state increasingly deploys extra-democratic means of legitimacy, such as scientific or other expert justifications for policies. There is also a coincidence between this scientific or expert form of political legitimacy and the public-health response to a pandemic, which requires scientific advice. Scientists know things about a virus's mechanism of transmission that most of us do not. Yet we are also aware that epidemiologists disagree. And in France, we are suspicious that scientists seemed to think that the municipal elections were strangely free of risk from contamination, while every other social gathering was a grave threat.
Right now, people's view of things seems to swing between panic and scepticism. They don't know yet what the virus means or whether these measures are really necessary. The virus has not yet made itself felt among people in my village or anyone we know, and so the measures seem a bit surreal. Nevertheless, the measures make people feel like they are waiting for doomsday to hit, and so they panic. Shoppers' expressions in the supermarkets have been drawn and urgent, grabbing items as if it was the last day before some terrible calamity.
In his statement on Tuesday evening, Macron said he hoped that after the virus, things would not go back to normal – that people would be different, stronger. What I think he means is that he hopes the state will be stronger – that people will be more tied to the state and perhaps less restive and challenging.
Certainly, the suspension of all social life for a period of weeks, even months, could have major consequences. Many families are now left without income or are trying to telework while looking after the kids at home. The shutdown reduces all activities to the absolutely essential, and all social contact to urgent work or consumer purchases. The shutdown will lead to the collapse of businesses, of associations, and, perhaps more intangibly, to the changing of habits and ways of relating to each other.
So what will life be like after the lockdown? Contra Macron, I think the best we can hope for is that it will be the same – and that the old men come out and play boules as if nothing had happened.
Josie Appleton is director of the Manifesto Club and author of Officious – Rise of the Busybody State.
To enquire about republishing spiked's content, a right to reply or to request a correction, please contact the managing editor, Viv Regan.