The importance of being Charlie
Charlie Hebdo columnist Phillipe Lançon's new memoir reveals the heroism of Charlie's offence-givers.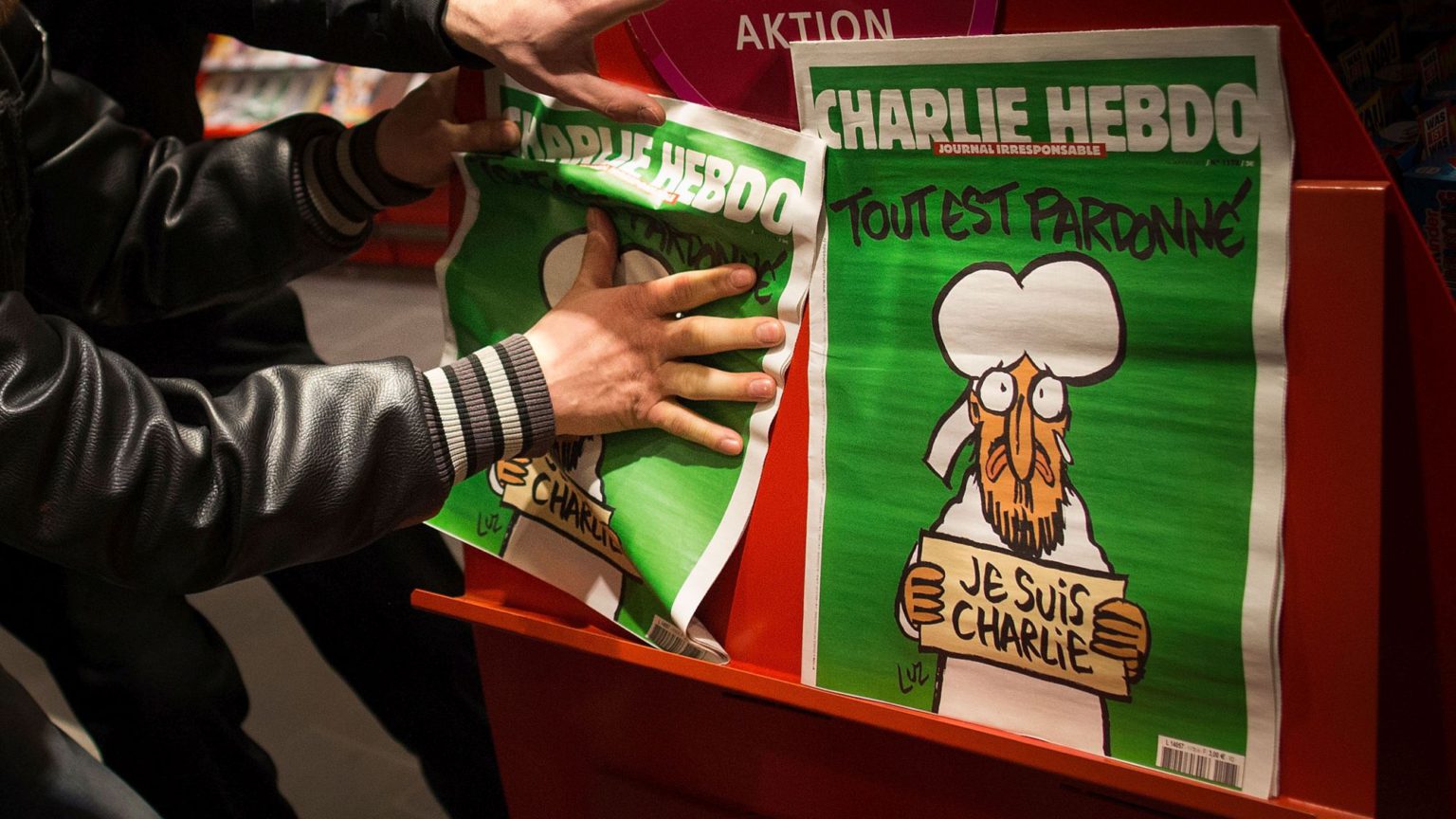 On 7 January five years ago, members of the editorial team of the French satirical magazine Charlie Hebdo were having an editorial meeting at their offices at 10 Rue Nicolas-Appert. One topic under discussion was an interview just given by the author Michael Houellebecq to the French radio station French Inter. Charlie columnist Phillipe Lançon, who attended the editorial meeting, had read an advance copy of Houellebecq's new novel Submission, which had been published that day. Lançon's colleagues at Charlie wanted him to write a column on Houellebecq for the next edition.
As Lançon recalls in his new memoir Disturbance: Surviving Charlie Hebdo, the attendees at the meeting passionately disagreed about Houellebecq's merits. Cabu, one of Charlie's cartoonists, called Houellebecq a 'reactionary'. Bernard Maris, Charlie's editor, defended him. It was as Maris was attempting to convince Lançon to write the column that he heard what sounded like 'firecrackers' from the corridor outside. The massacre at Charlie Hebdo had begun.
The first to die was Frédéric Boisseau, sat behind the reception desk. When the Islamist killers entered the room where the meeting was taking place, they sought out Stéphane Charbonnier, known as 'Charb', who they killed next. They then fired indiscriminately around the room killing, among others, Maris, Cabu, and cartoonists Georges Wolinski and Philipe Honore. Twelve people were killed in all.
Lançon survived, but with catastrophic facial injuries. During his long period of recovery at Pitié-Salpêtrière hospital, he discovered that his surgeon had read Submission. She did not like it. Describing the editorial meeting to his surgeon, Lançon said: 'We weren't in agreement [about Houellebecq]. Then the killers came in and they put everyone in agreement.' This is an important observation. The target of the Islamist killers was not only the individual authors and cartoonists in the room, whom they accused of insulting the prophet. It was people's freedom to say what they believed. Our freedom to disagree, and to argue a point of view. The killings were a threatening message sent to the free-thinking world.
The 7 January massacre was not the first time Charlie Hebdo had been targeted by Islamists. Its offices had been firebombed in 2011, after it had published a caricature of Muhammad on its front cover. By 2015, the paper was rapidly losing readers ('Ingrates!' as the staff of the paper referred to them). There is a telling moment in Disturbance when Lançon discovers he can no longer buy a copy of Charlie from his local newsstand in advance of the editorial meeting. 'We had entered a new age', Lançon says. 'We had sensed the ruse of this narrow-minded rage that transformed social struggle into a spirit of bigotry.' It's true that Charlie was clearly struggling to survive in a culture that appeared eager to take offence. But, for Lançon, there were problems within Charlie itself. He writes that 'Charlie's state of mind was out of date'. He notes dryly that, by January 2015, 'Islamists and less civilised enemies' were among the last remaining loyal readers of the paper.
After the massacre, Charlie was celebrated, albeit briefly. Protesters took to the streets across France, holding up signs that read 'Je suis Charlie'. 'The killers had immediately given [the paper] a symbolic, international status that we, as its producers, would have preferred to do without', Lançon writes.
Lançon's suggestion that Charlie resented international attention does not ring true, especially given that Charlie's editors took the brave but provocative decision to publish a caricature of Muhammad on the front cover of its first issue after the massacre – a decision that predictably prompted a mixture of celebration, ambivalence and rage. Charlie could have retreated from the fevered debate around freedom of expression that the massacre ignited. Heroically, it chose not to.
Disturbance is not a political book. It is a book about recuperation. As its narrative progresses, its world becomes increasingly insular. It is understandable that Lançon felt unable to wade into the political debate following the massacre, while his face was being reconstructed. But the world of the hospital is too small to maintain a work of almost 500 pages.
Lançon writes of a defensiveness he detected in the post-massacre climate. On the ongoing Islamist violence, he writes that 'people pretended [it was] not happening, but what more could they do?'. But Charlie offers an answer: people can hit back. Insult those who seek to silence criticism. Anger those who deserve to be angered. It is an awful irony that it took the massacre at Charlie Hebdo's offices for the importance of the freedom to offend to become clear.
Charlie has continued to shock. In June last year, to mark the start of the Women's World Cup, it published a front cover depicting a football with an enormous vagina. The tagline read, 'We will be munching on this for six months!'. Crude? Of course. But in causing mass offence, Charlie recognises that orthodoxy is dangerous. Its mission to offend is a noble one, particularly in a society that is so ready to use the threat of offence to shut down debate.
Five years on from the massacre, the spirit of Charlie has never been less 'out of date', and more vital.
Luke Gittos is a spiked columnist and author. His latest book Human Rights – Illusory Freedom: Why We Should Repeal the Human Rights Act, is published by Zero Books. Order it here.
No paywall. No subscriptions.
spiked is free for all.
Donate today to keep us fighting.
Donate online
To enquire about republishing spiked's content, a right to reply or to request a correction, please contact the managing editor, Viv Regan.