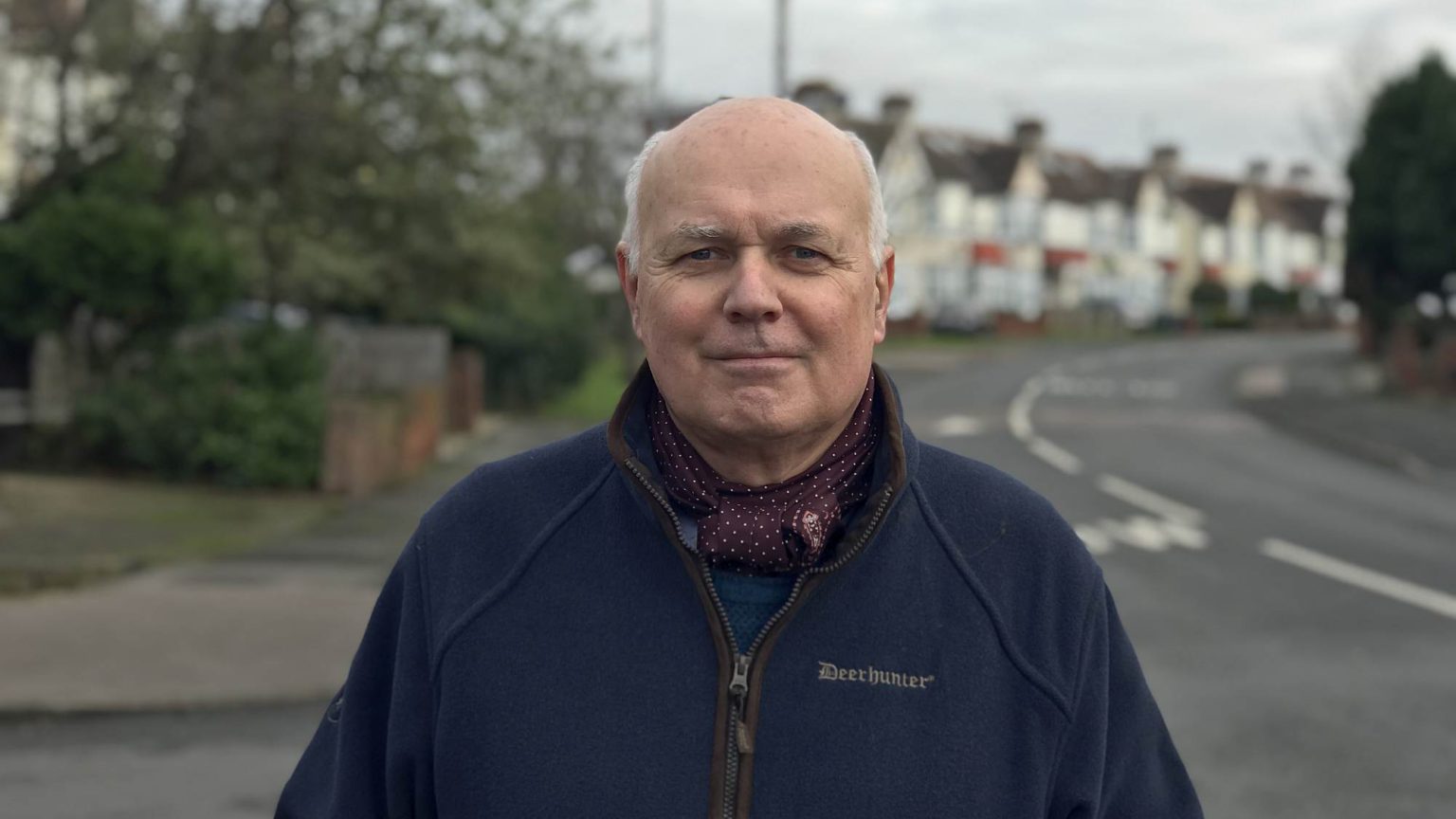 'This is the dirtiest campaign I've ever seen'
Tom Slater reports from Chingford and Woodford Green, a high-profile marginal where tempers are flaring.
I'm in a pub in Woodford Green, a leafy suburb of north-east London, and Iain Duncan Smith is showing me a photo of a dead rat.
It was sent to the office of 'IDS', Conservative MP for Chingford and Woodford Green for the past 27 years, the previous morning. It is the most gruesome example yet, he says, of the nastiness of the election campaign this time around.
'Genuinely, at the constituency level, this is the nastiest and dirtiest [campaign] I've ever seen', he says, sipping tea before heading out door-knocking on another cold evening, a week out from polling day.
Pointing to the wobbly writing on the envelope the rat was delivered in, he notes that whoever sent it must have written the address while the semi-decomposed creature was already inside: 'Pretty smart, that was.'
This wasn't an isolated incident. The front of Duncan Smith's local Conservative office was spray-painted with the words 'Tories out' at the end of November, and he says he's been swamped with threats and abuse on social media.
He points the finger at Momentum, the pro-Corbyn campaign group that has been active in his seat. 'There's no question in my mind that elements of Momentum are behind all of this.' Labour, he says, 'should be rooting this stuff out'.
His challenger in the election tomorrow is Faiza Shaheen, a 36-year-old economist, the director of the CLASS think-tank, and a staunch Corbyn ally. For her part, Shaheen has condemned the abuse, noting that she herself has faced 'intimidation and threats'.
But Duncan Smith is less than convinced. 'The Labour Party of course says "Oh, it's terrible", but they know very well that Momentum behaves completely independently, but to support [them].'
'I've stood on the streets of Northern Ireland, I've been a soldier, I'm not bothered when people threaten me', he adds. 'My problem is people who work for me, they're volunteers for God's sake.'
Certainly, there is a tension in the air, even leaving aside the nastiness at the campaign's margins. Indeed, so much is at stake in this particular suburban race, and tempers have been fraying.
The Chingford area has been Tory for as long as anyone around here can remember. Winston Churchill represented it for more than 20 years, as did the hardline Thatcherite Norman Tebbit – nicknamed the 'Chingford skinhead' by Spitting Image.
But things are changing. At the last election, Duncan Smith's majority was slashed to 2,438, after Labour's vote surged. Chingford and Woodford Green is now one of the most high-profile marginals in tomorrow's election.
IDS – a former Tory leader and cabinet minister – is one of the biggest Tory beasts at risk. And Shaheen – who was born and raised in the constituency – is in with a chance of bagging one of the biggest 'Portillo moments' of tomorrow night.
Labour has been throwing the kitchen sink at this seat. In recent weeks, star-studded rallies have taken place every weekend, featuring everyone from shadow cabinet ministers Keir Starmer and Emily Thornberry to pro-Labour journalists Owen Jones and Paul Mason. Even Ken Loach did a stint.
Duncan Smith is unimpressed. 'They do love a show and tell', he tells me. 'So there are lots of numbers coming up, but you stand at the top by the station, after those things are over, and only about half stay behind. The rest all get on to the train and go back somewhere else. They like the big photograph, but then they're not all there to work.'
The actor Hugh Grant was the guest of honour at two Labour rallies in the constituency last Wednesday. He's been campaigning with Lib Dems, Labourites and anti-Brexit ex-Tories in various seats to try to deprive Boris Johnson of a majority. (Shaheen backs a second referendum, and would campaign to remain.)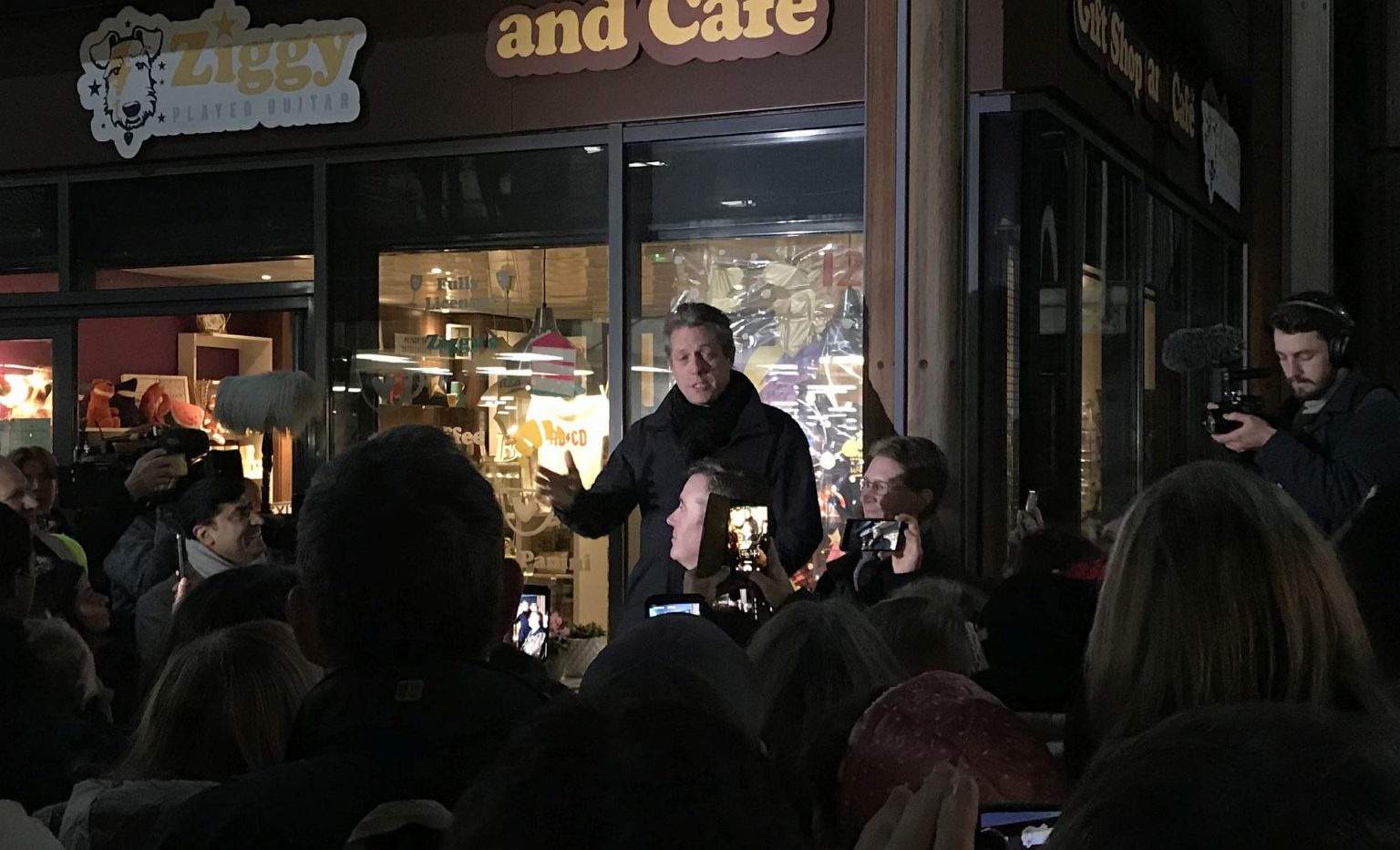 Hugh Grant addresses a Labour rally in Highams Park.
'What an incredible service you here in East Woodford and Chingford [sic] would do for the country not just to give us a member of parliament like Faiza, but to take out one as ghastly as Iain Duncan Smith', Grant told a cheering crowd of a few hundred people, opposite the Tesco in Highams Park.
Once the speeches were over, the crowds thinned to just a few dozen who were ready to go out canvassing. Many of them weren't from the area, but they were keen to help out in what they see as a key and symbolic battle in this election.
Felix, a 24-year-old student and Labour member, is up for the night from Deptford. 'Iain Duncan Smith is basically the incarnation of everything terrible about the Conservative Party', he tells me. 'It would be fantastic to see him out of politics because that's one less heartless reptile.'
Universal Credit comes up a lot among activists. Labour says Duncan Smith's flagship reform as work and pensions secretary, which aimed to simplify benefits payments, pushed more people into poverty. (Duncan Smith maintains the problem with the scheme was that it was fatally underfunded.)
Perhaps the bigger threat for the Conservatives in this seat is not an influx of activists from other parts of London, but an influx of residents from other parts of London, which has been quietly shifting the demographics of the area for years.
A place long associated with White Van Man and the aspirational working- and lower-middle class is now home to many more metropolitan voters, priced out of Hackney, Islington and even nearby Walthamstow.
'Coming from Islington and Hackney and places like that, they tend to have already brought their beliefs with them', says Duncan Smith. 'They're all working. They all earn reasonable incomes. And welcome to them. But I think, over time, they're the sort of group that we need to talk to.'
I dare say many of them won't be that receptive. I speak to Richard Ashby, a 33-year-old academic, who is doing his shopping in Highams Park, a trendy area where many newcomers are settling. 'I think things have changed and Iain Duncan Smith doesn't really represent the area anymore and the people in it', he says.
This is what Labour is banking on.
Faiza Shaheen is a hard person to pin down, but she offers to take a few questions as we're walking out of a hustings at Bancroft's School – in between students interrupting her for selfies. 'I barely get a chance to talk to her as well', jokes her husband, as he tries to lead the way out.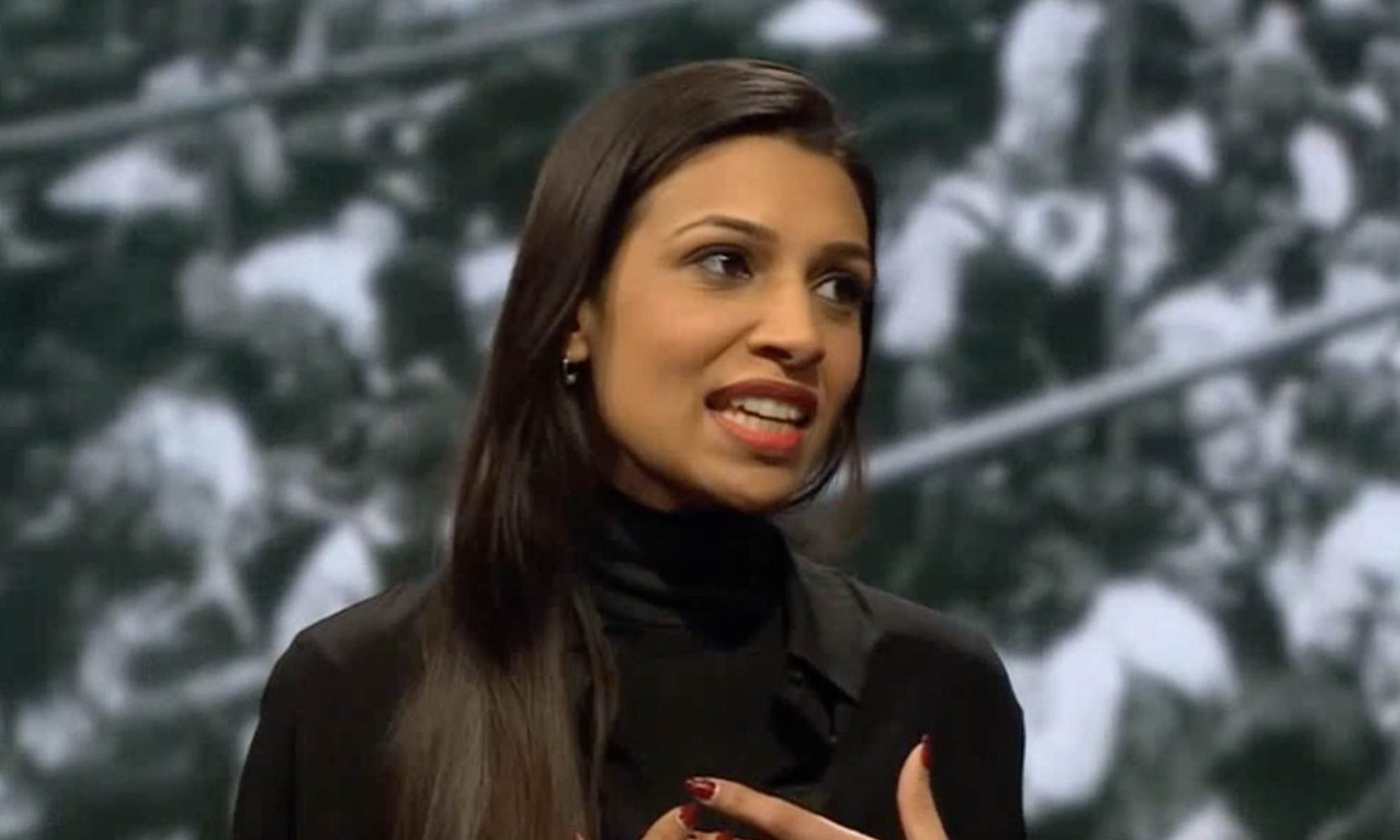 Faiza Shaheen, appearing on the BBC. Picture by: YouTube
I ask her why she thinks she is the person to turn Chingford red. 'I don't think it's about me', she says. 'Demographically, this area has changed a lot. I'm a local candidate, and I think that means something to people… The demographic change here points towards more Labour values and the values I stand for.'
'I think people are fed up of Iain Duncan Smith', she goes on. 'They do recognise that his policies have hurt disabled people and people who have been on benefits.' This issue is personal for her: Shaheen's mother, who died in 2017, was reassessed for benefits while she was waiting for a heart transplant. She said the experience humiliated her.
But Shaheen's close association with Jeremy Corbyn has proved to be a major problem. At one of the Hugh Grant rallies, Jewish protesters interrupted Grant, demanding to know why he was supporting a party that is currently being investigated for anti-Semitism by the Equality and Human Rights Commission.
After some uncertain burbling from Grant about him supporting various parties, Shaheen took the question head-on, and struck a conciliatory note. 'I've been really clear that mistakes were made in the Labour Party, in not dealing with those complaints fast enough… I'm very sorry and the party is very sorry, and more has been done to address that.'
But she was also keen to move the conversation on to her own experiences. And what might have been an attempt to show solidarity with other victims of prejudice ended up sounding like changing the subject. 'I am being subject to Islamophobia', she told the crowd. '[I]t's really upsetting, actually, being a woman of colour running here.'
She has highlighted the case of John Moss, a local Tory councillor who was suspended and required to go through diversity training earlier this year over a series of anti-Islam statements. (He said that 'every 11-year-old girl' should be scared of Islam, and railed agains what he sees as 'Islam's barbarism, its sexism, its racism, its homophobia'.)
Shaheen also accused the local Liberal Democrat candidate, Geoffrey Seeff, of 'engaging in a dog-whistle Islamophobic campaign' against her. This was in response to an open letter he wrote to Shaheen in October, raising Corbyn's praise for the Islamic Human Rights Commission, a charity criticised for its support for the Iranian theocracy.
Seeff's letter asked Shaheen how she can 'respect and work under a person [Corbyn] who shares the views of this unsavoury organisation'. She dubbed it an attempt to 'highlight my Muslim identity and bracket me off with the behaviour of an organisation I have nothing to do with'.
Back at Bancroft's, tempers flare after the hustings when two students confront Shaheen over the issue of anti-Semitism. They get into a bit of a row. 'Don't talk to me about racism like I don't know, I do know', she says.
As we head for the car park, Shaheen is frustrated with the 'fearmongering' about Corbynomics. 'They've done a good job of demonising Jeremy Corbyn, it's very strong on the doorstep. But once you talk about the policies and you talk about the local candidate and the fight here, that's the way in which you take the sting out of some of that.'
Still, in many parts of this constituency, it seems like that will be an uphill battle for her.
Two days later, I go to meet Duncan Smith and his canvassers. It's 9.30am, and bitterly cold, outside Highams Park train station. After the obligatory team photo for social media, we're off to the Endlebury ward. It's a picture of suburbia, a solid pro-Tory area, full of quiet streets, lined with semi-detached houses.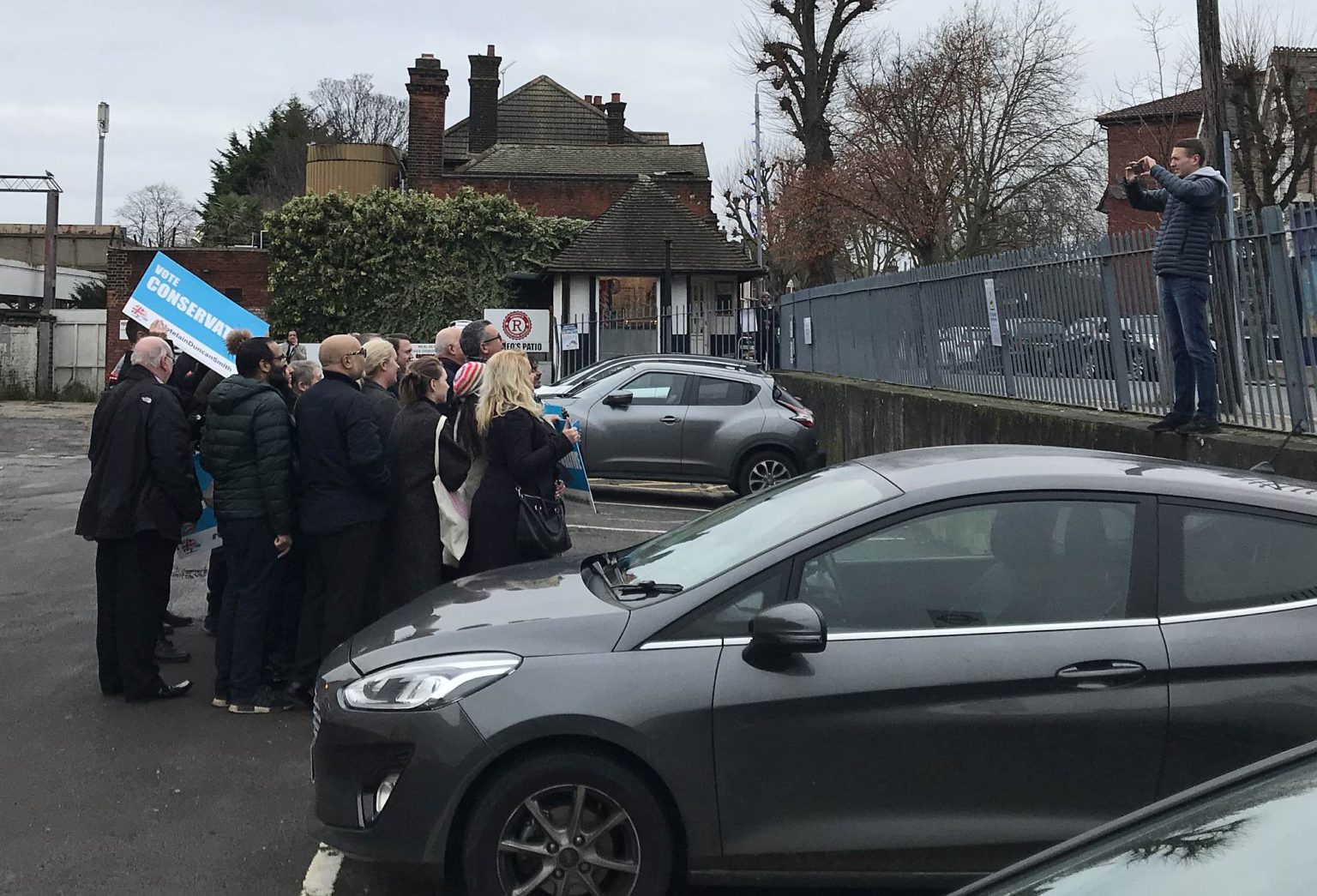 Tory councillor Mitchell Goldie, right, takes the obligatory team photo.
In a red neckerchief and navy-blue fleece, Duncan Smith looks like he's dressed for a Sunday walk. But he's moving at breakneck speed. As he charges up the road to his next door, he waves at the people his activists are talking to in the distance, reciting his name almost like a catchphrase. 'Iain Duncan Smith. Hello! How are you?'
Mitchell Goldie, Tory councillor for Endlebury, is manning the clipboard this morning. He's not your stereotypical Tory activist. He grew up on a council estate and is 20 years old. When elected, at 19, he was the youngest councillor in the country, and reckons he might still hold on to the record in London.
Goldie says the atmosphere is completely different to 2017, when the prospect of a Corbyn-led government seemed impossible. 'You knock on doors and people know it's going to be close', he says. In areas like this, they're seeing a lot of Labour voters turn Tory over their fears of a Corbyn government.
The antics of some Labour supporters clearly aren't helping matters. Aniket Patel, 38, a Tory councillor from nearby Buckhurst Hill, says his Vote Conservative sign was knocked down outside his house the night before. He was woken up by it smacking the pavement at 1.30am, followed by choruses of 'Oh, Jeremy Corbyn'.
As we're heading down the hill, people shout 'Tories out!' from a passing car. They even spin it around to have another go, throwing up the middle finger and shouting 'murderous cunt!' as they drive past. IDS waves at them. 'See, they're not from around here', he says. 'Probably all public-school kids.'
Chingford was split down the middle at the EU referendum. But IDS says the 'vast majority of the Remain voters in this constituency have bought the fact that it's over, and it's time to move on'. As a prominent Hard Brexiteer, the EU issue might still work against him, but Jeremy Corbyn has clearly been a gift.
A man hops out of his van, gesturing to IDS. He says, 'I can't stand him, but you've got my vote anyway'. 'He's a rogue that man', IDS tells me. 'He built a bloody great big bungalow out the back of his house and said it was a stable. Then he built a swimming pool and said it was to bathe the horses.' It turns out his animosity to IDS had a lot to do with planning-permission battles.
But the scepticism of Corbyn is certainly palpable, even among those equally not so keen on Duncan Smith. I break off from the door-knockers and wander over to Friday Hill, an area of former social housing built after the war. I bump into Carole Pope, 60, who is out walking the dog with her mother, Patricia.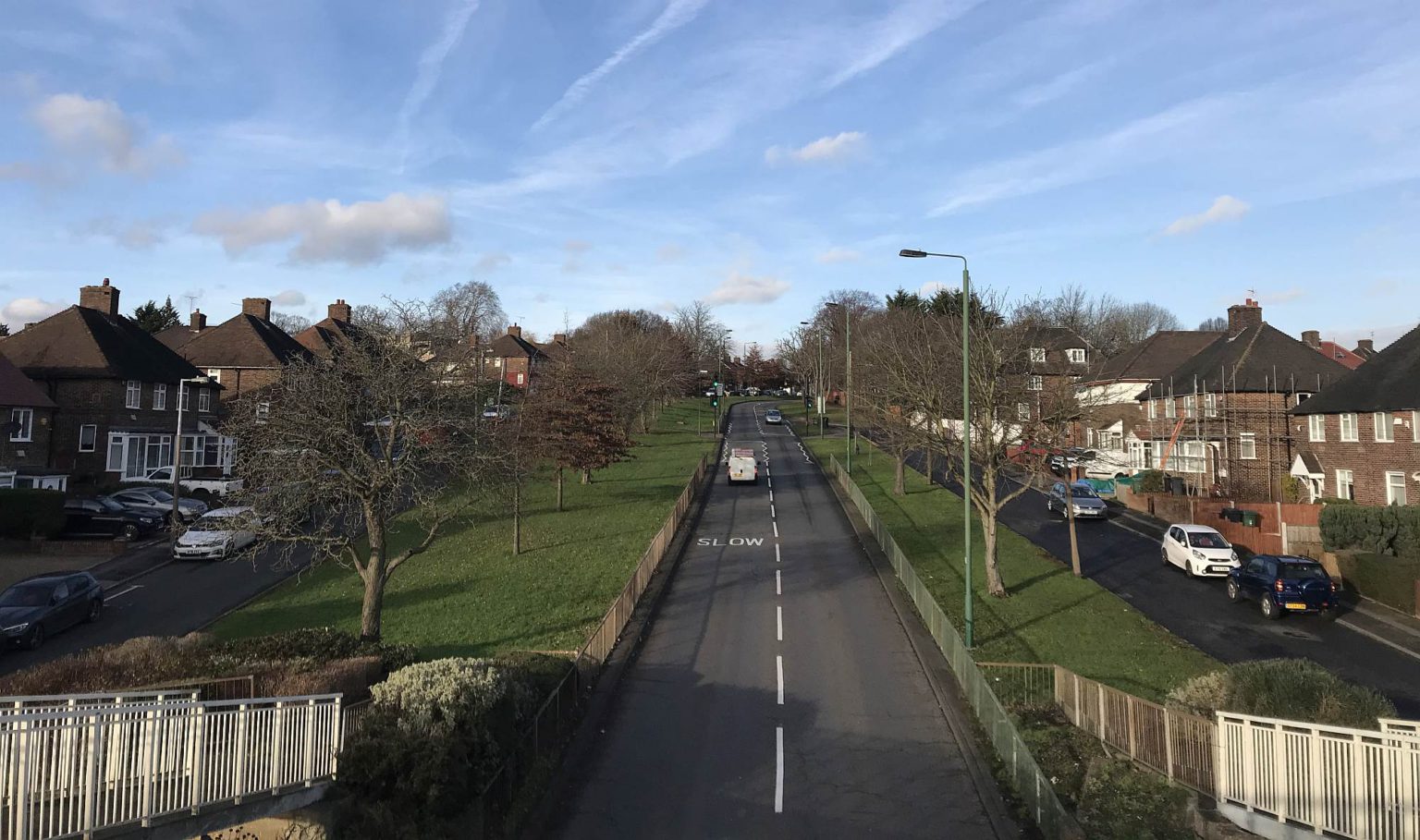 Friday Hill.
Carole is a lifelong Conservative who has broken with the party over its stance on pensions. 'But I can't vote for Corbyn, either', she tells me. 'He's a liar, he's anti-Semitic, none of the things he's offering add up… I've never found it so hard to find someone to vote for.'
Shaheen is hoping her personal brand and story will overcome such suspicion. And it is a compelling one: a local girl, the daughter of a Fijian mechanic and a Pakistani lab technician, who made it to Oxford and wants to give back to her community. She refused the offer of a safe seat to stand in her hometown.
In the Bancroft's car park, as she is about to be whisked off to the next campaign event, I ask what her final pitch to voters is. 'I guess, to give me a chance. We've given Iain Duncan Smith 27 years, and he never knocked on my door, my mum's door, that whole time', she says.
'It's time that we do have a local representative, someone who you're going to bump into, someone who would send their kids to the same schools as you', she goes on. 'I just hope that they can go to the ballot box and think, do you know what, let's give Faiza a go.'
This is line you hear a lot from Labourites here: that Duncan Smith is an aloof outsider who spends most of his time living in a country house on his father-in-law's estate in Buckinghamshire. Back in the pub, IDS says this is 'absolute crap' and that he spends most of his time in the constituency. 'It's been my life.'
Indeed, though Duncan Smith – born in Edinburgh into a well-off family, the son of decorated airforce pilot and a ballerina – may not reflect the backstory of many of his constituents, he does reflect something of their values, which have kept this far from wealthy seat blue for decades.
'The thing I love about this constituency is that the people, really, are so completely straight… They're patriotic, they believe in getting on and working hard', he says. 'But my general view is that they're not dyed-in-the-wool anything… I've never taken them for granted.'
Chingford and Woodford Green, it turns out, is a 50-50 community in more ways than one: as divided by values as it is divided by class and Brexit. And whoever wins in the much-watched race tomorrow, that will remain the case for some time to come.
Tom Slater is deputy editor at spiked. Follow him on Twitter: @Tom_Slater_
Pictures by: Tom Slater, except where otherwise stated.
To enquire about republishing spiked's content, a right to reply or to request a correction, please contact the managing editor, Viv Regan.