Why university staff are right to strike
Marketisation threatens the very purpose of our universities.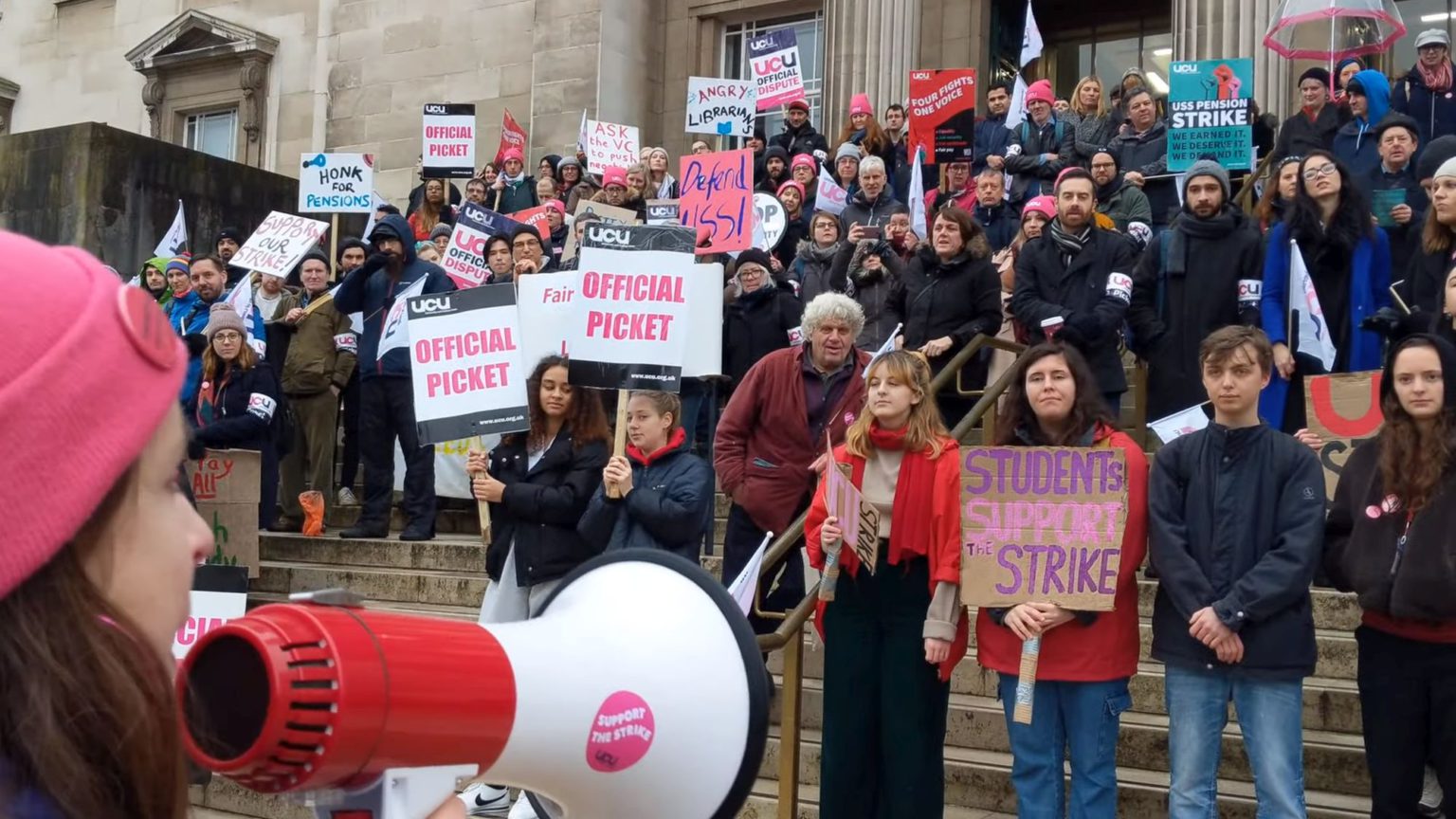 The University and College Union (UCU) launched a nationwide strike at 57 universities last week. Ending on 4 December, the strike covers two disputes between the union and university management: one concerning pay and conditions, the other pensions. Despite restrictive anti-union legislation passed by the Conservatives in 2016, strike action was backed by 79 per cent of voters in the pensions ballot and 74 per cent in the pay-and-conditions ballot.
This most recent strike comes off the back of the Great University Strike of 2018 – the largest ever in the higher-education sector – which saw a nationwide wave of strikes across 14 days successfully fend off an existential threat to a university pension scheme (the USS). That the pensions dispute has metamorphosed into wider industrial action shows just how much UK universities are mired in various difficulties, all of which tend to reinforce and compound each other.
In addition to the campus culture wars and the free-speech crisis, the marketisation is corroding the governance structures and traditional functions of British universities. Universities are increasingly run by a small and extractive elite who think of themselves as managers rather than senior academics, commissioning external consultants and paying themselves salaries akin to business chiefs. They control their own recruitment, appointment and remuneration processes, rather than being elected from within the university body. Having long since renounced either teaching or research, they only enter lecture theatres or seminar rooms for cocktail parties. They circulate horizontally across different institutions rather than being vertically integrated and embedded into their institutions, ruling their organisations through constant bureaucratic churn and turmoil rather than trying to conserve institutions and education. The refrains of university management are the same as the moronic buzzwords of management consultancy, stressing the need to be 'nimble', 'agile' and 'adaptive'.
There are few sectors that better illustrate the absurd logic of postmodern neoliberalism than the university sector: the more that universities are marketised, the more bureaucratic they become. The more that universities seek to treat education as a consumer good, the more they need bureaucratic structures to regulate and oversee the functioning of an effective competitive system. To paraphrase Stanford political economist Steven Vogel: more markets, more rules. Efforts to artificially construct markets in unsuitable environments have generated sprawling structures of bureaucratic control and oversight that have tended to empower management at the expense of academics. They also patronise students by treating them as consumers paying for a standardised service. Small wonder that grade inflation is rampant across the sector. Paradoxically, the higher fees go, the lower the actual 'value' of a degree.
Although the bureaucratic sprawl is invisible from the outside, the absurd endpoint of this system is visible in university towns up and down the land, which are choked up with cranes and building sites with all the hallmarks of a property bubble. While university managers screw down wages and working conditions for the staff that work and teach at their institutions, they compete to attract students by building fancy new gyms and ensuite accommodation, as if students are attending a holiday resort rather than a place of learning. The growth of snazzy corporate-style buildings across university campuses – buildings better suited for businesses rather than research and teaching – is in inverse proportion to staff pay and working conditions.
The many problems of higher education not only undermine the value of education, but also threaten the ability of the academic profession to reproduce itself: teaching is increasingly delivered by a casualised workforce of over-worked, poorly paid post-graduate students who struggle with overwhelming workloads while also seeking to complete their doctorates and secure permanent professional positions.
This is the context for the university strike of 2019. Universities are locked in a downward spiral that needs to be arrested and reversed if they are to continue as sites of learning and research.
Philip Cunliffe is senior lecturer in Politics and International Relations at the University of Kent and is vice president of his UCU branch. He writes here in a personal capacity.
Picture by: YouTube.
To enquire about republishing spiked's content, a right to reply or to request a correction, please contact the managing editor, Viv Regan.