In praise of the striking lecturers
Workers have a right to enjoy a good standard of post-employment life.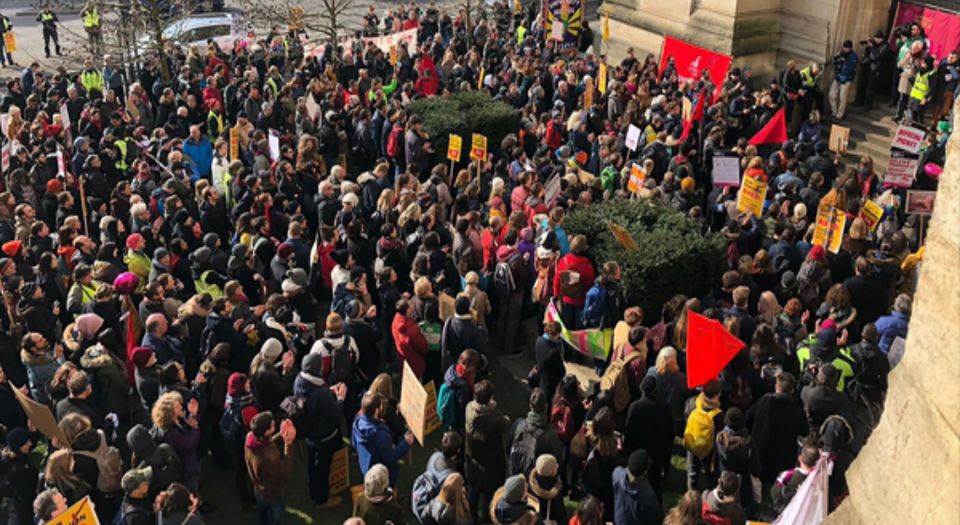 The largest ever strike in UK higher education began last week, when lecturers walked out at 57 universities. The strike continues today, when staff at a further four universities joined the picket lines for a three-day action. In coming weeks, the University and College Union, which has organised the action, says lecturers will be on strike at a total of 64 universities.
And good for them. The prompt for the strike seems arcane: Universities UK, which represents university bosses, or 'chancellors' as they rather proudly call themselves, is trying to change one of the main pension schemes for lecturers, switching from a defined benefit pension scheme that guarantees post-work payments at a certain level, to a defined contribution scheme that pins post-work pay to the fluctuations of the financial markets in which staff's pension contributions would effectively be invested. Yet the reason for the proposed change and the effect it will have on lecturers' post-work life are anything but arcane. UUK is effectively reducing its liability for pension payments, and lecturers will most likely be significantly worse off financially, with the UCU estimating an annual £10,000 loss in staff members' pensions. So this isn't just about university workers' lives today; it is about their right to a good life after they have finished working. It is about their right, indeed the right of everyone working today, to the opportunity to enjoy a fulfilling post-work life, a life in which those who have contributed much during their waged lives get something back.
Not that this recognised by everyone, of course. But the complaint, as ever with contemporary strike action, is a consumer complaint. Which is hardly surprising. So long dead do the old battles over production, over the ownership and division of the social product, now seem, that the predominant perspective is that of the inconvenienced consumer, rather than the solidarity-showing producer. So unsurprisingly the Daily Mail tells a story of 'hard-left' 'rabble rousers' disrupting (always the same word) the lives of hard-consuming students.
Others tell a similar tale, albeit less stridently, of student consumers losing out thanks to the disruptive action of the UCU, with an incident at the University of Sussex, in which anti-strike students exchanged powder-puff blows with those supporting the strike, used to show how supposedly divided staff and students are. The New Statesman even carried the 'off-the-record feelings' of 'several academics' who thought that 'there is a better, less disruptive way of resolving the pension debate'.
As I say, it's always that same word – 'disruptive' – used to characterise and complain about strike action today, as if the disruption caused is almost a thoughtless, unintended side-effect of striking; as if, there are better, smoother ways of resolving a disagreement between incredibly well-remunerated university bosses and their increasingly less well-off, often contractually insecure workers, without inconveniencing consumers. But the whole point of strikes is that they disrupt. They are a way for those lacking political, legal redress to exert force; a way for those who produce – in this case, produce a higher education, at the same time as producing that which lines chancellors' pockets – not only to speak up for themselves, but to assert their often latent power. 'All wheels stand still, if your mighty arm wills it', went an old 19th-century German workers' song. If they didn't disrupt production, if they didn't still the wheels of production and, with it, consumption, too, then there would be no point to the strike. It would carry no political significance or power. Lecturers and their students would indeed be better off writing op-eds and launching petitions. Which their bosses would no doubt happily tolerate.
But there is something else extremely important about the lecturers' strike. It is that it brings to the political fore something too often obscured by the introspective, consumerist politics of identity: namely, solidarity. As spiked has argued in our recent defences of striking workers, from the Christmas strikers of 2016 to the junior doctors early last year, strikes are a way of developing a consciousness of what unites us, a way of recognising that, even when apparently divided by a whole shopping aisle of reified, intersecting identities, from genders to ethnicities, we do actually have interests and desires in common – in this case, a desire to secure a better, post-employment life.
Indeed, in the act of striking, in the act of struggling for something in common, the striking lecturers transcend identity politics. That this is happening in contemporary academia, the pulpit from where the politics of identity has been promulgated and inculcated for so long, makes the the strike doubly significant. Not least because many students (polls put support at fifty-fifty) have themselves sought common cause with the striking lecturers. Even the petitions launched by students demanding that the universities reimburse them for lost hours due to the strike simultaneously express support for the strike. Which makes sense given that for university management to feel the force of the strike, it needs to lose money.
So this strike deserves support because it will disrupt students' consumption of an increasingly lucrative product; because it is an act of self-assertion on the part of university workers; and because it shows that even in an arena long dominated by the imperatives of cultural, consumerist politics, a deeper sense of solidarity, of commonality, can still break through the crust of identitarianism.
Tim Black is a columnist at spiked.
Picture by: UCU
To enquire about republishing spiked's content, a right to reply or to request a correction, please contact the managing editor, Viv Regan.