The politics of grief
David Merritt suffered a terrible loss in the London Bridge attack. But he's still wrong about sentencing.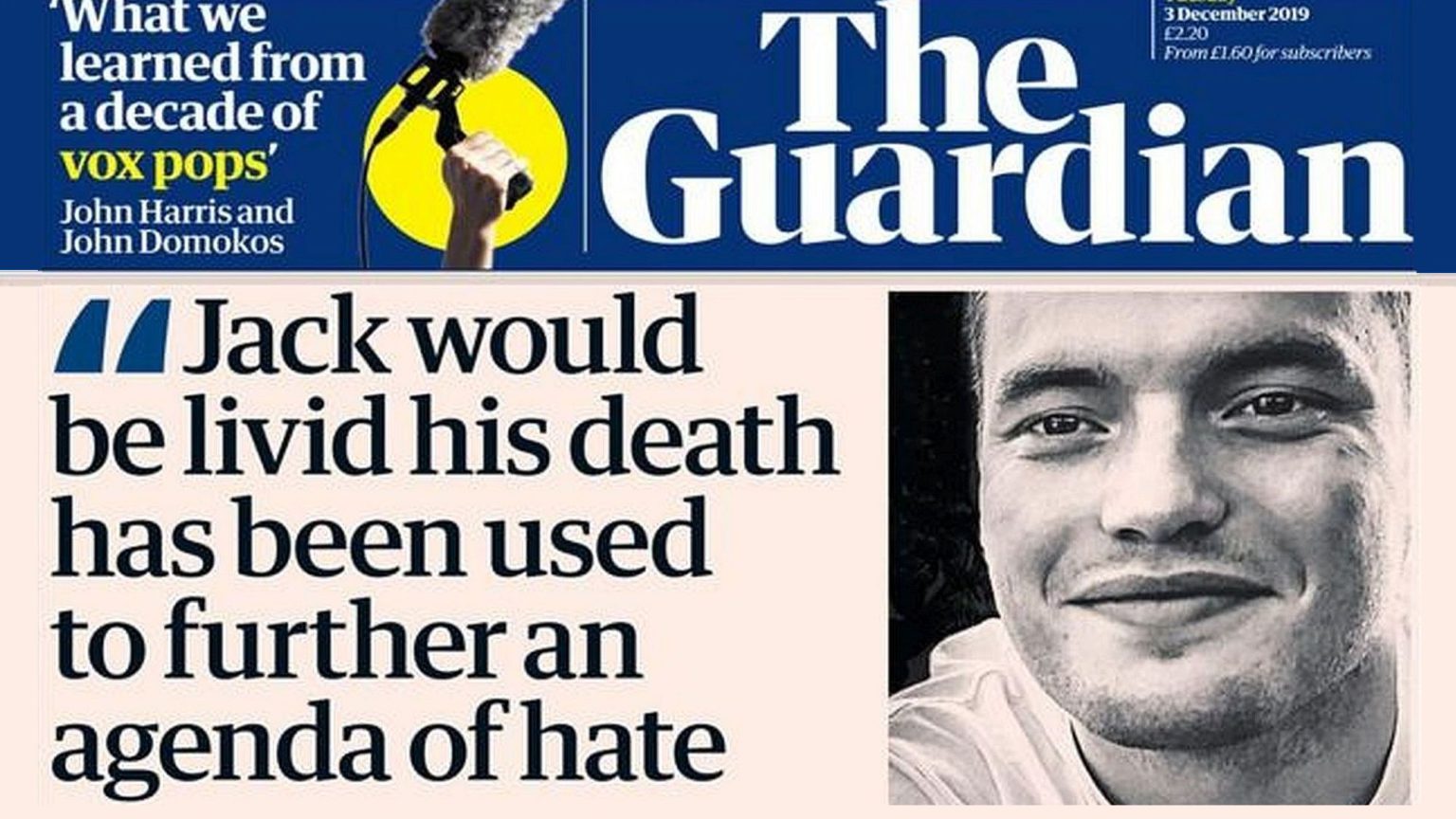 The Guardian has reached a new low this morning. It hasn't only weaponised the grief of David Merritt, whose son Jack was murdered in the Islamist terror attack on London Bridge on Friday – it has sensationalised it.
It has devoted half of its front page to this man's mourning. 'Exclusive', it says, titillating readers with the promise of an emotional hit from a grieving father's words. 'Roll up, roll up', it might as well have said. It feels invasive, cynical, and akin to emotional blackmail – after all, the aim of the Guardian's sensationalised grief is to make the case for greater leniency for terrorists and to silence anyone who takes the opposing view that we need stiffer sentences and harsher punishments. 'Are you disagreeing with David Merritt?', is the undertone of this mawkish, exploitative affair.
Jack Merritt, 25, was one of two people murdered by the radical Islamist Usman Khan on Friday. Jack had been working with the prison-rehabilitation group Learning Together. So had the other fatal victim – 23-year-old Saskia Jones. Jack believed in prison reform, prisoner rehabilitation, and taking a less draconian approach in criminal matters. His father David is keen to continue pushing Jack's message after his murder. That is an admirable thing to do. None of us can know the pain Mr Merritt is feeling; he understandably wants to keep his son's memory and achievements alive.
Tragically, however, Mr Merritt's pain has been politicised and even weaponised by the media elite. It has been used as a battering ram against Boris Johnson, the tabloid newspapers, and anyone who thinks terrorists should be dealt with more harshly. This has propelled a father's mourning into the ugly realm of political contestation and effectively dared people to question it.
Corbynistas, columnists and others are now using Mr Merritt's grief as a trump card in debates about how to deal with terrorism. They are marshalling his pain and his opinion to heap shame on Boris Johnson and to continue their ceaseless elitist war against the tabloid newspapers.
Mr Merritt's tweet condemning the Mail and the Express for promoting 'hatred, division and ignorance' after the London Bridge attack has been retweeted tens of thousands of times. Cynics among the middle-class left have openly marshalled Mr Merritt's grief to the end of censuring public discussion about terrorism. Ash Sarkar says: 'Jack Merritt's family and loved ones have specifically asked that right-wing newspapers and political parties not use his murder to advance reactionary demands. If you see it happening, call it out.' Incapable of winning public support, in particular working-class support, for their agenda of Islamist apologism and moral cowardice, the degraded left instead uses a father's grief to force their ideas through. 'Disagree with me and you are insulting a grieving family', is the disgraceful, censorious message of this morbid politics.
The irony in all of this is that even as the liberal media and the middle-class left exploit grief to condemn the tabloid newspapers, they themselves adopt the tabloid style. In the past, it tended to be the right-leaning tabloid press that weaponised grief, especially parental grief, to push a political agenda. Think of how often Jamie Bulger's poor, haunted mother was invited to say that child-killers should be dealt with in a more forceful way. Or the way that parents of children who were victims of paedophiles were used to front campaigns calling for life sentences or even the death penalty.
The Guardian's weaponisation of Mr Merritt's grief is in keeping with this low form of politics. The only difference is that this newspaper is using personal pain to make the case for lighter sentences. The rest of it – the front-page exclusive, the sorrowful image of the victim, the parent's pained words, the promotion of a political message – is entirely in keeping with an approach developed by the right over the years which is designed to politicise grief and silence dissent.
But there is much to dissent on here, and ordinary people – who are the true target of the media elite's silencing tactics – should not feel discouraged from expressing their alternative views on terrorism. There is, sadly, something a little strange about Mr Merritt's Guardian article. It avoids the words murder and terrorism. It refers only to 'Jack's death' and to 'the tragic incident of Friday 29 November' – as if Jack died in an accident. But he didn't. This fine, principled young man was killed in an Islamist terror attack, just as scores of people, including children, were in 2017, too. And just as hundreds of people have been across Europe over the past five years. We must have the right to talk about this without being shamed and silenced by the Guardian and other grief-exploiters.
Furthermore, it seems odd that Mr Merritt and the leftists marshalling his pain into public life should refer to the London Bridge terrorist attack as a mere incident while referring to tabloid coverage as an 'agenda of hate'. This is moral inversion. One could be forgiven for thinking that the true hatred from this affair is coming from mere newspapers rather than from an Islamist ideology that openly advocates the slaughter of innocents and the degradation of Western society. Apparently, it is people's anger over terrorism that is hateful, more so than the terrorism itself. People must have the right to push back against this odd idea without being told that they are disrespecting grieving families.
Islamist terrorism is not a normal crime. It is not like armed robbery, or serious assault, or even murder. Rehabilitation and redemption are fine ideas in relation to those offences. But Islamist terrorism is different. Its aim is to massacre people indiscriminately to the end of instilling terror in society and undermining society's core civilisational values. These people are not just criminals, they are traitors. They deserve different treatment, harsher treatment. We are all deeply sorry for Mr Merritt's loss, but that doesn't mean we have to agree with his views on crime, terrorism and law. Mr Merritt is wrong.
To enquire about republishing spiked's content, a right to reply or to request a correction, please contact the managing editor, Viv Regan.