Good riddance, Donald Tusk
His speech last night was a reminder of how shockingly anti-democratic the EU is.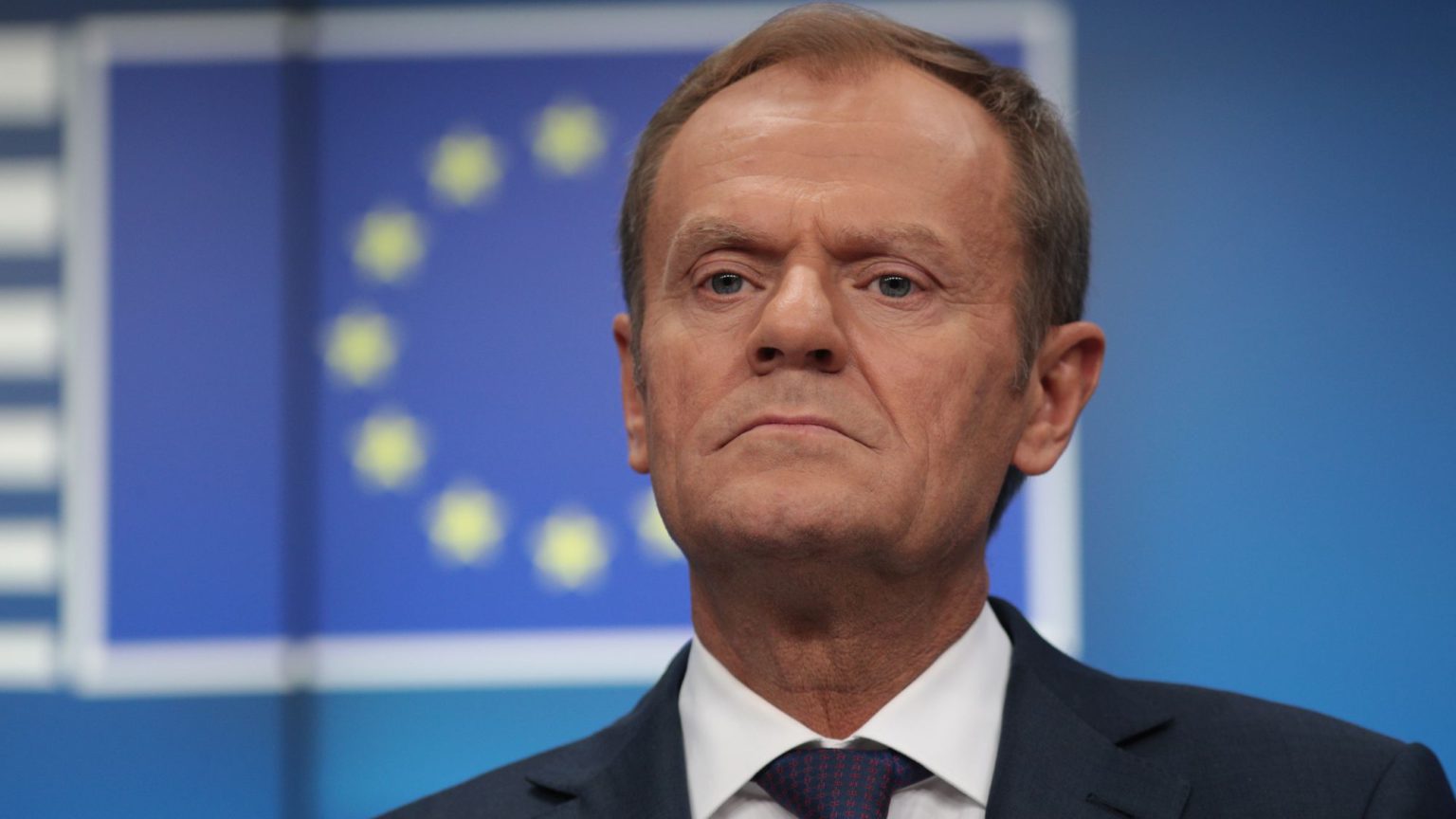 The most shocking thing about Donald Tusk's speech at the College of Europe yesterday was not its actual content. We already knew that Tusk, the outgoing president of the European Council, was an officious bureaucrat with no love for democracy, so his brazen meddling in the UK's General Election and his offer of support to the anti-democratic Remain alliance was not a surprise.
No, most shocking was the way the Remainer elites in our own political and media classes lapped up Tusk's words. They genuinely prefer the alleged expertise of faraway, unaccountable technocrats over the beliefs and wisdom of the British masses, of their fellow citizens. In the bizarre chattering-class love for Tusk we can see just how thoroughly the UK's opinion-formers have turned against democracy, and against their own people, in preference for living under the apparently wise judgement and undemocratic laws of nicer, cleverer people from Europe.
This is really a tale of two Donalds. When Donald Trump poked his fake-tanned nose into Britain's electoral affairs a couple of weeks ago, by proposing an alliance between Boris Johnson and Nigel Farage, the chattering classes went crazy. 'How dare he', they hollered. Yet when Donald Tusk sticks his beak into our politics, they lap it up. They get emotional, even, shedding a tragic tear or two over the fact that this bloke no one in the UK ever voted for will never again get to boss Britain around once he leaves the EC. How will we cope when this decent bureaucrat, a man just like us, a man so unlike the thick throng who voted for Brexit, moves on?
The acceptable Donald's meddling in Britain's electoral affairs was brazen. He said British Remainers should never 'give up' on stopping Brexit. Stopping Brexit – I am always, perhaps naively, amazed at the way that Remainers and others bandy that phrase around, as if it were somehow acceptable to stop the largest democratic vote in UK history, to stop the people from having their say. It's always worth reminding people that stopping Brexit means stopping democracy; it means stopping the franchise that ordinary British people won a hundred years ago following centuries of struggle.
Anyway, Tusk thinks Britain's anti-democrats should not give up on trying to stop Brexit because once the UK leaves the EU it will become 'an outsider, a second-rate player'. What an insult. What an insult to Britain and its resourceful people and our ability to shape our destiny in a positive, democratic way. This Donald's implicit threat to Britain as it goes to the polls was far worse than the other Donald's comments.
More alarmingly, Tusk admitted, openly for once, that he has tried to stymie Brexit. 'I did everything in my power to avoid the confrontational No Deal scenario and extend the time for reflection and a possible British change of heart', he said. And there it is: a Eurocrat confesses that he dragged out the Brexit process in the hope of beating down our democratic desires and bringing about a 'change of heart'. What we have here is a powerful foreign politician admitting to using his considerable power – 'everything in my power' – to prevent the enactment of the largest democratic act in our history.
This ought to feel disturbing. And to Brexit voters, it does. To us, Tusk's meddling in our election confirms why we voted leave in the first place – to liberate ourselves from this Brussels oligarchy that presumes authority over our democratic, sovereign affairs. But to the Remainer elite – which is distinct from the 16.1million people who voted Remain, it must always be reiterated – Tusk's words are good. He's right, they think. He's right in what he says and he's right to try to steer British politics away from the democratic cry of 2016 and towards an authoritarian stitch-up of Brexit.
This is how much Britain's supposed intellectuals and activists have lost the plot. They now view unaccountable foreign politicians as a preferable source of wisdom to their own neighbours, their own people. The more distant they become from ordinary Brits, the more love they feel for the stiff bureaucrats of Brussels. And then Remainers, and Tusk in his speech last night, have the gall to accuse Brexit voters of being nostalgic for empire! It isn't us who want vast, unaccountable bureaucratic machines to exercise political authority over the nations of Europe – it's you who wants that. You're the new lovers of empire.
We should be thankful for Tusk's speech, though. It's a reminder of what we're up against – an arrogant and undemocratic EU bureaucracy and, more importantly, a native political class that has utterly lost faith in its own people and their democratic nous. Good riddance, Donald. And now let's wish good riddance to our own anti-democratic politicians in this election that too many outsiders keep poking their noses into.
To enquire about republishing spiked's content, a right to reply or to request a correction, please contact the managing editor, Viv Regan.