In defence of Priti Patel
The media-class loathing for the home secretary has a nasty racist undertone.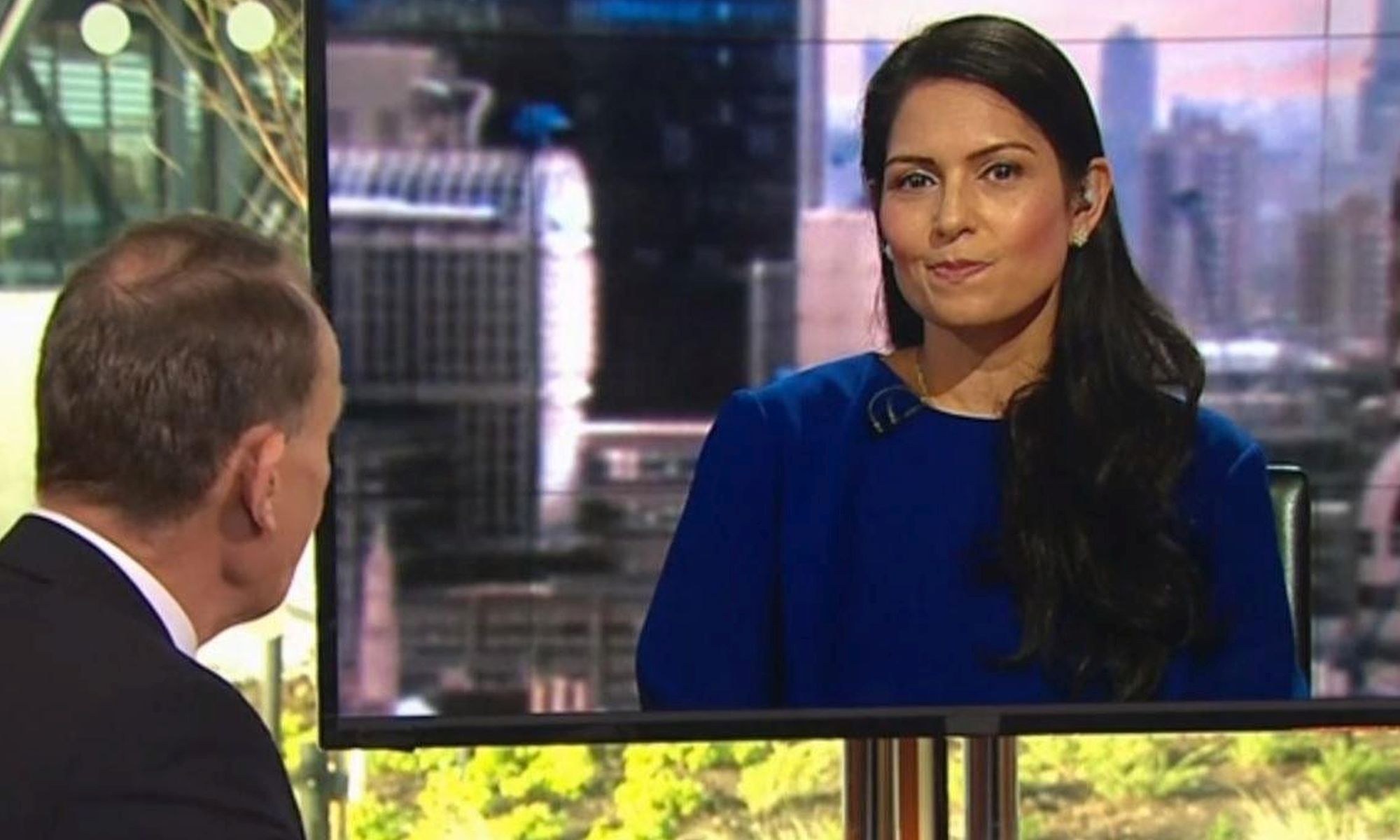 Andrew Marr's rebuke of Priti Patel on his BBC TV show on Sunday morning was a very revealing moment. Halfway through telling the home secretary about the terrible economic things that might happen if we have a No Deal Brexit he said to her 'I can't see why you are laughing', in the style of a headmaster telling off a wayward child. It felt rude and paternalistic and more than a little sexist. Patel wasn't even laughing. Her face was simply in its resting position as she patiently waited for Marr to finish reading from his script of doom before she gave her answer.
Yet the people who would normally kick up a fuss about a snooty BBC man needlessly reprimanding a female politician have been curiously quiet. In fact some of them have lapped up Marr's insulting of Patel. They have cheered him for putting this allegedly arrogant, smirking woman back in her box. Know your place, Patel.
Among the chattering classes and the Twitterati, there is a curious loathing of Patel. She gets more stick than any other member of Boris Johnson's cabinet. And strikingly much of it focuses on her appearance, on her facial mannerisms, on what her detractors presume to be her cockiness. Members of the Remainer elite denounce her 'creepy smirk'. 'Why does Priti Patel always bear the look of a dastardly villain?', asks one. She's a 'sociopath', apparently. Even when people are criticising her for her policy – such as her opposition to freedom of movement or her determination to be tough on crime – they tend to add a comment on her smirking, her outright temerity.
The obsession with Patel's smirk – or what many might simply see as her smile, as her natural resting face as she listens to people – feels distinctly like an attack on Patel for being… well, uppity. This uppity Asian woman behaving so arrogantly – who the hell does she think she is? The middle-class, largely white Remainers who have a particular loathing for Patel are really wondering out loud why this daughter of immigrants believes she is allowed to behave in such a right-wing way. Doesn't she know that immigrants are not meant to believe or say right-leaning things, and certainly not while wearing a smirk? Perhaps she needs some lessons on how to be a good immigrant in 21st-century Britain.
The loathing of Patel speaks to a key prejudice in middle-class political circles – the prejudice against Indian-origin Britons who lean towards the Tories. Britain's well-integrated and successful Indian-origin communities have been moving towards voting Tory for a few years now. In the 2015 General Election, the Tories received more than one million ethnic-minority votes for the first time – and a great many of those votes came from Indian-origin communities. A post-election survey found that the Tories enjoyed 49 per cent popularity among Britain's Hindu and Sikh communities, where Labour enjoyed 41 per cent popularity. British Indians were also more likely than any other ethnic-minority group to support Brexit.
Some on the left view Indian support for the Tories as tantamount to race betrayal. This became clear when Patel was made home secretary by Boris Johnson. Instead of celebrating the fact that Patel was the first Indian-origin home secretary – her predecessor Sajid Javid was the first Pakistani-origin home secretary – the woke, identitarian lobby essentially accused her of being an Uncle Tom.
She was denounced in the Huffington Post as a 'pawn in white supremacy', as if she has no agency at all. A Guardian writer said she was a minister 'with brown skin wearing [a] Tory mask'. Patel's opposition to freedom of movement is frequently bound up with the issue of her race – she is effectively seen as a traitor to brown and black people.
Describing Patel as an agency-lacking pawn of 'Tory racism' and a brown-faced enforcer of white male supremacy is explicitly racist. It reduces Patel to her skin colour. She is judged entirely on the basis of race. Worse, it is presumed that as a member of a particular race she ought to conform to certain political views. Non-whites are all meant to believe the same things and support the same parties, right? Such racial reductionism, where ethnic and immigrant groups are expected to behave like an indistinguishable and obedient political bloc, is explicitly racist.
In the hatred for Patel, in the hints that she is an Uncle Tom, in the weird media-class obsession with her smirk, we can see how easily identity politics crosses the line into old-fashioned racism. The identitarian set's reduction of people to mere representatives of groups, to little more than racial and cultural creatures, erases the space for individual thinking and active agency and demands that non-whites think and behave in one way only. That's a more racist idea than anything I have ever heard from Priti Patel or the rest of Boris's cabinet.
To enquire about republishing spiked's content, a right to reply or to request a correction, please contact the managing editor, Viv Regan.