The tragedy of Jeremy Corbyn
He has betrayed left Euroscepticism. And for Remainers it's still not enough.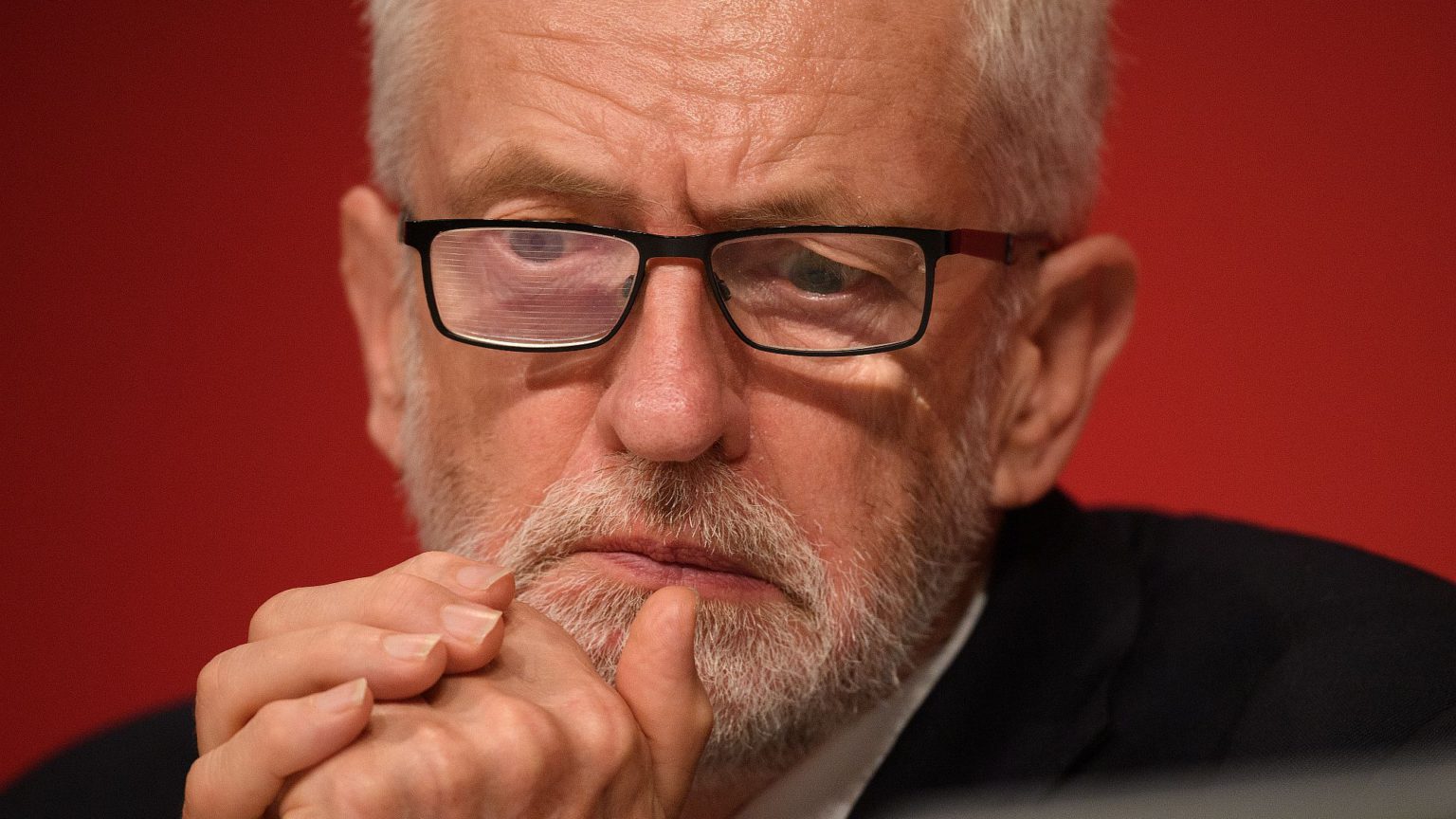 Jeremy Corbyn was handed a lifeline last night, when the Labour Party conference backed his position on Brexit. With Labour having already backed a second Brexit referendum, yesterday was about what position it would take in that referendum. Corbyn's approach was to put off the decision until after the coming General Election. A rival motion, 'Composite 13', called for an unequivocal Remain stance. By show of hands, Corbyn's motion carried, and the other fell.
It was a win, but a controversial one. When Composite 13 was voted on, the chair, Wendy Nichols, at first said it had carried. Then Jennie Formby, Corbyn ally and Labour general secretary, sat to Nichols' right, insisted it hadn't. Nichols went along with it. There were calls for a formal 'card vote', but they were denied. Disquiet among the more Remainy delegates was drowned out by a chorus of 'Oh, Jeremy Corbyn'. While it seems like it was, in the end, the right call, the way it was handled inflamed tensions.
Labour's battles over Brexit are far from over, and differences of opinion are there for all to see. While Corbyn has said he will personally remain neutral in a future referendum, members of his shadow cabinet – including Keir Starmer, Emily Thornberry and John McDonnell – have made clear they will back Remain. The membership is strongly pro-Remain, albeit still loyal to Corbyn. (His team deftly presented the votes yesterday as a matter of confidence in him.)
But for all the controversy, this is, in a way, dancing on the head of a pin. If Labour wins the next election, it will hold a second referendum. The choice would be between staying in the EU and 'leaving' via a tweaked version of Theresa May's withdrawal deal – that is, between Remain and Remain By Another Name. Whoever wins that rigged referendum, Brexit would lose. This internal spat is over which flavour of betrayal to recommend to the electorate, and when might be best to announce that preference.
Corbyn is likely making an electoral calculation here. As Lancaster University's Richard Johnson has argued, Labour's path to election victory is through Leave-voting marginals. But at the same time, the now pro-revoke Liberal Democrats are also snapping at Corbyn's heels, eating into his Remoaner support. He is clearly hoping that constructive ambiguity on Brexit, and a campaign fought on domestic policy, might allow him to squeak through the middle and into No10.
But I dare say there's something personal about this, too. Corbyn is a lifelong left Brexiteer. He learned at the feet of Tony Benn. Friends say he would have voted Leave in 2016 had he not been leader. Jeremy Corbyn leading a pro-second referendum Labour Party is like Ken Clarke leading a pro-No Deal Tory Party. And Corbyn's prevarication over his and his party's stance in that second referendum looks increasingly like a limp, tragic holdout against the final betrayal of his principles.
He knows that holding a second referendum is wrong. In 2009, he backed a No vote in Ireland's second referendum on the EU's Lisbon Treaty (the first No vote was ignored). There's a clip of him joking at a meeting that, if No campaigners win again, they should refrain from recycling their posters, because they'll need them for the third go. Arguably, the second referendum Corbyn is backing now would be even worse than that re-run, given Leave would effectively be left off the ballot paper.
He also knows that the EU is a brutal technocratic order that battered the Greek working class; that pays North African militias to lock up would-be migrants; that is so dismissive of democratic politics that it wouldn't even allow him to implement his rather milquetoast 2017 manifesto. Corbyn knows all of this. And yet on he goes, scuppering our one shot at leaving this thing, to the dappled applause of Blairites, hipsters and the Financial Times.
Corbyn has debased himself over Brexit. That there are those in his party demanding he go further feels almost sadistic. He has been forced to say things he doesn't believe and support things he knows to be wrong, and it's still not enough. But he deserves little sympathy. This alleged man of principle realised long ago that betraying left Euroscepticism was the price he had to pay for holding on to the Labour leadership. He made his judgement. And history will make its own of him.
Tom Slater is deputy editor at spiked. Follow him on Twitter: @Tom_Slater_
Picture by: Getty
To enquire about republishing spiked's content, a right to reply or to request a correction, please contact the managing editor, Viv Regan.