The EU is no friend of migrants
A new report reveals the EU's complicity in the hellish treatment of migrants in Libya.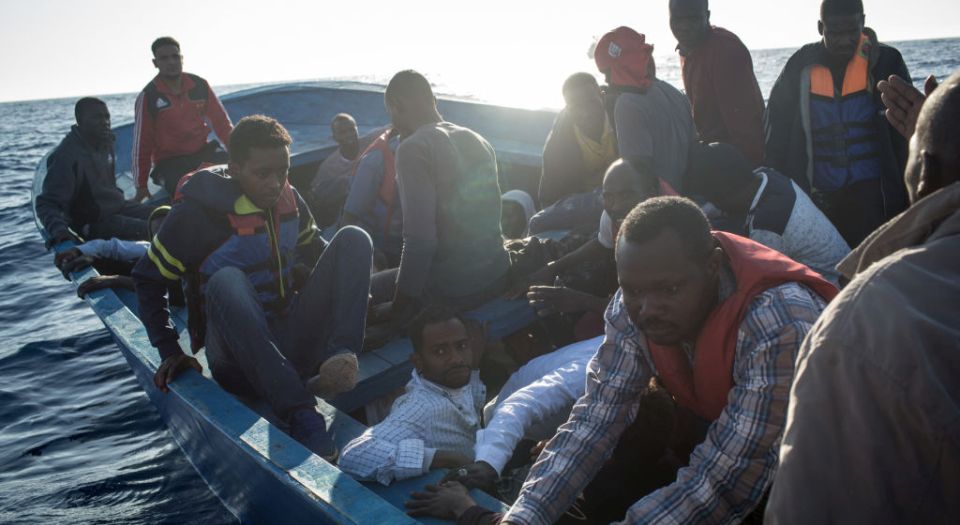 In its new report on the treatment of would-be EU-bound migrants in Libya – No Escape from Hell – Human Rights Watch offers a damning portrait of the European Union's migration policy. It shows how the EU's big idea – beefing up aid packages to countries like Libya, Egypt, Niger and Chad in return for these countries assuming responsibility for rounding up and detaining migrants trying to get to Europe – is creating a truly hellish situation.
First there is the little matter of where, in Libya's case, the 286milliion Euros in migration aid actually goes, given Libya, thanks to the EU-backed overthrow of Colonel Gaddafi in 2011, lacks a central state to which the EU can dispense funds. Yes, there's the internationally sanctioned Government of National Accord, based in Tripoli in the west of Libya, but that is at war with the Interim Government based in the eastern cities of al-Bayda, Tobruk and Benghazi. And what authority both sides have rests less on democratic mandate than on fluid alliances with interchangeable militias, mercenaries and the still extant Libyan National Army.
So it is this warring set of semi-state actors, exercising largely arbitrary, unaccountable power, that the EU is effectively paying and tasking with patrolling Libya's Mediterranean border with the EU, intercepting migrant vessels making the desperate, increasingly dangerous seaborne journey northwards. No wonder numbers of migrants making the journey are declining at the same time as more are actually dying.
But once the migrants have been captured, things get worse. They are thrown into detention centres for an indefinite period, and subject to the arbitrary, inscrutable decisions of an unaccountable, dysfunctional bureaucracy. As HRW points out, the EU is well aware of the hell it is currently funding. In November 2017, EU migration commissioner, Dimitri Avramopoulos, even admitted that, 'We are all conscious of the appalling and degrading conditions in which some migrants are held in Libya'. Yet despite this, in July 2018, when HRW visited four detention centres in Tripoli, Misrata and Zuwara, its researchers discovered 'inhumane conditions that included severe overcrowding, unsanitary conditions, poor quality food and water that has led to malnutrition, lack of adequate healthcare, and disturbing accounts of violence by guards, including beatings, whippings and use of electric shocks'.
While Human Rights Watch has confined its research to Libya, there is little reason to doubt that the EU's similar arrangements with Egypt or Niger or, indeed, Afghanistan, are producing equally hellish results. After all, we know that the EU's much trumpeted six-billion Euro deal with Turkey to stop migrants at its European border has left many living in miserable, dangerous and overcrowded camps. All of which is entirely predictable: the EU increases aid to the often brutal and/or repressive ruling regimes of countries functioning as migration routes, and said brutal regimes use force, be it state in the case of Egypt, or non-state in the case of Libya, to round up and incarcerate tens of thousands of migrants for indeterminate lengths of time. Yet, from the EU's perspective, it is a case of job done, hands washed. The EU's borders are policed, but from afar, out of Brussels' sight and, more importantly, mind. See no evil, speak no evil.
How on Earth has this happened? How has the EU, a self-styled bastion of human rights, turned into a global sponsor of human-rights abuses? Critics of this so-called policy of externalisation blame it on the EU's fear of anti-immigration sentiment among its member states' electorates, particularly the poorer ones like Greece and Italy, which, due to their location, have tended to be migrants' first port of EU call and, therefore, according to the Dublin protocol, their responsibility.
But that misses the point. The EU has not just tightened its borders; it has also outsourced political and moral responsibility for them. Indeed, it has abdicated political and moral responsibility for its borders, passing it over to despotic and wartorn regimes instead.
Why? Because at the same time as Fortress Europe is opposed to African, Middle Eastern and Afghan migrants entering the EU (despite EU members' own role in destabilising these regions, and giving rise to mass-migrant flows, through their interventions), it is just as opposed to its members assuming national responsibility for their borders. Hence, last year, Donald Tusk, the EU Council president, talked of expanding Frontex, the EU's own border force, to replace national border forces — despite, as Tusk gently put it, 'issues regarding sovereignty'. In other words, the EU's fundamental antipathy towards national forms of self-determination, and with it national forms of border control, means that the EU's management of migration has to take this peculiar, non-national, 'externalised' form, with paid-for proxies in either tyrannical or failing states doing the dirty border work on the EU's behalf.
The result is as ironic as it is grim. The EU, hailed by its supporters as an open, free-movement-loving union of peoples, is more than happy to pay dictators, warlords and their brutal subalterns to keep certain migrants out by any means necessary. In the violent detention centres of Libya, the EU's attitude to migrants reveals its true face. And it is very ugly.
Tim Black is a spiked columnist.
Picture by: Getty.
To enquire about republishing spiked's content, a right to reply or to request a correction, please contact the managing editor, Viv Regan.