Everyone's turning into Rick from The Young Ones
Branding people you don't like 'Nazis' is infantile and dangerous.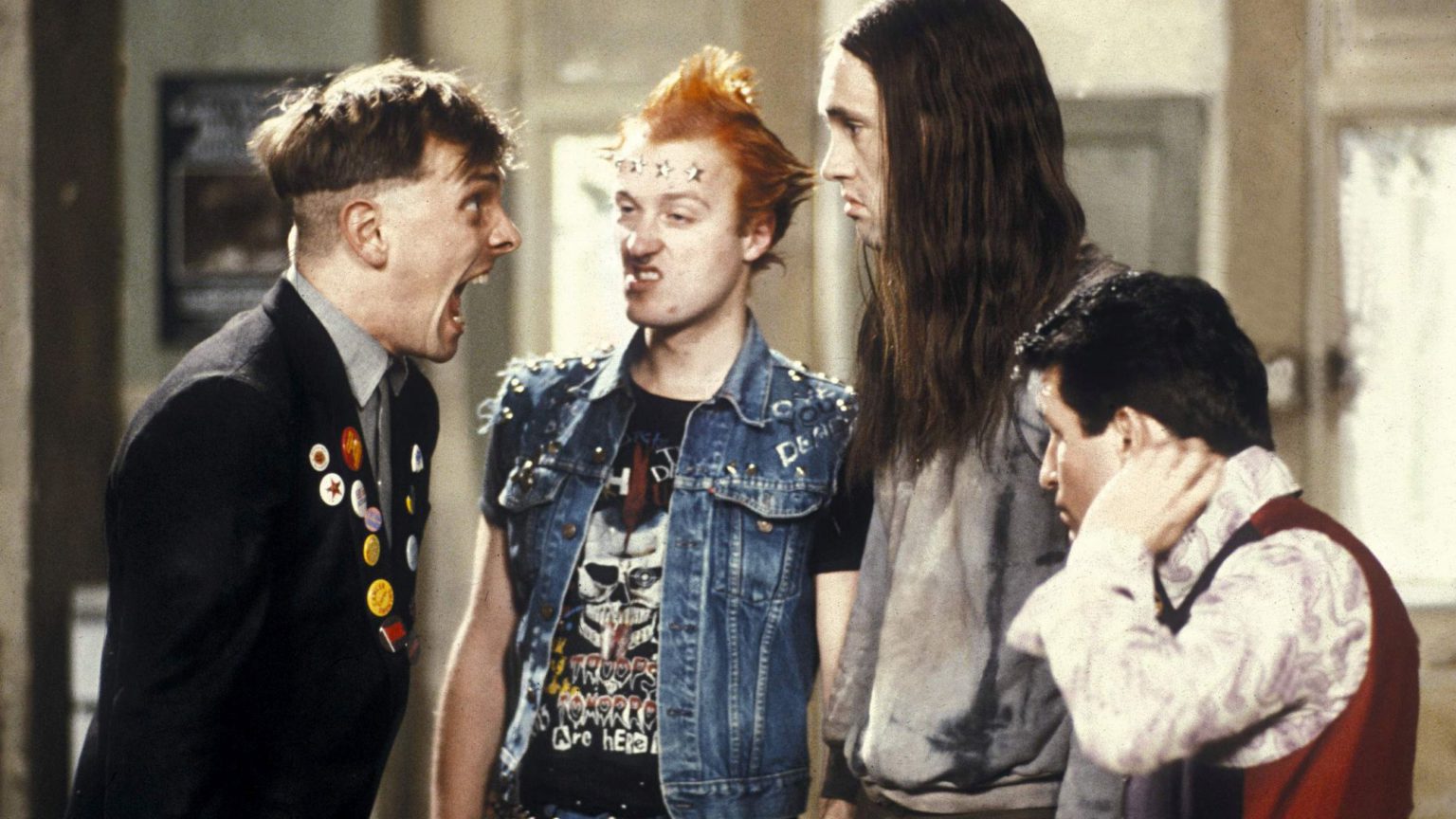 There once was a time when the only person who called everyone remotely right-wing a 'fascist' or a 'Nazi' was Rick from The Young Ones – the ludicrous proto-woke student from that 1980s comedy. Now, everybody is at it.
At the weekend, the London mayor, Sadiq Khan, compared Donald Trump and his supporters to 'the fascists of the 20th century'. On Tuesday, at a London rally in protest against Trump's visit, one supporter of the US president was milkshaked and branded 'Nazi scum'. At the same rally, Labour leader Jeremy Corbyn spoke of the 'hatreds that are being fuelled by the far-right in Britain'. Elsewhere, the MP Anna Soubry has called Brexit supporters 'fascists'.
Brexit Party leader Nigel Farage has for years been tarnished with these inaccurate, sensationalist and politically illiterate slurs: 'fascist', 'far right', 'Nazi', etc. This is a man says he is pro-choice and wants some recreational drugs legalised. He has also been accused of wanting to privatise the NHS. In sum, he is an arch-libertarian – the very opposite of a fascist.
And if Trump is a fascist, then Obama was one too, being a president who started building a wall to keep out Mexicans and who bombed countless foreign countries. Indeed, where Obama was an interventionist, Trump is an isolationist (which Hitler very much wasn't). Trump makes threats against Iran, North Korea and Venezuela but he never acts upon them. As Roger Boyes argued in The Times this week, it is doubtful he ever will.
The misuse of the terms 'fascist' and 'Nazi' is not merely incorrect – it is starting to have serious consequences. If you keep telling people that pro-Trump or pro-Brexit types are fascists, they are going to start believing you, and react accordingly. After all, fascists can't be reasoned with, and the only way to deal with them is through violence. Yet I wonder if antifa and the Trump-haters see the irony that it is they who are behaving like extremists, what with their fondness for street-brawling and beating up people who dare to have different opinions.
Milkshaking is not just political theatre, as some say, and bands with songs such as 'Kill Tory Scum' don't emerge in a vacuum. They represent a sinister leftish development. On Tuesday, anti-Trump protestors attacked and pushed over a 75-year-old veteran. During the European elections, a swastika was painted on the offices of the Jewish Brexit Party candidate Lance Forman, whose father came to Britain after fleeing Poland. Fellow Brexiteer Belinda de Camborne Lucy told the Sunday Express how she has been subjected to abuse while campaigning outside Parliament: 'I was called ****, racist scum, Nazi ***** every day from men in nice suits or on bikes and ladies in smart coats.' (My guess is that the Express's asterisks represent 'cunt' and 'bitch'.)
It gets worse. In Leominster in Herefordshire, a car was driven at Brexit Party activists. And on Wednesday, the feminist Julie Bindel, who disputes transgender ideology, was physically attacked in Edinburgh by a transgender activist.
The political left these days, armed already with a surfeit of self-righteousness and moral licence, is becoming ever more hostile and belligerent. The misuse of the term 'fascist' is worse than juvenile or ignorant: it legitimises violence.
---
On race and gender
One of the most striking things about Andrew Doyle's book Woke, written in the character of Titania McGrath (a Rick for the 21st century), is the serious point he makes masquerading as satire. One of them is: 'Racial boundaries must be strictly policed. Unlike gender, which is totally fluid.'
The ostensible intention is to illustrate a contradiction among woke-minded people, but I suspect Doyle is making a more profound observation – namely, that when it comes to race and gender, woke ideology has got it the wrong way round.
The idea that gender is fluid, or that you can change sex with surgery, or, even, most absurdly, merely by declaring that you are of the opposite sex, is fundamentally untrue. Men have XY chromosomes and women have XX chromosomes. Women can give birth and menstruate, men can't and don't. Each has inherently different hormone levels and there is much evidence that, on average, our brains are structured differently.
On the other hand, white, brown and black people really are on a spectrum. Sure, some races are predisposed to some diseases, with southern Asians much more prone to diabetes, for instance, but race really is fluid. When people of different races have a child, he or she is physically a blend of father and mother. We can talk about race as we can about colours themselves: we recognise the colour 'red' and the colour 'yellow', but there is no absolute boundary between the two, only shades of orange.
Yet in woke-speak, race is a real thing, with 'whiteness' increasingly essentialised in order for it to be demonised. 'Cultural appropriation' has become the worst transgression for an ideology that really thinks humanity consists of sealed-off races, predestined by skin pigmentation. The paradoxical truth is that biological boundaries between the sexes do exist, but between different races they do not.
---
In defence of plastic
The BBC's new programme, War On Plastic With Hugh and Anita, epitomises the growing denigration of this material, a denigration which has also been in evidence in Blue Planet II and in a campaign by the Daily Mail.
Sure, we use too much plastic, much of which ends up in the sea, damaging marine life. But this is primarily an issue of littering and waste disposal. Plastic is not inherently evil: it is bad behaviour and mismanagement that is at fault here.
Plastics have many usages that benefit humanity. Plastics extend the shelf-life of fresh food, reducing food waste. They are used to make bicycle helmets, child safety seats and airbags in cars. We find them in mobile phones, televisions and computers. Plastics are found in roofs, walls, flooring, sealing and insulation that make homes and buildings energy-efficient – benefitting both the environment and the consumer. They are used to make more fuel-efficient cars and aircraft, extending their lifetime and reducing oil consumption.
Why are we waging a 'war' on a material that is good for our planet?
Patrick West is a spiked columnist. His latest book, Get Over Yourself: Nietzsche For Our Times, is published by Societas.
To enquire about republishing spiked's content, a right to reply or to request a correction, please contact the managing editor, Viv Regan.