The idiocy of Trump's Iran-baiting
The president's Middle East policy is dangerously incoherent.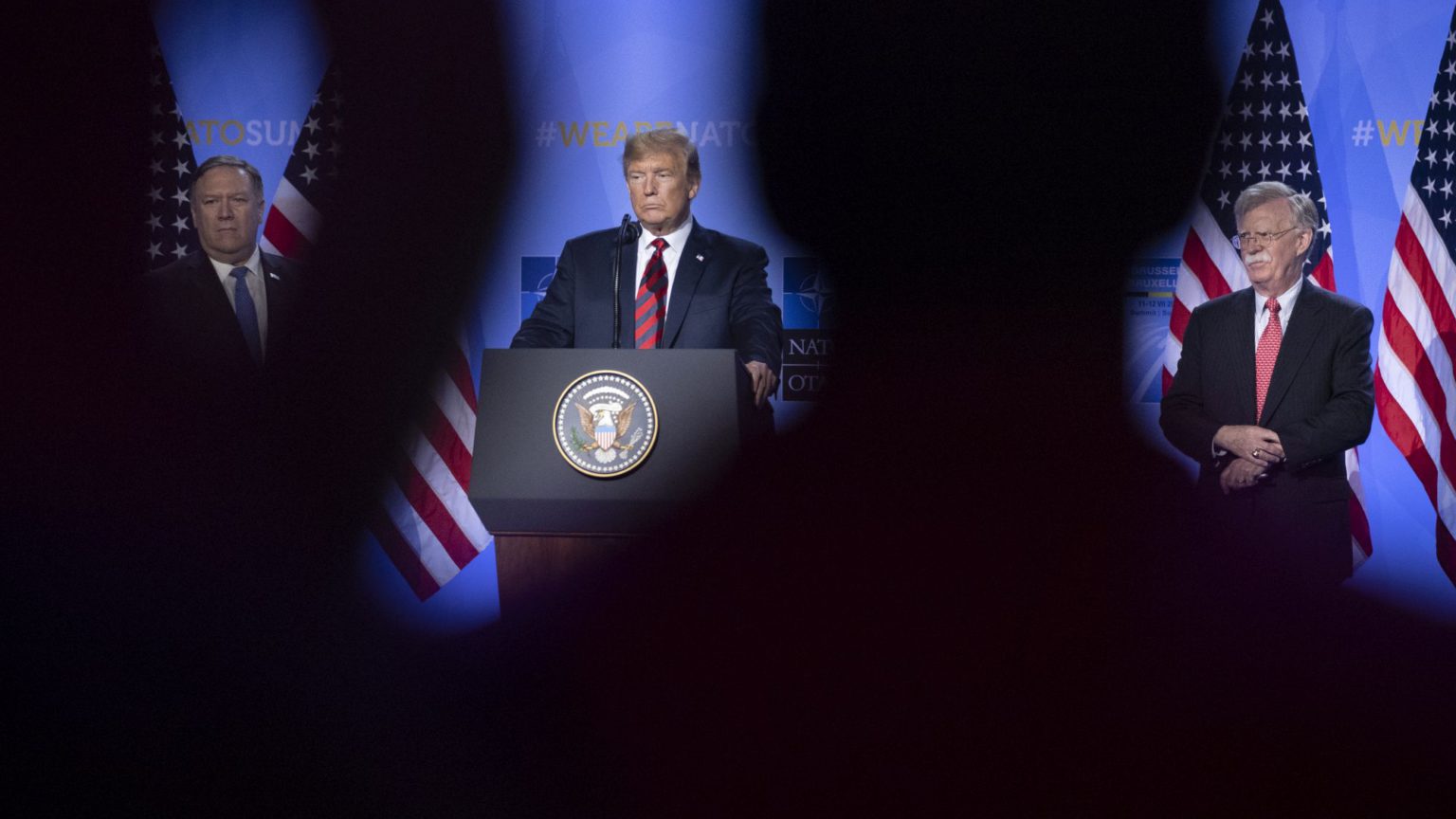 'If Iran wants to fight, that will be the official end of Iran. Never threaten the United States again!' And with that Sunday-night tweet, President Donald Trump appeared to bring an end to his own brief flirtation with diplomacy.
Just days earlier, it was Trump who appeared to be the one member of his administration applying the emollient to US-Iran relations. So while national security adviser John Bolton was excitedly announcing the deployment of an aircraft carrier and other US military assets to the Gulf, and US secretary of state Mike Pompeo was ordering the evacuation of the US embassy in Baghdad, citing nebulous intelligence about 'Iranian activity', Trump was busy telling reporters that he still wanted to negotiate with the Islamic Republic. 'I'm sure that Iran will want to talk soon', he tweeted last Wednesday.
But that had all changed by Sunday evening, with Trump seemingly joining Pompeo and Bolton in the trenches of a prospective new war in the Middle East.
It is not really a surprise though, is it? We know that Trump was always going to confront Iran from the moment he decided to pull out of the nuclear deal last May. Moreover, we know that Trump has long been determined to turn Iran back into the central point on former president George W Bush's axis of evil. After all, that was how he partly justified his long-heralded decision to withdraw the US from the Iran nuclear deal. Trump said Iran was a 'murderous regime', which has enjoyed a 'long reign of chaos and terror… fuel[ling] conflicts across the Middle East, and support[ing] terrorist proxies and militias'. And it was Trump who actually appointed, as his senior foreign-policy advisers, Pompeo and Bolton – two figures renowned for their contrasting but still hawkish views on Iran. Team Trump, as dysfunctional as it otherwise is, has therefore long been united by its animus towards Iran.
Just as consistent has been Trump's decision to continue previous administrations' unquestioning alliance with Iran's regional adversaries: Israel and Saudi Arabia. In a sense, the US is already embroiled in military conflicts with Iran. With US backing, Saudia Arabia is fighting the Iranian-backed Houthi rebels in Yemen, and Iranian militias in Iraq. Both Saudi Arabia and Israel are battling Iranian proxies in Syria. That Trump has now decided to open up the possibility of an all-out war with Iran is, in a sense, a mere extension of the proxy conflict the US and its allies are already waging across the Middle East.
Maybe, as many commentators suggest, this threat 'officially' to end Iran is only a negotiating tactic – a replay of the tough tweeting approach to North Korea that, as Trump sees it, brought Kim Jong-un to the table. Maybe it really is straight out of The Art of the Deal. Maybe not. After all, it can only work as a negotiating tactic if it is taken seriously – if Trump really would be prepared to end Iran if it doesn't do what the US wants. But what the US wants is unclear. Does it want Iran to give up its nuclear ambitions entirely? That would mean Trump and his Iran-hating advisers, whether they intend to or not, really could bring the US to the brink of war.
The talk of getting stuck into Iran is all the more absurd and dangerous coming from a president who ran his election campaign in 2016 on strongly anti-interventionist grounds. Trump rightly condemned his predecessors, Democrat and Republican alike, for launching seemingly interminable wars in Iraq and Afghanistan. And yet here he is, three years on, promising to inveigle the US in a conflict that would make the invasions of Iraq and Afghanistan look like model exercises in so-called regime change.
But most troubling of all is the effect that America's continued political, economic and, increasingly, military assault on Iran is having on the Iranian people. For it is they, not the Ayatollahs, or the state officials or their palm-greased clients, who are forced to shoulder the burden of the multi-front war on Iran. It is they who have to queue for hours and pay extortionate prices for basic necessities, as the economy shrinks and inflation rockets. It is they who suffer the oppressive measures, from torture to political persecution, from an embattled regime desperate to cling to power. And it is they who, over the past two years, have actually been fighting back against the Iranian state, protesting against its political and economic failures and its intensifying authoritarianism, including the compulsory hijab law.
Indeed, popular protests against the Iranian regime have surged recently. They are not as populous as the Green movement protests against electoral corruption in 2009. But then, their constituency is different. In 2009, protests gathered momentum among the urban middle classes of Tehran. From 2018 onwards, they have emerged from within major northeastern cities, and in the provinces, and have involved Iran's working class, long viewed as the cornerstones of the regime's popular base.
Iran's rulers are facing an internal challenge from those they have long relied upon for support. Yet, America's actions impede rather than aid this growing protest movement. Last year, Trump tried to align his own anti-Iran crusade with the cause of the protesters, tweeting: 'The people of Iran are finally acting against the brutal and corrupt Iranian regime… It's time for a change.' But in doing so, the US allows the Iranian state to tap into deep-rooted anti-US sentiment and rally popular support against an external enemy. It also allows Iran's rulers to justify a defensive crackdown against dissent. As US director of national intelligence Dan Coats put it earlier this year, 'We assess that Tehran is prepared to take more aggressive security measures in response to renewed unrest'.
Besides, Trump et al's proclaimed opposition to Iran's 'brutal and corrupt' theocracy, in the name of the Iranian people, might carry a little more weight if they were not simultaneously cosying up to Saudi Arabia's brutal and corrupt theocracy. This shouldn't be a surprise, either. Washington's current bout of Iran-baiting is not really motivated by a concern for democracy or civil liberty in Iran. Rather, it is driven by the Trump administration's peculiar foreign-policy mix of vanity and ego, its long-standing alliances in the region as well as a hawkish desire for a new military mission. The result is incoherent and dangerously unpredictable.
The US, it seems, is calling for stability while sowing discord. It is damning one oppressive regime while aiding and abetting others. And it is acting in the name of the Iranian people while actually damaging their cause.
Tim Black is a spiked columnist.
Picture by: Getty.
To enquire about republishing spiked's content, a right to reply or to request a correction, please contact the managing editor, Viv Regan.